Welcome to the 2017 Tools & Toys Christmas Catalog!
↓ Skip down to Table of Contents
As we do every year, we've collected the year's best gadgets, gear, books, decor, and of course, tools and toys for your annual holiday needs. Whether you're shopping for someone else or building a list of ideas for yourself, we hope this catalog helps you find the coolest and most useful gifts.
It's a long catalog to browse all at once , so we've created a table of contents below, with links to the individual categories. Click through to any of those sections, and you'll find that they each have their own mini-lists for individual items. This way, you can quickly find something on the page based on whatever's interesting to you, without having to scroll the entire thing each time.
Furthermore, we are continuing the tradition of highlighting three of our favorite non-profits. Here at Tools & Toys we have always given away 11-percent of our gross income to charity. And during the months of November and December, we'll be donating 11% of our gross specifically to these three non-profits: App Camp for Girls, Operation Christmas Child, and St. Jude.
* * *
As we've said in past years, thank you so much, dear reader, for your attention and your patronage. Tools & Toys is now over six years old — man, the time truly flies — and continues to be predominately supported by readers like you who purchase something on Amazon through one of our links.
If the items we've curated below don't fit your needs or wants, ping us on Twitter and we will try to help.
Also, click this link before you do your shopping on Amazon, as it's a way to support our work.
Thank you, and happy holidays!
---
Table of Contents
---
Books / Novels
---
↑ Return to Table of Contents
---
It's probably safe to say that a lot of people today get their information about Norse mythology from Marvel films and comics. While those versions of the Asgardian gods are great entertainment and all, they aren't all that true to the actual legends.
Neil Gaiman's Norse Mythology is a delightful way to get acquainted with the myths themselves without suffering through the boring prose of, say, a history textbook. In this collection of 15 retellings of Norse myths — mostly centered on the adventures of Loki, Thor, and Odin — Gaiman breathes new life into these ancient tales, fleshing them out with the narrative arcs they deserve (and with all the witty characterizations and ironic sense of humor you'd expect from a Neil Gaiman book).
Constance Grady of Vox sums it up well:
Throughout the book, Gaiman keeps his characters walking a fine line: They are powerful and immortal and divine and tragic, but they are also childish and peevish and petty. That tension is part of what powers the stories as they move, inexorably, toward Ragnarok and the apocalypse, and it's how Gaiman plays between the two extremes that keeps this retelling fresh, vital, and compelling.
---
Everyone knows about Nike, the company. Their "swoosh" logo is one of the most recognized symbols in the world, one that's become emblematic of athleticism itself. But perhaps not many of them know the real story of how the company came to be the corporate giant it is today. The tale has humbler beginnings and more dramatic turns than you might expect.
Shoe Dog: A Memoir by the Creator of Nike is…well, exactly what the title says. It's written by Nike co-founder Phil Knight, the "man behind the swoosh", as it were. He covers the early years of Nike in superb detail, from its beginnings as Blue Ribbon Sports — a company that couldn't even support Knight's family at first — all the way to a behemoth generating $30 billion in annual sales.
This is one of the best business memoirs you'll ever read. There's also an abridged young reader's edition.
---
Andy Weir, author of The Martian, recently released his much-anticipated new novel, Artemis.
Before you ask, no, it's not a sequel. Sure, both novels take place in space in the not-too-distant future and each one features a sarcastic, clever protagonist, and they both delve into lots of nerdy technical details that will please hardcore sci-fi fans, but that's pretty much where the similarities end.
Rather than being a survival tale on Mars, Artemis is a heist story set on the moon:
Jazz Bashara is a criminal.

Well, sort of. Life on Artemis, the first and only city on the moon, is tough if you're not a rich tourist or an eccentric billionaire. So smuggling in the occasional harmless bit of contraband barely counts, right? Not when you've got debts to pay and your job as a porter barely covers the rent.

Everything changes when Jazz sees the chance to commit the perfect crime, with a reward too lucrative to turn down. But pulling off the impossible is just the start of her problems, as she learns that she's stepped square into a conspiracy for control of Artemis itself—and that now, her only chance at survival lies in a gambit even riskier than the first.
+ For more sci-fi action, we also recommend the Red Rising trilogy by Pierce Brown.
---
In our humble opinion, Bill Watterson's Calvin and Hobbes is the greatest comic strip of all time. To say it had an influence on our childhoods would be an understatement. Australian cartoonist Gavin Aung Than of Zen Pencils shares that opinion:
To me, Calvin and Hobbes is cartooning perfection – that rare strip that has both exquisite writing AND gorgeous artwork. A strip that managed to convey the joy of childhood, absurdity of humanity and power of imagination all through the relationship between a boy and his stuffed tiger. And most importantly, a strip that was consistently laugh-out-loud funny.
The Complete Calvin and Hobbes captures the entire body of the strip (1985–1995) into three hardcover volumes, nicely packaged in a single sturdy slipcase. It also includes a 14-page foreword written by Watterson himself! A fitting monument to such a delightful and whimsical series.
---
Writer Robert Macfarlane and artist/painter Jackie Morris teamed up to create The Lost Words, an illustrated book that aims to remind children about words relating to the natural world before they disappear forever. From the book's description:
All over the country, there are words disappearing from children's lives. These are the words of the natural world — Dandelion, Otter, Bramble and Acorn, all gone. The rich landscape of wild imagination and wild play is rapidly fading from our children's minds. The Lost Words stands against the disappearance of wild childhood. It is a joyful celebration of nature words and the natural world they invoke.
And in the lovely words of the artist herself:
When I was a child there were more sparrows, blackbirds, thrushes. This book is a song of protest in words and paint, a soul song, and aims to help us rewind our lives and be less at ease with the decrease in numbers of the wild world. Name it, own it, heart and soul.
Every parent and child should read this book together.
---
Judith Schalansky's award-winning 2010 book, Atlas of Remote Islands: Fifty Islands I Have Never Set Foot On and Never Will, has been described as an "imaginative atlas of the world's loneliest places […] that will delight maplovers everywhere," and that's really the best way to put it, we think.
In it, Schalansky tells the compelling stories of fifty of the most remote islands on earth, complete with cartographic drawings, histories, and local lore. Reading this book is like taking a brief, fantastic trip around the world from the comfort of your home.
Here's an excerpt from the preface (lovingly titled, "Paradise is an island. So is hell."):
There is no untouched garden of Eden lying at the edges of this never-ending globe. Instead, human beings travelling far and wide have turned into the very monsters they chased off the maps.

It is, however, the most terrible events that have the greatest potential to tell a story, and islands make the perfect setting for htem. The absurdity of reality is lost on the large land masses, but here on the islands, it is writ large. An island offers a stage: everything that happens on it is practically forced to turn into a story, into a chamber piece in the middle of nowhere, into the stuff of literature. What is unique about these tales is that fact and fiction can no longer be separated: fact is fictionalized, and fiction is turned to fact.
The pocket edition — published a couple years after the original — takes the first book's 7.5″ x 10.5″ x 0.6″ dimensions and brings them down to a more portable 4.5″ x 6.7″ x 0.8″. Keep it with you to peruse whenever you like, or gift it to an imaginative kid.
---
The graphic design duo known as MinaLima — whose work you've probably seen in all of the Harry Potter films — have helped design new editions of classic children's books in recent years:
Each book is filled with lush illustrations, and the physical editions in particular have extra things to discover throughout: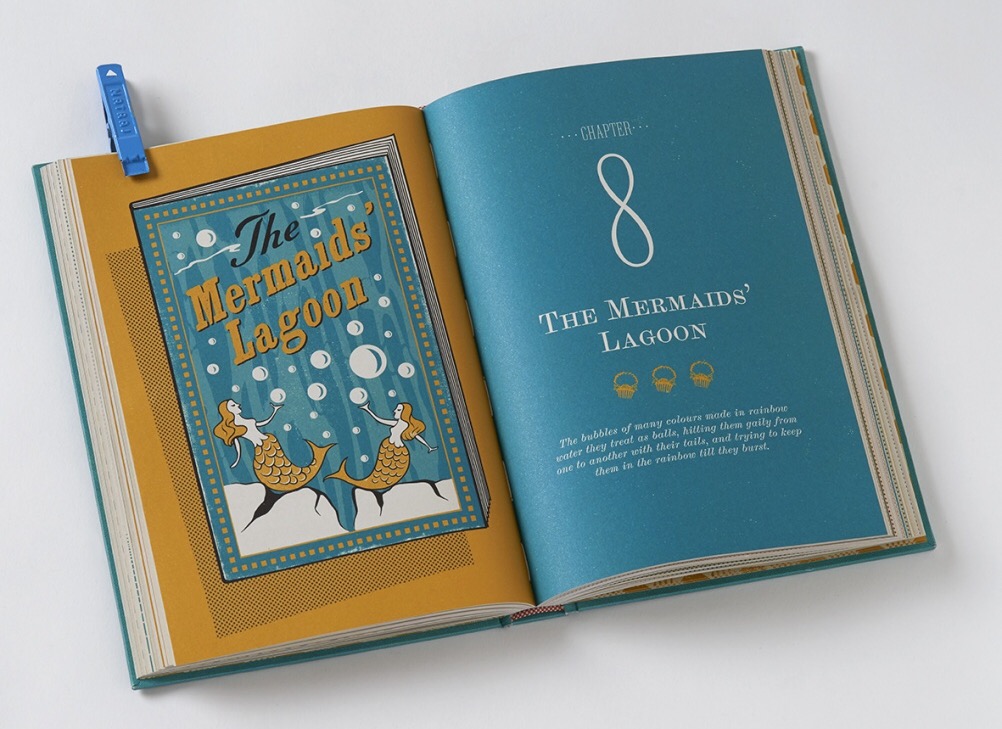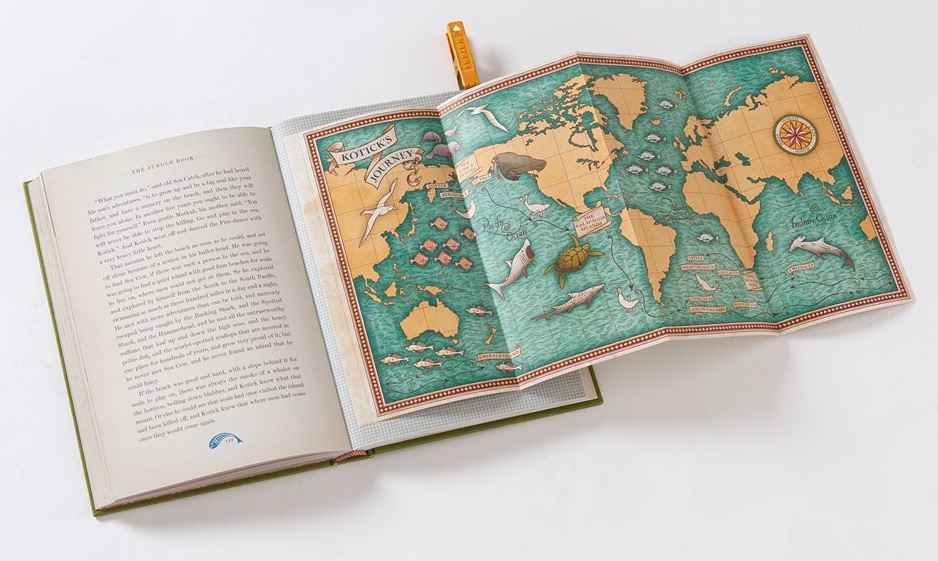 These editions are a fantastic way to start a kid's literature collection.
---
Fortunately, his observations are both hilarious, and filled with awe and joy; otherwise, this title might well be found in the Horror section.



—Michael Ryan, Amazon reviewer
Man vs. Child: One Dad's Guide to the Weirdness of Parenting is a book by comedian/writer/actor Doug Moe — of the Upright Citizens Brigade Theatre — that's written for dads who are worried about messing everything up. (Aren't we all?)
The book is full of all kinds of funny and insightful tidbits, such as…
By now, you're old enough to have failed at many things. You know you're never going to be a great guitarist or a professional gamer. Your videos never went viral. But you could be a great dad. Isn't that more noble than being good at guitar? Isn't that more meaningful than video games? You used to be insanely obsessed with Facebook likes, but you could be pouring that insanity into a child.
…and this one on handling your SO's pregnancy:
Your wife is changing. It's like she is a wizard now, but she's still married to the village idiot. When you approach this mighty wizard, be humble. The wizard will grow angry if you ask her stupid questions. Respect the wizard.
Whether you're a dad now, or planning to be, or even if you're neither and are simply trying to understand what your friends are going through as new parents, you'll get a kick out of this hilarious book.
* * *
Food / Drink / Kitchen
---
↑ Return to Table of Contents
---
Sous vide cooking is all the rage these days:
Sous vide, which means "under vacuum" in French, involves sealing food in an airtight bag and giving it a hot-water bath. A cylindrical gadget gently circulates and heats the water to a precise, consistent temperature, allowing the food to reach the exact temperature the cook desires without the risk of overcooking. Its advocates say the method is the key to attaining a piece of meat that is uniformly tender and juicy inside.
If you or any of your loved ones want to change your culinary life forever, Anova's 800-watt Bluetooth immersion cooker is the gadget for you.
You simply clamp it onto the side of just about any pot or tank you have lying around — which you'll have to fill with water, of course — plug it in, set your desired time and temperature, and boom, it starts circulating the water and maintaining that temperature the entire time. That's it.
The whole process can be monitored and controlled via their companion app, so you don't even have to stand there and keep an eye on it.
Two things to know about sous vide cooking:
One common misconception about sous vide is that it's "literally impossible" to overcook meats using this method, which is certainly not the case. Still, it does give you a much higher rate of success, plus it allows you to more easily focus on prepping side dishes while the meat slowly cooks.
While it's fine to eat the food straight out of the bag when it's done, many sous vide cooks like to "finish" meats by searing, grilling, or broiling them as a last touch before plating. Totally up to you of course, but we do recommend giving it a shot because it can make the difference between "Huh, this is pretty tasty" and "Wow, this is legit steakhouse-quality."
---
Ditch the cheap Walmart skillet and pick up one of these instead. It's super easy to clean, the nonstick coating lasts quite a while, and you can really tell the higher quality of this skillet while handling it, from the commercial-grade aluminum construction to the soft-grip red silicone sleeve on the handle.
Comes in four sizes:
---
If you watch Andrew Rea's Binging With Babish channel, you'll notice that the Induxpert 1800-watt induction cooker appears in most of the episodes. For those of us who don't run a popular YouTube cooking show, there are still plenty of situations where this thing is useful:
Hosting large parties, when you'll find there never seem to be enough burners to go around (whether it's for cooking or simply keeping dishes warm).
Living in a small space, where a portable burner can help two people stay out of each other's way.
Living in a college dorm, where chances are slim that there's any cooktop around at all.
Camping/RVing, offering the same benefit as the "small space" item above, plus the ability to cook outside. Also useful if you run out of propane and won't get to refill it for a while.
Remodeling your kitchen and/or replacing your range, meaning you can still cook while the new stuff is being installed/delivered.
When your apartment gas gets shut off, so you're not up a creek just because they're doing maintenance in the building.
Whatever you'd need an induction cooktop for, the Induxpert 1800 is super easy to use and accomodates a variety of skillet and pot sizes (anywhere from 4.7″ to 10.2″ circumference). The kicker here is that any cookware you use on it has to be magnetic, so keep that in mind before buying. You can easily test this by touching a fridge magnet to the bottom of any pot/pan and see if it sticks. If it does, you're good to go.
You can use the Induxpert cooker in "Power" mode to select one of nine wattage settings (ranging from 200–1800) or in "Temperature" mode to select one of ten temperatures (from 140°F–464°F). When you're done, simply let it cool down and wipe it with a damp cloth.
---
Ever tried to make a restaurant-style crispy-crust-with-a-stretchy-interior pizza in your home oven, but it just can't get hot enough to get the job done? You'll love the Roccbox.
This outdoor pizza oven uses your choice of wood, charcoal, or gas — via one of two interchangeable burner attachments — to reach temperatures in excess of 900°F in just 15 minutes, and from there it can crank out a fully cooked and delicious pizza in 75–90 seconds, with only a few minutes' recovery time between pies if you're making multiple.
Despite getting that hot, the exterior won't burn you if you accidentally brush against it, thanks to the insulated silicone safety jacket (which comes in green or grey) that encases the top and sides.
Now, this is not a cheap pizza oven. However, if you or a loved one happen to be an aficionado who wants the ability to cook the highest-quality homemade pizza anytime, anywhere, it's an investment worth making.
---
Bushwick Kitchen is a Brooklyn-based company that sells a variety of specialty (and super-yummy) honeys and maple syrups. In terms of the latter, we recommend their "Trees Knees" coffee maple syrup. What they do is take organic Grade A syrup sourced from a family-owned sugarbush in the Catskill Mountains, then infuse it with Stumptown Coffee Roasters' "Hair Bender" blend.
The result is a tasty concoction that makes for a world of opportunities: Eat it on pancakes/waffles/french toast, top your ice cream with it, stir it into your oatmeal, drizzle a little over some fruit slices, maybe even add a little bit to your glass of bourbon…do whatever you want, it's all tasty. (Maybe don't drink it straight though, unless you're Buddy from Elf.)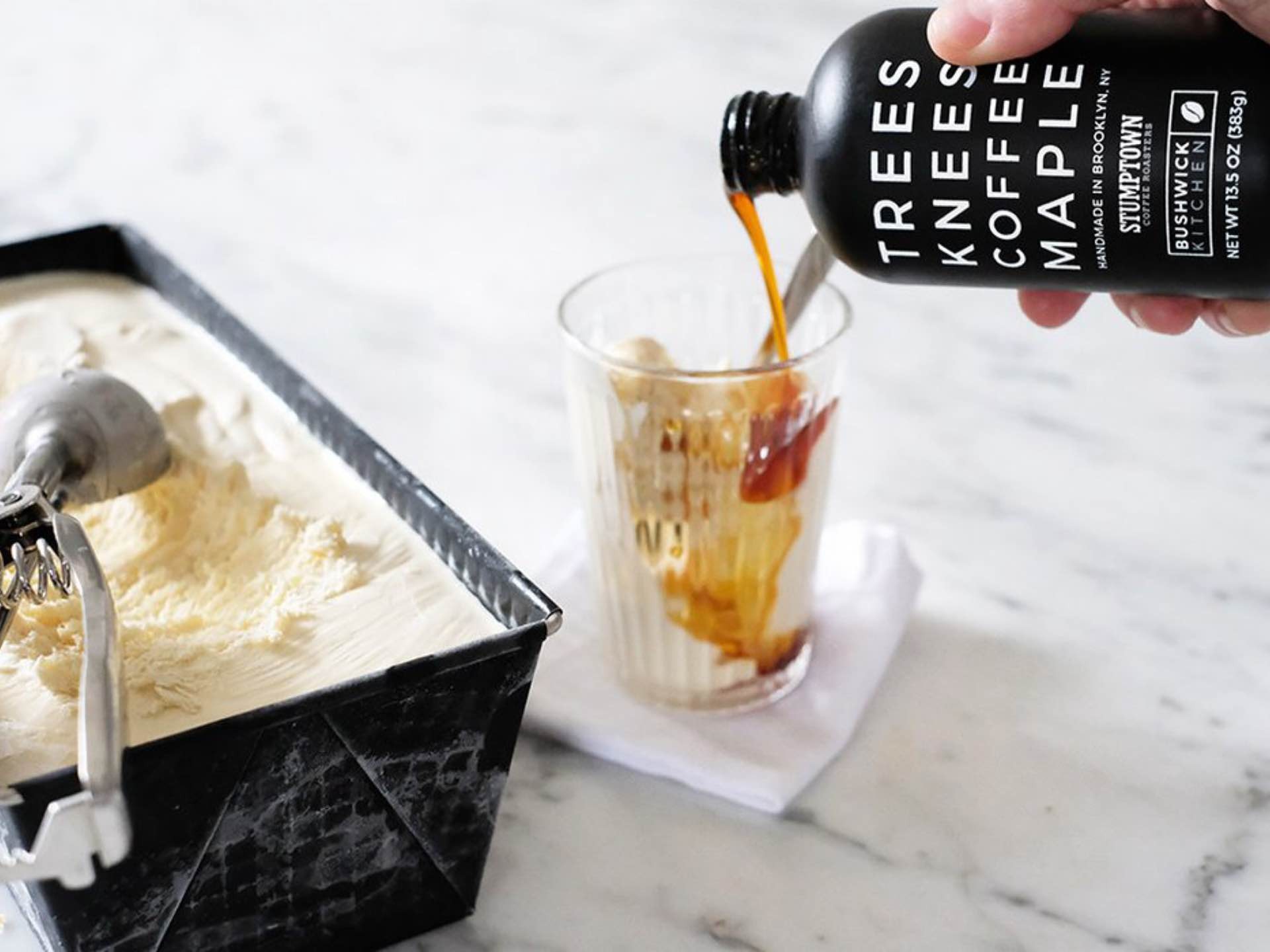 ---
Salt, Fat, Acid, Heat is a cookbook — written by Samin Nosrat and charmingly illustrated by Wendy MacNaughton — that aims to teach and inspire a new generation of cooks about the fundamentals of cooking, along with what actually makes food taste great:
Master the use of just four elements — Salt, which enhances flavor; Fat, which delivers flavor and generates texture; Acid, which balances flavor; and Heat, which ultimately determines the texture of food — and anything you cook will be delicious. […]

Echoing Samin's own journey from culinary novice to award-winning chef, Salt, Fat, Acid, Heat immediately bridges the gap between home and professional kitchens. With charming narrative, illustrated walkthroughs, and a lighthearted approach to kitchen science, Samin demystifies the four elements of good cooking for everyone.
If you don't need this cookbook for yourself, pick up copies for anyone in your life who's expressed a desire to learn cooking. They'll love it.
* * *
Gadgets / Accessories
---
↑ Return to Table of Contents
---
We love Anker's stuff. Everything they make is of the highest quality, made all the more awesome by the fact that their products are so affordable.
The same is true of their "Classic"-model wireless speaker. It packs a serious punch for its size, with surprisingly clear and powerful sound, a Bluetooth connectivity range of 33 feet, and battery life of ~20 hours. It also sports a built-in mic for making and taking calls within two feet of the speaker.
There's not much else to say. It's a great little Bluetooth speaker that won't break the bank. Get it in either black or white.
---
Does the Wi-Fi suck in certain parts of your house (or at your grandma's)? The AmpliFi HD is a consumer-level, high-density mesh network system — á la the Eero and Google Wi-Fi — that'll make those frustrations melt away.
In the box you get a neat-looking little router box with a color LCD touchscreen on the front, plus two self-configuring antennas that honestly look a bit like old Wiimotes. Together, the system offers six radios and a max speed of 5.25 Gbps.
After going through a super-simple installation/setup process using the free Amplifi companion app and plugging the two mesh points into wall outlets (ideally in places where the Wi-Fi is spottiest), everything connects nigh-automatically and you'll immediately notice a huge improvement in connectivity.
If you need additional mesh points for any reason, they're $108 a pop.
---
For the past half-decade or so, V-Moda's Crossfade M-100 noise-isolating headphones have stood the test of time thanks to their excellent sound (especially on the low end), military-level durability, distinct hexagonal design, ergonomic comfort, and easy portability.
In terms of design, one of our favorite descriptions about the M-100s comes from this entertaining Amazon review:
If I may use cars to elaborate, the [Beats Studio headphones] look like a Nissan Altima with all the packages, rims, tint and cool paint job; conversely, the M-100s look like a BMW M6. You can actually see the difference in quality. The Beats look like they are trying to be cool; the M-100s look classy, sophisticated and sexy.
The excellence doesn't stop at their looks though; the M-100s sport incredibly punchy (but not overwhelming) bass that doesn't distort even when you crank up the volume. A second Amazon reviewer gives another description we love (lightly edited for clarity):
These cans offer fantastic clarity for vocals and high tones, yet when the bass hits it feels like you're plummeting deep into a bottomless cavern. Yet they remain "overbearing-less" and still offer a fantastic mid-range to blend the sound together like a creamy milkshake.
The M-100s also travel well, since they fold down very compact and are rugged enough to survive pretty much anything you throw at them, including repeated drops onto concrete. The cables alone are reinforced with Kevlar, if that tells you anything.
If something does manage to break these things, V-Moda runs an "Immortal Life" program where, even if your headphones are broken or outside the two-year warranty, they'll apply a 50% coupon towards the purchase of a comparable model.
---
It may look like a toy, but the OP-1 mini synthesizer is a tour de force of design that packs a ton of functionality in a small frame. Here are just some of its many features:
Ten different synth engines, plus two sampling engines for recording instrumental and percussion sounds, respectively.
Four-track tape recorder.
Eight high-quality effects, including delays, filters, reverbs, and more.
Built-in FM radio, mic, and a 3.5mm line in, all of which are useful for recording/sampling.
320 x 160 AMOLED display with brilliant colors and 60fps vector-based animations.
16 hours of battery life (with two years of standby time).
…and we're only scratching the surface.
They have a quick guide that shows you a few things you can do with the OP-1, or if you really want to dive deep, you can read through all 17 multi-section chapters of the full manual. Alternatively, you can watch Jeremy Blake Leaird-Koch's Red Means Recording YouTube channel, particularly his OP-1 playlist. He does some amazing stuff with this synthesizer:
---
The Doxie Q portable scanner has everything we previously loved about the Doxie Go Plus and Doxie Go Wi-Fi, with the addition of:
A flip-open document feeder for automatically scanning stacks of paper — up to 8 full-color sheets at a time, or up to four 4×6 photos — and creating a PDF of each stack. Thanks to the Doxie app, the feeder even works nicely with double-sided documents.
Better battery capacity that now allows for up to 1,000 scans per charge (up from 300).
Now includes an 8GB SD card, which has enough space for 4,000 scans (over the built-in memory's capacity for 1,600).
As you can see from Doxie's product comparison page, the Q is a tad bigger + heavier than the Go Plus and Go Wi-Fi, but its automatic feeder is a worthy tradeoff and make it easier than ever to go paperless.
* * *
Home / Office / Decor
---
↑ Return to Table of Contents
---
The desk lamp of tomorrow, today! (Sorry, we had to.)
The Aerelight A1 (pronounced "air light") bills itself as the "world's first consumer-ready OLED lamp." Whether or not that's true, it's a pretty nifty item.
The lamp emits soft, warm light from an organic LED panel, with three brightness stages controlled by touching anywhere on the aluminum frame. The advantage of OLED is that the light panel never gets hot even after extended periods of being on, and it uses 80% less energy than a traditional 60W bulb at max brightness.
What's even cooler (heh) is that the walnut base houses a Qi wireless charger, so you can simply lay a compatible smartphone flat on the surface to begin charging it.
The Aerelight A1 comes in anodized black and silver. (Unfortunately, the red one pictured above isn't available as of this writing.)
---
The PuraSense essential oil diffuser works very nicely in small spaces, such as office cubicles, studio apartments, and RVs. If you're familiar with oil diffusing, this device works like you'd expect:
Fill the reservoir with water
Add a few drops of whatever essential oil you like (such as peppermint)
Twist the cover on and press the power button
It immediately begins emitting a lovely smelling vapor and continues for whatever number of minutes you set with the timer button (30, 60, 120, or 180). It also offers four colors of ambient light — white, blue, green, and red — all of which come in both bright and dim settings.
---
PlayableART — the same folks behind the colorful, interconnected "Ball" toy we included in our 2016 Christmas Catalog — also make something called the "Helicone". It's an interactive kinetic sculpture that, with a quick twist, transforms between helix and pine cone shapes, and it's suuuper satisfying to play with:
The Helicone is made from 38 precisely laser-cut wooden pieces assembled on a brass tube, and includes a solid wood display stand. Even the box it comes in is handsome, makin it perfect for giving as a gift: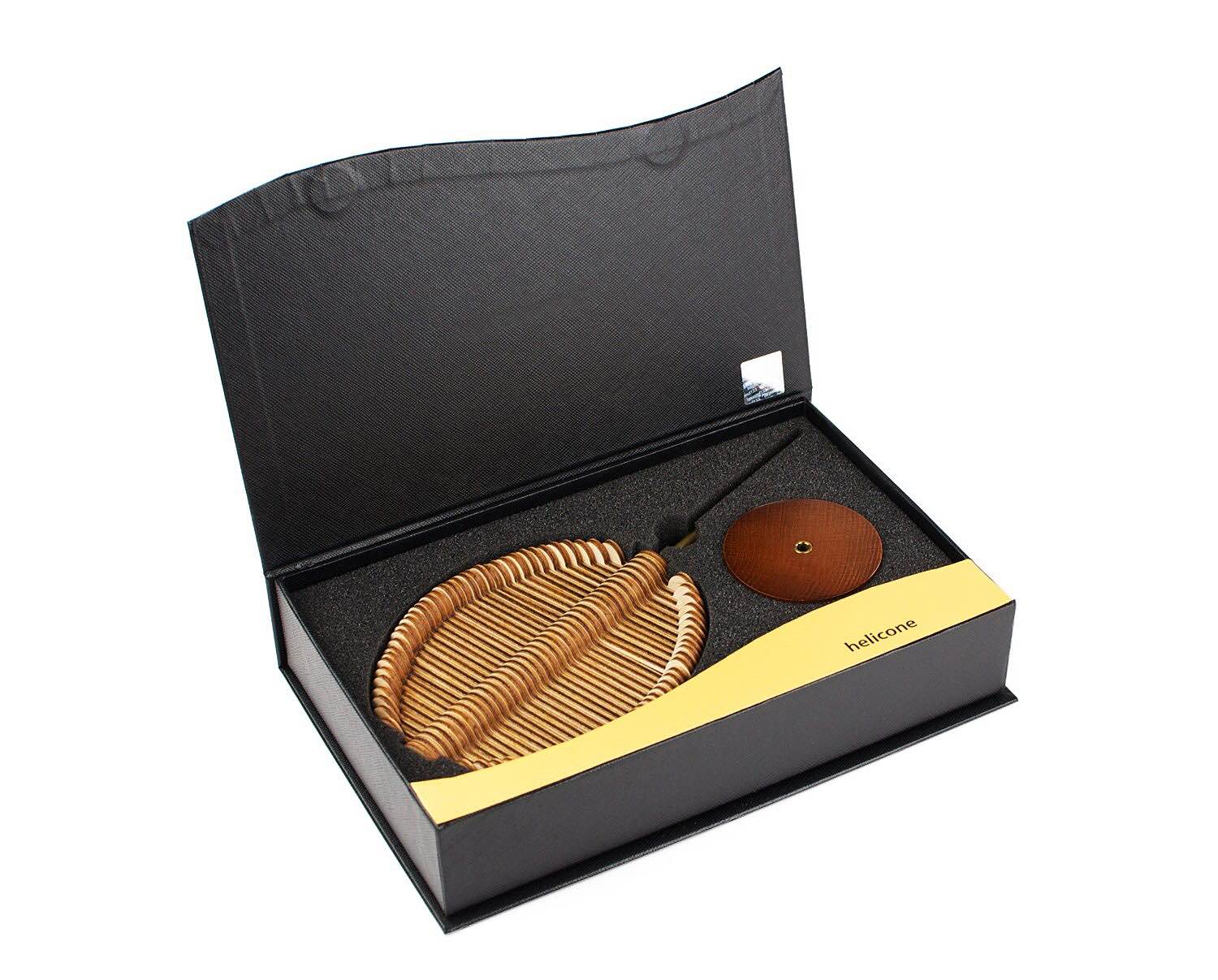 + PlayableART also offers a plastic-and-stainless-steel version of the Helicone, which they've dubbed the "Lollipopter". It comes in various colorways.
---
This one's for lovers of both classic literature and cartography. It's an imaginary street map — though one loosely based on turn-of-the-century London — where every road, feature, and district is named after one of 600 books from the history of English literature.
Here are just a sampling of the titles you'll find throughout:
The Catcher in the Rye
Animal Farm
The Bell Jar
Nightmare Alley
Where the Wild Things Are
Wuthering Heights
Slaughterhouse 5
The Legend of Sleepy Hollow
Norwegian Wood
Charlie and the Chocolate Factory
Moon Palace
Harry Potter
The Lighthouse
The Phantom Tollbooth
The four-color litho map measures 80cm x 60 cm (approx. 31.5″ x 23.6″) and is printed on sturdy 120gsm uncoated art paper.
---
This awesome print by Google designer J.R. Schmidt depicts an isometric New York City rendered in building blocks. Despite the "Lego" in the name, they look rather like Nanoblocks to us. Even so, it's a very cool bit of art and would look great on just about any home or office wall.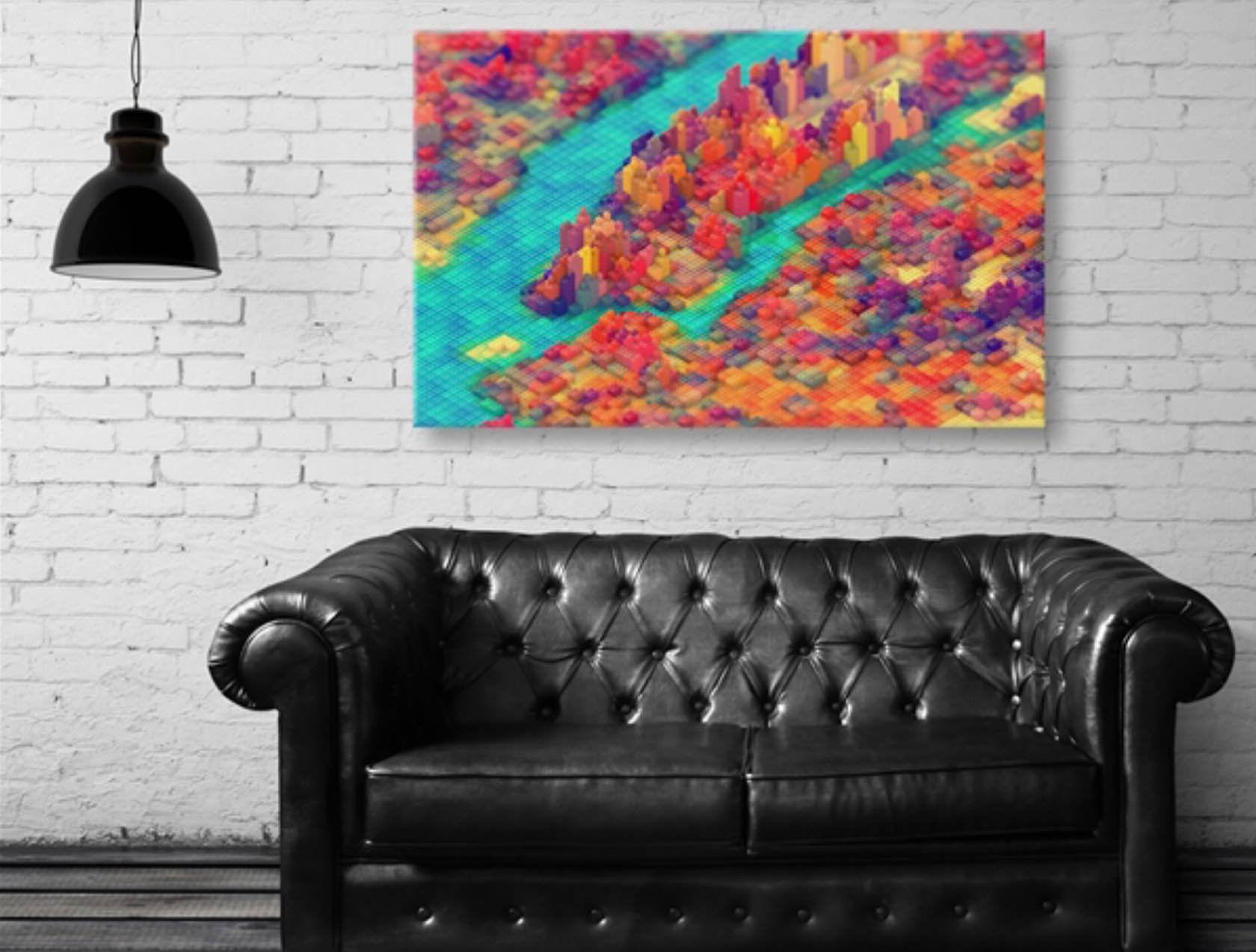 The art print comes in various sizes at Curioos, ranging from small (11″ x 8″, $19) to giant (56″ x 40″, $199). It's also available in canvas ($49–$390), aluminum ($59–$690), and acrylic glass ($129–$1,950) versions.
* * *
Tools / Trinkets
---
↑ Return to Table of Contents
---
This magnetizer/demagnetizer tool is one of those things that, if you haven't used one before, will make you think, "There's no way that actually works" — but it really does. If you need a small tool (screwdriver, wrench, drill bit, tweezer, etc) or any hardware parts (screws, nuts, bolts, nails, etc) magnetized or demagnetized, you simply insert them into the appropriate cavity and voilà.
It won't make an object a supermagnet or anything, but hey, it'll help you get the job done when you need it. It's also real small/portable, plus it doesn't need a battery to do its thing. Comes in red, black, and blue.
---
Duct tape is one of the most useful tools on the planet. Whether or not you're one of those "duct tape fixes everything!" people, at some point you're bound to be in an unforeseen situation where a bit of strong tape could save the day. The Duct Tape Keychain by Gearward is a stylish way to always keep the stuff handy.
Available in your choice of brass or stainless steel, this refillable, chapstick-sized keychain lets you wrap 18″ of Gorilla Tape (each roll offers 70 keychain refills) or 24″ of gaffer tape (45 refills). Speaking of refills, Gearward founder Mark Greenman offers a handy tip:
The best way to refill your keychain is with a power drill. Simply measure out 18″ of tape, attach the exposed end to the center of the spool, and then insert the keychain into the drill chuck. From there, run the drill on its lowest RPM to wind the tape.

When it's rolled up, just slice with a box cutter and you're done. This process takes less than 2 minutes once you get the hang of it, and I typically only need to refill mine once or twice a month.
Once you've done that, you've now got a handy roll of duct tape you can always carry around in your pocket, so it'll be there when you need it most.
---
If you know a florist or home gardener who appreciates a fine tool, these iron garden clippers sold by Nalata Nalata should be right up their alley.
They're hand-forged and sharpened from start to finish by a father-son duo — whose family-run Tajika Haruo Ironworks dates back four generations — in Ono, Japan. Their blade tips slightly overlap when closed for extra cutting power (great for the occasional thicker branches you come across), and the spring-loaded handles are ergonomically shaped for easy handling. They also feature a leather sheath and band for securing the clippers when not in use.
These thoughtfully designed clippers feel great in the hand and are absolutely worth the bit of extra care and maintenance:
To ensure smooth action, these clippers may be lubricated from time to time at the screw that connects the two blades using a standard metal lubricant. To prevent rust, thoroughly wipe clippers free of moisture after every use. Place the leather sheath over the blades while not in use to protect them and help maintain a sharp edge.
---
It might seem a bit silly to have a pair of scissors in this catalog, especially ones that cost more than 30 bucks, but watch this video and you'll see just how much care goes into every set:
They're made from professional-grade, hand-tempered carbon steel blades, and each pair is guaranteed for life. The company will even re-sharpen the blades for you decades after the fact, if need be. Compare that to those cheapy scissors you got from the dollar store and feel nothing for.
There are different versions to choose from:
---
Dewalt's right-angle drill attachment is a nifty add-on for any drill (not just Dewalt ones) that allows you to drill holes and drive screws in confined spaces. It's a bit of a niche tool, but trust us, you'll be glad to have one in your kit when the time comes. As one Amazon reviewer put it:
An extravagant tool, but when you need it, you need it.
In case you're wondering, any driver bits you use attach to this thing via a ring magnet rather than with a chuck. The attachment also has impact-rated gears that should last at least 2,000 life-cycles.
---
Ever find yourself in need of a pair of tweezers but the ones you have are never quite right for the job? Pixnor's 7-piece tweezer set has you covered.
Whether you're picking a splinter out of your skin, building model vehicles, or working with electronic components, there's a tweezer in this pack that can get it done. They're made from non-magnetic, corrosion-resistant stainless steel and have an electrostatic dissipative (ESD) coating to protect electronic components from static damage.
The set includes:
Fine tip, straight (110mm)
Fine tip, straight (140mm)
Fine tip, straight (135mm)
Fine tip, angled (120mm)
Super fine tip, straight (110mm)
Rounded spade tip, straight (115mm)
Heavy-weight pointed tip (130mm)
They also offer a 9-piece set that includes an additional pair of fine-tip curved tweezers (123mm) and a portable storage bag.
* * *
Toys / Games / Kids
---
↑ Return to Table of Contents
---
Strictly speaking, the Nintendo Switch has been harder to get a hold of than a greased-up pig in a mud pit. Er…you know what we mean.
Even as this catalog is being written, the neon blue and red Joy-Con model is yet again temporarily out of stock, though the gray Joy-Con model appears to be good to go (for now). If you manage to get your hands on either model, this is the gift that will make you a hero with your favorite loved one, whether they're a kid or a kid at heart.
For more info on the Switch, read our detailed review.
---
These two coloring books by Sarah Yoon — titled To the Moon and To the Ocean Deep — both make fantastic projects for people of all ages.
We featured these and other neat/educational items in our guide, "Fun Projects for Kids".
Rather than being actual books full of different illustrations you can pick and choose from, each of these folds out into a 15-foot-tall scene depicting a tower — made up of fantastical creatures, machinery, surreal imagery, and more — that stretches either from a house on the ground to the moon, or from a boat to the sea floor, respectively.
Even when you're not coloring, it's fun to pore over all the little details in each book.
---
BB-9E is a droid that will be appearing in the upcoming film, Star Wars: The Last Jedi when it releases on December 15th. It will be an evil counterpart to the uber-cute BB-8 droid, serving the First Order rather than the Resistance.
The folks at Sphero, the company behind the popular app-enabled toy versions of BB-8 and R2-D2 you've likely seen by now, have done the same for BB-9E. As with the previous droids, you use Sphero's "Star Wars Droids" app to interact with and control your little companion in various ways:
You can move the droid yourself or let it patrol on its own.
Through your device's screen, you can roam holographic environments inspired by the Star Wars films, including the interiors of iconic ships.
While charging your droid(s), use the "Watch With Me" feature and put on a Star Wars movie, then marvel as they react to the film by your side.
All of Sphero's droids interact with one another, with respective personalities and all.
---
Want a mechanical buddy that's a little less…dark side? Anki's Cozmo robot is a whimsical, Pixar-esque companion with real personality.
Rather than being solely human-controlled, Cozmo explores, reacts, interacts, chirps, and emotes all on its own. He recognizes faces and reacts differently to each person he knows. He shows a variety of emotions, ranging anywhere from irritation to confusion to competitive to mischievous to gleeful. Using the three Power Cubes he comes with, Cozmo can play games with you, or sometimes he'll simply play by himself. And this is only scratching the surface.
Check out FamilyGamerTV's "day one" unboxing video for a quick glimpse at what playing with Cozmo is like:
If you're thinking, "Gee, Cozmo sure does look a lot like something straight out of WALL•E," well, that's no accident. Anki brought on veteran Pixar animator Carlos Baena to be Cozmo's character director/animator so he could help bring more personality to the robot's movements, facial/eye expressions, and general reactions. Thanks to him, Cozmo feels like a real living being, more like a pet than a toy.
---
Ravensburger's blank "Krypt" jigsaw puzzle is not for the faint of heart, with 654 unique, solid-color pieces that you must rely on shape alone to properly fit together.
Unlike most puzzles, you're not assembling a picture, painting, or even a gradient here. The only other clue you're given is that the pieces form a spiral shape toward the center. If you can complete this thing in under 12 hours, consider us impressed.
---
As their name suggests, the folks at Skyline Chess offer chess sets based on the skylines of two cities, at least as of this writing. They are…
King — Canary Wharf
Queen — The Shard
Bishop — 30 St Mary Axe
Knight — London Eye
Rook — Big Ben
Pawn — Terraced House
…and New York City:
King — One World Trade Tower
Queen — Empire State Building
Bishop — Chrysler Building
Knight — Flatiron Building
Rook — Guggenheim Museum
Pawn — Brownstone House
Each 32-piece set is cast in injection moulded acrylic, then finished in classic black and white. Every piece is double-weighted and has a soft felt base.
If you want to get real fancy, they also offer special playing boards featuring a London map and NYC map, respectively. They're $92 each.
* * *
Travel / Outdoors
---
↑ Return to Table of Contents
---
Having to jump start your car sucks. Being stranded with no one around to help you do it sucks even more.
You should keep a portable starter like the Weego 44 on hand for such occasions. It packs enough power to jump start any vehicle with an engine up to 7 liters (gas) or 3.5 liters (diesel). Its so-called "Smarty Clamps" are not only ergonomic and spark-proof, they're totally foolproof to use, featuring an in-line gizmo that gives off a series of lights and sounds (which are easily heard over traffic noise) to walk you through a successful jump, every time.
The Weego 44 can also be used as a handy portable device charger and as a 500-lumen flashlight. There is really no reason not to have one of these in your roadside emergency kit. When it saves your butt on some desolate highway in the middle of the night, you'll be glad you made the investment. (It also makes a great gift for the…er, less mechanically inclined people you know.)
---
Got someone on your list who loves camping? The Grubstick roasting kit features a telescoping roasting stick with interchangeable attachments for cooking hot dogs, s'mores, and more. The "Grubfork" attachment is a typical roasting fork for skewering marshmallows and hot dogs/hot links/bratwurst, while the "Grubcage" is useful for roasting entire s'mores or veggies (not together of course, unless you're a strange, strange person).
The stick extends from 34.25″ to 38.25″ with attachments. Also included is a "release tool" for safely opening the Grubcage while it's hot. Everything in the kit is dishwasher-safe, and it comes with a drawstring backpack for easy travel.
You can see how it all works in their overview video:
---
Just because you like to go camping or travel a lot doesn't mean you have to give up all the comforts of home. The PackTowl Luxe is a microfiber towel that feels nearly as plush as a terry towel but is eminently more lightweight and packable.
It's also highly absorbent, dries quickly, and is odor-resistant even after multiple uses or being left balled up while wet, as The Wirecutter discovered in their testing:
Not only did [the Luxe] dry the quickest of these towels, it was good at removing sand from the skin and didn't absorb dirt and mud into the fabric. It also didn't have any odor after the smell test. A few of the other thicker towels we tested simply reeked—testers used the term "rotten fish"—after a couple days crunched into a ball, but not the Luxe.
The PackTowl Luxe comes in a variety of colors and sizes. Use it on the trail, at the gym, at the beach, or wherever else your travels take you.
If comfort isn't your number one priority but you still find it helpful to carry a small towel wherever you go, check out the PackTowl Nano.
---
The Gourmia GK320B foldable kettle is a silicone kettle that's great for making coffee or tea on the go, then collapses down for easy storage. It works with two different voltages (100-120V and 220-240v) so you can bring it anywhere your travels take you. It holds enough water for 1 or 2 cups, and the heating element boils water within minutes.
The main downside is that the silicone interior can at first impart a funny taste and smell to the water you heat in it. To remedy this, you can simply boil water in it a few times — preferably with either a couple teaspoons of baking soda or some vinegar (but not both!) — and give it a good rinsing afterward. The silver ring around the top of the base also gets extremely hot during use, so be mindful not to burn your hand on it.
---
If you're into cooking large meals outdoors — whether it's for family gatherings, tailgate parties, or when you're out on the trail — you gotta check out the Camp Chef Explorer two-burner range. You'll never want to buy another outdoor/camping stove.
It's easy to set up and put away, thanks to its detachable legs. Once set up, this thing can handle just about anything you throw at it. The two massive burners (30,000 BTU each!) are spaced far enough apart that the range can accommodate impressively large pots side by side. (This also lets you slide things off the fire when needed, which is handy.) The burners also sport fantastic heat control, with dampers behind each temperature knob to adjust between blue and orange flame.
A few other nice things worth mentioning:
The slots of the burner grates allow Dutch oven feet to pass through, so you can center the pot perfectly.
The burner knobs face each other a bit rather than straight outward, so they're not as liable to catch on things or get knocked off.
The ample windscreen around the sides and back does a great job protecting the flames from the elements.
There are a bunch of accessories that go with the Explorer range, such as a cast iron griddle, a BBQ box, and even a pizza oven.
We recommend picking up the (totally optional) heavy duty carry bag for even easier travel.
---
This dopp kit by Joshu+Vela is a hard-wearing, minimal-yet-functional travel toiletries bag made in San Francisco. Measuring 8.5″ x 3.5″, it's a tad more compact than some dopp kits out there but still big enough to fit all your travel essentials.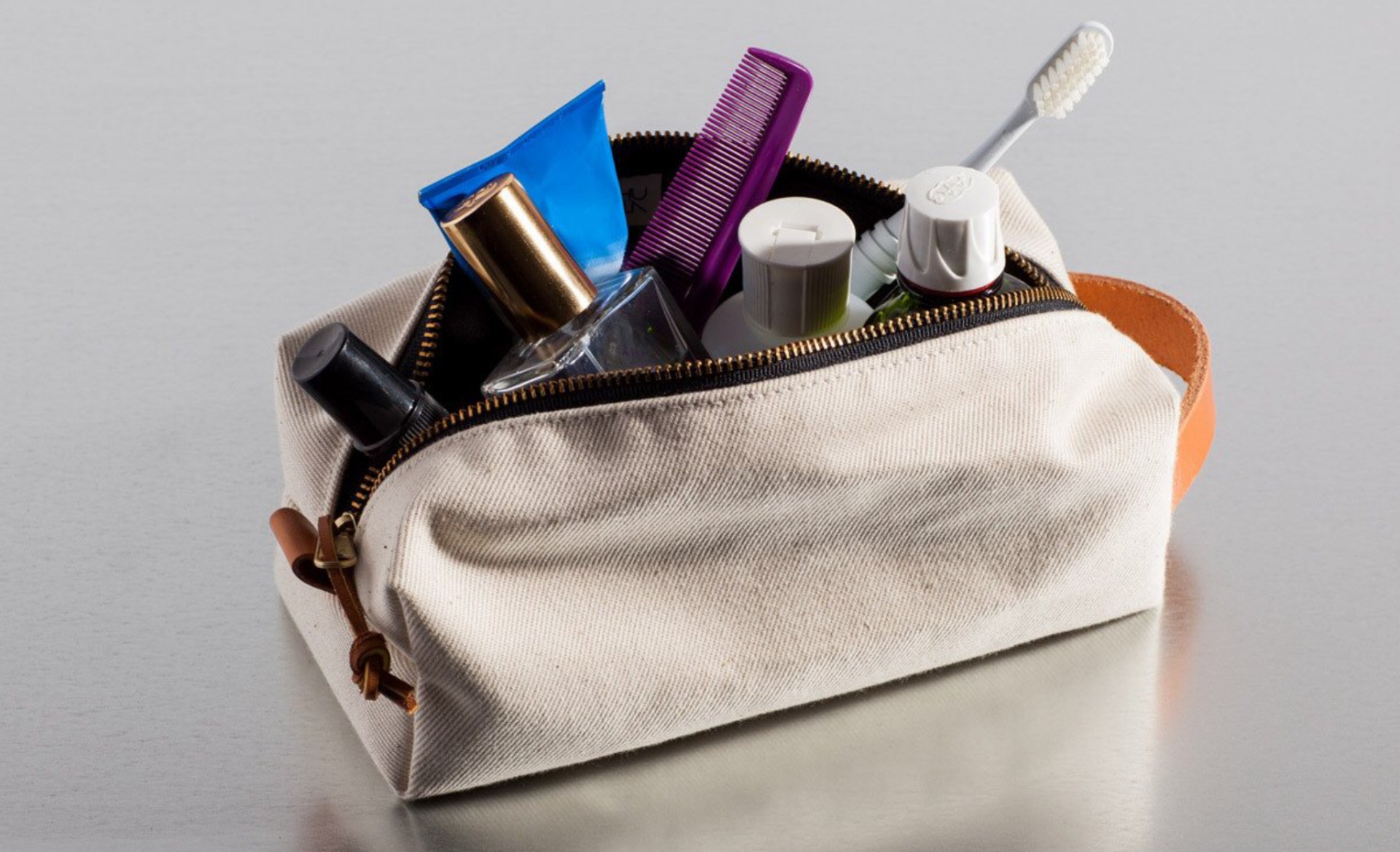 It's made from durable 18oz. cotton with heavy US bridle leather accents, and sports two interior pockets to help keep things organized. The nylon lining makes the bag easy to clean when you need to.
* * *
Wallets / Watches / Attire
---
↑ Return to Table of Contents
---
Carbon Fiber Designs' Koolstof is a simple but awesome money clip made from — you guessed it — carbon fiber, which lends it some unique properties:
Non-metallic: You can walk through metal detectors with it.
Lightweight: By itself, the thing weighs next to nothing — just 8 grams.
Springiness: It doesn't stretch out like traditional metal money clips, so it can hold 50 folded bills one day and a single bill the next, and it'll keep working the way it did on day one.
Durability: Drop it, scuff it, throw it around, keep it in the same pocket as your keys…it almost doesn't matter what you do to it, this clip just keeps on trucking.
Here's a video showing what it can do:
A perfect example of a no-frills product that won't let you down.
---
The "Sergeant" by Recycled Firefigter is a slim, minimalist money clip wallet made from decommissioned fire hose. Handmade by former firefighter Jake Starr, each one holds 4–8 cards plus some folded cash on the back, and is designed to be carried comfortably in your front pocket.
More importantly, they're made to last. Fire hose material (even the retired stuff) is incredibly durable and resistant to far higher levels of heat and abrasion than it's likely to experience in your pocket. For added durability, the wallets are sewn with T90 nylon thread — which sports 15-pound tensile strength, akin to a decent fishing line — and edged with 1″ Mil-Spec nylon binding. The 1.5″ elastic money clip band on the back is also Mil-Spec. Basically, you're not likely to wear one of these wallets out for at least a decade.
What's cool to us is that the material of each wallet has its own story to tell before ending up in your hands. Rather than going to waste after saving so many lives, this stuff gets to serve a second tour of duty.
There are a number of "Sergeant" colorways to choose from, the most popular being the "Orange Typhon" model. The majority of them are $29 on Amazon.
---
The Bradley by Eone is a handsome timepiece that can be read by either sight or touch, making it nice for when you need to check the time discreetly — during meetings, at the movies, under the dinner table while suffering through boring conversations, etc — but it's especially awesome for those with impaired vision.
It's named for Brad Snyder, a former US naval officer who lost his vision to an IED explosion while serving as a bomb diffuser in Afghanistan and persevered to become a Paralympic gold medalist.
The way you use it to tell time with touch alone is by feeling its raised markers and the two magnetized ball bearings that travel around the watch face in separate, recessed tracks — one for the minute and one for the hour. If you accidentally knock either ball bearing out of its magnetic field, a simple flick of the wrist swirls them back into place.
Takes a bit of practice to get the hang of it, but once you do, you'll appreciate the ingenious, understated design.
They have a number of designs available on Amazon, our favorite being the Voyager silver ($325), which also comes in a cobalt version if you shop from Eone's site directly.
---
NATO-style watch straps are coming back with a vengeance. There are already so many to choose from these days, and if you think we won't add another to the list, you're sorely mistaken.
Worn & Wound's ADPT watch straps — "ADPT" being short for "All Day, Purpose, and Terrain" — are a set of nylon straps whose components — such as 420D nylon ribbon and 316L stainless steel hardware — and even packaging are all sourced and manufactured entirely in the US:
One nice feature is the security band that keeps your watch on should one of its spring-bars fail.
Each strap comes in your choice of…
---
Clockwork Synergy is a company that makes a lot of high-quality straps and bands for both regular timepieces and smartwatches. Their "Classic NATO" Apple Watch straps are particularly nice, as are their larger "Heavy NATO" ones.
Strong yet comfortable, these two-piece bands are crafted from high-quality ballistic nylon and fused between stainless steel hardware to create a durable heat seal. They come in a wide variety of colorways, so you can find one for just about any occasion. Even the adapters and buckles have color options to match the color of your Apple Watch.
Pictured in the hero image above is the classic black/tan/navy/red strap, and picured below is the heavy red/white/blue strap: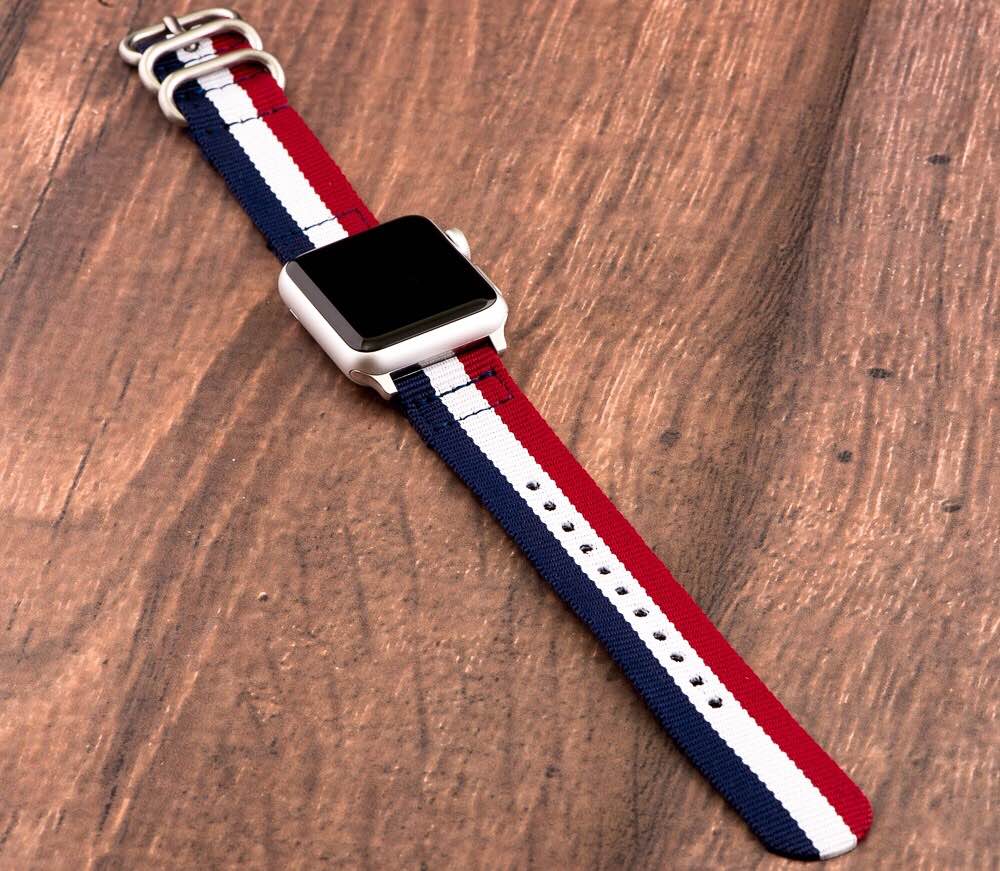 ---
As great as the Apple Watch is for fitness tracking, wearing it on one's wrist isn't always the best option. Certain activities and workouts — kickboxing, weight training, rock climbing etc — either involve wearing gear that covers your wrist or simply require full wrist mobility, thus forcing you to remove your Watch and lose out on all that important tracking data.
Twelve South's ActionSleeve armband lets you strap the Apple Watch further up on your arm — you can choose your upper arm or bicep, whichever is more comfortable for you — which frees up your wrist while still leaving the screen, crown, and button fully viewable and controllable.
One side benefit is that it may actually improve the accuracy of your Apple Watch's heart rate tracking, since it's unlikely to be worn loosely around your arm the way it might be on your wrist.
The ActionSleeve comes in black and red, and in both 42mm and 38mm versions. There's also a 42mm "slim" version, but that one only comes in black.
---
In GORUCK's own words, their Simple Windbreaker is the "only windbreaker that looks just as good in a dive bar as it does in a mud pit."
This jacket is light and comfortable enough to wear out and about, yet tough and abrasion-resistant enough to handle being rained on and dragged through the mud. The fabric is fast-drying, so you could complete a GORUCK Challenge in it, rinse it off afterward, and by the time you show up to the bar later, no one will be the wiser.
There are only two quibbles:
The two front pockets do not have zippers.
There is no hood.
* * *
Writing
---
↑ Return to Table of Contents
---
Each of the items in Ystudio's "Brassing" stationery series sports a black finish that slowly wears off over time, revealing the underlying raw brass material to beautiful effect:
You can use the included extra-fine 600-grit sandpaper to move the "personalization" process along, or simply wait it out with use. Either way, each item reveals a sort of character unique to you or your gift recipient.
---
After a very successful Kickstarter campaign earlier this year, our friends at Studio Neat are nearing the final stages of getting Panobook pre-orders shipped in time for the holidays.
The major selling point of Panobook is its panoramic format, which is designed to fit between your keyboard and the edge of your desk. You can also place it "above" your keyboard if it's a wireless one, or you can have it sitting next to your keyboard in portrait mode as a sort of mini legal pad.
However, the little details are also where it shines, which we detailed in this post. Suffice it to say that Panobook is a fantastic, well-designed notebook that we heartily recommend.
---
Made from full-grain American steer hide leather with parachute-grade nylon stitching, Pad & Quill's two-piece leather grip for Apple Pencil offers not only a sturdy, tacticle grip, but also keeps the stylus from rolling away thanks to the upper portion's built-in stainless steel pen clip. That same upper piece sports a tether that keeps the Apple Pencil's cap near the device even while charging, so you don't have to go hunting for it every time.
The grip comes in your choice of chestnut (dark brown), whiskey (tan), and "galloper" black.
---
Esplanade London is an Etsy shop whose owner Laura Yuan makes and sells a variety of great-looking notebook covers and more, all made from Harris Tweed. She's got covers for Hobonichi Techo planners and A4/5/6 notebooks, all in a variety of patterns and colors.
Check out our guide full of great Etsy items.
* * *
Charities
At Tools & Toys we have always donated 11% of our gross income to charity. If you click this link before you do your shopping on Amazon, we'll be donating 11% of our affiliate earnings for the months of November and December specifically to the three charities listed below.
We also encourage you to consider making some charitable donations this year, and invite you to give alongside us to these three organizations:
St. Jude Children's Hospital: St. Jude is unlike any other pediatric treatment and research facility. Discoveries made at St. Jude have completely changed how the world treats children with cancer and other catastrophic diseases. Moreover, their hospital has been described as "a hospital without walls" where children in need are treated at no cost to their family.

Operation Christmas Child: Samaritan's purse is a Christian ministry, and every year they work with volunteers and donors from around the nation to pack and ship shoe boxes full of gifts to children in need around the globe.

App Camp for Girls: App Camp For Girls is a place where girls can put their creative powers to work, designing and building apps, while learning more about the business of software and being inspired by women mentors in the field. This is an organization we proudly support as they spread the message that women play a vital role in the technology field and offer a significant contribution.
---
↑ Return to Table of Contents
---