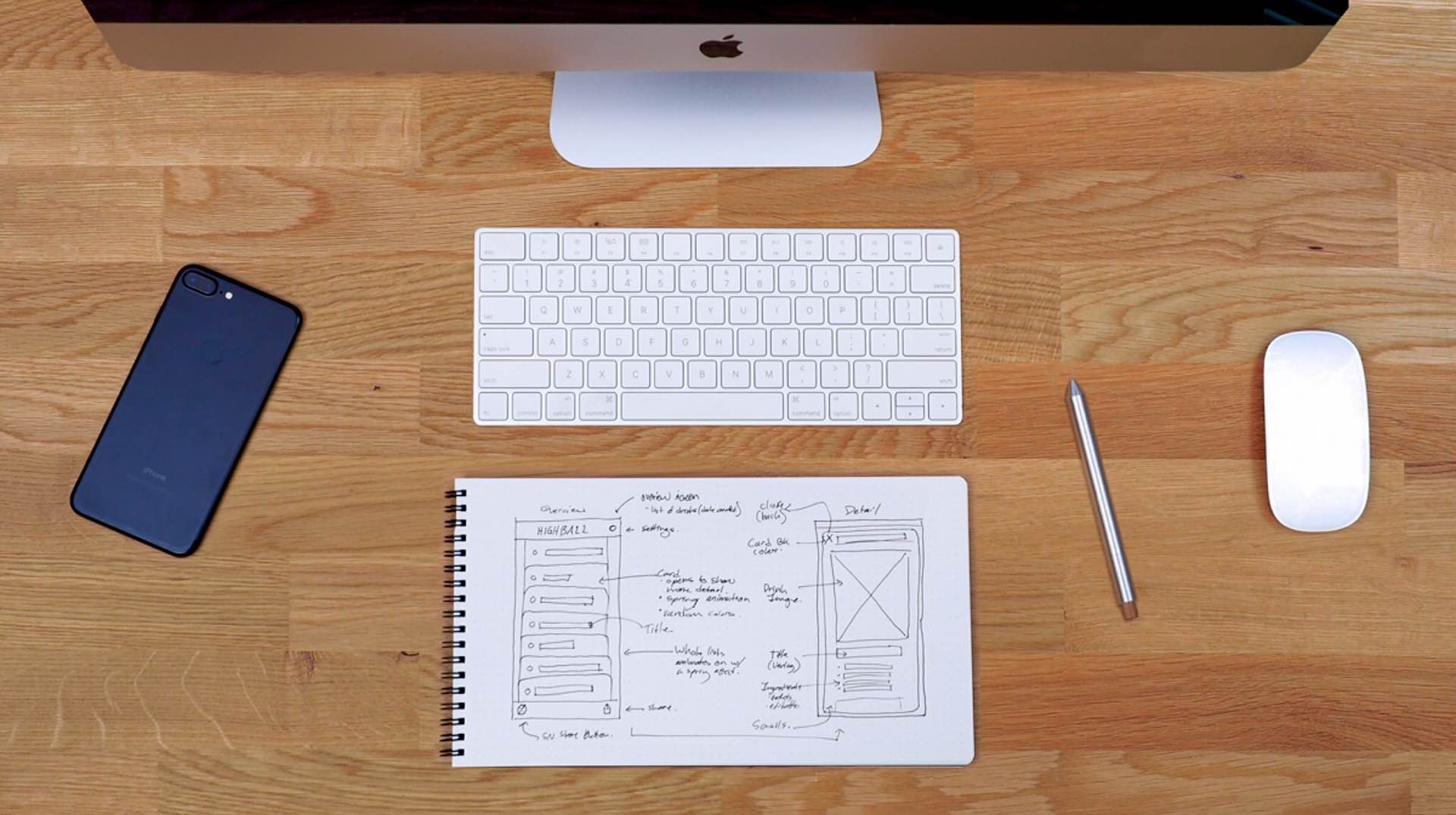 Studio Neat's "Panobook" Notebook [Kickstarter]
Several weeks ago, our friends at Studio Neat asked if I'd be interested in checking out a prototype of a notebook they were working on called the Panobook, and after getting it in the mail, I instantly knew it would be a hit. Earlier this week, that notebook launched on Kickstarter and was funded within a couple hours.
The major selling point of Panobook is its panoramic format, which is designed to fit between your keyboard and the edge of your desk. You can also place it "above" your keyboard if it's a wireless one, or you can have it sitting next to your keyboard in portrait mode as a sort of mini legal pad. However, the little details are also where it shines:
Dot grid — The dot grid on each page has a series of corner guides that help you draw three large 16:9 rectangles, or they can be used as a reference to draw six smaller ones. With Panobook in horizontal orientation, the larger rectangles are vertical — great for smartphone UI design — and when the notebook is turned vertically (or if you decide to draw the six smaller boxes), they become useful for things like storyboarding.

There are also subtle horizontal and vertical midpoint guides marked at the edges of the dot grid, so you can easily divide the page into halves or quadrants if you like.

Binding — The black Wire-O binding lets Panobook sit flat when open — the exact sort of thing you'd want from a notebook meant to live on your desk rather than your bag. (Although, if you look at their Panobook Flickr album, you'll see that it works just as well on the go as it does at your desk.)

Materials — The smooth, high-quality paper they used is from the Finch Fine line, which if you're not a notebook nerd is a hearty paper that feels good to write on and isn't likely to smudge or bleed, no matter the writing utensil you use. If you are a notebook nerd, you've seen variations of this paper in several of the limited-edition Field Notes memo books, particularly their "Shelterwood" edition.

The front and back covers are rigid but with LaCrema exteriors that offer a creamy, soft leather touch. I love how these things feel in the hand.

Slip case — Panobook is designed to be kept once it's been used, and comes with a slip case that you can put the notebook in before placing it on a shelf (eventually, alongside other completed Panobooks). The case's spine has three spots you can fill in for archival purposes: "Date Started", "Date Completed" and "Additional Notes".
Simply put: I love this notebook. It's not one you take with you, it's a statement to keep on your desk. To archive in your bookshelf when it's pages are full of history.


Panobook is a fantastic, well-designed notebook that I heartily recommend, whether you back it on Kickstarter now or buy it from them directly later on. If you do back the project, $20 is what you'll have to pledge to receive one.