As you'll soon see, this year's Christmas Catalog is a lot bigger than our 2015 and 2014 editions.
Here's the thing: We publish a new guide nearly every week for awesome stuff we think you should know about. Over the past year our guides have covered everything from various types of gear to books to podcasts to music albums to YouTube channels to apps to accessories and more. With such a repository of recommendations already in our archive, we wondered how we could make this year's holiday gift guide stand out from the pack.
The answer came to us: We could take the entire year's list of recommendations and compile the best of them into a handful of categories.
Knowing that such a long catalog could be hard to browse all at once, we've created a table of contents for the list of categories. Click through to any of those sections, and you'll find that they each have miniature tables of contents for individual items. This way, you can quickly find something on the page based on whatever's interesting to you, without having to scroll the entire thing each time.
We hope that out of this list, you can find a handful of items that would be useful for you or to your loved ones this holiday season.
Furthermore, we are continuing the tradition of highlighting three of our favorite non-profits. Here at Tools & Toys we have always given away 11-percent of our gross income to charity. And during the months of November and December, we'll be donating 11% of our gross specifically to these three non-profits: App Camp for Girls, Operation Christmas Child, and St. Jude.
* * *
As we've said in past years, thank you so much, dear reader, for your attention and your patronage. Tools & Toys is now over five years old — man, the time truly flies — and continues to be predominately supported by readers like you who purchase something on Amazon through one of our links.
If the items we've curated below don't fit your needs or wants, ping us on Twitter and we will try to help.
Also, click this link before you do your shopping on Amazon, as it's a way to support our work.
Thank you, and happy holidays!
— The Tools & Toys Staff
---
Table of Contents
---
Books / Novels
---
↑ Return to Table of Contents
---
The Daily Stoic: 366 Meditations on Wisdom, Perseverance, and the Art of Living is the new book by Ryan Holiday — author of The Obstacle is the Way and Ego is the Enemy — that features all-new translations of the Stoics (such as Marcus Aurelius, Epictetus, and Seneca), as well as hundreds of new stories, anecdotes, and exercises to help readers live better. It's a guide to modern living through the lens of ancient philosophy.
From the description:
Every day of the year you'll find one of their pithy, powerful quotations, as well as historical anecdotes, provocative commentary, and a helpful glossary of Greek terms.

By following these teachings over the course of a year (and, indeed, for years to come) you'll find the serenity, self-knowledge, and resilience you need to live well.
---
Atlas Obscura: An Explorer's Guide to the World's Hidden Wonders, which was written by AtlasObscura.com founders Joshua Foer and Dylan Thuras — along with the site's associate editor, Ella Morton — celebrates over 600 of the world's strangest curiosities and marvels:
Here are natural wonders—the dazzling glowworm caves in New Zealand, or a baobob tree in South Africa that's so large it has a pub inside where 15 people can drink comfortably. Architectural marvels, including the M.C. Escher-like stepwells in India. Mind-boggling events, like the Baby Jumping Festival in Spain, where men dressed as devils literally vault over rows of squirming infants. Not to mention the Great Stalacpipe Organ in Virginia, Turkmenistan's 45-year hole of fire called the Gates of Hell, coffins hanging off a side of a cliff in the Philippines, eccentric bone museums in Italy, or a weather-forecasting invention that was powered by leeches, still on display in Devon, England.
Folks like Neil Gaiman and Guillermo del Toro have given this book their respective stamps of approval, so yeah: a no-brainer gift, this one.
---
Just-released by the folks at New Scientist (with help from illustrator Jennifer Daniel), The Origin of (almost) Everything is for anyone who's ever wondered where things in our world (and the wider universe) actually came from:
Did you know, for instance, that if you were to get too close to a black hole it would suck you up like a noodle (it's called spaghettification), why your keyboard is laid out in QWERTY (it's not to make it easier to type) or why animals never evolved wheels? New Scientist does.

And now they and award-winning illustrator Jennifer Daniel want to take you on a colorful, whistle-stop journey from the start of our universe (through the history of stars, galaxies, meteorites, the Moon and dark energy) to our planet (through oceans and weather and oil) and life (through dinosaurs to emotions and sex) to civilization (from cities to alcohol and cooking), knowledge (from alphabets to alchemy) ending up with technology (computers to rocket science).
Stephen Hawking wrote the foreword for this one, so you know that if your recipient is a science nerd even in the slightest, they're in for a treat.
---
Mark Forsyth's book, The Elements of Eloquence: Secrets of the Perfect Turn of Phrase — sometimes seen with the subtitle, …How to Turn the Perfect English Phrase — is an ode to the importance of linguistic style. The gist is that it doesn't always matter what we say so much as how we say it, and Forsyth teaches the tricks to make anyone's words sing. If you've got a loved one who says they'd like to be a more memorable writer or speaker, get them this book.
Here's the excerpt that gained the book a lot of attention:
[…] adjectives in English absolutely have to be in this order: opinion-size-age-shape-colour-origin-material-purpose Noun. So you can have a lovely little old rectangular green French silver whittling knife. But if you mess with that word order in the slightest you'll sound like a maniac. It's an odd thing that every English speaker uses that list, but almost none of us could write it out. And as size comes before colour, green great dragons can't exist.
Here's another:
You can spend all day trying to think of some universal truth to set down on paper, and some poets try that. Shakespeare knew that it's much easier to string together some words beginning with the same letter. It doesn't matter what it's about. It can be the exact depth in the sea to which a chap's corpse has sunk; hardly a matter of universal interest, but if you say, "Full fathom five thy father lies," you will be considered the greatest poet who ever lived. Express precisely the same thought any other way—e.g. "your father's corpse is 9.1444 metres below sea level"—and you're just a coastguard with some bad news.
---
Sometimes an out-and-out fantasy novel is what a person needs. The Nebula Award-winning Uprooted by Naomi Novik is what we recommend this holiday season.
It's about a young and troublesome girl named Agnieszka, who lives in a small village at the edge of a sinister forest called the Wood. The townfolk rely on a local wizard known as the Dragon to keep them safe from the Wood's horrors. He's not much of a nice guy though, and his price for the town's protection is that every ten years, they must send a young woman to live in his tower and serve him until the next maiden is chosen.
As you can guess, Agnieszka's the one who gets picked in this story. And as it turns out, she has some latent magical ability of her own.
---
A New Way to Dinner: A Playbook of Recipes and Strategies for the Week Ahead is a new cookbook by Food52 founders Amanda Hesser and Merrill Stubbs. Designed around weekly and seasonal grocery shopping, this book is an indispensable guide to advance meal preparation — that is, cooking a few base dishes on the weekend and using them in dishes throughout the next week (mostly dinners, with a few lunches and desserts thrown in for good measure).
If you know a friend or loved one who's been struggling to find the balance between a busy life and eating well, A New Way to Dinner will help them master make-ahead meal planning so they can stop stressing out about cooking every night and just enjoy the food.
* * *
Food / Drink / Kitchen
---
↑ Return to Table of Contents
---
Larch Wood's end-grain cutting boards fit very well with our philosophy of buying quality items that last. In a way, they're like a well-maintained piece of cast iron: If you take care of them (more info here), they can last a lifetime or longer. This is a gift that will surely be passed down to grandchildren someday.
Here's a video of the manufacturing process:
The boards are available in a number of shapes and sizes:
---
If there's one stand mixer anyone should have in their home kitchen, it's the KitchenAid Artisan. It can produce awesome cake batters, cookies, frostings, egg whites, cream, and even bread or pizza dough from time to time.
Available in a wide variety of colors, the tilt-head Artisan mixer comes with a few attachments:
Nylon-coated flat beater (which can be replaced with a metal one if you're concerned with the nylon flaking off)
Nylon-coated dough hook -Wire whip
Pouring shield (which can be easily removed during operation)
The front-facing power hub at the top of the unit lets the Artisan expand what it can do via attachments like the pasta roller/cutter ($142) for spaghettic and fettuccine, or the meat grinder ($37), which happens to be useful for grating cheese.
---
Grilling food on a Himalayan salt block like this one is a clever idea few people seem to know about.
Place the block on a grill opposite from the charcoal or otherwise on low heat, let it slowly and evenly heat up for 30–45 minutes — to the point where drops of water instantly sizzle away on it, a temperature it will maintain for a while — then cook on it any food you'd like to impart a delicate but complex salty flavor to. Steak, chicken, pork loin, fish, shrimp, veggies, et al are all perfect candidates for this method. Once the food's cooked, use the included porcelain-coated steel holder to transfer the salt block — food and all — to the table and serve guests right from the cooking surface.
It doesn't only have to be used for grilling, though. Mark Bitterman of Portland, OR specialty shop The Meadow offers a bunch of handy tips for cooking and serving on a salt block:
Serve moist food on it, such as mozzarella and sliced apples, and the food will pick up a delicate saltiness that sets it off perfectly.
He also talks about freezing the block for other uses:
Freeze a Himalayan salt plate for two hours. Scoop cream or sorbet atop.
More fun yet, freeze a Himalayan salt plate for two hours. Then, over medium heat, warm lightly whipped sweet heavy cream, egg, honey, and aged bitters, and refrigerate. Remove the salt slab from freezer, pour mixture on it, slowly lufting with spatula, for a salt-tinged ice custard you will not soon forget.
As it happens, Mark wrote a whole cookbook on salt block cooking, which you could include with the block itself as an additional gift.
---
Fecido's classic kitchen/tea towels are SUPER thick and absorbent. Kid made a mess? Dinner pot boiled over? These bad boys soak it all up and then some. They almost don't even feel like something you'd use in a kitchen, but more like a cotton blanket. They also look great and won't leave lint all over the dishes.
The towels come in a variety of colors (as pictured above) and in packs of twos. We're partial to the red ones ourselves.
---
OXO Good Grips' 3-in-1 trivet set is, well, a set of trivets that protect a table (or other surface) while serving food in hot cookware.
They can snap together into one uber-trivet, or they can be used separately — whether it's for different dishes, or placed side-by-side to accomodate a particularly large dish. They're made of durable silicone that's heat-safe up to 600°F, and underneath each ring are raised, non-slip feet to keep the dishes from moving around, meanwhile keeping the hot surface even further from the table.
Another clever use for them is setting a mixing bowl in the center of one of the circles to keep the bowl from rocking around while prepping dough, etc.
---
Cuisinart's 3-in-1 burger press is useful for making burgers of all kinds. It can shape regular patties up to ¾ lb, or it can be used to make stuffed burger patties filled with whatever ingredients one likes. The smaller insert is perfect for making sliders. The press is nonstick and dishwasher-safe, plus it's small enough to easily be brought along to tailgate parties and such.
---
This children's bento box from Bentgo is a leakproof lunchbox with five different-sized compartments for packing a wholesome lunch and/or snacks for a kid, and it's pretty great. The compartments are sized for one entrée, some fruit and veggies, a dip, and a small dessert.
The children's Bentgo comes in blue, green, and purple.
You can also purchase the standalone blue tray, green tray, and/or purple tray (each of which is $6) so a kid can mix-and-match colors as they like.
---
While a good chef's knife is the single most essential kitchen tool, there are other knives worth keeping around for more specialized duties.
The Japanese-made 6.5″ vegetable cleaver by MAC Knife is ideal for anything involving fruits and veggies. It's of the straight-edged, double-beveled nakiri variety — not to be confused with the single-bevel usuba cleaver or the much larger Chinese cleaver. This means it's lighter, easier to handle, and offers a higher level of cutting finesse than its usuba and Chinese counterparts.
Here are some examples of things it excels at:
Creating clean, paper-thin slices of tomatoes, cucumbers, radishes, etc.
Julienning onions, carrots, etc.
Basic veggie dicing and mincing.
Skinning bell peppers using the roll technique.
If you need more than our recommendation, this veggie cleaver is considered the best by America's Test Kitchen:
* * *
Home / Office / Decor
---
↑ Return to Table of Contents
---
This amazing, hand-drawn Victorian-style map of Mars by designer Eleanor Lutz combines the romance of ancient maps with modern data about Mars' geographical features and humanity's rover landings there.
In a blog post on her Tabletop Whale site, she provides some detail about the design:
To add a little something extra, I included the history of each place name on the map. Martian craters are named after famous scientists (for large craters) or small villages on Earth (small craters). Since the base map is hand-drawn I also added an overlay of actual NASA topographic imagery. This way even if some of my lines are a little off, you can still see what the actual ground looks like underneath.
It should be noted that this is not a full map of Mars, but rather a section of it. Here is a comparable area of Earth to give you an idea of what the Mars map covers.
The map can be purchased at Redbubble in a variety of formats, including a photographic print ($7–$36 depending on size), a hardcover journal ($20), an iPhone case/skin ($25), and more.
---
Illustrator James Hance has a whole series of artwork called Wookie the Chew that mashes up the worlds of Star Wars and Winnie the Pooh. Sounds weird, but it's actually quite good.
Our favorite print from that series (and believe us, it's hard to pick just one) is the one called A Most Bold Adventure. Something about it just speaks to us — maybe it's Han Solo's jaunty walk (á la Christopher Robin), or the AT-AT Walker as Eeyore. Whatever the case, this 14″ x 11″ print is perfect for a kid's room or as a gift for anyone who loves both Winnie and Star Wars.
---
The Map of the Constellations by Best Made Co. is a stellar (heh) gift to give the stargazer in your family this holiday season. Charting the stars of the northern and southern hemispheres, the map measures 3′ x 2¼' and includes diagrams of…
The Earth's axis
Phases of the moon
Solstices and equinoxes
Eclipses (relative to the positions of the sun, moon, and earth)
Illustrations of the more notable satellites throughout the years (including Hubble, Voyager 1, Mars Global Surveyor, and more)
Here's a great photo of it in the field by Best Made founder Peter Buchanan-Smith: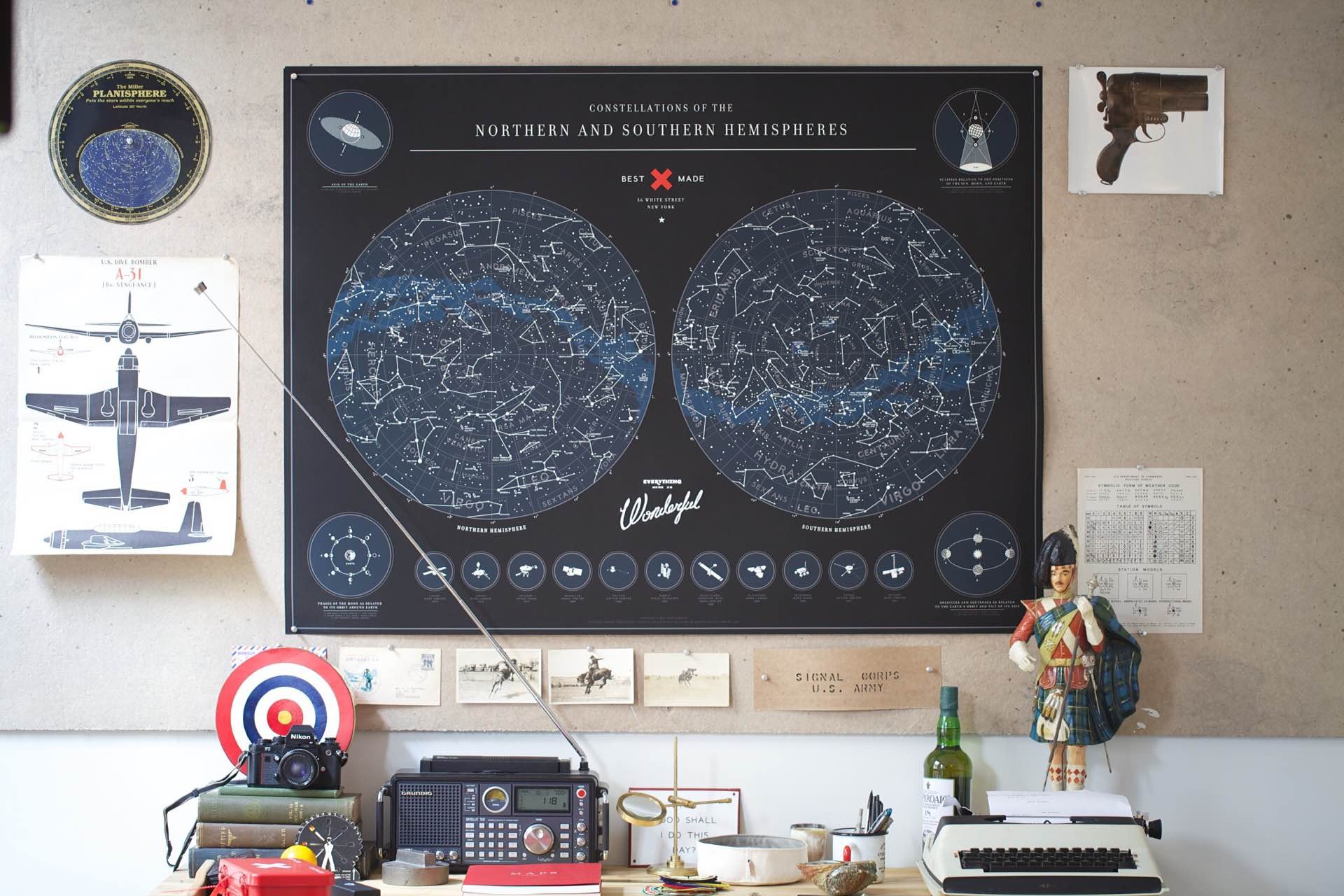 ---
The folks at Twelve South recently announced the Fermata, an elegant stand designed to hold + showcase a pair of premium headphones, and which doubles as a wall-powered charging station.
Made from aluminum with a soft contoured leather pad atop its support saddle, the Fermata has a built-in USB charging cable with a reversible micro-USB connector to keep a pair of wireless headphones charged at all times. When it's not in use, the connector tucks away out of sight into the back of the stand's post.
Hidden beneath the base is an extra USB port that's useful for, say, keeping a Lightning cable plugged in for charging an iPhone and/or iPad when needed. The Fermata also works nicely for gaming headphones.
Note: Don't be afraid of the "Available from these sellers" link on the Amazon product pages; the only seller listed for either version is Twelve South themselves. If you're still unsure about it though, you can always order directly from their site.
* * *
Gadgets / Accessories
---
↑ Return to Table of Contents
---
The Material Dock is a dock for iPhone and Apple Watch by our friends Tom and Dan at Studio Neat. This video explains the whole thing nicely:
The Dock comes in two versions: iPhone-only ($45) and iPhone + Apple Watch ($70). Both are milled from beautiful, solid walnut wood, with backing panels made from molded cork — a lovely contrast to the glass and aluminum of the gadgets being docked there. Those cork panels, along with the Lightning plugs on each dock, are minutely adjustable, so the Material can accomodate pretty much any iPhone + case combo.
The Dock stays put on a nightstand or table thanks to two micro-suction pads on the bottom of the dock. It adheres without leaving any residue, and holds fast when pushed down into place.
The only caveat: Either you or your gift recipient will have to provide the Lightning cable and/or Apple Watch charging puck.
We really wanted to include the newest version of Studio Neat's Glif tripod mount in this guide, but unfortunately it isn't expected to ship until early 2017. We still recommend keeping an eye out for its release, because it's going to be awesome.
---
It's no secret that we're huge fans of the Anker 40W 5-port USB charger. It's made several appearances in our various gear guides, and those of us on the team who travel a lot certainly get a ton of use out of it.
As it turns out, Anker makes something even more portable: The PowerPort 4, a 40W 4-port USB wall charger with a foldable plug. Rather than connecting to an outlet via a cable like the 5-port charger, the PowerPort 4 plugs directly to the outlet. In fact, it looks a lot like a bigger version of Apple's 12W USB power adapter that ships with iPads, with the addition of Anker's "PowerIQ" feature that smartly routes power to each port based on the receiving device's unique charging protocol.
A nice bonus feature is its soft LED status light, which indicates when it's plugged in and done charging.
---
Ever had your car battery die at the most inopportune time, when no one is around to give you a jump start? Yeah, we've been there too. This portable jump starter by DBPower is what you'd want to have on hand in such situations.
It stores up to 12,000mAh of power and delivers a peak current of 400 amps, which guarantees you'll be able to jump a 3L gas (or 2.5L diesel) vehicle up to 15 times on a single charge, yet it's small enough to fit in a glovebox — which is actually a convenient place to keep it, since the device also sports two USB outputs (5V/2.1A each) for charging iPhones and iPads on the road. A built-in, ultra-bright LED light on the end also comes in handy for nighttime reading or when you have a roadside emergency.
---
When it comes to writing with an iPad, you'll have to pry the Belkin QODE out of our cold, dead fingers. Still, it's admittedly not the best solution for anyone doing a lot of writing on an iPhone instead, especially on the go.
The ZAGG pocket keyboard is the better solution for iPhone writers. This tiny foldable keyboard offers over 85% of the space of a typical keyboard, but can reduce down to a slim rectangle shape for easy stowing in a bag or jacket pocket. It folds this way with a horizontal hinge between the A and Z rows of keys, rather than having an awkward, taco shell-style vertical hinge.
When closed, built-in magnets keep the Pocket folded and turned off so it doesn't waste power. When in use, a small shelf built into the stand portion folds out to hold your device.
Two versions of the ZAGG Pocket are available on Amazon:
Universal ($50) — Compatible with both Apple and Android devices.
Apple-only ($38) — Designed for only iPhone and iPad.
---
Know someone who's thinking about starting a podcast? One thing they'll need for sure is a good mic. Audio Technica's ATR2100-USB microphone — which, for you audio nerds out there, is of the cardioid dynamic USB/XLR variety — is one of the best all-in-one solutions around.
The ATR2100 is great at eliminating room echo and background noise, with the caveat that you must speak up closely to it. Each mic comes with its own tripod desk stand, and there's a built-in headphone jack so the user can monitor their audio in real-time without hearing any distracting delays.
Note: You don't necessarily need to use a pop filter with the ATR2100, but this $3 foam windscreen is a cheap and easy way to reduce unwanted noise even further (not to mention protect the mic from the unfortunate reality of speaker spit).
---
Ever taken an incredible photo on your iPhone somewhere and thought to yourself, "Man, it would be nice if I could print this off right here"? Maybe you want to hand a copy of the photo to a companion traveler as a keepsake, or send one to your parents postcard-style, or share photos of the night's party with all your guests before they head home, or as Casey Liss suggests, have a band sign a photo you took during the concert only minutes before.
Whatever the case, the Polaroid ZIP mobile printer is a great solution. This little gadget — which clocks in at smaller than 3″ x 5″ x 1″ — uses ZINK (zero-ink) photo paper (a 10-pack comes with the printer) to produce high-quality, borderless, full-color photo prints (at 2″ x 3″ size) wirelessly from an iPhone or iPad.
This special paper is smudge-proof and resistant to fading, even from exposure to heat, light, and humidity, so the photos should last a good while. The back of each sheet can be peeled off to reveal a sticky side, so you can stick the photo wherever. A full charge of the printer's internal 500mAh battery (which takes 1½ hours) lasts about 25 prints — plenty enough for most occasions.
---
There are those who are lucky enough to have perfect Wi-Fi connectivity in their home, no matter what room they're in. The rest of us? Well, let's just say we apparently angered some Wi-Fi god in a past life.
The eero home Wi-Fi system solves this problem beautifully. If you've ever tried to fix "dead zones" and other connectivity woes with a confusing series of routers and extenders and still gotten nowhere, you'll love this setup — or your loved ones will, if you're buying this for them (which still helps you out in the end, when you're visiting their place down the road 😉).
What you get are three nodes that work together almost magically to create a mesh network with fast, rock-solid blanket coverage. It's crazy easy to set up, and once the nodes are in place, the eero iPhone app will automatically detect the new network and give you a few options to breeze through (naming the network, selecting the room each node is in, etc). It'll even guide you through optimal placement of each node.
That's it! You're off to the races. Enjoy that sweet, sweet Wi-Fi connection anywhere in your house.
---
Elago's got a knack for making small-but-nifty gadget accessories, such as the R1 Intelli Case for Apple TV remote. In this gift guide we'd like to point out their M2 Stand, which is simply a solid aluminum stand designed for iPhone and other smartphones.
Your phone can sit in the cradle in portrait or landscape mode, with or without a case (at least in most most instances), and stay plugged in either way. It's perfect for FaceTime calls, watching videos, keeping an eye on incoming notifications, etc.
As this Amazon reviewer points out, there are only two (potential) flaws with the stand:
The skid pads on the bottom are useless and don't stop the stand from sliding when you press on the iPhone's screen
The iPhone's back rubs against the stand's bare metal, which could scratch the phone
If you're concerned about these, both issues are easily fixed with a $3 set of self-stick bumpers — four on the bottom, and another four on the plate your phone rests against. This will keep the stand from sliding around or scratching the back of your phone. If you're buying the M2 as a gift for someone else, get the bumpers for them as a combo gift.
* * *
Tools / Trinkets
---
↑ Return to Table of Contents
---
Just about anyone who's ever used a power drill has stripped (or otherwise damaged) a screw at one time or another. It's just so easy to do with one of those things. If you get yourself into such a bind during a home improvement project or even while assembling a kid's electronic toy, this four-piece screw extractor set by Product Stop will be a lifesaver.
Each of the four different-sized drill bits in the set has two sides: One end is for first "drilling out" the head of the screw, and the other one — the threaded side — is then run in reverse to grip the newly made hole and easily remove the screw. Here's an explainer video that is technically for a competing screw extractor set but the principles are the same.
The bits are made from twice-tempered 60HRC tool steel, which is plenty strong enough to handle most screws you'll find outside of industrial/commercial projects. If you come across anything tougher than that though, beware because it may actually break the screw extractor bit.
---
Big Idea Design's titanium pocket bit is a clever and discrete way to carry a screwdriver at all times. The grade-5 titanium bit is threaded through the center with a grade-2 titanium ring, which can fit onto (or replace) an existing key ring.
Each bit has a #2 Phillips head on one end and a 6mm flat head on the other, and you can choose between a round or hex body when purchasing. As long as you've got your keys with you — and why wouldn't you? — you've got a handy tool for fixing issues, opening packages/boxes or cans of paint, and popping off the occasional bottle cap.
Here's a short video demo:
Note: These bits do not work with magnetic screwdrivers.
---
With most "one-handed" multi-tools, you get the option of one-hand-opening pliers OR one-hand-opening blades. With the Leatherman OHT, both of these functions are combined into a single heavy-duty unit, along with 14 other tools. Here's the full list:
Spring-action needlenose pliers
Spring-action regular pliers
Spring-action 154CM replaceable hard-wire cutters
Spring-action 154CM replaceable wire cutters
420HC knife
420HC serrated knife
Saw
Strap cutter
#8-32 cleaning rod/brush adapter
Can opener
Bottle opener
Oxygen tank wrench
Phillips wcrewdriver
Large screwdriver
Medium screwdriver
Small screwdriver
All of the tools lock into place when open, and the handles are visually imprinted so you can quickly identify where each tool is. Whether you buy the black or coyote tan version, each Leatherman OHT comes with your choice of a black or brown molle sheath.
---
The KeyBar is a modular key organizer that works like a multi-tool for your keys, with the side benefit of stopping all that irritating jangling noise. It can accomodate up to 12 keys with the provided sets of screws (which you can change out as you like), or you can buy a set of their extension screws to up that number to 14, 24, or even 28 keys.
The KeyBar comes in a variety of materials and designs, and thus a range of prices (anywhere from $45 to $95, depending on which one you choose).
Note: If you've got any weird keys you're not sure will fit, check their FAQ page for sizing details.
---
Ever tried working on your bike, assembling furniture, or working on machinery with typical hex keys and been frustrated by the placements of certain screws? Or do you get your wrenches mixed up a lot?
Bondhus' ball-end Allen wrenches solve both of these issues. Each set is color-coded, making it easier to find whichever wrench you need for a job. And, each wrench has a ball end that inserts into screws at a 25° angle, letting you not only work from a wider variety of angles, but also with more natural hand and wrist movement. Bondhus invented ball end wrenches back in 1964, so you could say they've got the machining process down-pat.
Every wrench is made from Bondhus' proprietary "Protanium" steel alloy, which basically means they're super durable and likely won't break in your lifetime. They're also finished in a way that prevents rusting. They only have two real downsides, really:
The color finish tends to wear off in places where the wrenches repeatedly make contact with screws. However, the rest of the finish along their lengths typically stays intact.
While the long arms of these wrenches offer great leverage and reach, they can cause issues if you have to turn the long ends in particularly cramped spaces.
The wrenches come in a 9-piece metric set for $15, a 13-piece "inch" set for $24, or if you want a bit of both worlds, they offer this double-pack mix for $30.
* * *
Toys / Games / Kids
---
↑ Return to Table of Contents
---
Following a successful Kickstarter campaign nearly a year ago, the folks at Nuzi Design are about to begin shipping their super-cool COSMOS building block sets, which are modeled in aerospace forms and connect together magnetically in a wide variety of ways.
Here are all the sets, from least to most expensive:
Collect two or more sets and you can mix-and-match pieces between them to create all-new stuff. Kids are going to love these things.
---
Rock Me Archimedes is a marble/board game that appeals to us on several levels:
Brainy level: It's a simple game to pick up, but has enough strategic complexity to keep things interesting. The goal: Get four marbles from the center to your end zone before your opponent does, and without the board touching the table during your turn.
Geeky level: The game was inspired by the Greek mathematician of the same name, who first explained the principle of the lever.

Parent level: It's great for all ages. As Laura Grace Weldon of GeekMom put it:

It's said to be for ages eight and up, but we've found that much younger children (with supervision) enjoy using the game for open-ended play. Three-year-old Millie recently spent nearly an hour lining up black and white marbles on the game board in different configurations without tipping it.
See the game in action here:
---
If you've ever played Hasbro's classic Connect Four game, Restoration Hardware's reimagined version (dubbed "Four Up") is essentially the same but way fancier. Rather than using colorful plastic components, the board here is crafted from wood with a vintage natural finish while the pieces are made from aluminum in silver and matte black. They've really done a beautiful job with this.
---
The kids edition of Amazon's Kindle Fire is a great value if you know a kid who's been wanting a tablet. For $100, here's what you get:
---
Anyone just getting into astronomy (especially kids) should have a good starter telescope that won't break the bank before they've decided whether or not this is the hobby for them. We recommend Celestron's 76mm FirstScope telescope.
It's got a nice wide field of view, decent-enough optics to view Jupiter and Saturn in the right conditions — although you probably won't be able to make out the former's bands or the latter's rings without upgrading either of the included eyepieces and/or adding a 2x Barlow extension — plus it's super lightweight and portable.
Additionally, the Dobsonian-style rotating tabletop stand lets you adjust your viewing angle with ease, and the optical tube is marked with the names of many of history's most notable astronomers and scientists.
---
Whether you're a kid or an office worker who often has idle hands — say, during conference calls and such — you'll dig the PlayableART Ball. It's a set of 20 colorful, interconnected wooden balls that can be easily twisted and turned into a number of shapes, like so:

They're made from high-quality beech wood and colored with non-toxic, water-based paint. When they're not being toyed with, they add a nice colorful touch to any desk or play area.
---
Brad Meltzer's charming and entertaining Ordinary People Change the World children's book series (illustrated by Christopher Eliopoulos) is a fantastic way to introduce kids to history. Each book tells the story of a specific hero in American history, with a twist: They're presented as children who tell their stories in first-person.
The series tackles some surprisingly deep themes — slavery, segregation, gender and racial equality, bullying, perseverence in the face of adversity, daring to be different, following one's dreams, and more — but all in ways kids can easily understand. And, since the historic figures are shown as children themselves, kid readers really get to connect with them in a way they might not otherwise. They'll realize that anyone can become a hero.
Here are all 10 books in the series so far (from newest to oldest):
You can buy the books individually, or for a good intro to the series, you can get the first four books (Lincoln, Earhart, Parks, and Einstein) in a single hardcover set for $37.
---
Words (by artist Christoph Niemann) compiles 300+ illustrations of words inspired by Dr. Edward Fry's list of sight words:
This compilation of more than 300 words and pictures encourages reading, fuels the imagination, and offers hours of decoding fun. Christoph Niemann has illustrated each word with a picture that challenges readers to make connections and puzzle out meaning in a playful way. Homophones, basic punctuation, and an assortment of silly and unusual words are also included to delineate the eighteen sections of the book.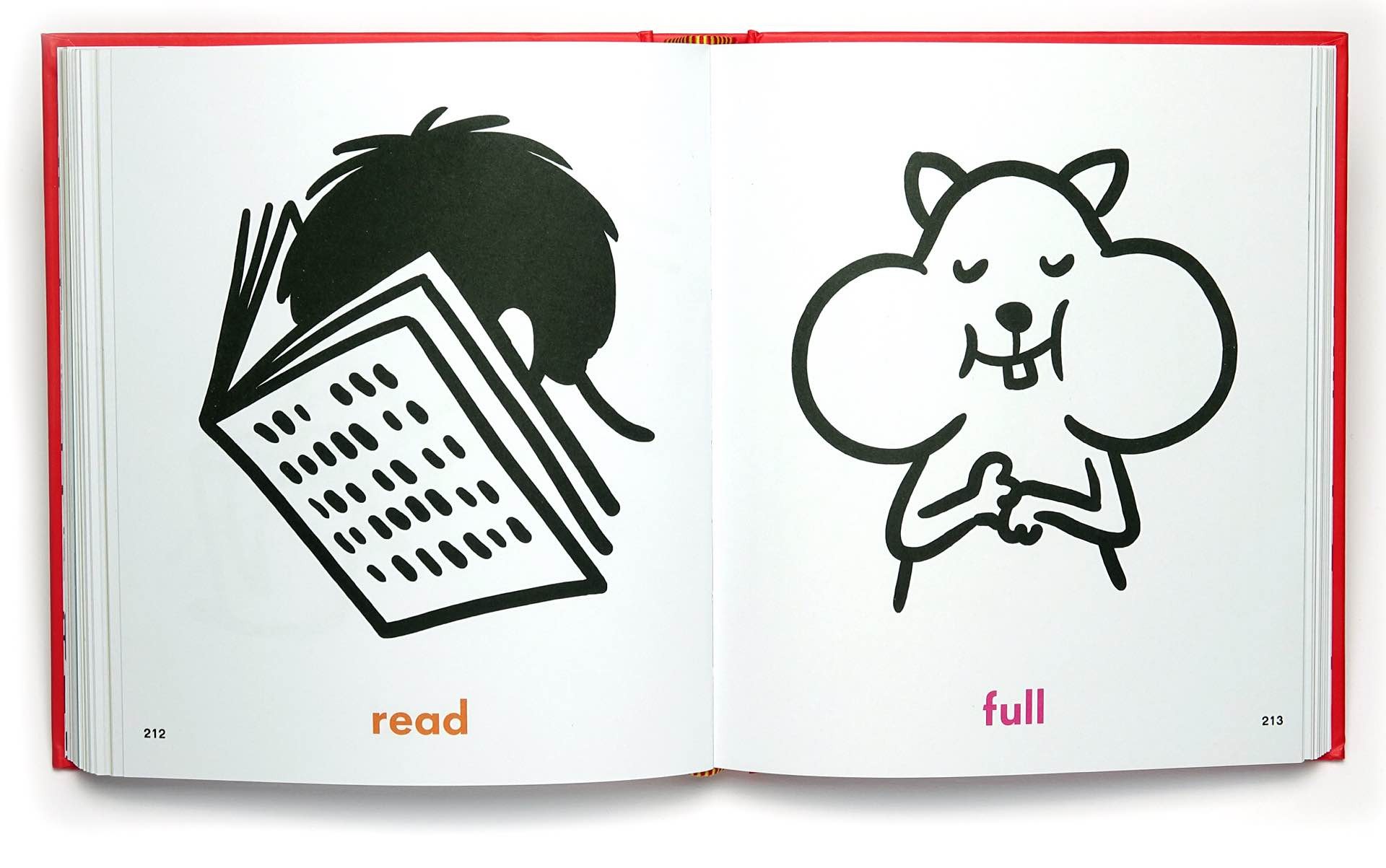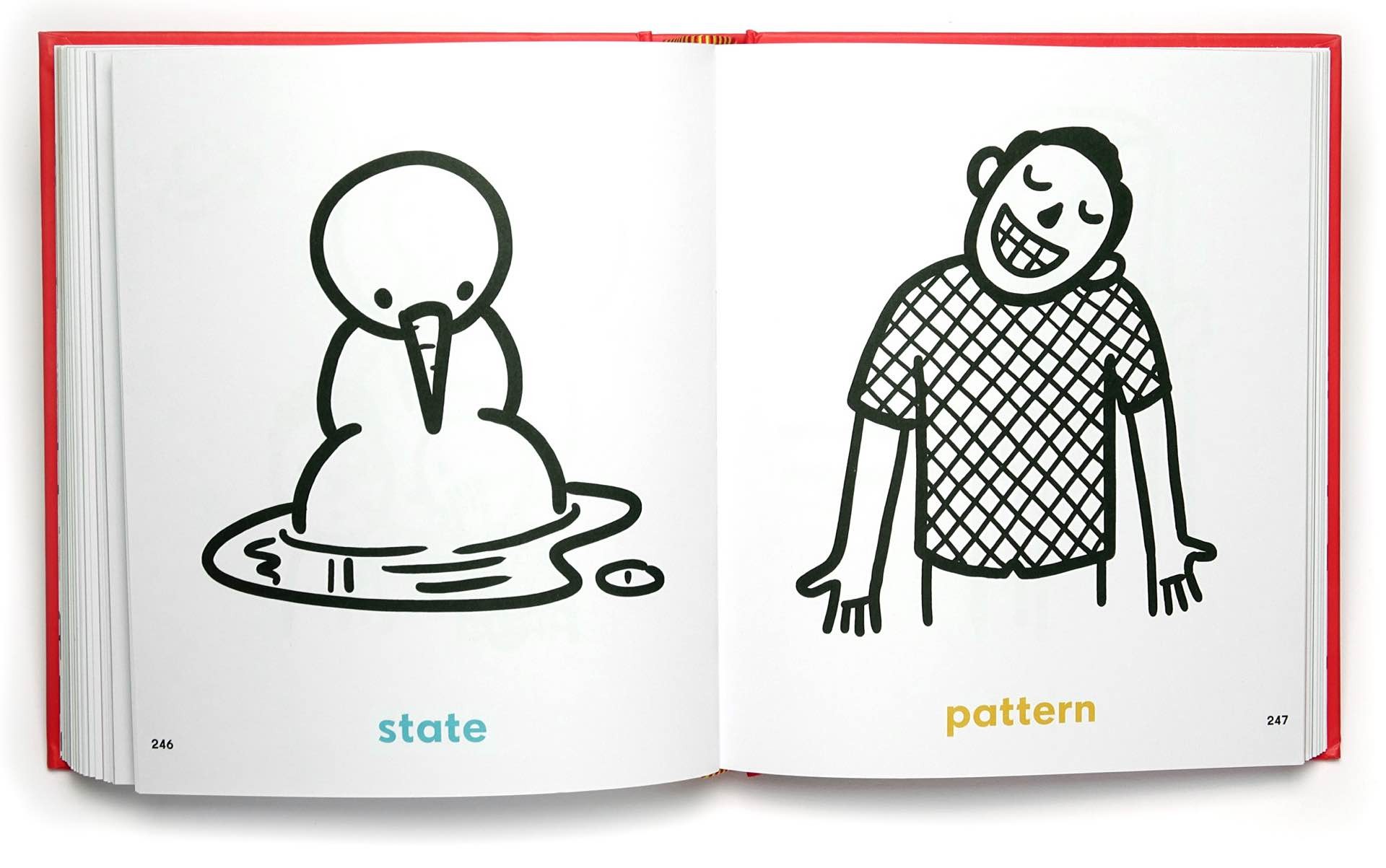 A great gift for parents of kids just learning to read, and even for elementary school teachers.
* * *
Travel / Outdoors
---
↑ Return to Table of Contents
---
Hudson's Bay Company has been world-renowned for their 100% wool "point" blankets since they began making them in 1779. There are two good reasons for that:
If properly cared for, these blankets can last several generations. We've heard stories of blankets still being used 70 years after their purchase date, and we're sure others out there possess even older ones.
They keep you warm and dry in most any temperature/weather. It's kinda crazy how well they work.
Like those sold in the 18th century, today's blankets are made in england with wool blended from sources in england, wales, new zealand, and india. Each type of wool is selected for qualities that help create a water-resistant, soft, warm, and strong final product. The wool is dyed before it is spun and then air- and sun-dried to brighten the colors.
The blankets come in a number of sizes, which is where the "point" system comes in — contrary to what some believe, the points are not an indicator of quality or weight, only of size:
Yes, these are very expensive blankets. But when you consider the fact that you (or your gift recipient) may never need to buy another blanket — not to mention the cost savings that will come from not having to run the house's heater as high every winter — the price becomes much more fair.
---
Anyone who spends a lot of time in the great outdoors knows the value of a good fire starter — one that will work in any situation, weather, or altitude. Light My Fire's Swedish FireSteel 2.0 is a dependable, army-style fire starter that can last up to 12,000 strikes.
The 2.0 model improves on the original army FireSteel with more ergonomic handles, a flat-edge stainless steel striker (the flat edge is nice because it produces better sparks and without grooving the FireSteel), and an emergency whistle built into the striker handle. This bad boy isn't affected at all by extreme heat or cold, and it'll spark even if it's dripping with water. It's a tool you can count on.
---
The "Cartography"-series luggage tag by New Custom is an engraved, wooden luggage tag you design and customize every aspect of. Here's how it works:
Use their map tool to select a location or topographical area. (If you're giving a tag as a gift, choose a place that's special to you both.)
Choose materials for the tag, including the wood (walnut/maple/cherry), the leather band (natural/tan/medium brown/dark brown/black), and the hardware (brass/nickel).
Customize up to seven lines of text/graphics on the reverse side. You can write whatever you like (and in a number of text styles), such as a name, address, Twitter handle, email, phone number, quote/haiku, etc.
The result is one of the coolest luggage tags you'll ever own.
---
As much as we love the Zojirushi stainless steel mug and Contigo autoseal tumbler for their temperature retention, there are times when a real beast of a container is called for.
That's where Stanley's classic 64oz. vacuum-insulated growler comes in. Whether you're stocking up on local craft brew for a party, bringing hot soup to the family picnic, sharing coffee with your hiking pals, or taking cold lemonade to the lake in summer, this thermos heartily gets the job done. It keeps cold liquids cold for 16 hours (up to 24 hours in some cases), or hot liquids hot for 12 hours. And, the flip-top lid that opens perpendicular to its oversized handle makes pouring super easy.
---
Power Practical's Luminoodle is a flexible, waterproof, USB-powered LED rope light that can be hung, strung, hooked, stuck to, or wrapped around basically anything, thanks to its combination of custom noodle ties, built-in magnets (one at each end), and the utility loop at one end.
The included rip-stop nylon carry bag is designed to diffuse the rope's bright light output, thus doubling as a nifty lantern. Works great for camping of course, but also comes in handy for auto repairs, for biking (simply loop the rope around your torso), or wherever else a light is needed.
* * *
Wallets / Watches
---
↑ Return to Table of Contents
---
The Diplomático wallet by La Matera manages to be both casual and sophisticated. It's handcrafted from Italian calfskin leather and geometric-patterned Argentine woven fabric, with six card slots and a larger cash slot within.
---
Chris Rose, owner of the Rose Leather Crafting Etsy store, specializes in handcrafted kangaroo leather wallets that are surprisingly fair-priced.
He's got a number of wallet designs to choose from, each of which is hand-cut, hand-stitched, and hand-finished. There are no fancy machines anywhere in this process, so while each wallet can take 4–5 weeks to arrive at your door, he's at least able to keep costs down to materials and labor alone.
Kangaroo leather is not only soft but incredibly strong stuff, and since Chris uses the saddle-stitch method, you can trust that his wallets will last a long time. We're partial to the "Whiskey"-colored wallet with royal blue stitching ($46 USD + $7 shipping).
---
Trayvax's Element wallet is a money clip that combines old-world ruggedness with modern style by taking a bead-blasted stainless steel plate, wrapping a 5oz top-grain leather sleeve around it, and securing it all together with MIL-SPEC Type II paracord. It fits anywhere between 3–12 cards plus a few bills, offers a bit of RFID resistance, and can generally take a lot of abuse, only to look better and better with time.
The Element wallet is $80–$85 at Trayvax, depending on your choice of colorway (keep in mind that the black editions not only look sleeker, but sport additional corrosion resistance):
---
Casual yet elegant, these handsome watches with NATO-style straps — all of which are named after British towns — are suitable for all occasions. They're available in rose gold (the clear winner) or silver, and come in 40mm and 36mm sizes.
---
The original Apple Watch was a wholly unique device. It was not only a beautiful watch that tells time, but also acted as a companion to your other Apple devices. It's also a great fitness tracker, plus a great way to control your iPhone music, quickly view your calendar appointments quickly, scan your messages, and more.
The Apple Watch Series 2 took the ball and ran with it by adding these features:
Built-in GPS (yay!). Leave your iPhone at home when you go for a run or ride, and view a map of your route on it when you get back.
Water-resistance to 50 meters, and new features that let you accurately track swim workouts.
The speaker, which needs air to work, has to let some water in, but has a nifty feature where it uses sound vibrations to force it back out.
The brightest display Apple has ever made.
Super-fast dual-core processor.
* * *
Writing
---
↑ Return to Table of Contents
---
Remember Field Notes' taller "Byline" reporter's notebook from this past summer? Those turned out to be way more popular than they expected, so after much demand they've produced the similar "Front Page" notebook, which sports only a few cosmetic differences. They're keeping this one in production and in stock indefinitely.
---
The Field Notes crew is really showing their love of Chicago with this one. They've partnered with Allegory Goods to produce a "very special, limited-edition, fine rollerball pen using wood reclaimed from an iconic Chicago building which was constructed in the aftermath of the Great Fire of 1871."
Not only are these pens insanely cool, but no two are exactly alike. Only 1,500 have been made, so get one while you can, either for yourself or a loved one.
---
Named for the Greek goddess of memory, the Maruman Mnemosyne "Inspiration" is a Japanese-made grid notebook perfect for sketching or writing in, whether you're using a fountain pen or something like the Sakura Pigma micron.
Inside are 70 micro-perforated, A5-sized, slightly-off-white pages bound firmly together with a twin-ring system. Every page has subtle graph lines that guide one's drawings without being obstrusive. It's an all-around beautiful notebook.
---
Earlier this year, Tom Bihn re-introduced the formerly-retired Field Journal Notebook to their product lineup (bold emphasis ours):
The Field Journal Notebook remains as it was: designed originally for biologists and geologists working in the wilderness, the Field Journal Notebook is a useful tool for artists, writers, and anyone who, for reasons aesthetic or practical, wants an alternative to electronic devices. Essentially, the Field Journal Notebook is a compact, portable, weatherproof, zippered notebook for note-taking, journaling, or sketching.
Rather than simply bringing an old product back from the grave, they decided to sweeten the deal by also offering two optional organizational inserts, which sport different features on their fronts:
Pocket ($14) — An open-top pocket which nicely fits a Field Notes memo book or an iPhone 6 Plus.
Pen/Pencil ($18) — Six pen/pencil slots with a tiny zippered pocket below. Perfect for erasers or earbuds.
Both types of inserts feature a length-wise zippered pocket on the back for additional storage.
* * *
Charities
At Tools & Toys we have always donated 11% of our gross income to charity. If you click this link before you do your shopping on Amazon, we'll be donating 11% of our affiliate earnings for the months of November and December specifically to the three charities listed below.
We also encourage you to consider making some charitable donations this year, and invite you to give alongside us to these three organizations:
St. Jude Children's Hospital: St. Jude is unlike any other pediatric treatment and research facility. Discoveries made at St. Jude have completely changed how the world treats children with cancer and other catastrophic diseases. Moreover, their hospital has been described as "a hospital without walls" where children in need are treated at no cost to their family.

Operation Christmas Child: Samaritan's purse is a Christian ministry, and every year they work with volunteers and donors from around the nation to pack and ship shoe boxes full of gifts to children in need around the globe.

App Camp for Girls: App Camp For Girls is a place where girls can put their creative powers to work, designing and building apps, while learning more about the business of software and being inspired by women mentors in the field. This is an organization we proudly support as they spread the message that women play a vital role in the technology field and offer a significant contribution.
---
↑ Return to Table of Contents