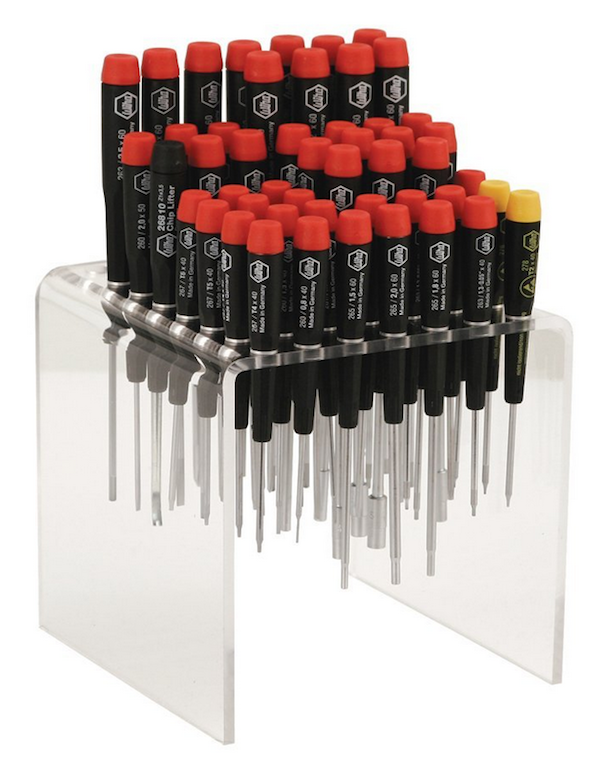 Wiha 92190 Master Technicians Bench Top Set
A workman is only as good as his tools, some say. If you work on computers for a living, having high-quality tools makes the work go faster and smoother.
Wiha tools are found in Genius Rooms at Apple Stores across the globe, and for good reason. Made with CRM-72 tool steel, the tips on these won't chip or bend. The ends of the shafts are free-spinning, making it easy to use a tool with one hand, which is critical in tight spaces.
This desk-top set comes with a clear acrylic stand and the following tools: slotted .08mm 1.0mm 1.2mm 1.5mm 1.8mm 2.0mm 2.5mm 3.0mm 3.5mm 4.0mm and Phillips #000, #00, #0, #1. Hex:7mm/.028″, .9mm/.035″, 1.3mm/.050″, 1.5mm, 2.0mm, 2.5mm, 3.0mm, 1/16, 5/64, 3/32, 7/64, 1/8, 9/64, 5/32. Torx T1, T2, T3, T4, T5, T6, T7, T8, T9, T10. Nut Drivers 1.5mm, 1.8mm, 2.0mm, 2.5mm, 3.0mm, 3.5mm, 4.0mm, 4.5mm, 5.0mm, 5.5mm chip lifter in rack.