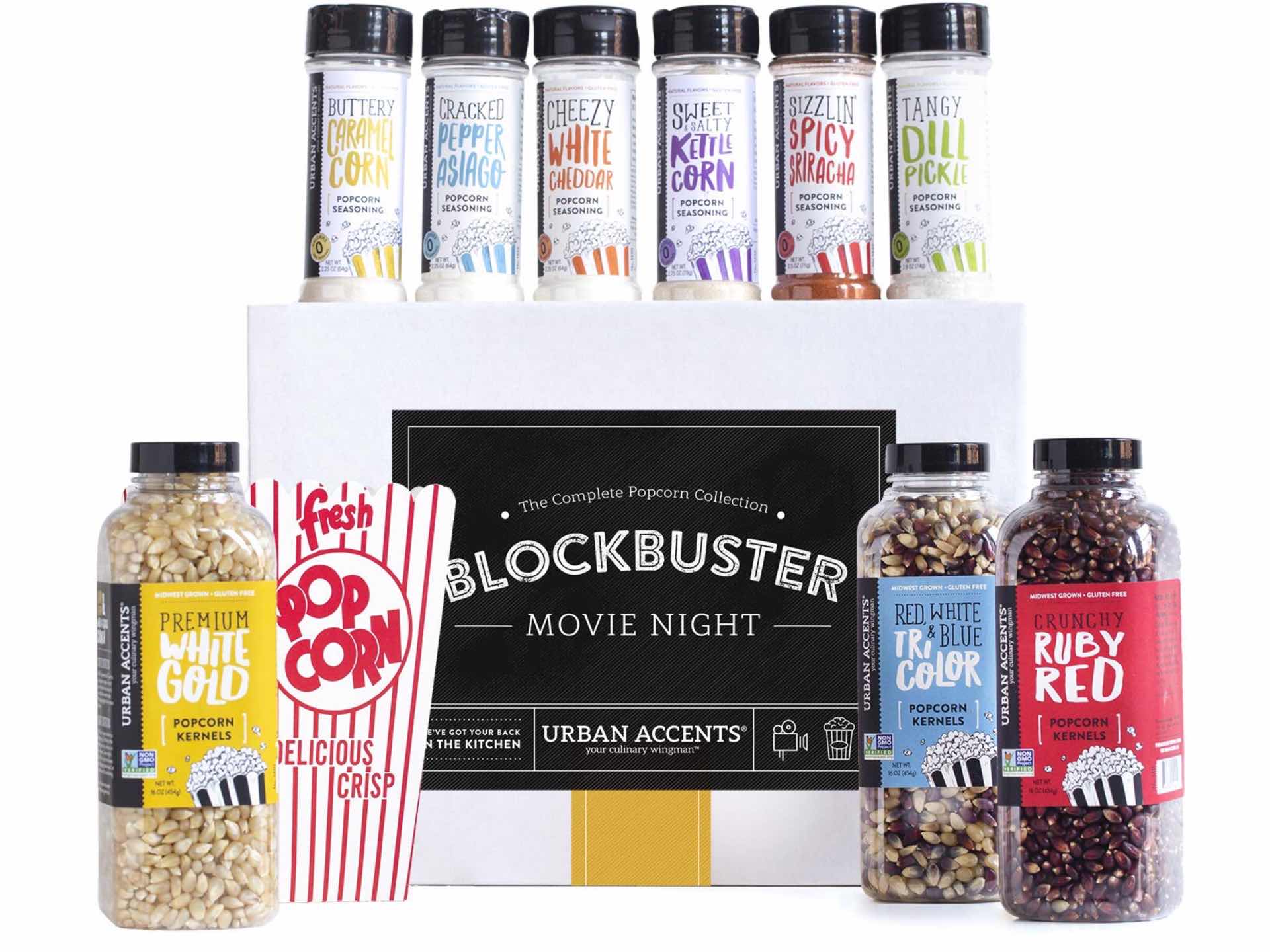 Urban Accents "Blockbuster Movie Night" Popcorn Kernel and Seasoning Variety Pack
Got a big movie night coming up? Don't buy just any old boxed popcorn to munch on; make it something really special with Urban Accents' "Blockbuster" popcorn seasoning set. It comes with three varieties of popcorn kernels:
🍿 "White Gold" — Classic and fluffy.
🍿 "Ruby Red" — Slightly sweet.
🍿 "Tri-Color" — Colorful blend of ruby red, white gold, and indigo blue kernels.
…and six tasty popcorn flavorings ranging from sweet to savory to spicy:
🧂Sweet & Salty Kettlecorn
🧈 Buttery Caramel Corn
🧀 White Cheddar
🧀 Asiago & Cracked Pepper
🥒 Tangy Dill Pickle
🌶 Sizzling Sriracha
No matter who you're watching with, you're sure to find a combination of kernel and seasoning to please even the most serious snacker. And you don't have to use the seasonings only on popcorn — try them on Chex Mix, nuts, chips…you name it. They even recommend toasting some of the "Buttery Caramel Corn" seasoning on bacon, which sounds incredible.

The set works equally well as a movie night treat for yourself alone, or as a unique gift for the popcorn fanatic in your life. Get this popcorn variety pack for $50 on Amazon.
Looking for something even more gourmet? Take a look at this popcorn seasoning gift set by Dell Cove Spices ($38), which allows you to choose any four hand-blended seasonings from quite a list of flavors, all packaged in a black gift box and tied closed with a satin ribbon.