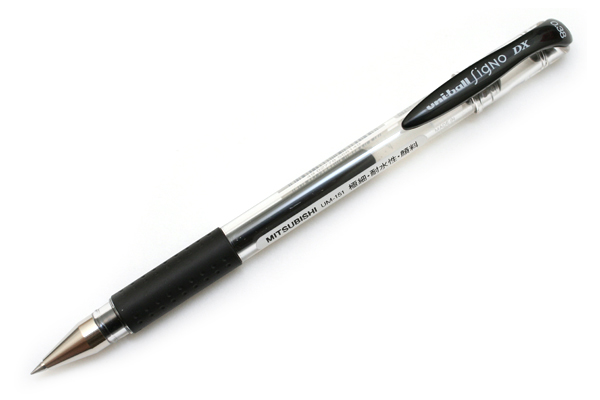 The Best Fine-Tip Gell Ink Pen: Uni-ball Signo DX 0.38
For a long time the well-known Pilot G2 0.38mm was my favorite daily driver pen. I love the ultra-fine tip because it's fine but not over-the-edge fine like a 0.28mm. I love that the tip is just a little bit scratchy because I find that it makes it easier to write with. I love that it's gel ink. And I especially love that the Pilot G2 is losable and replaceable. There's something comforting about having a drawer full of your favorite pens, reassuring you that if you lose one or lend one out it doesn't matter because they're cheap and replaceable.
Well, after sharing my affinity for the G2, the fine folks at JetPens sent us a few pens which they thought I may like as much if not more than the Pilot. And one in particular — the Uni-ball Signo 0.38mm — has become the new king of the hill.
The Signo has all the best qualities of the Pilot G2 — fine tip, scratchy, gel ink, losable — but slightly improved. The balance and weight of the pen feels better in hand, and though it is the same fine tip (0.38mm) the ink goes on slightly thinner, or perhaps cleaner.
There are other contenders for the spot of "best fine-tip gel pen". Such as the Zebra Sarasa (which my brother-in-law loves) or the Pilot Hi-Tec C (which people on Kickstarter seem to lose their minds over).
I've used all of the contenders, and I continue to come back to the Signo DX. It is the best daily driver pen I've ever used and it continues to compel me to put pen to paper.