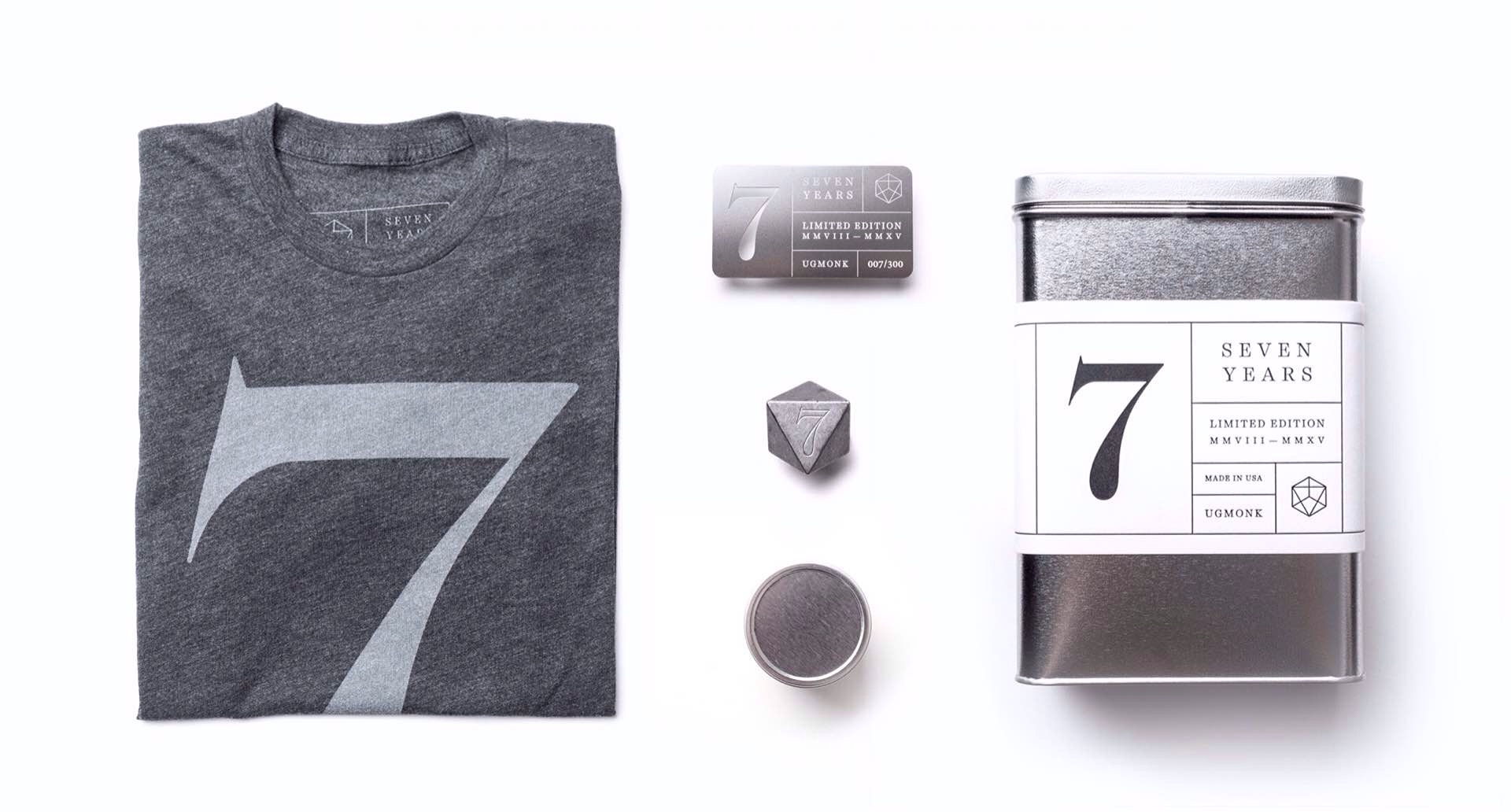 Ugmonk's 7th Anniversary Set
We like to think that it's been more than just luck that's transformed Ugmonk from a creative side project to a lasting brand. Creativity, hard work, and devoted fans have been the ingredients that made us successful for the past seven years.
Our friends at Ugmonk are celebrating their 7th year (!) as a business. Congratulations guys.
To commemorate the occasion, they have unveiled their limited-edition 7th Anniversary Set, which centers around a clean, refined 7 design and a 7-sided 3D shape called a heptahedron. (Raise your hand if, like me, you just learned a new word.)
The set includes:
The '7th Anniversary' tee — A soft heather black 50/50 blend tee featuring Ugmonk's Anniversary 7 design printed with a soft water-based ink and custom woven hem tags featuring the heptahedron.
Solid steel heptahedron — This handsome trinket is precision-cut from a one inch solid piece of raw steel and custom engraved with the Anniversary 7 on the front face. Makes a great display piece on your desk or side table, and comes packaged in its own round mini tin.
Numbered steel card — A solid metal card, diecut with the Anniversary 7 and etched with the unique number of whichever set you've received out of the possible 300.

Tin with letterpress label — The set comes packaged within this rectangular tin, with a letterpress label unique to the 7th Anniversary Set. Ugmonk produced a lovely behind-the-scenes video showing how the packaging came together:
The 7th Anniversary Set is $77 at Ugmonk. Only 300 have been made, and some shirt sizes have already sold out — as of this writing (Sep 17th, 2015), that includes men's extra-small and all women's sizes. You'd better act fast if you want one. If nothing else, click through to see the many gorgeous photos Jeff Sheldon took of the set.
Also, if you order anything from Ugmonk in the next four days (ending Monday, Sep 21st, 2015), use the promo code SEVEN to take 20% off your order. Yes, this includes the Anniversary Set.