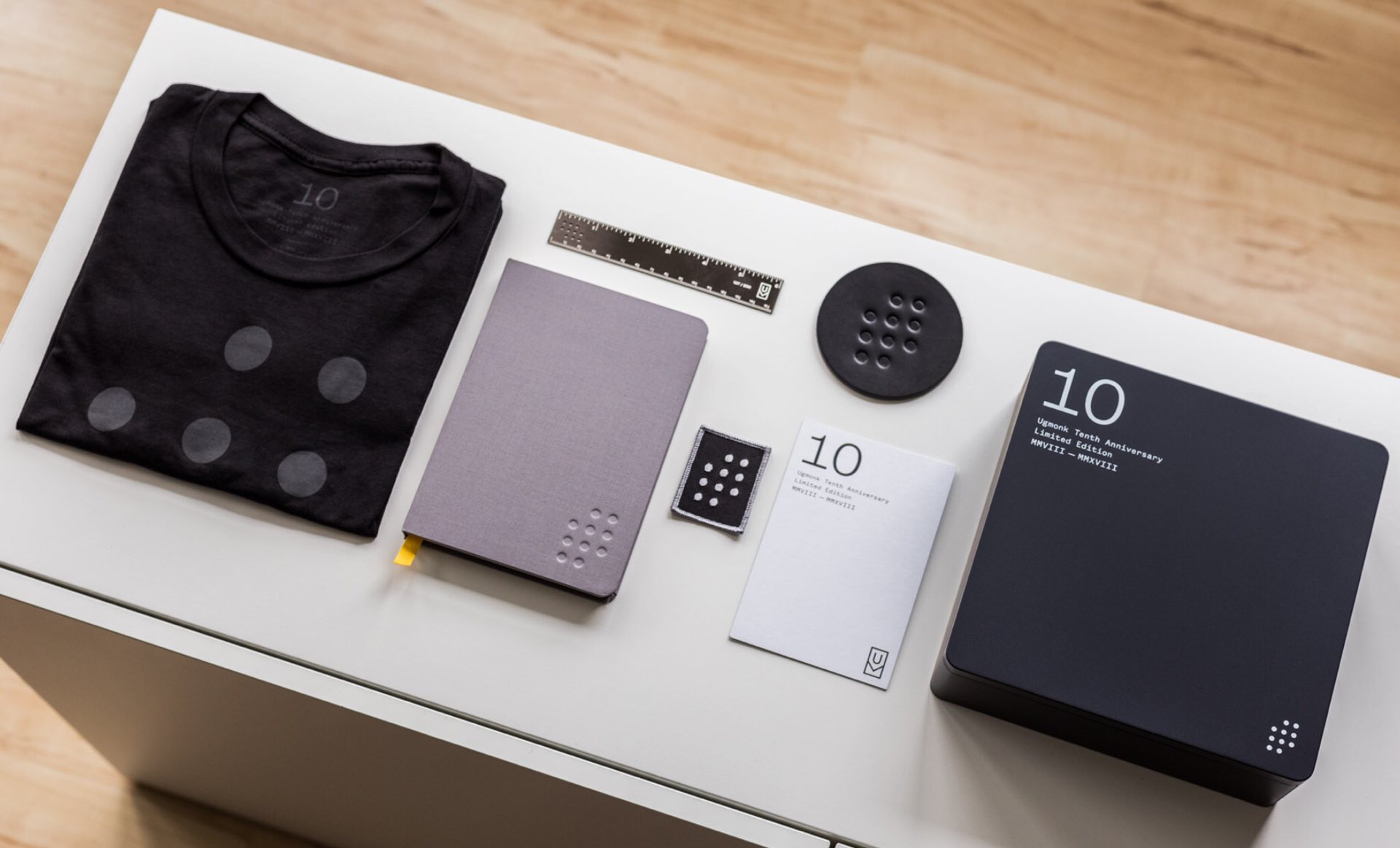 Ugmonk 10th Anniversary Set
Our friend Jeff Sheldon of Ugmonk has today released the company's 10th and final limited-edition anniversary set. And no, the company's not shutting down. Jeff explains:
The past 10 years has been an amazing journey!

​In 2008 I had just graduated with a degree in graphic design and had no intention of starting my own business. After some success on a few design contest sites, I decided to build a simple website, order 200 tees, and see if anyone would buy them.

Now 10 years and 100,000+ products later, I'm thankful for all I've learned along the way and all of you who make it possible for Ugmonk to continue to thrive.

Each year I've commemorated Ugmonk's anniversary by creating a special anniversary set. These sets became my design playground where I can go all-out and create a unique expression of the Ugmonk brand.

While Ugmonk still has many years to come, this set will be the last, the biggest, and (we think) the best, of its kind.
The set comes with seven unique items that can't be purchased separately:
10th Anniversary Tee — A soft, lightweight bamboo/organic cotton blend tee featuring the 10th Anniversary dot pattern.
Special Edition Notebook — Essentially, the classic Baron Fig Confidant embossed with that same dot pattern on the front and some other details on the back.
Steel Ruler — A 6″ brushed black steel ruler featuring a laser-cut dot pattern.
Black Leather Coaster — A 3.75" round full-grain black leather coaster, custom debossed with the dot pattern.
Embroidered Patch — A custom embroidered patch with a heat seal backing for easy iron-on or sewing.
Signed Card — A triple-layer card signed by Jeff himself.
Matte Black Tin — This is what the set comes packaged in, and once you've taken the set out, it can be repurposed for storing small items and accessories.
Only 200 of the 10th Anniversary Set have been made, so hurry and get yours for $100 at Ugmonk.