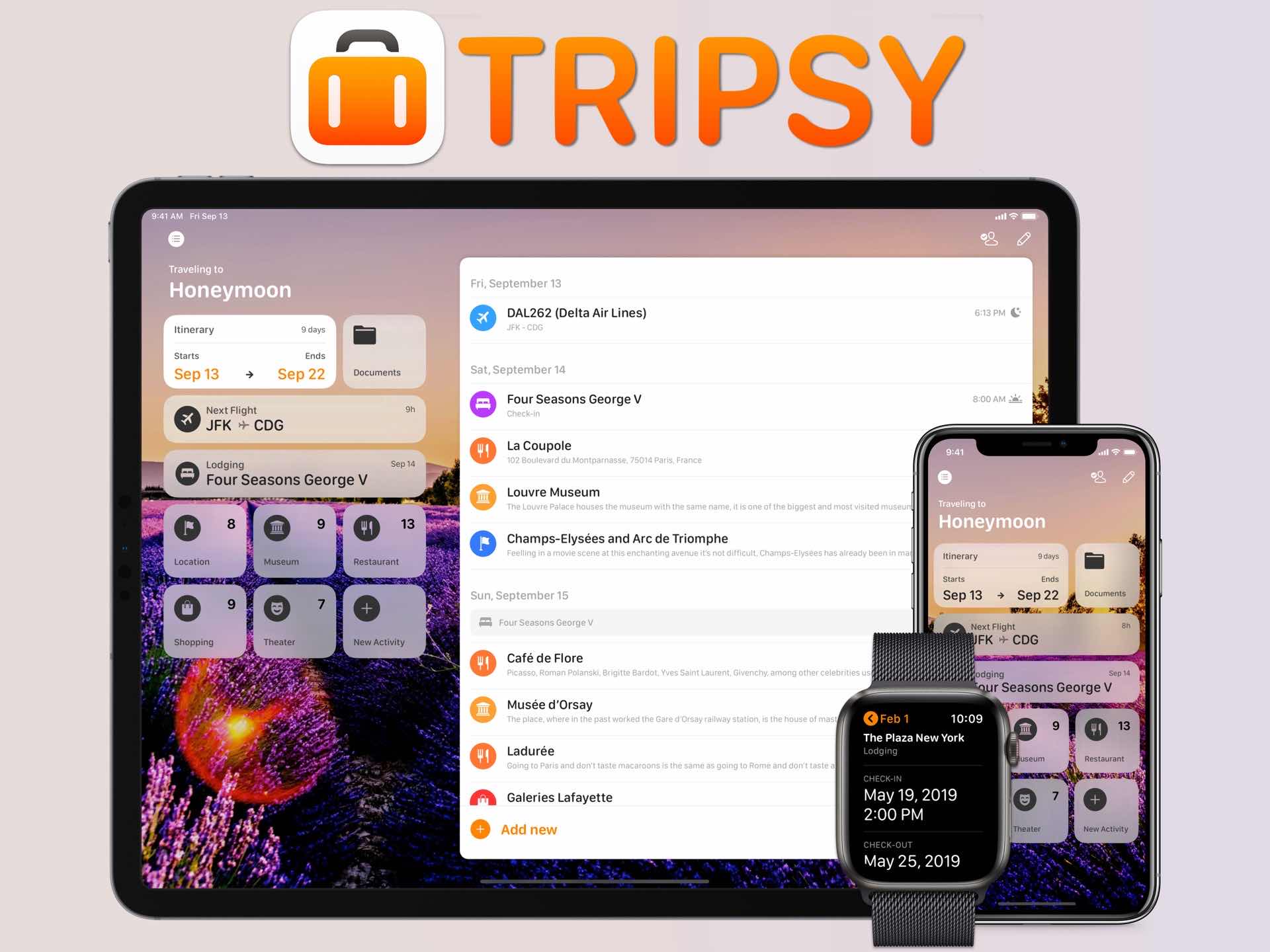 Tripsy: Travel Planner for iOS and Apple Watch
Tripsy: Travel Planner is, as the name suggests, a trip itinerary management app developed by Rafael Kellermann Streit and designed by Thiago Sanchez for the iPhone, iPad, and Apple Watch. If you've ever felt that organizing your trips is an utter mess, what with having to manage a bunch of documents, emails, digital tickets, hotel information, and so on…this is the app for you.
Tripsy lets you record all kinds of trip information, like flight details, bookings, means of transportation, attractions, restaurants, tours, hiking, and more, all of which can be organized into custom lists based on whatever categories you like ("Restaurant", "Activity", "Museum", "Lodging", etc). You can also add all kinds of files — photos, videos, notes, and documents — to your agenda, keeping all your travel ephemera in one easily accessible place.
Federico Viticci of MacStories recently noted on Twitter that Tripsy is "a remarkable example of adopting Apple's latest APIs," including:
iOS 13 dark mode
Sign In with Apple
Full support for iPadOS multitasking features
Siri event suggestions
watchOS app
This high-quality app is absolutely free to download from the App Store and I highly recommend giving it a go for that alone, though it does offer a Premium subscription that can be paid for on a monthly ($5/mo) or annual ($40/year) basis. This upgrade includes a number of extra features to empower your traveling experience:
A Tripsy "Cloud" account that lets you sync data between your devices.
Unlimited document storage for images, PDFs, travel tickets, etc.
The ability to invite friends and family to join your itinerary so everyone will have access to information like hotel addresses, flight numbers, documents, restaurants, and more.
Push notifications about any flight changes that come up, such as your terminal, gate, departure/arrival times, and baggage claim location.
Ability to save an unlimited number of trips at once, rather than being limited to just one like non-subscribers.
Unlimited access to Tripsy's travel itinerary suggestions, which can be copied to your itinerary at will.
Be sure to read Ryan Christoffel's review over at MacStories to get a more in-depth look at how Tripsy can change your whole trip planning workflow.