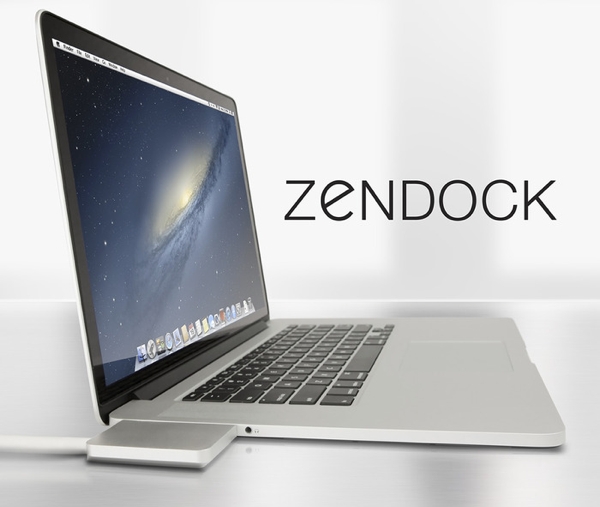 The ZenDock
While I'm a notebook user, at my desk, I use my MacBook Air with an external display, keyboard and mouse, speakers and more. The cable management is a mess.
The ZenDock is a range of products designed for notebook users like me.
The ZenDock Pro is designed for the MacBook Pro, while the ZenDock Retina supports the MacBook Pro with Retina display. The dock supports all of the ports on the left side, routing them in a clean, single cable to the rear of the machine. At the end of the cable is another aluminum brick, with all the ports. There's even a Thunderbolt pass-through cable, letting users daisy-chain more devices. The ZenDock doesn't interfere with the right side of the machine, so Retina machine owners will still have unfettered access to the USB 3, HDMI, and SDXC card slot.
The ZenDock Air clips to the left side of the machine, and comes with support for MagSafe 1 and MagSafe 2-equipped machines.
The Kickstarter project is already funded, and closes today. You can get in starting at $139. If I didn't change laptops so often (I know, I have a real first-world problem), I'd be all over this one.
via Brett Terpstra