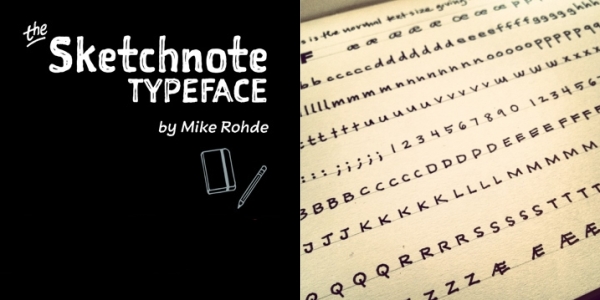 The Sketchnote Typeface
Longtime readers may remember Mike Rohde's The Sketchnote Handbook, a guide to taking better notes by sketching rather than writing. If you liked the book, you're gonna love The Sketchnote Typeface.
Mike created this typeface by scanning actual ink-spread on paper to make it more authentic. Of course, he did it to save himself a lot of work while writing the book – the way many great projects get their start – but now the typeface is available for anyone to purchase.
The Sketchnote Typeface comes in four groups, plus a bonus set:
Sketchnote Text – The basic set.
Sketchnote Italic – Self-explanatory.
Sketchnote Bold – You get the idea.
Sketchnote Square – Appears as if drawn with a dry erase marker.
Sketchnote Square Dingbats – A bunch of fun shapes and characters.
There are a few ways to obtain these fonts, both for the web and for the desktop. Sketchnote Text and Sketchnote Square are both available for Typekit Portfolio subscribers, but you can also purchase any/all of The Sketchnote Typeface at Delve Fonts, in web or desktop editions.
If you buy from Delve Fonts, the individual fonts are $29 apiece, or you can opt for the better deal of $99 for the entire family.