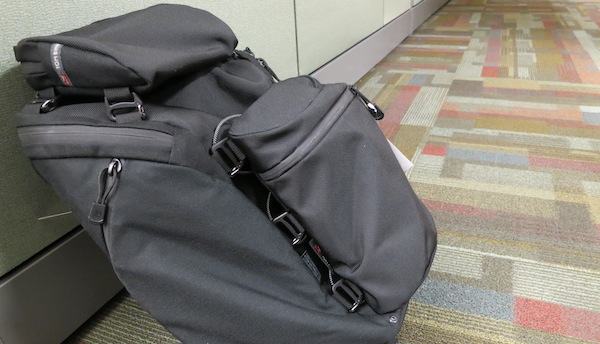 The New Tom Bihn Smart Alec
I've written about my Smart Alec before, and I genuinely love it. However, since buying mine a while back, Tom Bihn has released an update to the backpack.
While both the new and old bags have a lot in common, such as the internal clips for a notebook sleeve and a compartment built until the lid. The new bag's lid compartment is now much deeper, receding further into the bag than before.
The new bag retains the small inner pocket at the bottom, which I usually use for cables, in addition to the company's Snake Charmer.
The above photo is the new bag with the optional upper and lower modular pockets attached. The pockets attach with numerous heavy duty clips, and offer extra storage outside of the bag's main pocket. The lower modular pocket can hold two 1-liter water bottles and has two o-rings and a wallet pocket, while the upper pocket adds extra 2+ liters of volume to the bag and 4 small pouches.
While I don't need this extra storage day to day, having these handy for traveling will be great.
The outside of the bag has been slightly altered, but the basic look is the same. The company added a spot to slide in a 5-inch piece of Glowire LED strip for extra visibility for bike riding.
All in all, the new Smart Alec took something that was great and has made it excellent. While I bought my Smart Alec to last a long, long time, this new bag is a great upgrade.
If you want a versatile, good-looking backpack, check it out.
* * *
Our thanks to Tom Bihn for sending a review unit.