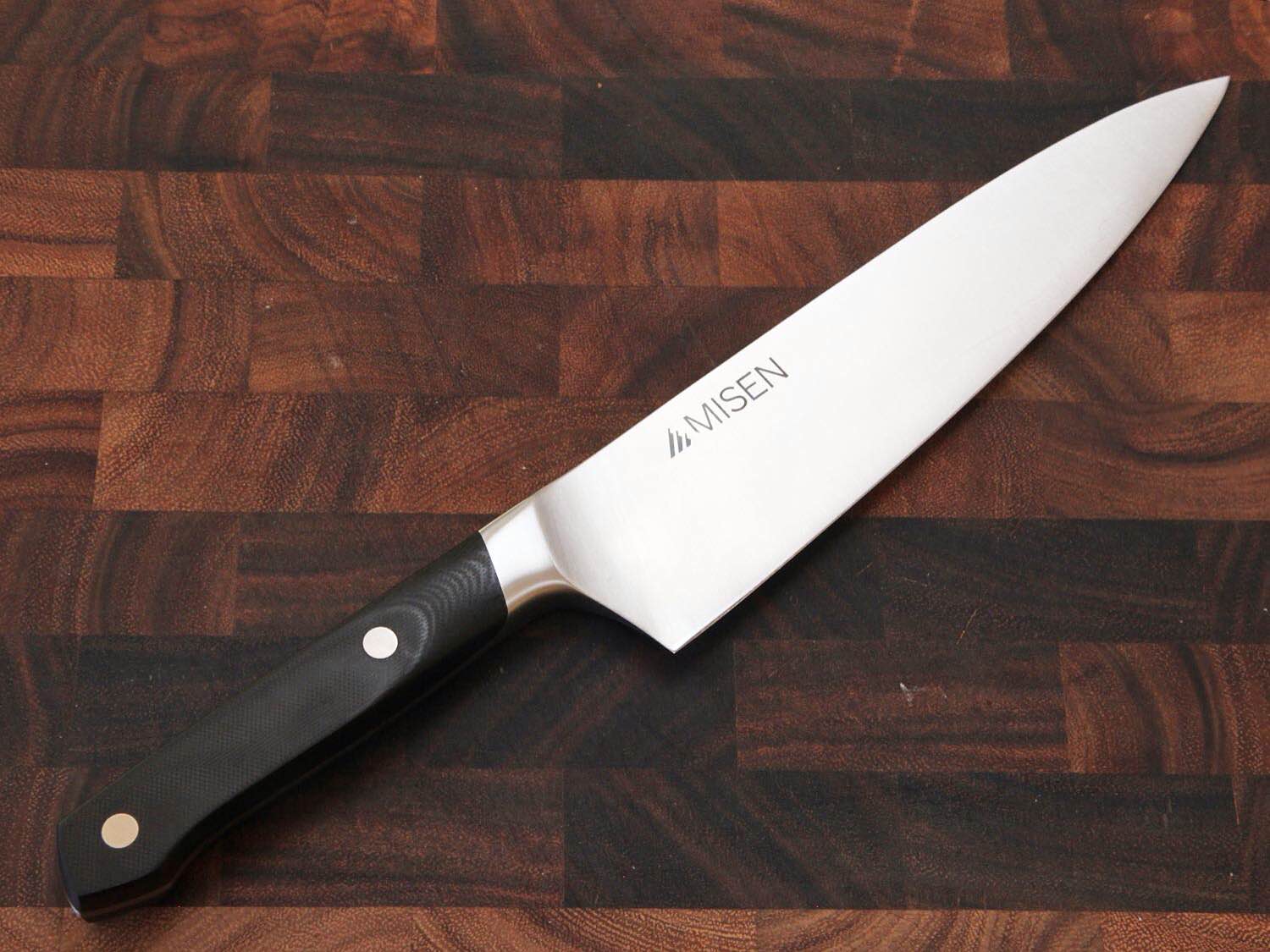 The Misen Chef's Knife [Kickstarter]
Photo: J. Kenji López-Alt
As we said in our guide to kitchen knives, a single, well-maintained chef's knife is the most valuable tool to have in one's kitchen. The folks at Misen (MEE-sen) evidently agree, which is why they've launched a Kickstarter project for their chef's knife.
The knife is precision-machined and hand-finished from high-carbon Japanese stainless steel (AUS-8, to be exact). Because the steel they use is so hard, they've been able to reduce the blade angle from 25 degrees to a scant 15 degrees, resulting in a dramatically sharper edge. It's also a type of metal that is easy to sharpen and hone throughout the knife's lifetime.
They've really considered every detail of the knife's design. For example, the handle gets more round as it approaches the blade, intuitively encouraging the user to position their hand so that they "pinch grip" the knife for greater control. And to increase its balance and longevity, the knife's tang extends all the way to the end of the handle.
J. Kenji López-Alt of Serious Eats (whose upcoming cookbook I recently wrote about) got to try a prototype of the Misen knife and had nothing but glowing things to say:
Yes, there are cheaper knives out there, like the Forschner Victorinox Fibrox knives that Cook's Illustrated flogs so often [And which we mention in our guide —Ed.], but hold these two knives side by side and it makes the Forschner, with its stamped blade, plastic handle, poor balance, and lack of solid riveting, feel like a baby's toy. I've held a lot of knives in my time across all ranges of the price spectrum and I've never held a knife that had the type of value this one is offering.

To the folks that say, "Well I'll get that $35 knife—it's so cheap that we can replace it if it breaks," I'd say, for less than twice that amount, you can get a knife that will not break, will feel better in your hand, will cut better, is easier to sharpen, has superior control, and will teach you better cooking habits (like the pinch grip) in the process.
He also explains why Misen will be able to offer such a high-quality knife for just $65, without having to make design compromises:
By manufacturing knives themselves and using a direct-to-consumer internet model, they can deliver high quality knives with none of the absurd markups common in the industry. They're the Warby-Parker of knives. More of every dollar you spend with them goes to the knife, rather than overhead.
The Kickstarter campaign has already far exceeded its funding goal (they asked for $25k and are currently sitting at over $481k) with 21 days to go. Back the project now for at least $55 ($10 off retail price) to get a Misen knife of your own, with a handle in your choice of light gray or blue.