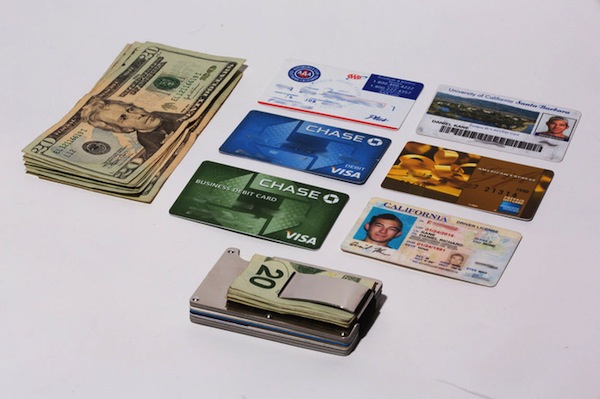 The Bridge Front Pocket Wallet
Daniel Kane, the guy behind these awesome Kickstarter sunglasses is back, with a front-pocket wallet that looks just great.
The Bridge is built with a slim aluminum and stainless steel exoskeleton that provides easy access to cards and cash with the push of your finger. The sides are held together with bands that allow up to 8 cards to be stored in the wallet:

The low-end backing option is already sold out, but for $38, you'll get a Bridge in brushed, black anodized aluminum. If you want one with a cash clip, you'll need to spend a little money, but I don't carry cash and didn't want the extra bulk.
Anyways, the $38 option is the one I got. Even though the project has over 5 weeks to go, it's already just about met its goal at time of writing. Which is exciting. I love Kickstarter projects that make it.