The Battle of the Buds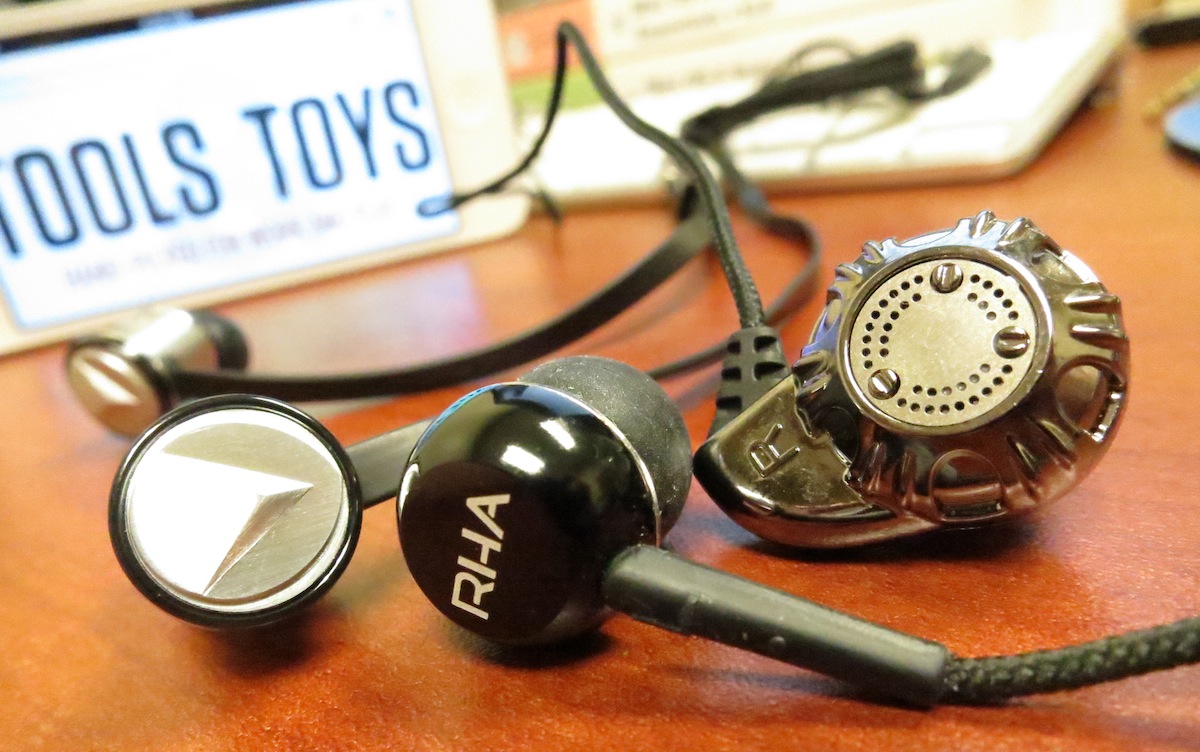 Apple's newish, poorly-named EarPods are more comfortable than their old built-in white earbuds, but I still don't enjoy wearing them for any amount lengthy amount of time. Mostly because I have tiny ear canals and the white ear pieces that ship with every iPhone just aren't comfortable for me.
The EarPods sound great, especially when you consider they are free (with an iPhone). The mids and highs are crisp, and they offer a surprising amount of low-end sound. The cable length is just right, and the microphone picks up sound well.
But if I'm at my desk, I am usually wearing my Sennheiser HD-280 PRO headphones. When I do use earbuds, my favorites are the old Apple premium buds (the ones that were sold even before these came out).
Using old-school earbuds means I can't take a call (as they don't have a mic) nor control my music (no buttons). And since the EarPods aren't super comfortable to use, I've been at a loss.
I was speaking with Shawn about this, and he gave me a challenge: could I find a set of earbuds I love for less than $100?
Meet the contenders:
The Monoprice 108320 Enhanced Bass Hi-Fi Noise Isolating Earphones
At $11 for Amazon Prime members, these earbuds are the cheapest on the list. And on the box, they should be winners — Monoprice is the best place for good, cheap cables.
Sadly, these earbuds are tortuous to use. They are brutally uncomfortable with the biggest casing of all the earbuds I tested, they don't come with an array of different-sized rubber tip options, and the sound quality stinks.
One unique thing about the Monoprice earbuds is how you wear them. As shown in this photo, the earbud goes in upside down, with the cable wrapping over the top of the user's ears. While this makes them less likely to fall out while in use, it makes them even more uncomfortable to use is you're wearing glasses.
I couldn't even make it through a whole podcast using these things. Even for cheap earbuds, they're just not worth it.
Moving on…
Sony DREX61IP Premium EX Monitor Earbuds
These earbuds came to me with the personal recommendation of Shawn. At $31 on Amazon Prime, they are the same price as Apple's EarPods
The Sonys come with 4 sizes of rubber tips, and I was able to find a size that fit me comfortably. The cord is by far the cheapest part of the design. It's thin and feels fragile, with a cheap 90-degree connector at the end. Likewise, the in-line microphone and controls leave a lot to be desired. It's hard to tell what part of the three-way button you're on, just by touch, and the microphone sounded a bit hollow on my test calls.
Though the Sonys suffer from cheap construction, they sound good and they fit snugly. They have a suprising amount of bass with nice a mid-range, but the highs are somewhat hollow instead of being crisp and bright.
They cost the same as Apple's EarPods, sound a bit better, and have a better fit (especially if you wear them while exercising). If you need to replace your iPhone headset and want to keep it as cheap as possible while still holding on to a fair bit of quality, then I'd get these Sony's over Apple's Earpods.
However, for $20 more, you can get something that sounds much better…
The RHA MA-450i Aluminium Noise Isolating In-Ear Earphones
At $50, the RHA MA-450i are an exceptional pair of earbuds.
Machined from solid aluminum, the RHA earbuds feel like a premium product, not a toss-in like Apple's or Sony's. The buttons, the braided cable, and the gold-plated connector are all well-built. They also come with seven pairs of silicone tips, so finding a pair that fits is easy. The tips are difficult to change, but that also means once you find the perfect fit, you should be set.
The braided cable is 1.5 meters long. While the length is great at my desk, out and about it's a little too long. I wore the earbuds almost all weekend while hooking up computers, printers, and some point-of-sale systems at work. While I was unboxing things, climbing under desks, and running cable I often found myself stuffing in the extra cable length back into my pocket.
Sound-wise, these earbuds sound great. Because of the good fit the silicone tips provide, the bass is full and rich, with the mids and highs crisp.
Velodyne vPulse In-Ear Headphones
Rounding out this battle are the $98 Velodyne vPulse Black In-Ear Headphones. These are widely regarded as the best earbuds you can buy for under $100, so we wanted to know how they compared to buds costing half the price or less.
In short, the vPulses sound excellent. Sonically, they are more balanced and less bass-heavy than the RHAs. And the sound when talking on a phone call is just about perfect. Like the RHAs, the vPulse earbuds also come with a slew of differently sized tips (9 to be exact).
The vPulses aren't without their quirks, however. The microphone and controls are easy to use, but are on the left earbud cable (as opposed to every other set I've tested where the controls are on the right). This left me grasping to take a call, only to feel like a doofus when I remember the change. And the cable isn't a a traditional cable, but rather a flat ribbon. Out of the box, it lays flat, but I worry about it curling over time.
Speaking of the box, the vPulse came in the largest package by far. But the company includes a nice zipping pouch for storage that includes space for unused tips and a clip that can be used to attach the cable to a shirt or tie. (But, who clips their earbuds to their tie?)
The biggest downside to the vPulses are how uncomfortable they are. Most in-ear headphones are not extremely comfortable for long periods of time anyway, but aside from the Monoprice earbuds, the vPulses were the least comfortable of all. And the sound quality was not necessarily that much better to justify their 2x price tag when compared to the RHAs.
Conclusions
So, what do I — as a guy who dislikes earbuds — think about all these earbuds?
Obviously it's a no-brainer to write off the Monoprice earbuds. But when it comes to the other sets, I'm conflicted. Each other set sounds good for its respective price range (the more money each pair costs, the better they sounded compared to the cheaper sets), and I was able to find comfortable tips for my ears.
Shawn also tested his own lineup of identical earbuds, and we both agree that the RHAs are the best bang for the buck. While the vPulse buds are pretty nice, they don't sound twice as good as the RHAs and the vPulses are less comfortable.
That said, I'm not sure even the mighty RHAs will replace my big, comfy headphones for day to day use when at my desk. But that's another post altogether.
← MacSparky's Field Guide to Markdown
OpenFrame →