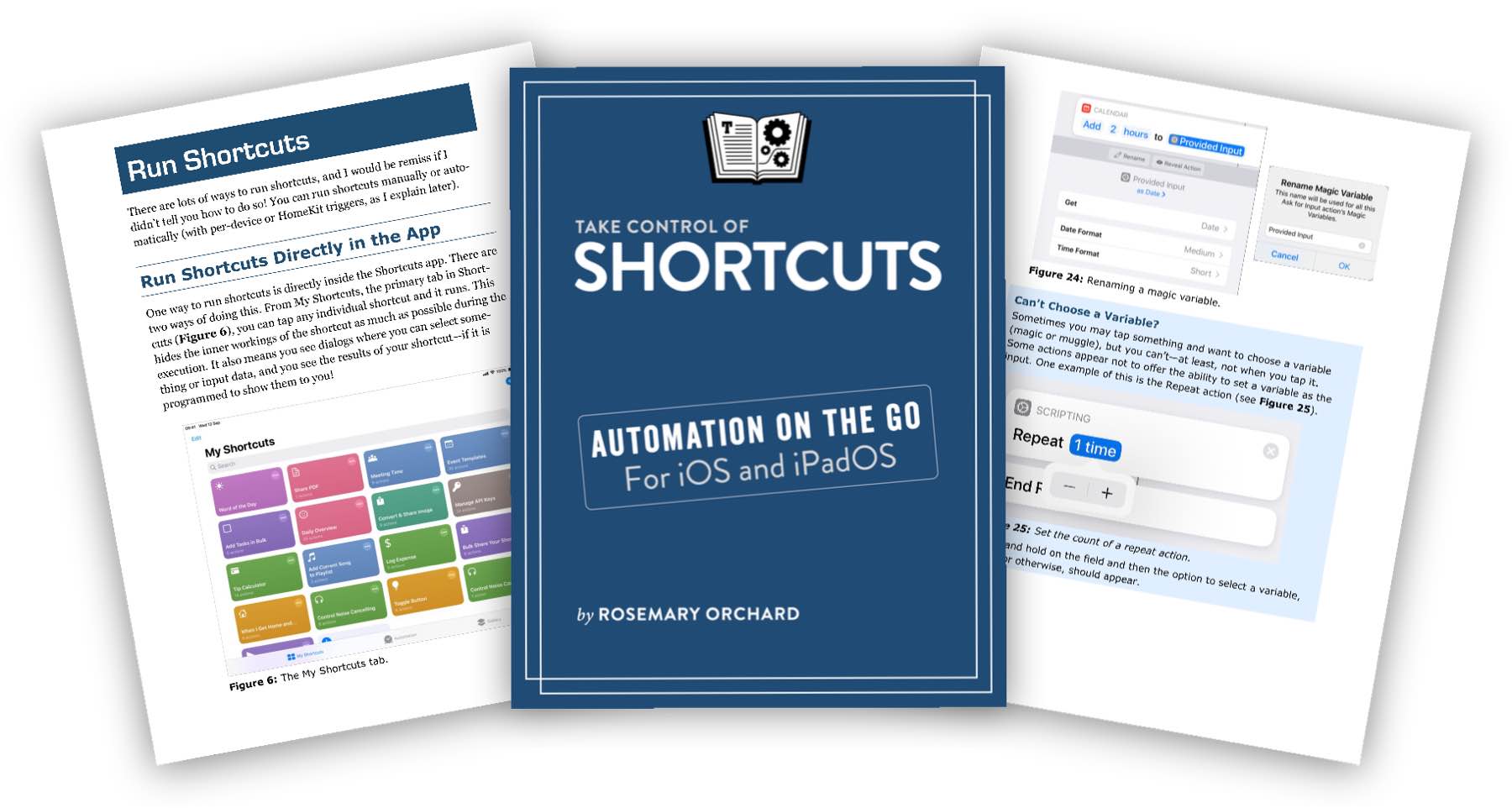 'Take Control of Shortcuts' eBook by Rosemary Orchard
Apple's Shortcuts is one of those apps with nigh-limitless potential, allowing you to set up workflows connecting various apps together to automate just about anything you can think of on your iPhone and iPad — all without having to write a single line of code. But with power comes great overwhelm, because Shortcuts is so powerful that it's hard to know where to even start.
Not to worry, dear reader. Our friend and The Sweet Setup contributor Rosemary Orchard — who is an expert on iOS automation — has joined the ranks of the Take Control family of tech ebooks with the release of Take Control of Shortcuts 🎉
This nifty 116-page ebook explains everything you need to get started with Shortcuts automation, from the very starting basics all the way up to building, installing, debugging, running, syncing, and sharing complex shortcuts of your own.
Included within are 15 sample shortcuts with step-by-step "recipes" so you can understand exactly how their components work together. Here are just a few examples:
Automatically set your AirPods Pro to noise-canceling mode. (No more diving into Bluetooth settings!)
Convert and resize the photos you take into a more share-friendly format.
A "Meeting Time" shortcut that looks at today's calendar events, lets you choose one, then sets your phone to Do Not Disturb until the meeting's over and generates a note with info about the meeting's title, start date, and attendees, plus any notes you've written about the event. Very handy, and only requires a couple taps to complete.
Get Take Control of Shortcuts for $12 on Apple Books (or directly from the Take Control site) and take your iOS automation to the next level.