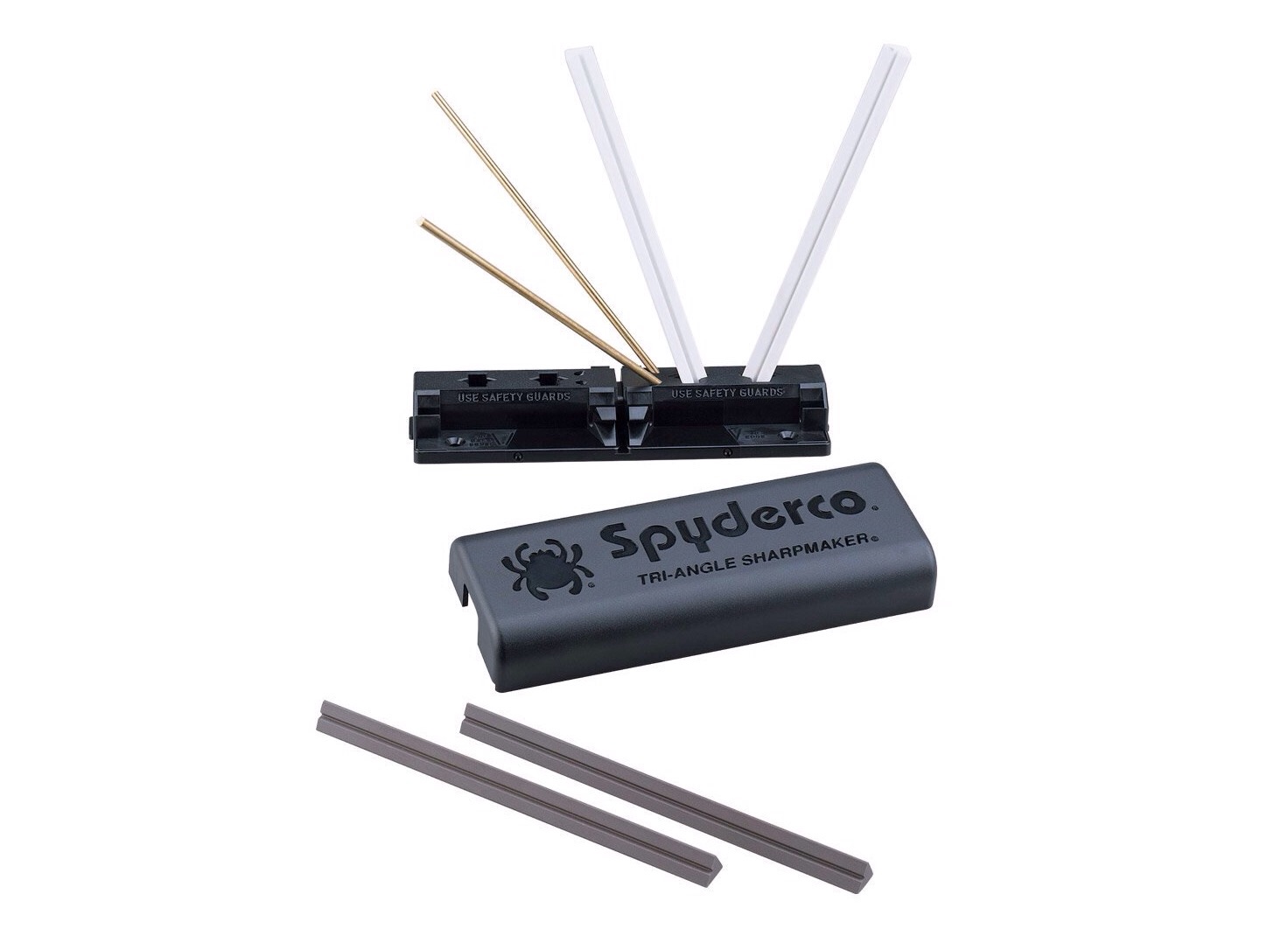 Spyderco Tri-Angle Sharpmaker 204MF Knife Sharpener
Ever since we published our guide to everyday carry pocket knives last winter, we've gotten positive responses from our readers. Some have asked if we plan to write a companion guide on knife sharpening.
We think that's a great idea, and until we put together such a guide, we'll go ahead and make a recommendation on one stellar sharpener: The Sypderco Tri-Angle Sharpmaker 204MF.
The Sharpmaker (perhaps better described as a sharpening system) is a small kit that includes two sets of triangular, high-alumina ceramic stones — a brown-colored medium-grit set for the heavy work, and a white-colored fine set for finishing with. Also included are a pair of brass safety rods for attaching on either side of the Sharpmaker, and which help protect your fingers while sharpening.
The entire system is designed to be used with no oils or lubricants of any kind, making it super convenient to set up and use, wherever you are. (But, I mean, don't do it in a mall food court or anything. That would be creepy.)
This video shows how to use the Sharpmaker:
Matt Davidson of Best Pocket Knife Today provides a good overview as well:
The basic process for sharpening involves 20 swipes along the corner of the medium sharpening rods, then another 20 on the flat side. After that you move on to the fine sharpening rods and do another 20 passes on the corner and another 20 on the flat. It's important to ensure that your blade is vertical for each stroke which is the key to an evenly distributed edge. Overall I found the whole process takes about 10 minutes or so which is not too bad. I recommend sticking to the 40 degree setting in most cases. What I also found encouraging is that the Sharpmaker does not beat up your blades like some other competitors do…in fact it's pretty gentle on the metal overall.
Get the Spyderco Sharpmaker for $56 on Amazon.