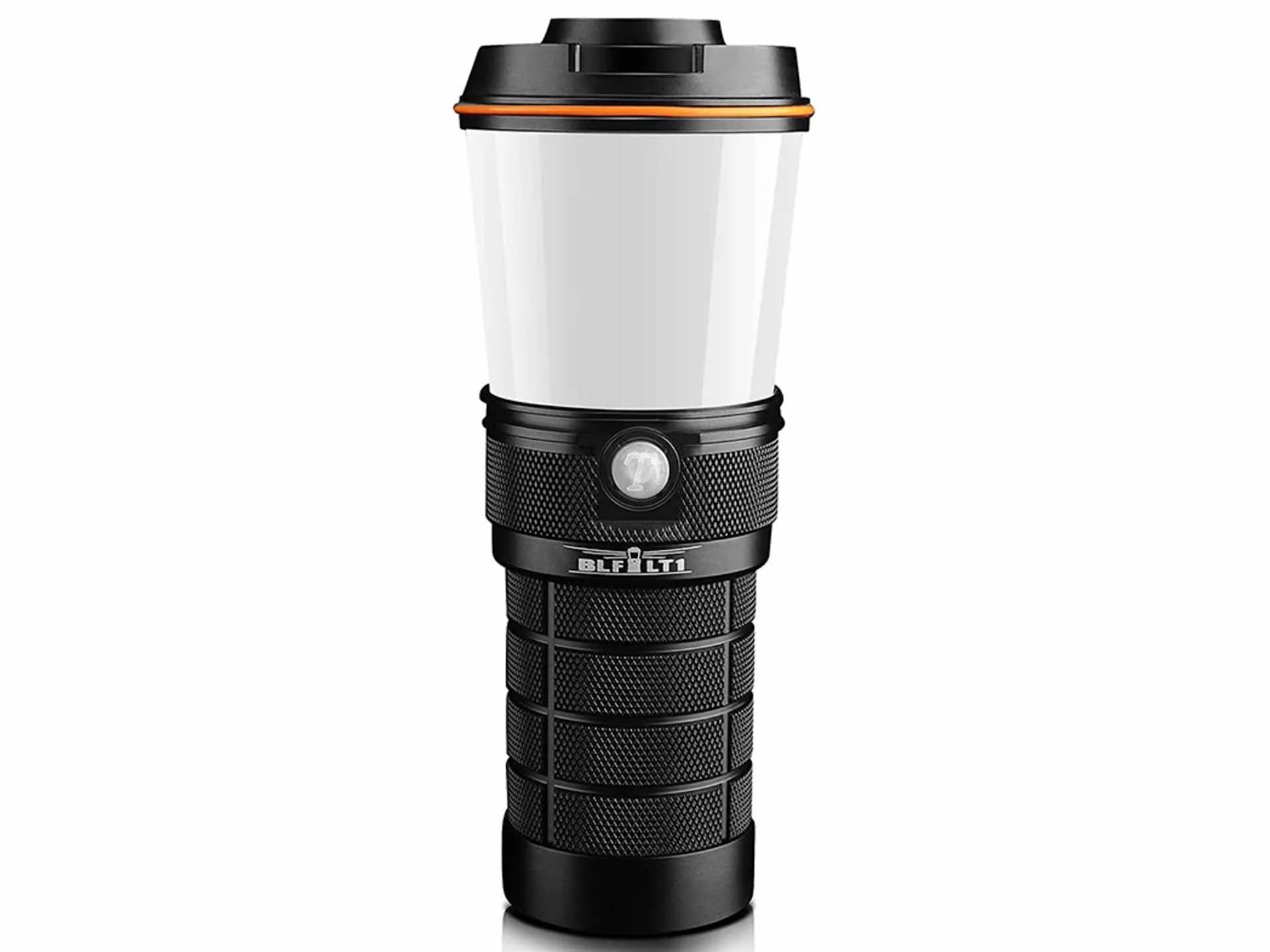 Sofirn LT1 Rechargeable LED Camping Lantern + Power Bank
If you're one of those people who spends any amount of time on flashlight forums and such, then the Sofirn LT1 is likely already familiar to you and needs no introduction. For the rest of you, the main thing you need to know is that it's an awesome LED lantern that makes every cheap plastic lantern you've ever used look like a piece of junk.
The LT1 is rated IPX7 waterproof and sports a solid anodized aluminum body and cap fitted onto a frosted hard plastic diffuser, which offers an even 360° spread of light that can be smoothly ramped anywhere from soft/warm white (2700K) to neutral/daylight white (5000K).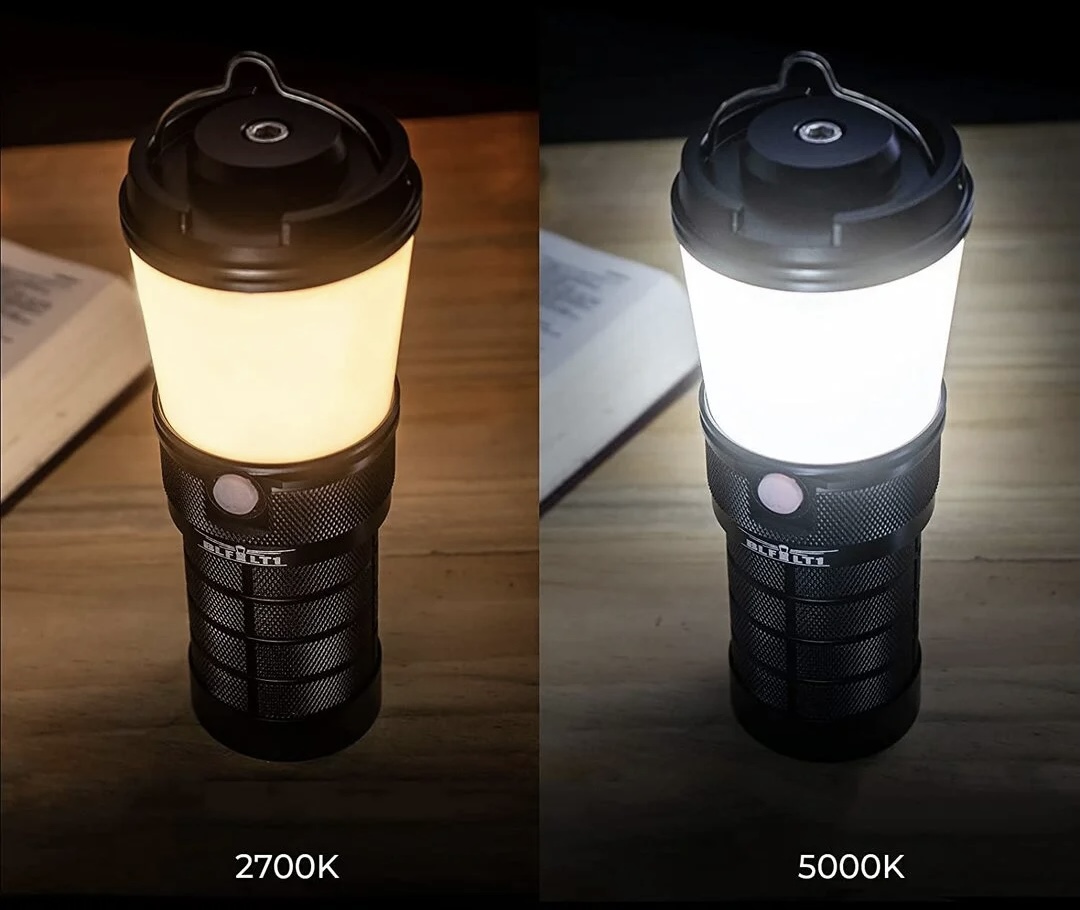 As for the light emitters themselves, the LT1 comes equipped with eight Samsung LH351D LEDS — four 5000K 90CRI and four 2700K 90CRI — that all fire downward from the cap through the tapered diffuser tube, at a maximum of 800 lumens.
All of this is powered by four of the company's own 3000mAh button-top lithium-ion rechargeable batteries, which are connected in parallel so you can technically run the lantern on just one battery in a pinch. Those same batteries allow the LT1 to be used as a portable power bank for charging your phone or other small devices!
There are also ¼″ screw mounts located both in the base and on the side for mounting on a tripod:

This is the type of lantern you'll want to have around whenever you go camping or fishing, during power outages and other emergencies, when your car breaks down at night, or simply as mood/reading lighting on your patio or bedside table. No matter where you use it, you'll find the light always fits your needs nicely.
If you notice in the Amazon listing, there's a "BLF" in the product name, given prominent placing right after the brand name and before the model number. What does that mean, you might ask?
Well.
As it turns out, this lantern began as a three-year prototyping project between a guy at Sofirn and BudgetLightForum user "DBSAR" (aka "DBSARlight" on YouTube). It was a whole Thing™.
I've taken some editing liberties here:
As we all know, 99.99 % of LED lanterns available commercially are absolute crap in stock form, usually with crap tints, inefficient garbage 5mm LEDs, low run times, bad modes, made from cheap plastic and components, low output, very glary on the eyes when at eye levels…the bad list goes on. I have some 125 + LED lanterns in my collection, and at least 95 % of them are modded in some way at different levels. Almost none of them however have the "perfect" set of perimeters to serve as a perfect lantern for camping, power outages, survival, long term use, compactness, durability, output balanced with run times, good useful modes for lanterns, etc.

What I will be building here is a compact, durable lantern with the best perimeters and features that my best lanterns have combined into one, using known components, to combine the best run times, output, lighting tint, least glare, compactness, and features.
During the time between the announcement in February 2016 to its initial "group buy" release in October 2019, the LT1 underwent a seemingly endless amount of revisioning and development thanks to a crazy amount of input from the rest of the BLF community:
BLF member DBSAR started playing around with the idea of taking a BLF Q8, cutting the top off, attaching a circular diffuser, and then relocating the MCPCB with LEDs down-firing at the top of the light to create a lantern. The idea caught on like wildfire, with the group-buy continuing to grow before finally being capped at 3,000 units. Other well-respected BLF members such [as] ToyKeeper (firmware), Lexel (driver design), and many others joined with Barry of Sofirn to bring the BLF LT1 to life.
It's actually something of a miracle that this thing reached market at all, but it's here now, and all that work was worth it.
Sir Alec Issigonis said that "a camel is a horse designed by committee." With so many people trying to include their wishlist in the design of this lantern, there was a real chance that the LT1 might have ended up a camel. It didn't.



—Jools Stray, Three Points of the Compass
Anyway, I'll spare you the novel's worth of other details I could get into and tell you that the Sofirn LT1 can be yours for $79 on Amazon. There are also beautiful green and orange editions that cost a bit more.