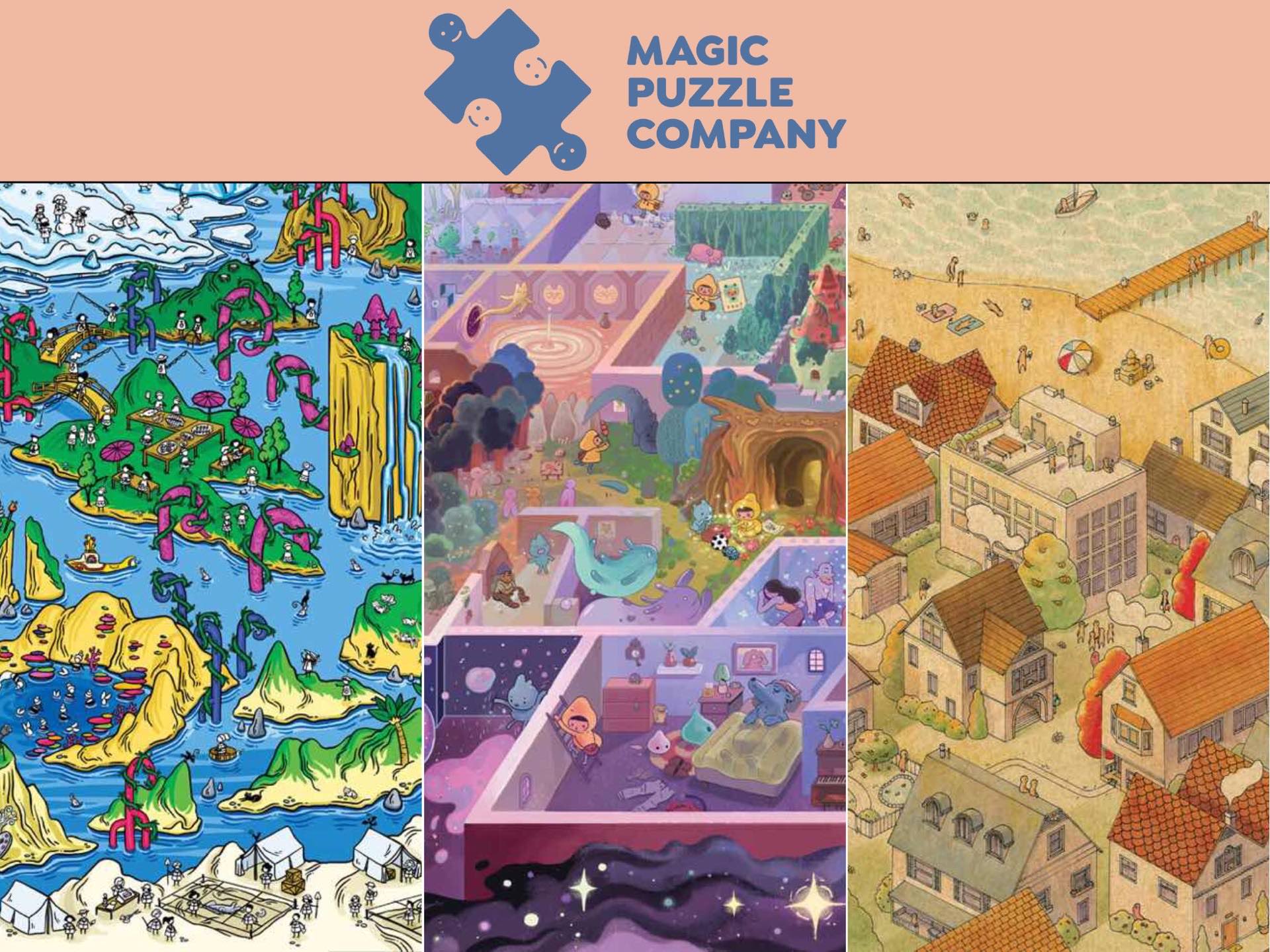 "Series One" Jigsaw Puzzles by the Magic Puzzle Company [Kickstarter]
Max Temkin (of Cards Against Humanity) and magician Jordan Gold have teamed up to create the Magic Puzzle Company, which today began a Kickstarter campaign for their "Series One" trio of jigsaw puzzles.
The three 1,000-piece puzzles in this collection were respectively illustrated by indie artists Sarah Becan, Boya Sun, and Felicia Chiao.
Each one is a work of art and self-contained story in its own right, loaded with dozens of Easter eggs and tiny details that can be enjoyed even at the individual-piece level — but the real cool part comes when you complete a puzzle, revealing a ✨secret surprise✨ using techniques from optical illusions and magic:
It's always exciting to pick up a new puzzle with an image you like and then open the box and start putting together the corners and edges. But after a while, you get to the part of the puzzle where you need to assemble 400 pieces of blurry sky. And then when the puzzle's about 75% done, that feeling of "what am I doing with my time" creeps in. Eventually the last piece finally goes in and the puzzle is over. We've always found that part a little anticlimactic.

So we came up with a whole new way for a puzzle to end. When you place the last piece of what you thought was the end of the puzzle, you unlock a whole new part of the experience — a final act that includes both a magical illusion and a completion to the puzzle's narrative. We playtested these puzzles hundreds of times with people all over the world to figure out how to make this special ending as clear and engaging as possible, and we hope you're going to love it.
They really went all-out to make this the most memorable puzzle-solving experience you're likely to have for a long time. You truly won't wanna miss out on this.
Although the Kickstarter just went up today, they've already more than tripled their funding goal and still have 29 days to go! Back the project at the $20 level or higher to receive one puzzle of your choice when it's successfully funded. $50 gets you all three.