Brad Dowdy, writer of the Pen Addict blog, teamed up with Jeffrey Bruckwicki a few years ago to launch a super successful Kickstarter campaign. The Nock Co. Kickstarter campaign funded the creation of handy pen cases to carry your favourite pens and stationery supplies. Ever since the Kickstarter campaign, Brad and Jeff's Nock Co. have created a variety of pen cases to fit a wide range of needs.
One of those handy pen cases is the Nock Co. Fodderstack. The Fodderstack is more than just a pen case — it carries Nock Co.'s super smooth 3" x 5" index cards in a rad array of colours. It has room for one or two pens and it fits beautifully in a messenger bag or an extra jacket pocket during the colder winter months.
But this pen case is more than just a neat way to carry your index cards and to flaunt your stationery snobbery. The Fodderstack — and all of Nock Co.'s products for that matter — represent that homegrown, handmade feel that is so hard to find in today's mass produced stationery market. From production through to sliding it into your messenger bag, Nock Co.'s pen cases have a sense of passion instilled in them and this makes any Nock Co. product an easy purchase.
I grabbed the loud Mandarin/Mango Fodderstack along with Nock Co.'s Dusty Blue 3" x 5" index cards a few weeks ago. There are a few shades of orange that have hit the stationery market over the past few years, but Nock Co.'s Mandarin colour is right up there with the flashiest oranges you'll find. I doubt this orange would fit the feel of a leather briefcase, but that doesn't mean the colour isn't awesome. This colour demands attention and there's little chance of missing it in action.
The Fodderstack itself is fairly minimalist in nature. The front of the pen case has a single sleeve for one or two pens and the back is bare with no branding.
Nock Co.'s Mandarin Fodderstock is lined with a black stitching that adds some flare to the package. The stitching is quite prevalent on the exterior of the case and gives the Fodderstack an extra kick.
However, the true kicker is the Fodderstack's handmade quality. Nock Co.'s cases aren't mass produced, meaning a craftsman fabricated the pen case from top to bottom. I often look for small mistakes on handmade goods like this to prove the human element in the product. Although I couldn't find any outright mistakes with my Fodderstack, I take comfort in knowing Nock Co. uses high quality materials and produces these cases by hand in the United States. A little homegrown craftsmanship always hits a soft spot in my heart.
The sole branding you'll find is the now ubiquitous Nock Co. tag. Nock Co. puts this tag on all their pen cases and the tag has become their trademark.
The Fodderstack is made of a nylon material that feels durable and long-lasting in the hand. The nylon material won't develop the same aged look many leather products develop over time, but it trades the classy leather look for flexibility and usability.
This flexibility is chiefly present in the Fodderstack's pen sleeve. As you can see in the photo above, there is plenty of room for a single pen — so much so, in fact, that I would be hesitant to flip the Fodderstack upside down with a single pen stowed.
The nylon fabric allows for a second fountain pen — and potentially a third thinner pen — to be held for safekeeping. The Pilot Vanishing Point I carry around on a normal basis easily fits in the Fodderstack's sleeve and has room to spare.
The Mandarin/Mango Fodderstack's interior is a softer orange than its exterior. The texture of the interior nylon is finer than the coarse exterior nylon as well. This is good to know if you care to carry other objects in the main pouch other than index cards.
Realistically though, I can't see a desire to carry anything other than Nock Co.'s index cards in the Fodderstack. The index cards slide in marvellously. I carry 10 to 15 index cards in my Fodderstack and I have yet to need more than that on a daily basis.
Nock Co. is currently in the process of making a Fodderstack XL which will be large enough to carry a 3.5" x 5.5" memo book like a Field Notes or a Word. notebook. There are many options for carrying a memo book, but the Fodderstack XL will surely be a great choice for stationery aficionados.
The Nock. Co 3" x 5" index cards that go with the Fodderstack are also crafted with the highest quality materials. The paper is made of a sturdy 80 lb. cover stock that takes fountain pens with ease. The paper is super smooth to write on; the only paper I've ever tried that out duels Nock Co.'s 80 lb. stock is Tomoe River paper found in books like the Hobonichi Techo or the Nanami Seven Seas Writer.
And to be completely honest, it's not an outright win for Tomoe River paper either. Nock Co.'s 80 lb. stock has absolutely zero show through when using fountain pens, meaning utilizing both sides shouldn't be an issue. Tomoe River paper is incredibly thin, so show through is fairly prevalent. Nock Co.'s 80 lb. stock doesn't suffer whatsoever from show through and its smoothness makes it a tight race between the two papers.
Nock Co. has also developed a modified grid for their index cards and memo books. The DotDash grid blends nicely into the background and gets out of the way when you want to jot down some quick ideas. The Dusty Blue colouring also helps make the DotDash grid one of my favourite grid patterns out there.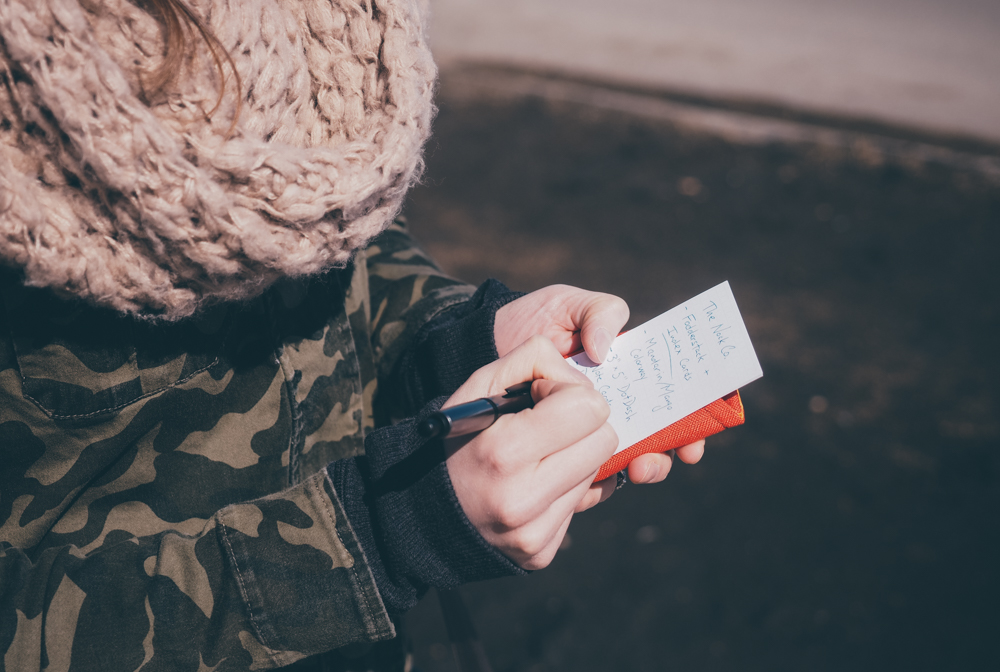 At the end of the day, the real question boils down to whether there is a place for a pen case and index card holder in your bag. Determining whether there is a need will heavily depend on your love for high quality stationery and high quality handmade goods.
That's where Nock Co. succeeds with the Fodderstack. Nock Co.'s homegrown, American spirit is embedded in the Fodderstack. Its handmade goodness is evident in the stitching around the Fodderstack and in the stylish (and easter-egg-laden) Nock Co. tag.
Fortunately, the Fodderstack is merely a piece of the greater Nock Co. family. All of Nock Co.'s goods are made with honesty and care by some of the best people around. If you're looking for a simple case to keep your trusty fountain pen scuff free and your index cards from being strewn across your bag, look no further than the Nock Co. Fodderstack. At $15 for the case and $6 for the incredibly smooth index cards, you'll be supporting some awesome people at a bargain price.