The ideal situation is to buy one bag and be able to use it in multiple ways. The problem is that most 2-way or 3-way bags haven't very good at even one thing, let alone multiple.
Luckily, multi-way bags are getting better, as proven by Bellroy's latest Tokyo Totepack ($179).
The Tokyo Totepack is half tote and half backpack, and is positioned to be used in both casual and more formal settings. Bellroy has tried a totepack in the past with the Duo, but it didn't quite have the look of a backpack or the refined sense of a tote.
This new Tokyo Totepack bests the Duo in a lot of ways with new materials and better organization, but mostly it plays both sides of the coin and looks like both a backpack and a tote when it needs to.
Look and Feel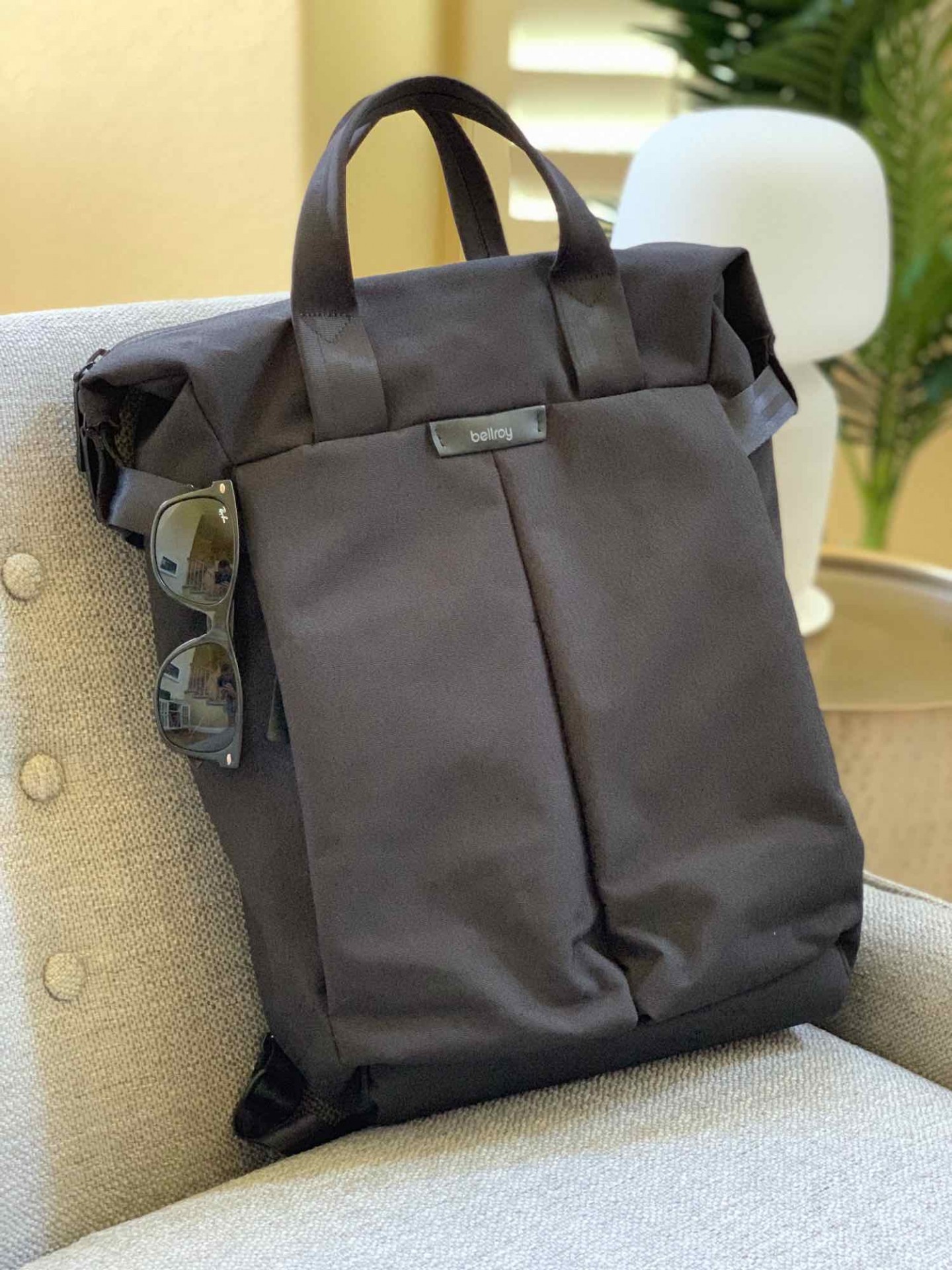 If you had to choose whether the Tokyo Totepack was more backpack or tote, I'd argue it looks like the former but functions more like the latter. Its look is one of the reasons I found it initially attractive for a daily carry bag.
I prefer the functionality of a backpack over something like a messenger bag, but in a lot of my daily carry situations, the bag isn't actually being carried long enough to commit to wearing both straps. In this regard, the tote handles come in…handy.
While the backpack straps can be hidden away, I've found that even at their longest length, they are minimal enough not to be a distraction. I've left them out even while carrying the bag, but it's neat that they can be easily hidden.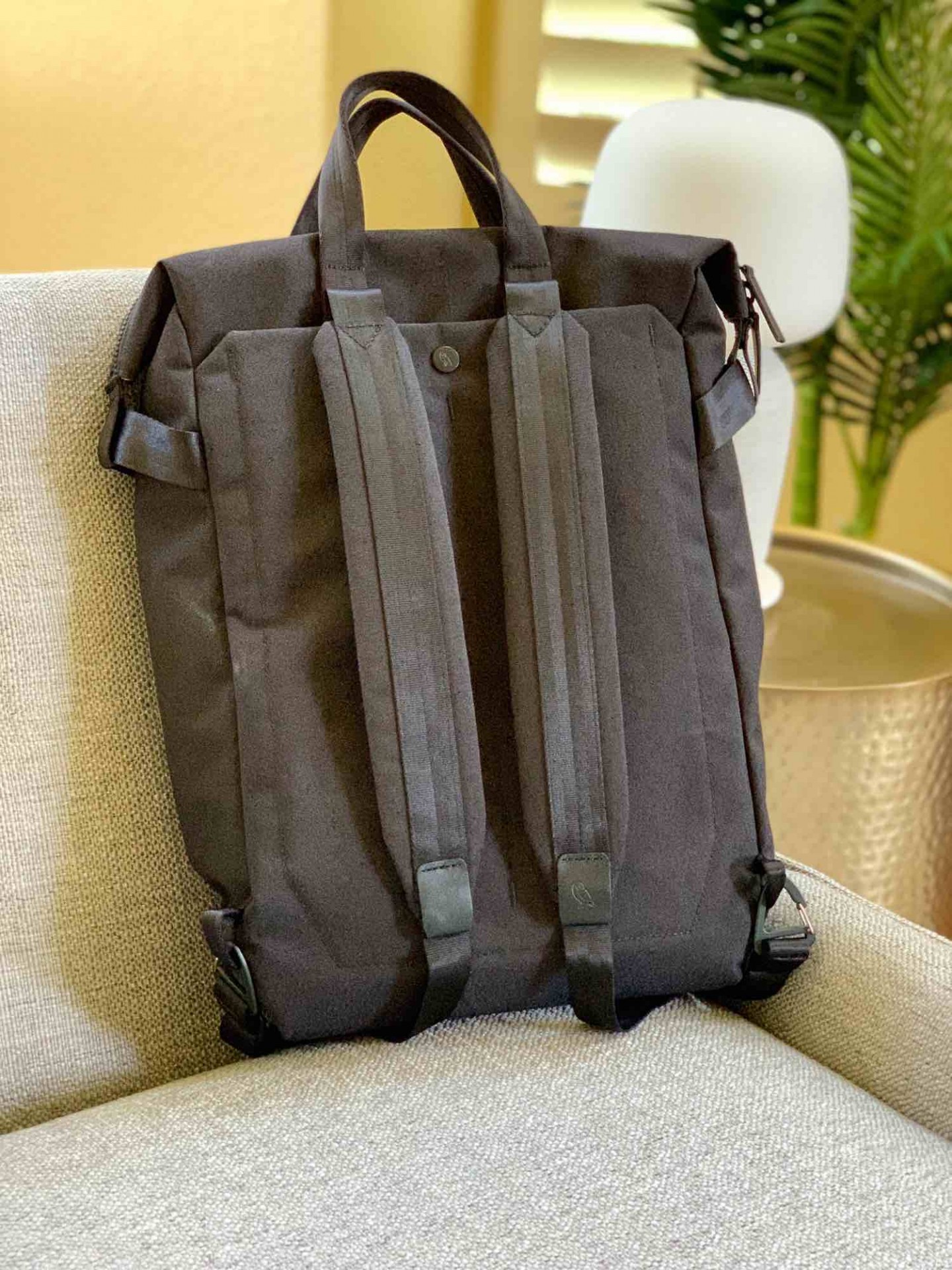 Wearing the Totepack as a backpack is comfortable enough despite a lack of padding that accompanies other Bellroy backpacks. This lack is likely in favor of keeping the bag looking as much like a tote as possible. If you need a backpack for hours of wear per day, a different Bellroy backpack would probably be a better purchase.
My main concern around the feel of the Tokyo Totepack isn't with comfort, but with the appearance. At 5'11" myself, I think it would be a little too small as a backpack on anyone much taller.
The bag uses quality materials Bellroy is known for, and feels strong and resilient to constant use.
Organization and Utility
The true utility of the Tokyo Totepack is its slim and unobtrusive figure. It works perfectly for a daily carry pack. Plus, at 17L capacity, it's hard to use it for anything other than a daily carry.
Inside the pack are two slots for computer devices — up to a 15-inch laptop and an iPad. The iPad slot works better with an 11-inch iPad Pro or smaller. The 12.9-inch model with a keyboard cover is a tight fit, but can be crammed in. The iPad slot is pretty narrow in general for any of the models with a case on. It's a shame and serves mostly as a tease.
Internally, each side contains a "fold-in" pocket. I put quotes around fold-in because they don't reliably fold in as shown in the product videos. Still, they don't get in the way, even if they don't always fold in as expected. They're meant for a water bottle, but seeing as there are two, they can be used for nearly anything.
If I were designing the Tokyo Totepack, I would have only included one pocket and made the top opening a bit wider so it wasn't as difficult to get a water bottle in and out. I do like the open and deep pockets as general storage, even if a water bottle fits a bit tight.
The outside straps holding the main opening zipper in place as to the aesthetic, but I've found them functional too. I use them to hold sunglasses when heading inside. It works better than a small zippered pocket would. Also on the outside are two larger pockets. They're well thought out, with a key hook in one and an open slot in the other.
Overall Verdict
The Tokyo Totepack is a great daily carry bag that can work in a lot of situations for a variety of people. It's slim and compact, but has enough room for a few computer devices, over-ear headphones, a water bottle, and miscellaneous cables.
Most importantly, the Tokyo Totepack is a successful two-way bag that allows backpack functionality in a sleek tote appearance.