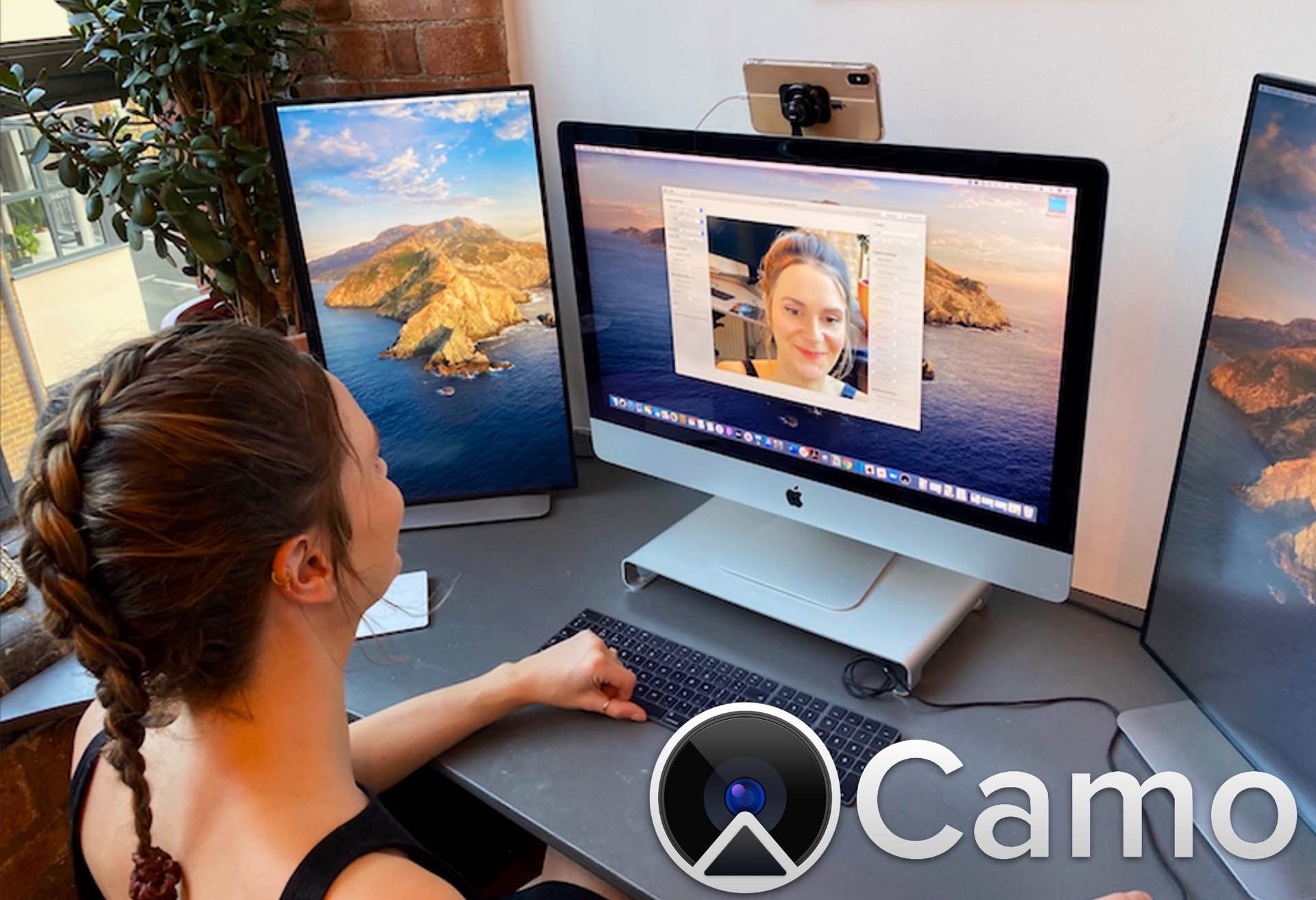 Reincubate's "Camo" App Turns Your iPhone into a Pro-Quality Webcam
Sick of dealing with your computer or laptop's crappy built-in camera on Zoom calls and Twitch streams? Don't yet have the extra money to invest in a DSLR + Elgato Cam Link combo or something similar? Well what about that iPhone you've already got sitting right there? The camera on that thing is a beast, isn't it? Can I fill this paragraph with more question marks?
Anyway, thanks to the Camo app by Reincubate, you can use your iPhone (or iPad) as a pro-quality webcam, with results that far outstrip pretty much any dedicated webcam on the market.
In their launch announcement, company CEO Aidan Fitzpatrick explains why they built this:
Three months ago I was frustrated. I had an amazing Mac, but friends who joined calls on their iPhones got much better video quality. I got a high-end webcam — $350! — but the software sucked, the colours were cold, and it kept refocusing all the time.

Experts I spoke to said the solution was to get a DSLR camera and a device to connect it. That'd give amazing image quality, but would cost over $1,500.

Thus began my journey to build Camo: an iPhone has one of the world's best cameras in it, so could we make it work as a webcam? Many sleepless nights and 5,500 beta testers later, the answer is yes.
The best products are always the ones that scratch the creator's own itch, and you can tell every line of Camo's code was written with care and love.
The way it works is, you have to download the iOS app, which forwards your device's video and audio to the Camo Studio desktop app (link goes to the .zip file for the macOS version).
You can do this entirely for free, which is pretty cool, but I do recommend upgrading to Camo Pro — which costs $40 USD for a 12-month license (or $5/mo, or $80/lifetime) — because you'll then be able to control all kinds of things about the video feed:
Camo's free edition is great for straightforward, high-quality calls, but lacks adjustments. It gives you resolutions up to and including 720p video, along with a choice of the device's selfie lens, or it's main back lens (the wide one). The free version of Camo also lets you access your device's audio. You can connect multiple iOS devices and switch between them.

If you upgrade to Camo Pro, you get the following:

Access to every lens (modern devices have selfie, telephoto, ultra-wide & wide)
"Portrait mode" with bokeh effect and shallow depth-of-field
Control of the device's flash for use as a light ( turn it on and off, control the brightness)
Access to any resolution the device provides (opening up 1080p and 1440 x 1080)
Removal the Camo watermark from your feed
Video mirroring (Zoom only mirrors video in your view, not your viewers')
Rotation of the feed in 90° increments (in case your phone is orientation locked)
Zoom controls, with pan and tilt to keep you front and centre
Focus adjustments (autofocus, focus on a particular area, manual focus control)
Shutter speed and ISO adjustments
Image adjustments including brightness, temperature, tint, hue, saturation, contrast, gamma, sharpness
I also recommend reading their getting started guide and generally browsing around their support database to learn all about Camo and what you can do with it.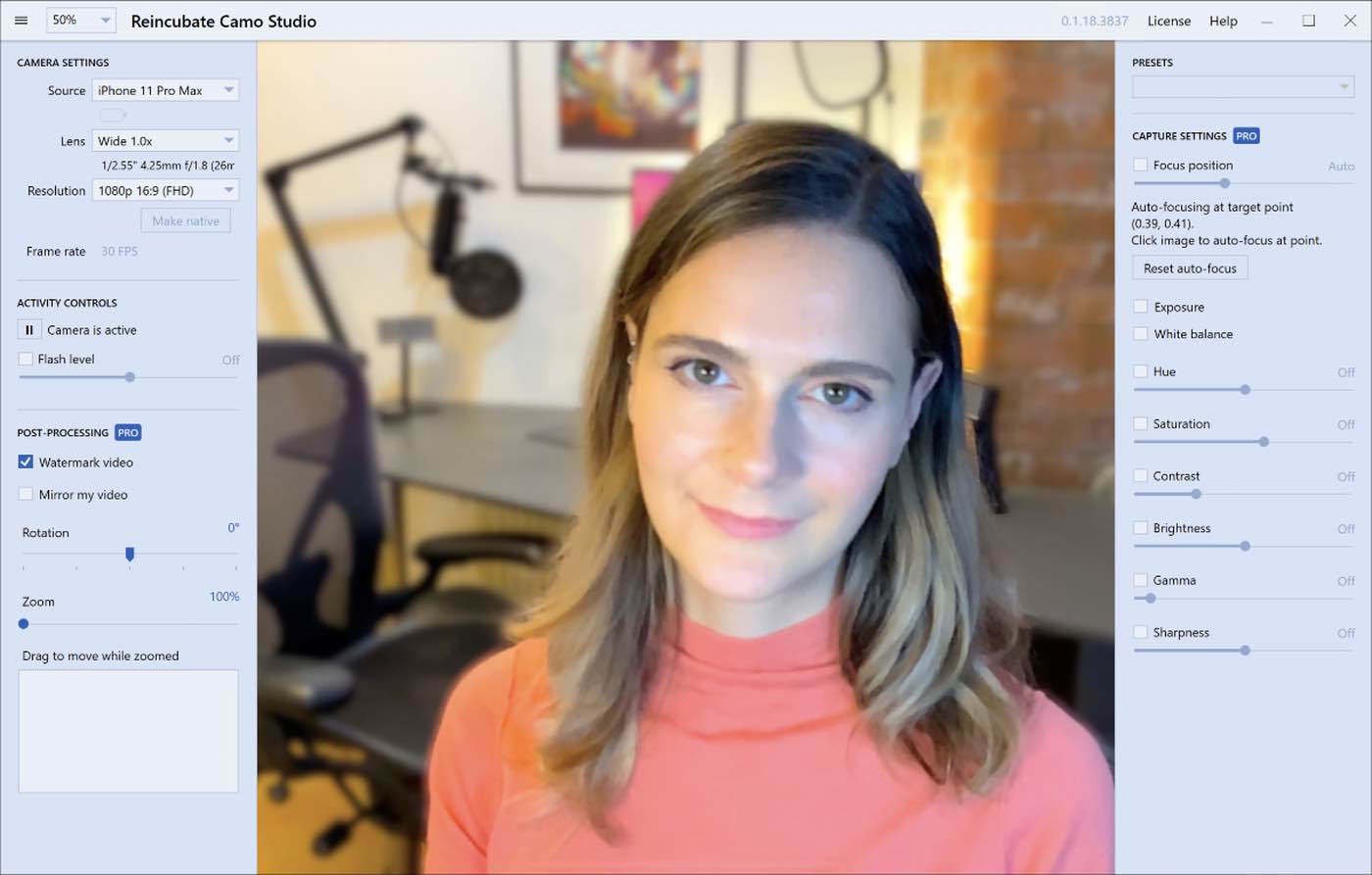 Head over to Reincubate to see screenshots, get a quick overview of features, download whichever desktop version you need, and of course, upgrade to Pro if that's something you're interested in.