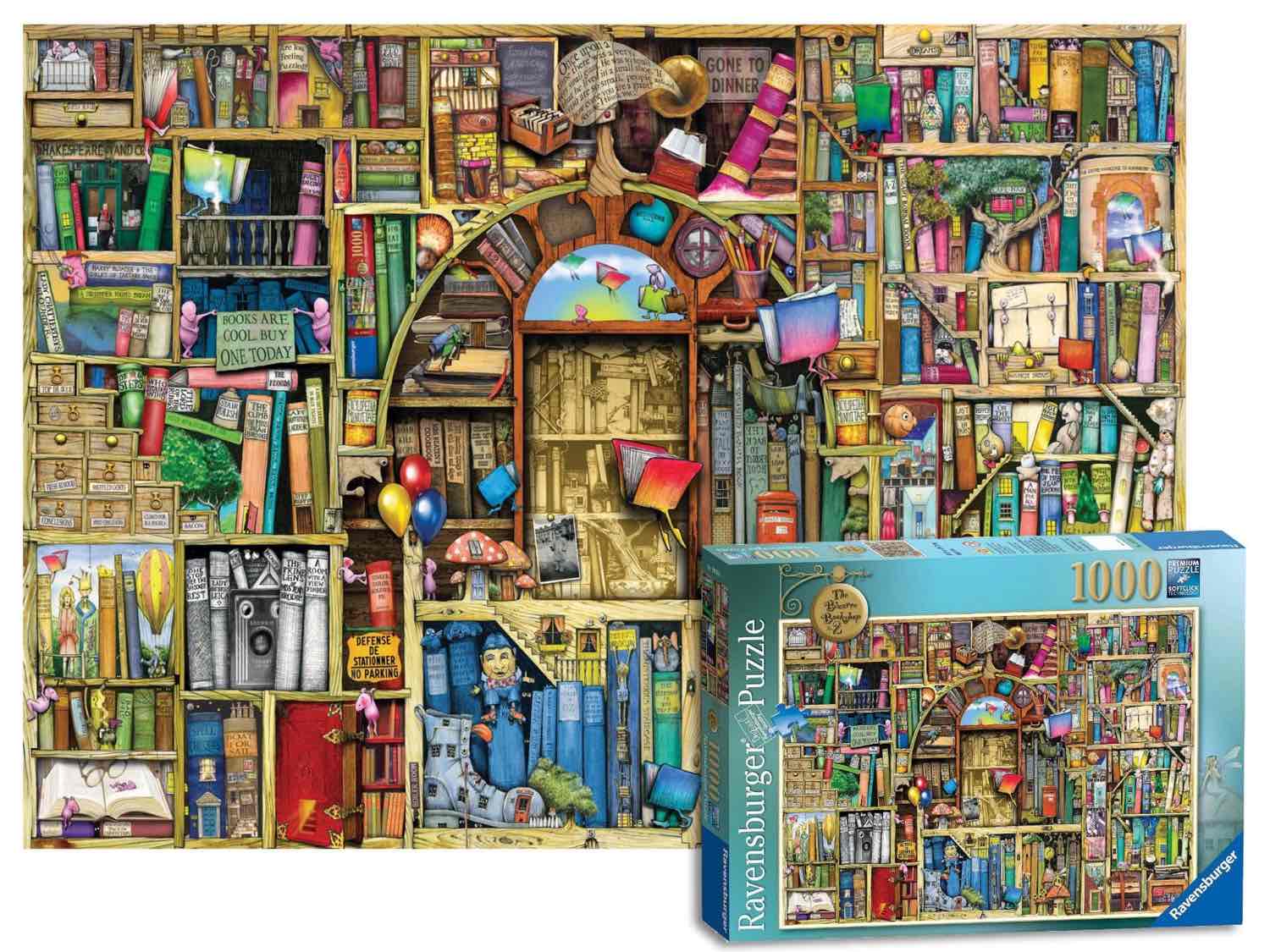 Ravensburger "Bizarre Bookshop 2" 1000-Piece Jigsaw Puzzle
Ravensburger's "Bizarre Bookshop 2" is a whimsical and colorful jigsaw puzzle that would be perfect to do with your kids, significant other, or simply by yourself. Comprised of 1,000 pieces, the completed artwork depicts a wacky wall of books full of curious creatures, weird windows, and magical worlds hidden throughout.
It's the sequel to the original "Bizarre Bookshop" puzzle — the only one version listed on Amazon has wooden pieces, that's why it's so much more expensive — and has likewise been illustrated by the prolific illustrator/children's author Colin Thompson. (If you look very closely at the completed second puzzle, you'll actually spot the box for the original one 😉)
From the puzzle's official description:
There are some fascinating titles just waiting to be discovered on the shelves of this very Bizarre Bookshop. Many may remind you of well-known works but with a quirky difference, thanks to Colin Thompson's brilliant imagination. So as you assemble the jigsaw you'll reveal titles such as Five go Stockbroking, The Lion, The Witch and the Modem, and Last Croissant in Paris. Also discover strange scenes and curious characters hidden amongst the colourful tomes.
The puzzle measures about 27.5″ x 19.6″ and would certainly be frame-worthy — unless you feel like completing it over and over again, for which I couldn't blame you.
Get it for $20 on Amazon.