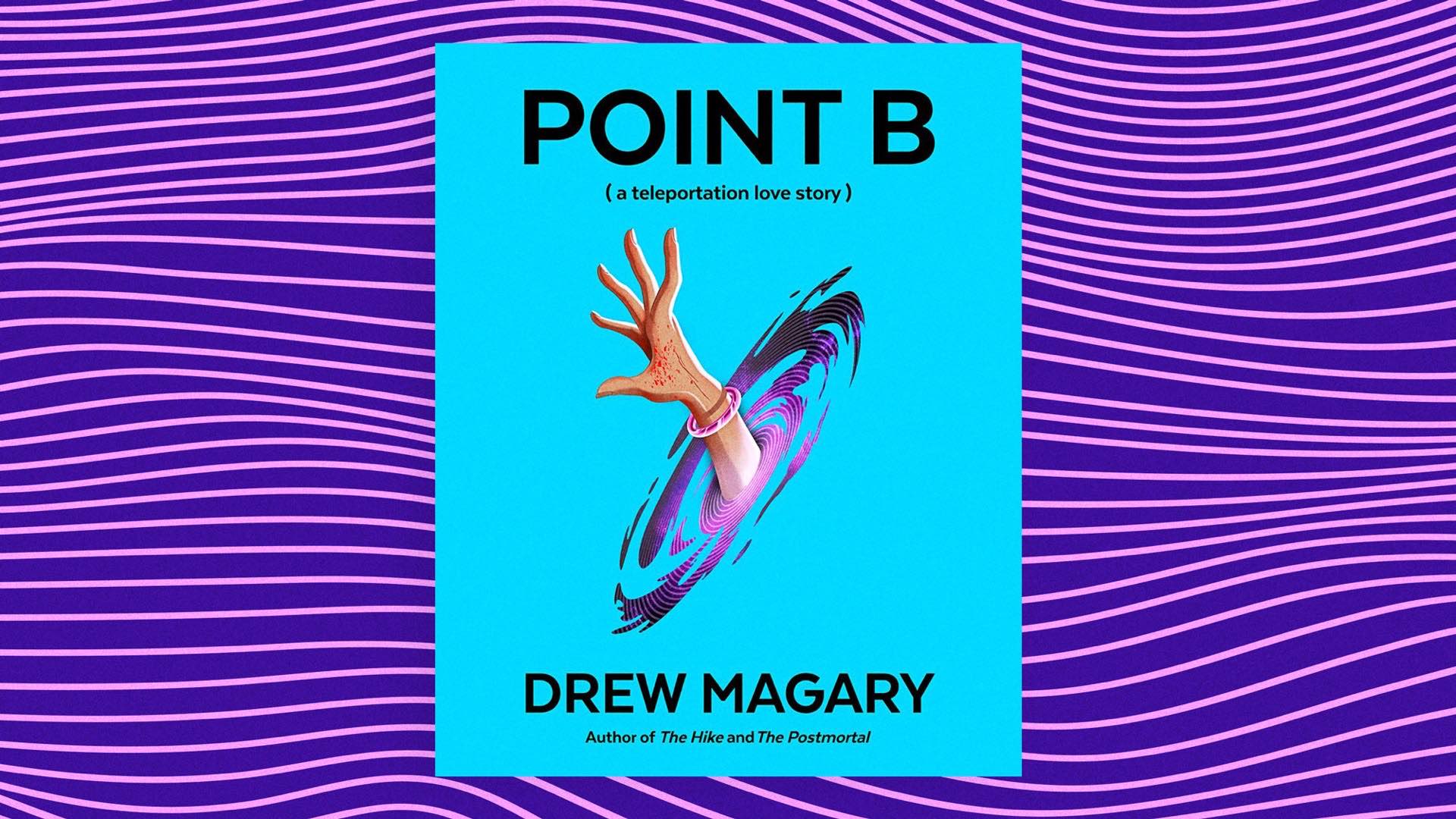 'Point B: A Teleportation Love Story' by Drew Magary
Point B has a little bit of all the genres you love in combinations you've never imagined, and it's easily the funniest thing we've read this year so far.



—GQ
This one is hot off the presses, folks: Drew Magary — author of The Postmortal and The Hike — has a new ebook called Point B (a teleportation love story) that just released today for all your "please, someone, distract me from everything going horribly wrong in the world" needs.
It's an entertaining sci-fi/mystery revenge story that takes place in a future where a monolithic corporation called PortSys — which seems to share its name with a real company here in our world — has solved climate change and put teleportation technology in everyone's pockets. Just whip out your phone and you can be instantly transported to anywhere in the world: Mexico, South Africa, England, Ho Chi Mihn City, Cairo, the Outer Banks, Australia, or even (gasp!) New Hampshire.
Which sounds mostly great, other than the fact that PortSys now runs the planet (and wants to keep it that way) — not to mention how their 'port' tech made it possible for a man to murder the protagonist's sister and get away with it. And that's where our story begins:
When the corporate monolith PortSys brought porting to the masses, CEO Emilia Kirsch and her son Jason accomplished what every other startup company had failed to deliver. They really did change the world. They reversed climate change. They created a multitrillion dollar industry out of thin air, curing economic woes across the globe. They made it so that anyone could be anywhere simply by touching a screen…

…including the man who murdered Sarah Huff.

Now Sarah's 17-year-old sister, Anna, is determined to hunt the b*****d down. But there are a few problems. She doesn't know who the killer is, or where in the world he may be at any given moment. Also, she's stuck at prestigious Druskin Academy, where PortPhones are banned and any student who attempts to port off campus is immediately expelled.

It gets stickier. Anna's also fallen in love with her dazzling new roommate, who just so happens to be Emilia Kirsch's daughter, Lara. The dean of students wants Anna dead, perhaps literally. And she has only two friends to confide in: one a reckless alcoholic and the other a bizarre fussbudget. Oh, and now she also needs to find Lara, who has mysteriously disappeared from campus.
Anna is one of those clever and determined teenagers that her crusty old enemies never saw coming — you know, one of the plucky ones. Her coming-of-age story takes readers all over the globe and has plenty enough cool action sequences and zany schemes to keep you turning those pages until the very end.
(It's also filled with a lot of F-bombs and some drug usage, so maybe don't, like, hand this book to an actual kid or anything.)
As of April 22nd, 2020, you can really only buy the $8 Kindle edition. However, Magary promises that a paperback edition is on its way very soon.