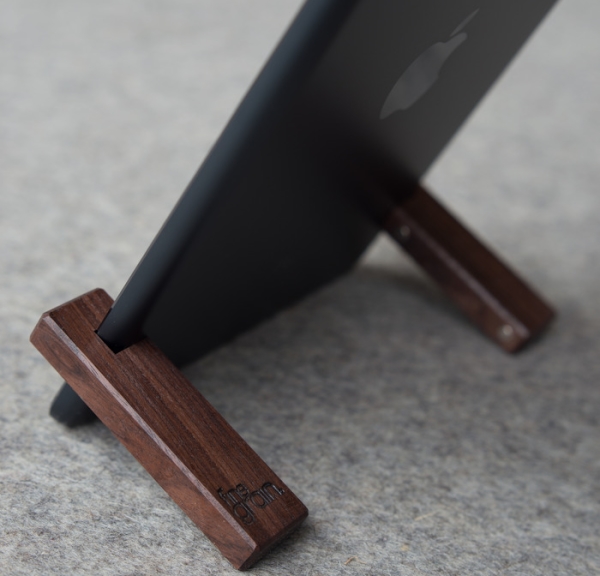 The COBURNS iPad Stand is a new Kickstarter project that caught our eye this morning. It's comprised of two wooden blocks, each with a pair of magnets and a slot — if one didn't know what they were, they might think they were looking at some sort of puzzle.
The magnets hold the blocks together when not in-use, and when separated, the blocks are fitted onto either side of the iPad and can be moved up or down to adjust for landscape or portrait mode.
Since the blocks are made of wood, they won't be able to scratch the iPad's screen. They're also small and light enough to be easily pocketed and carried around. This looks like the perfect stand for travel, and we can't wait to try it out.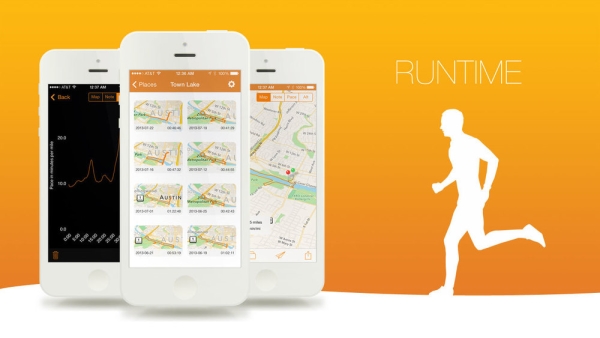 Runtime is a new run-tracking app for iPhone, built specifically for iOS 7 and the iPhone 5s' M7 chip. It records the places, routes, and even altitudes where you do your running/hiking/jogging/etc.
For each session tracked, it will show you where you ran (in orange), where you walked (in yellow), and how many steps you took. Each 'run' can also be shared on Twitter and Facebook, and your data can be backed up via Dropbox.
At only $3, Runtime is definitely an app worth checking out.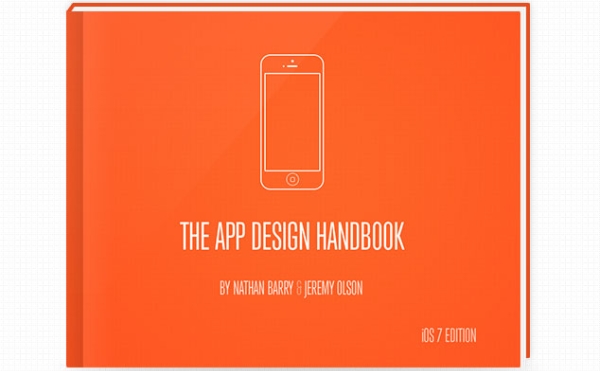 Written by Nathan Barry and Jeremy Olson, The App Design Handbook is an eBook package that guides app makers through the process of designing their apps for iOS 7. With 126 pages of great information, video interviews with nearly a dozen app experts, and a handful of tutorials and other resources, this is the best starting place for anyone who wants to design a beautiful iOS 7 app.
The full package is $99, but you can also purchase the eBook alone for $39.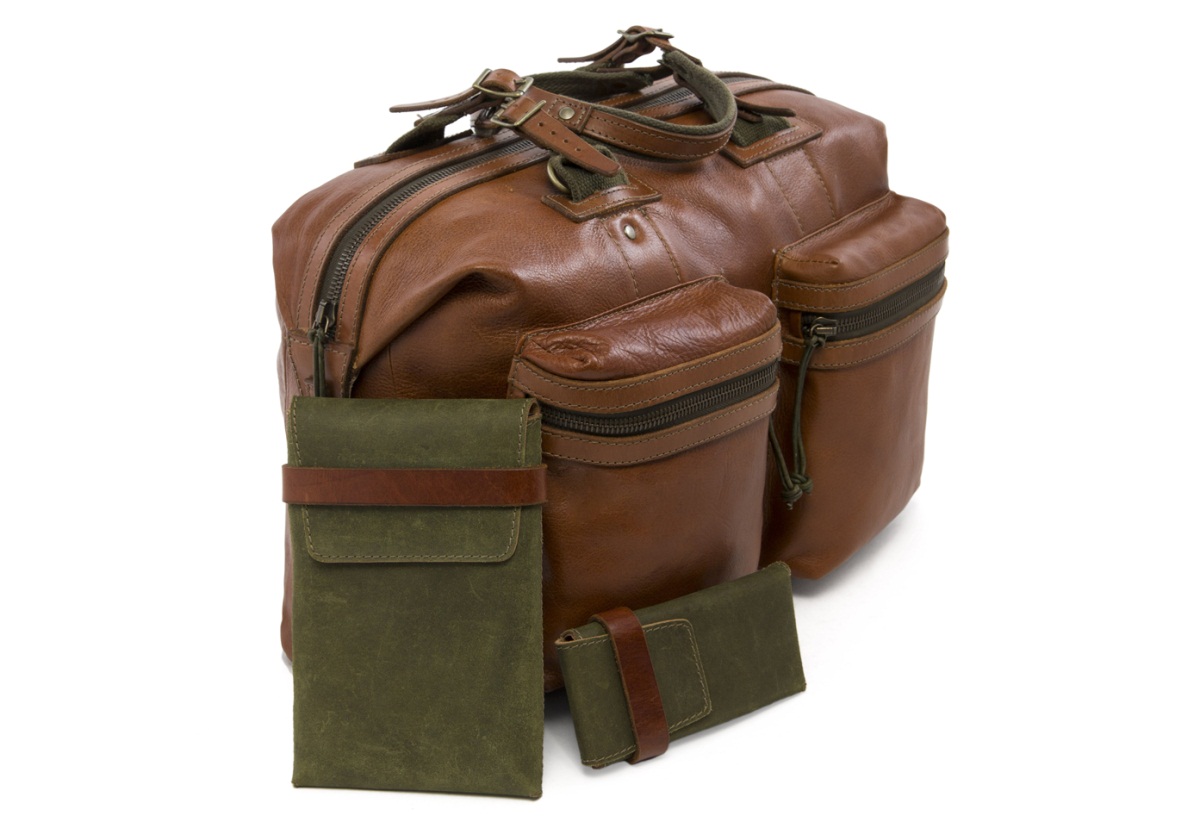 Before I describe the Encounter Collection itself, I should mention that the main reason I wanted to talk about these items on T&T was this incredible video that was filmed to promote the collection. With its gorgeous cinematography and a story centered around a father's heartfelt letter to his son, it's something worth watching whether or not you even want to buy their gear.
I especially think this quote is pertinent here:
>"Don't live to get money. Have a few things, but make 'em good things. Take care of 'em. Learn how they work. There's beauty in the smell of good machines and old leather."
Now, about the items. The Enounter Collection is comprised of high-quality bags and accessories (device cases, primarily), which are all made from vegetable tanned leather.
With the bags, the exterior (outer grain side) is stained and oiled to a cognac brown color, while the interior (flesh side) is stained and waxed an olive drab. The accessories are the opposite, with the olive drab flesh side acting as the exterior with the oiled grain side on the interior.
The accessories range in price from $45 (sunglasses case) to $120 (15″ laptop case), while the bags range from $165 (dopp kit) to $925 (travel duffel). The bags are especially expensive here, but if you watched the video, you've seen that they intend for these bags to last at least a couple generations.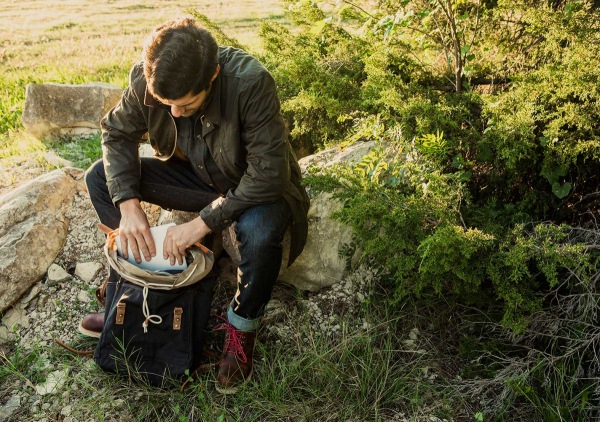 The other day, our good friend Matt Alexander launched his long-awaited startup, Need. To sum it up, Need is a monthly, curated retailer and lifestyle magazine for men.
What does that mean? Well, the way it works is that each month, Need unveils a line of awesome, limited-quantity products – such as attire, books, artwork, coffee, and more – that they've partnered with select companies to produce and sell. These products are accompanied by beautiful photography/video and some independent lifestyle journalism.
To kick things off, Need has put together an inaugural collection called Open Season that features some items that will help keep you warm and stylish this Fall/Winter. Head over to Need to check them out, and be sure to keep an eye on the site in the coming months — I know I will.
While going paperless is easier than ever, scanning more personal things like photos, albums and notebooks isn't as easy as it should be.
The folks at Doxie have set out to change that with their new Doxie Flip Mobile Scanner.
Unlike the Doxie One and Doxie Go, the Flip is flatbed scanner.
Unlike traditional flatbed scanners, the Doxie Flip is small and battery-powered, so spreading photos out on the floor to scan them is easy. The 4×6″ (A6) scanning surface can capture at 600 dpi, making handwriting recognition easier and long-term storage better.
The 2013 Tools & Toys Christmas gift guide. For the Gadget Geek, the Coffee Drinker, the Music Listener, the Apple aficionado, the Hard Worker, or just The Guy Who's Hard To Shop For. As always, only the finest gifts suggested.
The New Kindle Paperwhite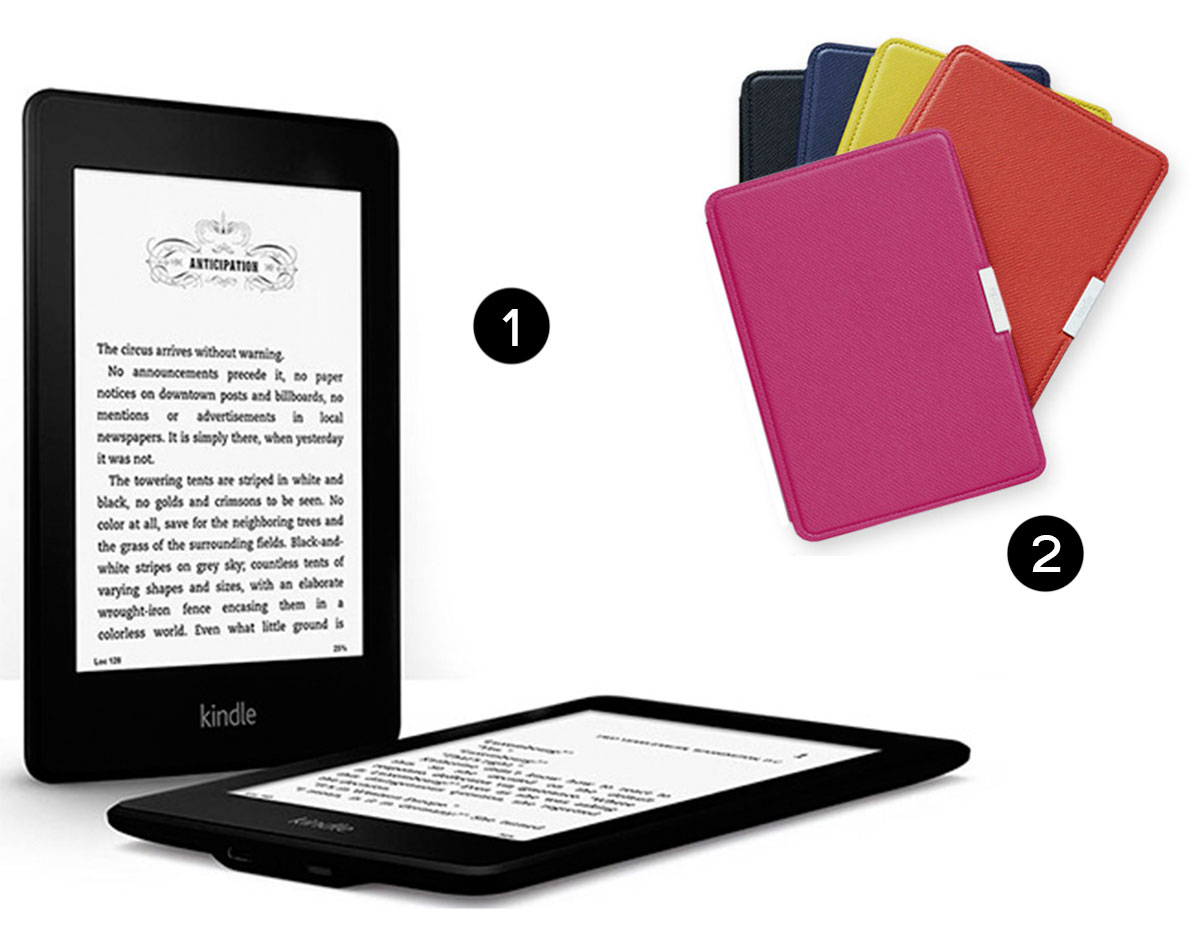 Every year a new Kindle comes out, and this year the new Kindle Paperwhite is the best Kindle ever. If there's not already a Kindle (or two or three) in your house, this is a gift that can't go wrong. You can buy books from Amazon's vast eBook library, and have them downloaded and ready to read within a matter of seconds. ($119)

Leather Cover for Kindle: The Kindle Paperwhite is pretty sturdy on its own, but if you'd like a custom-fitting leather cover then this is the one to get. ($40)
Cameras & Photography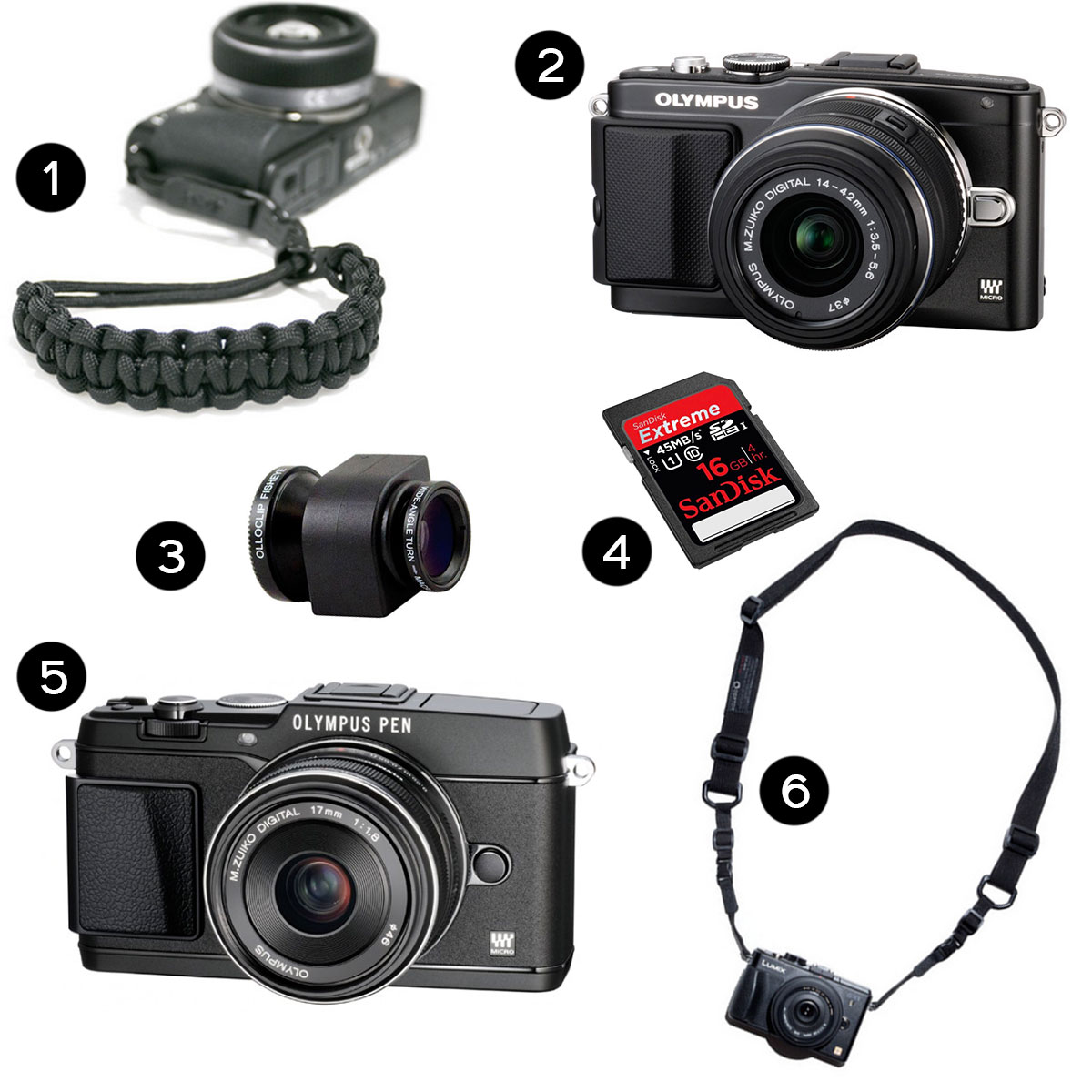 Most of us are running around with an amazing camera already built in to our iPhone. But for those wanting to dive deeper into the hobby of photography using a camera superior to the one in your pocket, you're in luck. There are a slew of very affordable and incredibly high-quality cameras on the market. The mirrorless camera system has radically pushed the needle forward when it comes to the quality and affordability of compact cameras.
So much new and awesome Apple stuff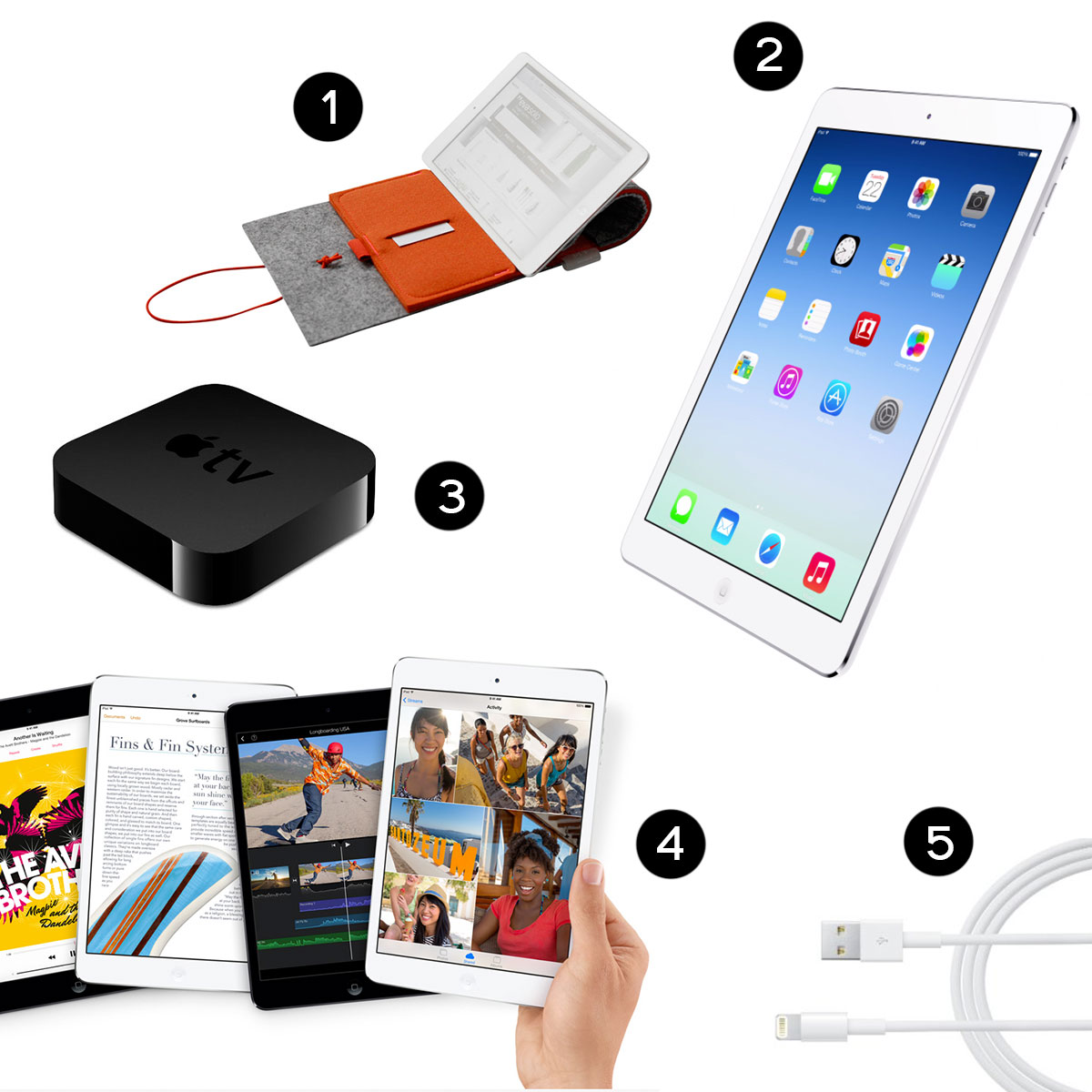 Audio Awesomeness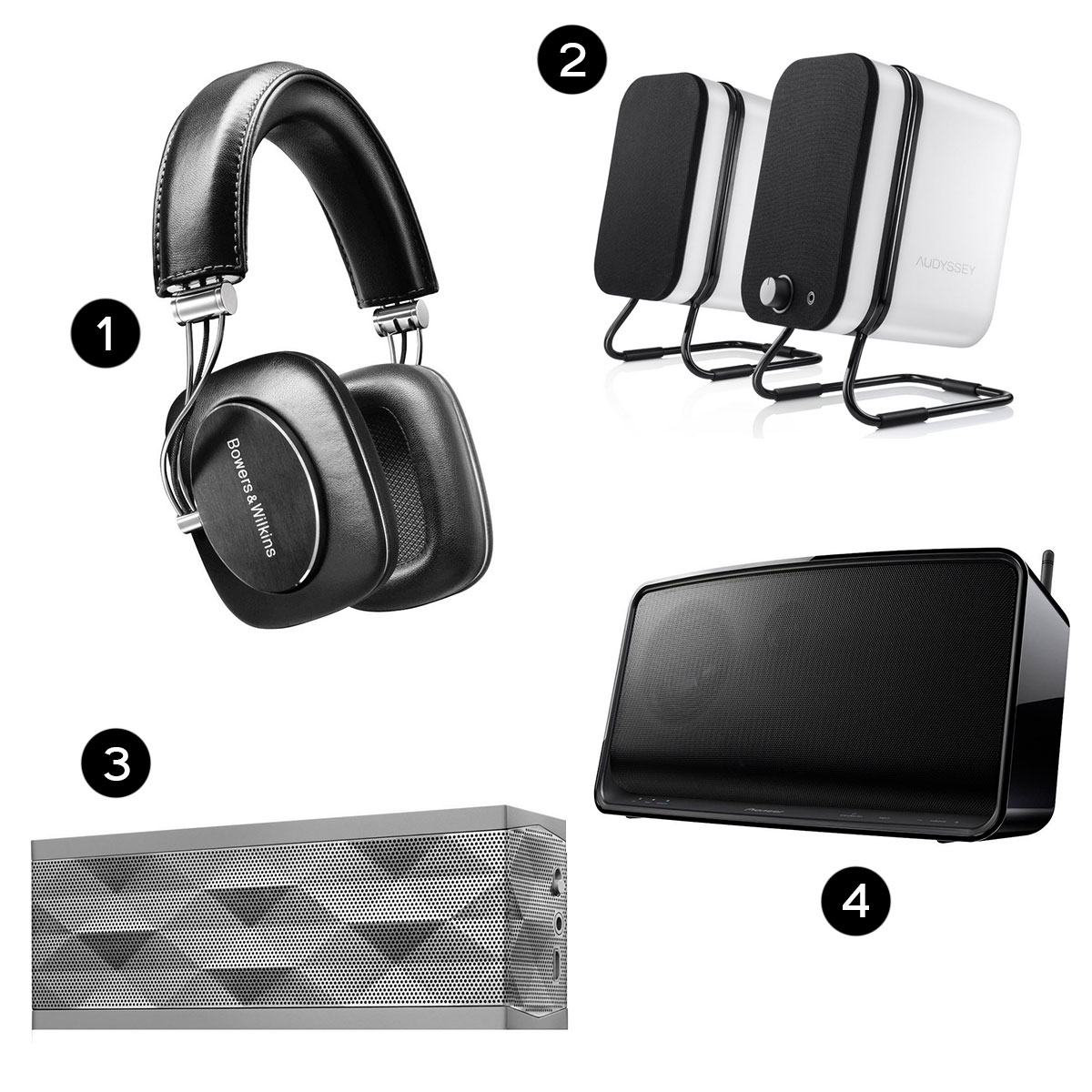 Caffeine Fix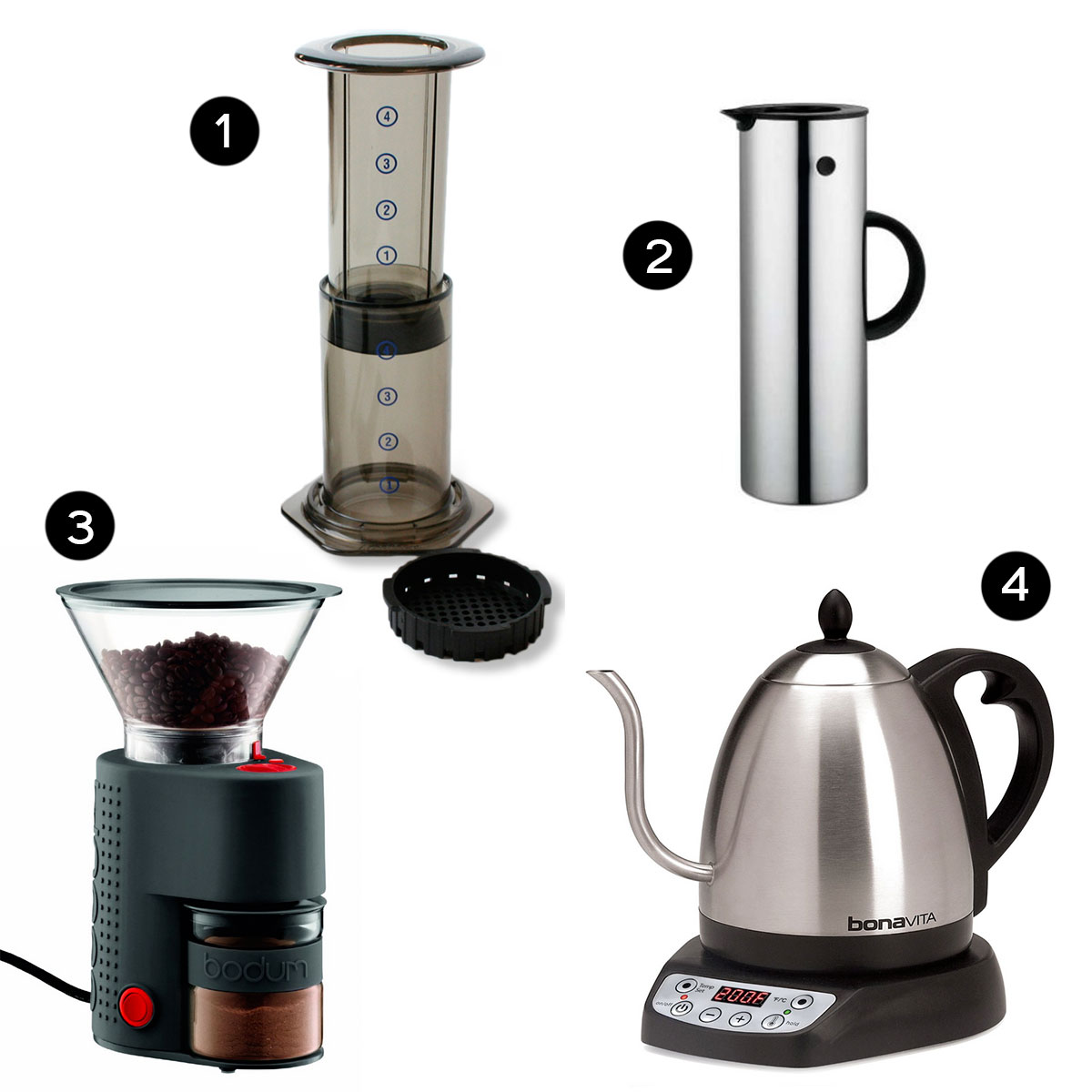 The Hard Worker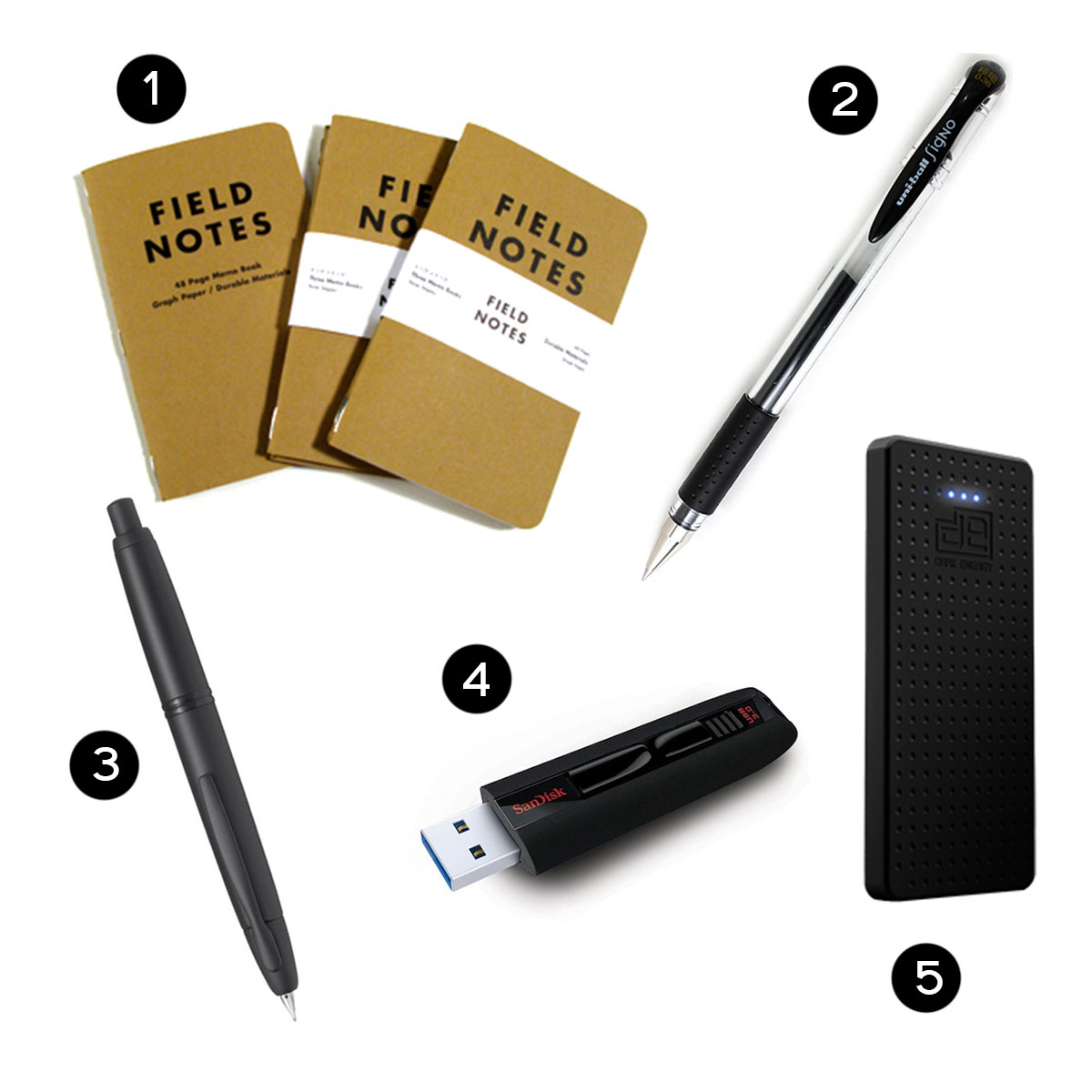 Wild Cards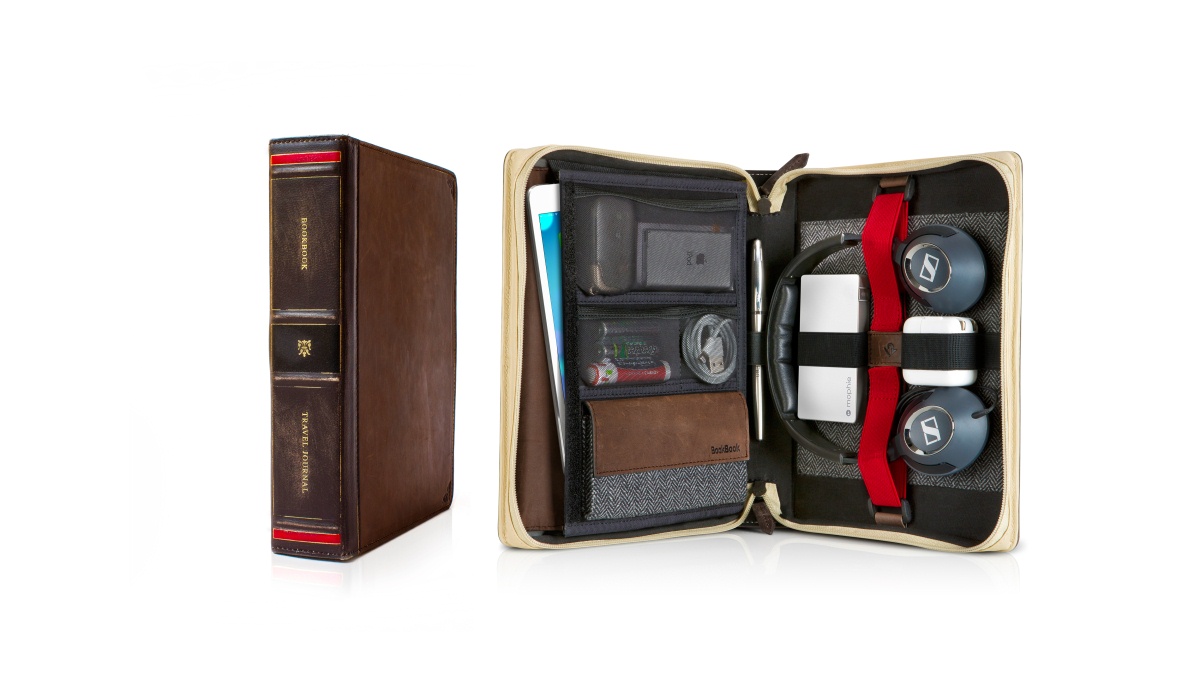 The new BookBook Travel Journal from Twelve South allows you to carry an iPad and additional gear around without looking like that's what it's doing. What appears to be vintage leather hardcover book on the outside is actually a clever, hi-quality case with internal storage for your iPad, USB drives, stylus, power adapters, and even large headphones (provided they fold flat). $99 at Twelve South.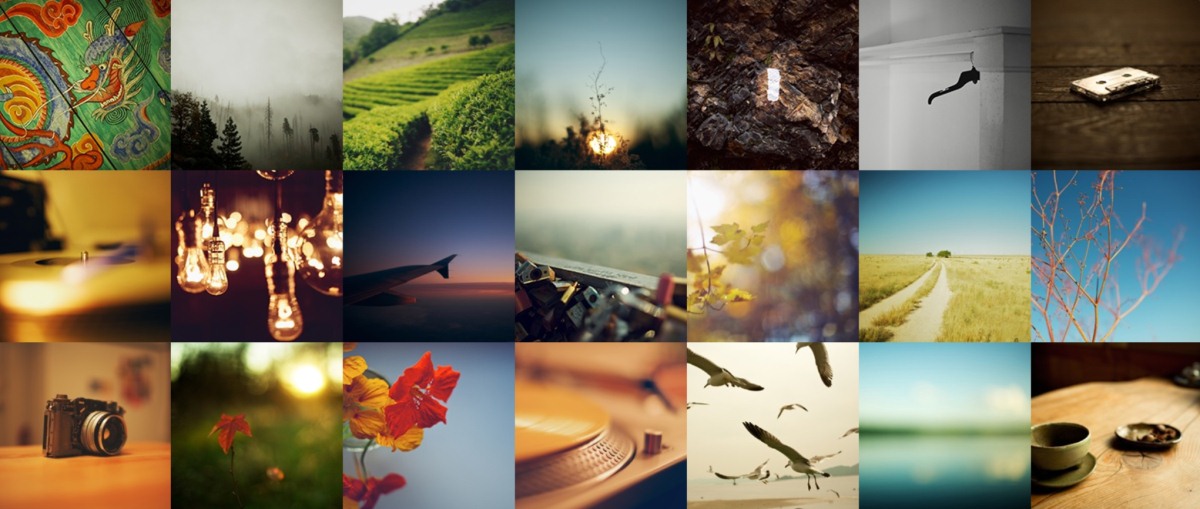 Our friend and photographer John Carey of fiftyfootshadows has been the creator of some of our favorite wallpapers over the years.
For the last month or so, he's been meticulously experimenting with many of these wallpapers, searching for the optimal photo resolution that can take full advantage of iOS 7′s parallax effect and maintain their crispness. He's taken his findings and assembled a pair of awesome wallpaper packs (one for iPhone, one for iPad).
The packs can be purchased individually for $7 each, or as a combo pack for $10. John has also been nice enough to provide a few free wallpapers at the bottom of the blog post so you can test them out before purchasing. I can attest that they look and work great on both my iPad and iPhone.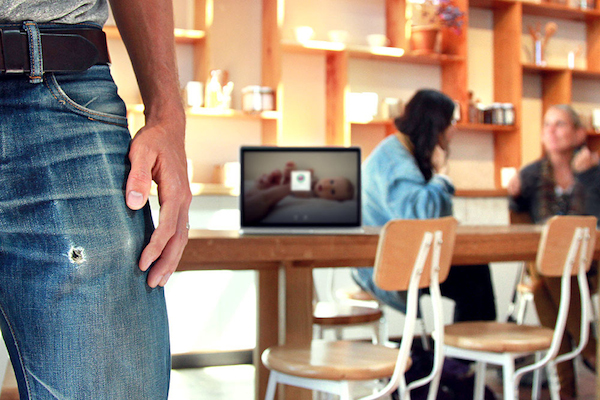 TouchID bring easy unlocking to the iPhone, but what about the Mac? Why are we stuck using passwords like animals?
Well, the cost of the future is just $4. Knock is a new app that allows you to unlock your Mac by taping your iPhone.
Using the low-power Bluetooth chip found the iPhone 4S, 5, 5C and 5S, Knock pairs to your computer with a helper app that is waiting for you device to come in-range. Once it is, tapping the device twice unlocks the Mac, as long as it's new enough.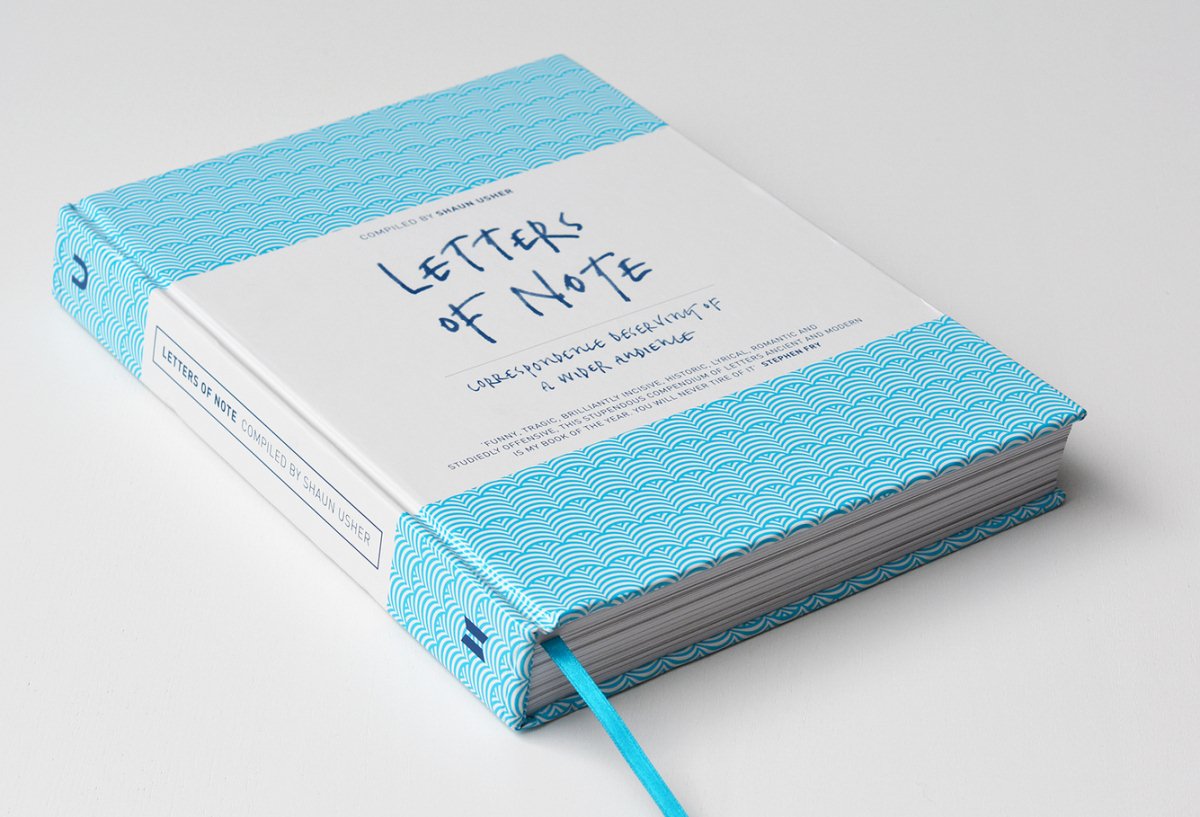 I'm not sure Letters of Note needs any introduction, but for anyone not in the know, it's a blog dedicated to finding and sharing amazing examples of written correspondence throughout history.
These letters – whether they're written by an ex-slave to his former master, a Pixar director to a young fan, or even a copywriter looking for a job in the 1930s – give us a tiny but extraordinary glimpse into these peoples' lives. Some are hilarious, some are sad, and many are inspiring.
And now, 125 of the letters shared on Letters of Note over the years have been compiled into a beautiful book. The book includes correspondence from dozens of famous individuals, such as Leonardo da Vinci, Amelia Earhart, JFK, Mahatma Gandhi, and a lot more.
The book will be released in the US in May 2014, and can be pre-ordered from Amazon for $30. If that's too long a wait, you can get it right now from the UK Amazon Store (£15.21) or the UK iBooks Store (£13).
Techi.com is a site dedicated to all things tech. From updates on Sony's PS4 to reports on Google's latest acquisition; whether you're looking for the latest Apple product or looking for views on mobile web, Techi is the site to visit.
Techi.com's news is sourced from thousands of sites from across the Internet, then curated by an editorial team with their finger constantly on the pulse of the industry's most vital developments. You also get a quick summary of the news so you save time and read only what interests you most.
In addition to the best news curated from across the Web, Techi.com also offers exclusive original articles and stories featured in the Drudge Report, Reddit, NYTimes, Google news, and many more.
You don't even have to visit daily. Just sign up for the daily newsletter and get the latest tech news direct to your inbox — with no fuss whatsoever — in time for that commute or mid-day coffee.
Don't spend your morning sifting through RSS feeds looking for the hot news. Go for the instant solution: get it all from Techi.com in less time than it takes to make your coffee.
* * *
Our thanks to Techi.com for sponsoring the RSS feed this week. Sponsorship by The Syndicate.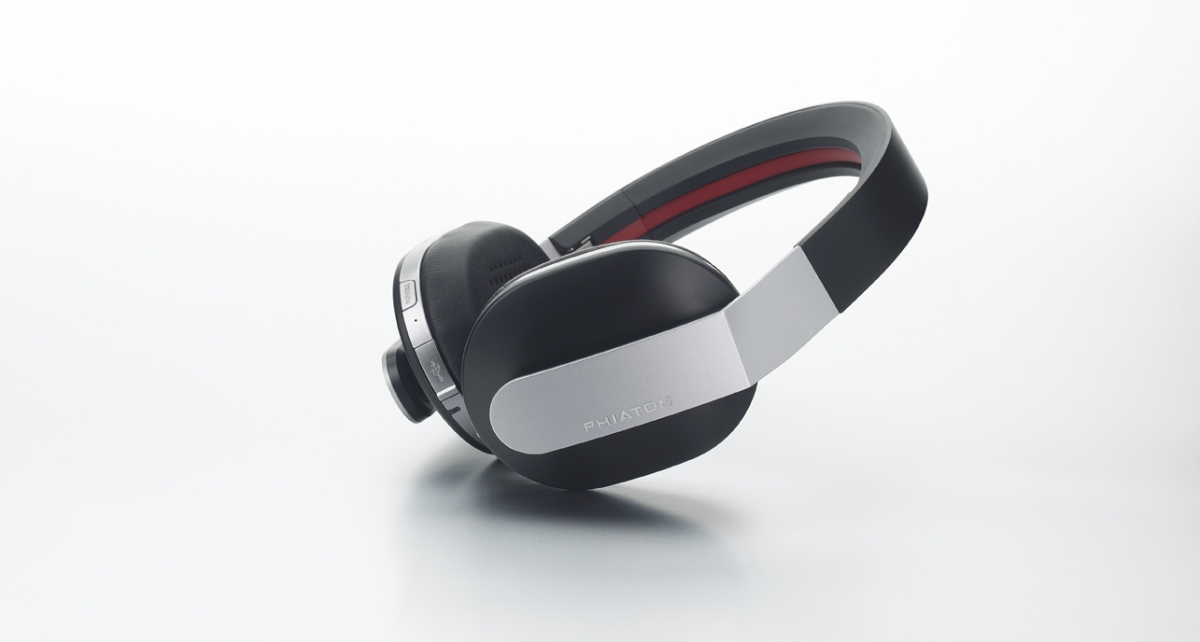 The Phiaton Chord MS 530s are a Bluetooth 4.0-enabled, 98% active-noise-canceling pair of headphones that look great, sound great, and allow you to pair with two devices simultaneously.
The audio driver unit is titanium-coated for better sound, a microphone cable is included for phone call usage, and the headphones can be used for up to 30 hours before needing to be recharged (18 hours if you have "noise canceling" turned on). $299 on Amazon.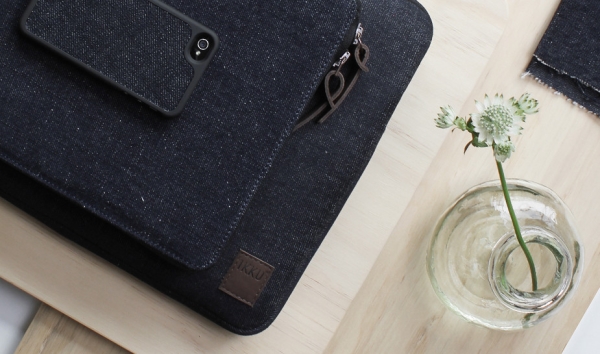 There's a lot of denim that gets wasted around the world. Every day people are throwing out old pairs of jeans for various reasons, and even the big denim factories are discarding a good deal of unused fabric. Rather than letting all that good material go to waste, the people at Ikku have decided to repurpose the stuff to make awesome gadget cases.
As they detail here, they basically collect a bunch of discarded denim, weave it with organic cotton (with little to no dye used along the way, depending on the denim's existing color), and transformed into beautiful cases for MacBooks (13″ and 15″ respectively), iPads (excluding the Air and mini for now), and iPhone 4/4s.
Their goal is to have a 100% waste-free and future-friendly manufacturing process, and it looks like they're well on their way. Even with eco-friendliness aside, these are very durable and nice-looking cases, particularly the Burma Collection.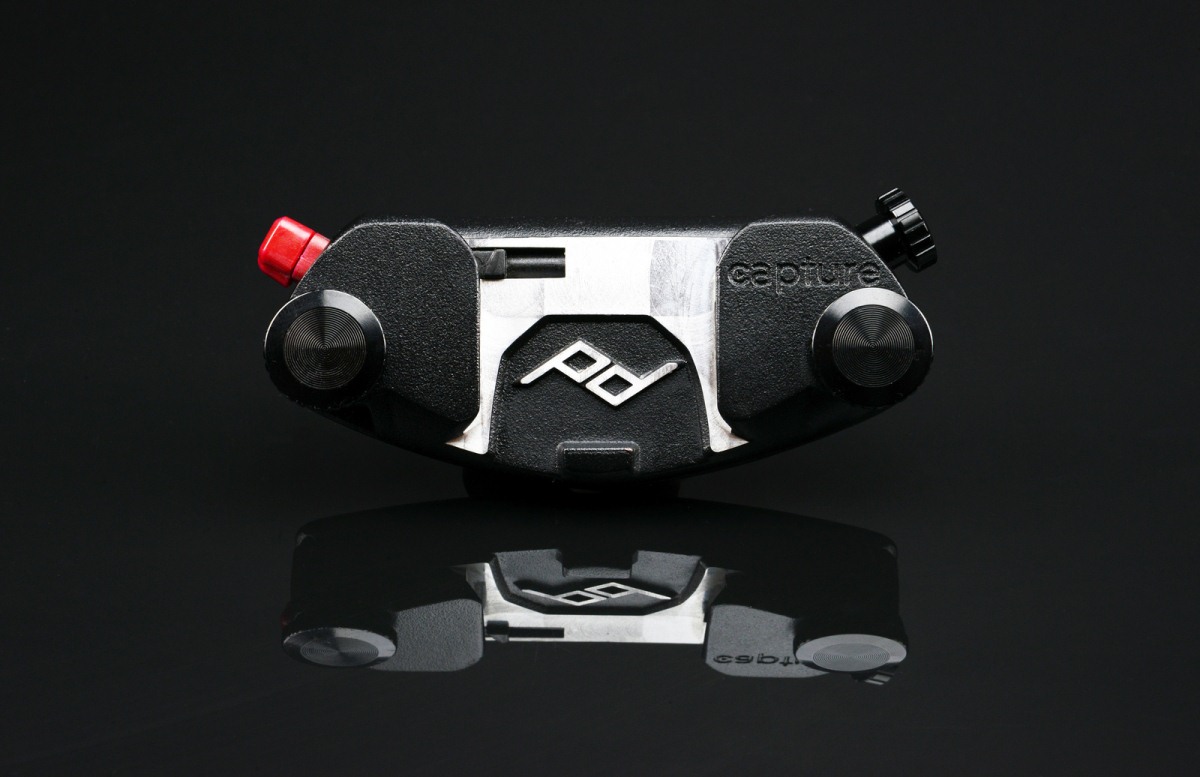 In early 2012 ,the original Capture Camera Clip System became an interesting and very popular alternative to wearing a camera strap. The company behind the project, Peak Design, has taken their success and ingenuity and poured them into creating a new version of the product: the Capture Camera Clip System v2.
Like the original model, the Capture is a two-piece system:
A connection plate that screws into any standard camera's tripod mount.
A clamp that hooks onto something you're wearing, like a bag strap or your belt.
Once it's all been set up, all you have to do is slide your camera onto the clamp via the connection plate and it securely clicks into place. Watch this video to see it in action. They've also got a Flickr set with lots of great promo shots of it being used in various scenarios.
You can walk around with the camera attached this way, freeing your hands up for other things. When you're ready to shoot, just hit the quick-release button on the clamp and you're good to go.
There are two versions of the Capture available for pre-order: the standard model ($60) and the PRO model ($80). The PRO model is able to use one of three interchangable connection plates and can be converted into a tripod clamp.
Both models are expected to start shipping whenever the high number of Kickstarter orders have been fulfilled.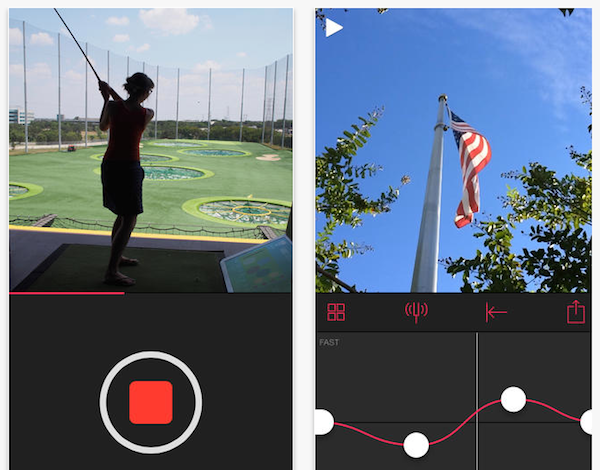 The boys at Studio Neat are back, and this time, with a new app.
Slow Fast Slow brings slow-mo video capture to the iPod touch, iPhone 5 and 5c, but even on the 5s, enhances the experience with an awesome user interface. Beyond the slow motion, the app can speed up video as well.
Here are some of the technical details:
Records at 120fps on the iPhone 5s, and 60fps on the iPhone 5, iPhone 5c, and iPod Touch (5th generation).
Slows down video up to 1/8 speed (twice as slow as the built-in SloMo app on the iPhone 5s)
Slow Fast Slow is on the App Store for $1.99.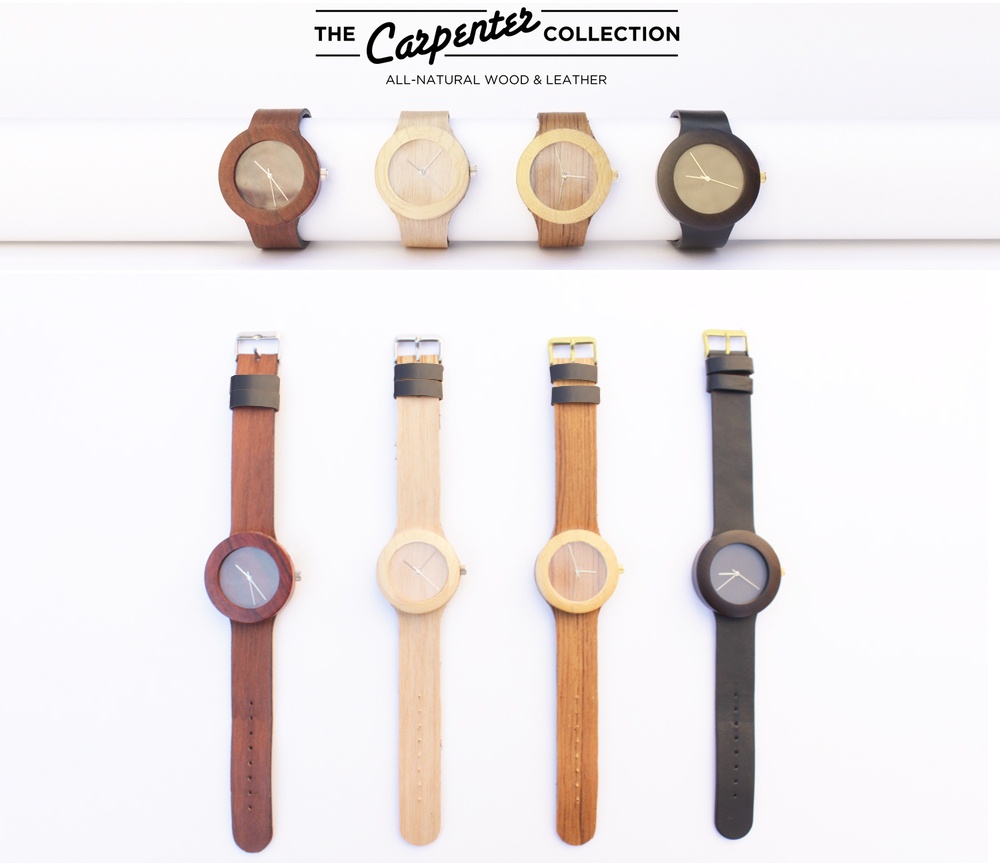 I've seen some interesting watches before, but one made almost entirely out of wood, down to the single-piece flexible band? That's a new one on me. And yet that's exactly what Analog Watch Co. have come up with for their Kickstarter project, which they've dubbed The Carpenter Collection.
Sporting an eco-friendly and gender-neutral design, the bodies of these watches are CNC-carved from a solid piece of wood, while the band is comprised of a flexible wooden veneer that is supported by leather underneath. Together, this creates a beautiful watch that is 90% biodegradable (excludng the watch's mechanical components).
The watch comes in four flavors: Makore & Red Sanders, Silverheart & Maple, Teak & Bamboo, and Leather & Blackwood. The bodies and straps are interchangable too, so the more watches you buy, the more combinations are available to you.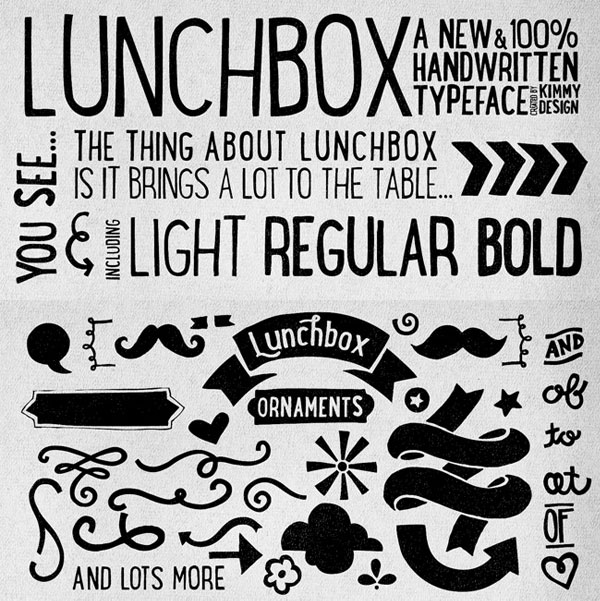 Hand-drawn and somewhat sketchy, Lunchbox is a true delight for all the senses. This quirky font offers so many different options that it really comes across as 4 fonts in 1! Despite the rather large menu available, you'll pay an early bird price, thanks to this Mighty Deal! Yep, save 72-percent off Lunchbox and get it for just $17.
Lunchbox TypeFace highlights: hand-drawn font with 1,500+ different characters, including 4 different character styles per letter, 3 typeface styles, style variations, custom small caps, and tons of ornaments. Click here to see more examples.
* * *
Our thanks to MightyDeals for sponsoring the RSS feed this week.

The Impress Coffee Brewer is a combination coffee press and travel mug that aims to make the brewing process a breeze. Put some freshly ground coffee in the press, pour in some hot water and let it brew for a few minutes, then insert the "cup" piece and push down all the way.
It's a lot like brewing with an AeroPress, except you're not brewing into a separate cup — the brewer is the cup.
The inner cup piece acts as a reverse-flow filter, so the coffee brews "inward" into the cup and the grounds stay in the outer press portion until you're finished drinking and have to clean up. The whole thing is topped off by a heat-resistant silicone drinking lid.
If you live in the U.S., the Impress Brewer can be purchased at Designbox for $40. If you live in the UK, it's £32.99 at TheFowndry, and if you're in Australia, it's $50 at Wayfair.

I've often heard good things about the bags sold by Topo Designs, but to be honest, I never could get into their design aesthetic.
Thankfully, they recently partnered up with the people at Woolrich (one of the oldest flannel companies around) and together they've produced a line of awesome-looking bags that are definitely more my style. These are essentially the same bags Topo has always sold, but made with Woolrich fabrics.
There are three bags in the collecion:
Dopp kit ($39) — A small, triangular bag used to carry your shaving materials. Because of its shape, it can be stood upright when needed, which is nice for small spaces.
Duffel bag ($189) — Like any duffel, this is what you'd grab if you need to carry a lot of things easily. Sports a cognac leather handle and detachable shoulder strap.
Klettersack ($249) — Your hiking/travel companion. Equipped with a drawstring enclosure and various pockets for your gear throughout.
Each bag is made in Colorado and exudes quality. Definitely worth checking out.
More tools and toys on the next page →