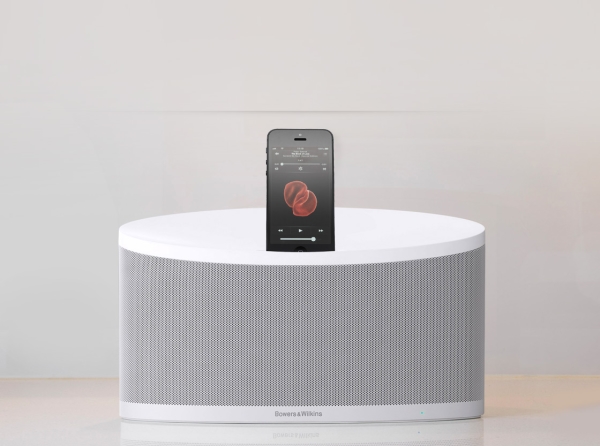 The Bowers & Wilkins 'zeppelin' family of speakers has always been a popular lineup, and for good reason. Each one has an interesting design, they all sound fantastic, and B&W continually adds awesome new features with each revision. The latest model is the Z2, which resembles their previous Zeppelin Mini model from a few years ago, but now has a Lightning dock connector on the top — which works with the iPhone 5 and all new iPod touch/nano models — rather than a 30-pin connector.
iPad owners needn't worry though, because this is also an AirPlay speaker. Hook the Z2 up to a wifi router, use the free B&W Control app to get everything set up, and boom you're in business. You don't even have to worry about carrying the iPad around in order to control your music, since they've included a little remote that gets the job done.
It's a $400 speaker, which is half the price of B&W's amazing-sounding A7 speaker system, but it still packs a punch. The black model is available right now, while the white model should be available in June 2013.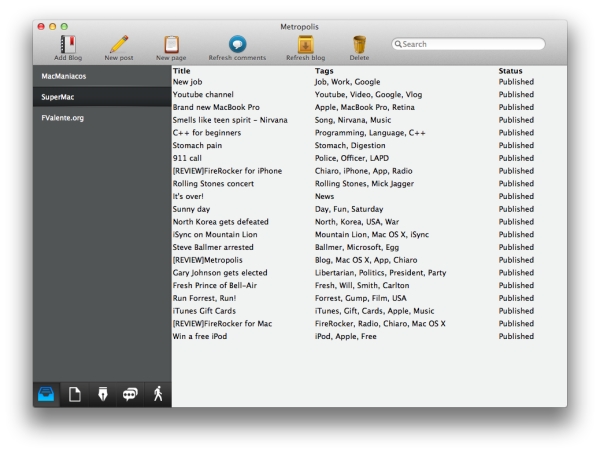 If you're a Mac-owning WordPress user, there's a good chance you're also a MarsEdit user. If so, I doubt you're in the market for any other blogging software, but if you are (or if you're looking for a cheaper option), you might check out newcomer Metropolis.
It's got a lot of the same functionality as MarsEdit, such as multi-blog support, HTML and Rich Text editing, customizable post previews, offline drafts, and image insertion, but adds a couple features of its own:
Twitter integration — Allows you to auto-tweet any post you publish and also track how many other people are tweeting about it. Also lets you run Twitter giveaways by generating a list of random names from the list of people who tweeted any given link to your site.
Comment management — View comments and reply if desired, approve/delete/edit comments, Notification Center alerts for new comments, and Gravatar support.
For $20, this looks like a pretty good option. Just keep in mind that, unlike MarsEdit, this is ONLY for WordPress. There is currently no support for other platforms like TypePad, Squarespace, Movable Type, etc.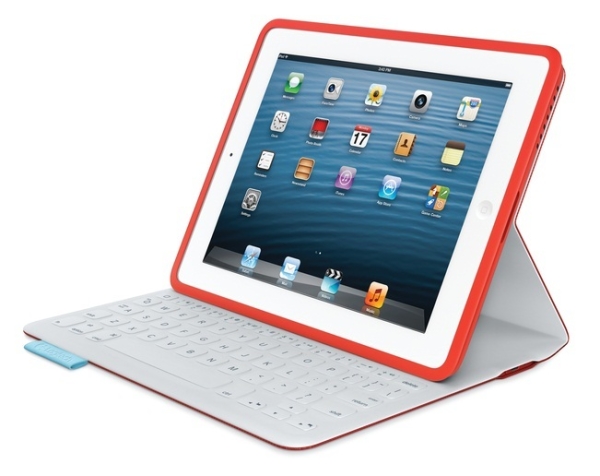 Of course, just after I *finally* bought myself one of their Ultrathin Keyboard Covers for my iPad 4, Logitech has announced a new iPad keyboard: the FabricSkin Keyboard Folio.
Rather than having a hard plastic keyboard, its keys are integrated directly into the folio's fabric, which comes in matte leather or woven cotton depending on the color you choose. Both the keyboard surface and the exterior fabric have also been treated with a liquid-repellent coating. This coating, combined with the lack of exposed circuitry between keys, means that coffee spills and the like should be less of a concern than they are with the Ultrathin Keyboard Cover.
Unlike the Ultrathin, the FabricSkin doesn't have a slot to insert the iPad into when typing. Instead, they cleverly use two sets of hidden magnets to hold the iPad in place. One set holds the iPad at an angle for typing, and the other set allows you to lay the iPad completely flat with the keyboard hidden for media viewing and whatnot. It also has a rechargeable battery that can last up to three months per charge.
The FabricSkin will go on sale in May 2013 for $150, but it's available for pre-order now.
Develop Smarter, Simpler and Better Connected Apps with Javascript
Imagine connecting your app to everything with just 2 lines of code — files from all over the web, across cloud storage source, social networks and devices. Filepicker.io provides a full file system API for your web and mobile applications that allows your app to upload, open, read, write, store, sync and convert files from over 17 sources including Dropbox, Google Docs, Facebook, Skydrive and Box. With the Filepicker.io Javascript API, request a file and receive a simplified URL. Then, upload the URL to your server or serve through your CDN. Filepicker.io includes a customizable drop-in UI widget and an API library allowing you to send uploaded files directly to your S3. Sign up for Filepicker.io today!
* * *
Our thanks to Filepicker.io for sponsoring the RSS feed this week. Sponsorship by The Syndicate.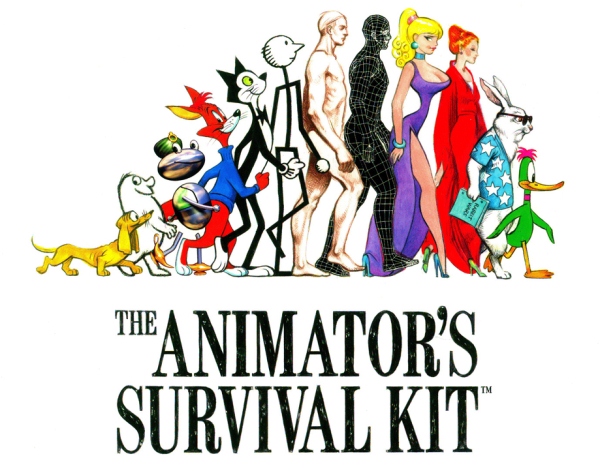 For the last decade or so, the Animator's Survival Kit (written by Richard Williams, the man behind "Who Framed Roger Rabbit?") has proven to be one of the best resources around of knowledge and know-how for budding animators. A few years ago, the whole thing was released as a DVD collection, and now it's available as an iPad app. If you want to learn how to animate a character well, this is the app for you.
Just like the DVDs, the app contains tons of animated and 'onion-skin' examples you can follow along with, but also adds a bunch of previously-unreleased animation from the creator himself. This thing is essentially a portable masterclass, and definitely worth the $35 if you're wanting to take your animation skills to the next level. There's also a sample version of the app if you want access to a couple chapters before committing to the real deal.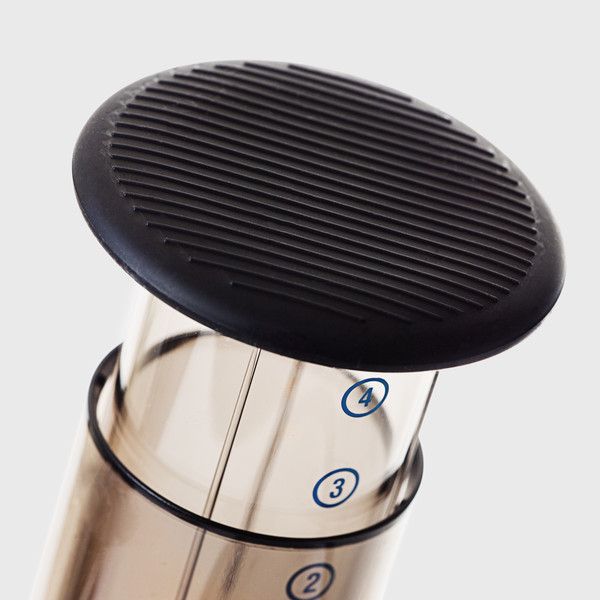 The AeroPress is an excellent coffee maker to take when traveling. I slide a dozen paper filters and a plastic bag of beans into the inside of the plunger whenever I'm going on a trip. The only problem is that the filters and beans have a tendency to fall out.
To fix this problem, the guys at Able Brewing company made a rubber cap that fits snugly over the open end of the AeroPress plunger. The cap allows you to securely store filters and coffee beans when traveling. It also doubles as a comfortable grip for when you're actually making your coffee.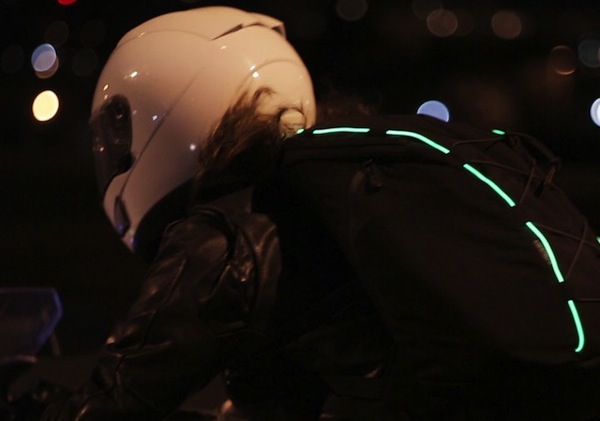 While my Smart Alec is a great backpack, its solid-black construction isn't great for visibility when I'm on my bike.
This problem is easily solved, however. Tom Bihn has a Glowire kit for sale for the bag now. It's $18, and is available in green, yellow and aqua.
The kit comes with a power pack (and two AA batteries!), and a 1.5 meter piece of GLowire that can easily been looped through the backpack. The power pack can pulse the light, or simply run it for up to 24 hours ona single set of batteries. It's bright, and makes riding a bike with the bag much, much safer. Go check it out.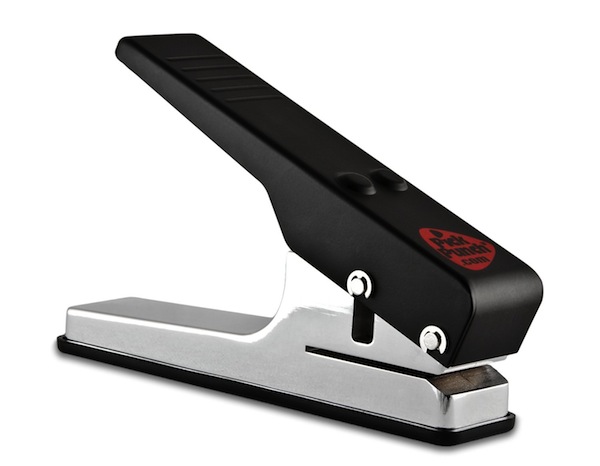 If music is supposed to make a statement, shouldn't instruments have a voice, too?
The $30 Pick Punch helps even your guitar picks pack a message. It can be used to create Standard 351 Shape guitar picks out of just about anything, including credit cards, IDs and even photos of past lovers.
If you need to do anything with PDFs, you need PDFpen. Add a signature, make changes, correct a typo, fill out forms, and more! Got a scanned document? PDFpen includes OCR to convert that scan into text that you can search or edit. Want to remove sensitive info such as tax ID numbers from your PDF? Use PDFpen to redact your private data.
The latest version, PDFpen 6, has improved interface and tools. And now you can export your PDFs to Microsoft® Word format for sharing or editing. See the new features in action in this video by David Sparks.
Buy PDFpen for $60 in the Mac App Store or directly from Smile. Or buy PDFpenPro for $100 and you'll get advanced features like form creation tools and document permission settings. Download the free demo!
* * *
Our Thanks to Smile for sponsoring the RSS feed this week. PDFpen is a fantastic tool that we use ourselves, and it is definitely worth checking out if you work with PDFs on your Mac. Sponsorship by The Syndicate.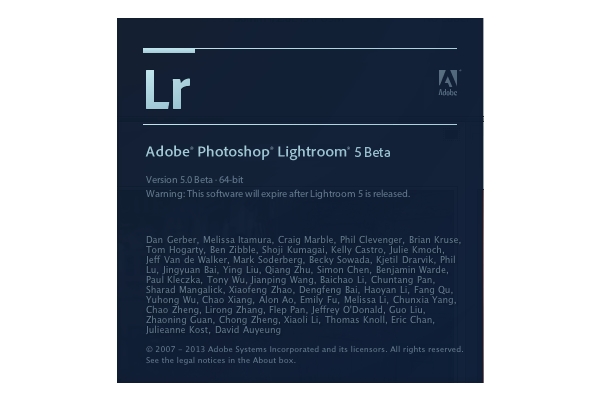 Adobe Lightroom is the go-to app for many professional photographers, and it's about to get a big update.
The new version boasts better healing tools, more powerful vignette options, off-line editing and more. The beta is free, and you check it out here.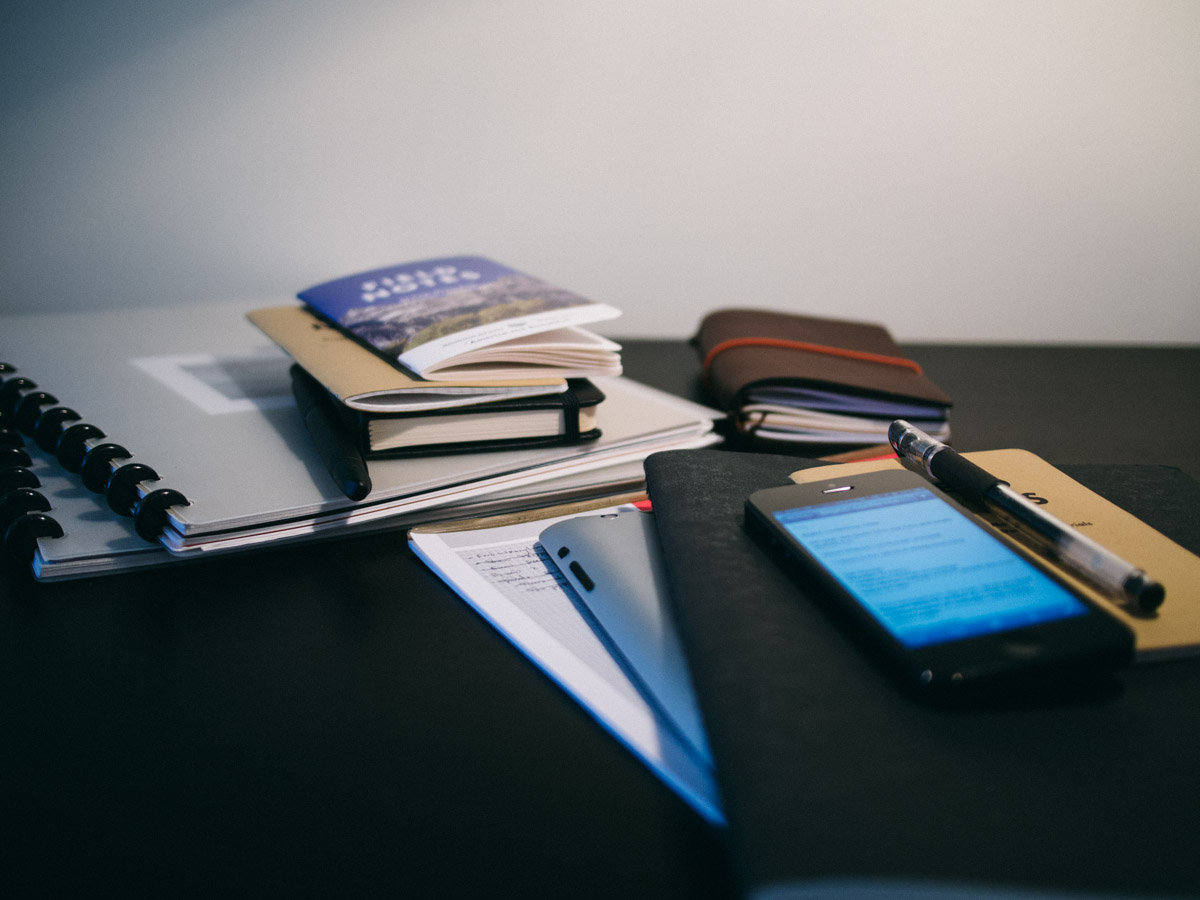 Our guide to research tools aims to help equip you with the tools needed to best organize your research projects, whether it be for a tech purchase, a home project, a blog article, or even a school paper.
Apps for Plain-Text
The first step to getting your research workflow in check is to make sure you have software that you are comfortable with and works for your needs. There are countless options out there — here are a few we recommend.
For simple research notes with easy access on any platform, text-based notes are the way to go. If you haven't already read it, Shawn Blanc goes into detail about his experiences with many of the plain text editors on both the Mac and iOS. For him, the winner was the Simplenote (iOS) and nvALT (Mac) combination.
Other iOS options include Notesy and Byword. For the Mac, nvALT and Justnotes are the best. Each of these apps works with Dropbox, so you can sync and backup your documents in real time.
When inspiration strikes you and you quickly need to jot down a note, Drafts is an excellent tool on iOS. When you open the app, it immediately starts a new note. From there, Drafts allows you to send the text to many apps including Simplenote, Byword, Evernote, Email, and more.
Apps for Multi-Media
If your research notes include images, PDFs, audio files, etc., you are going to want something which can handle more than just plain text notes.
Ideas to Take Your Research to the Next Level
For more advanced researchers, the horizons are unlimited to what you can do with some of these amazing pieces of software. For example, you can use Markdown or LaTeX to format your text documents for easy conversion to any file format, or use AppleScript to automate converting Skim annotations to text notes.
Good, Old-Fashioned Pen and Paper
We would be remiss to not heartily recommend having a Field Notes notebook and a fine-tip gel ink pen in your pocket or bag at all times.
Additional tactile paraphernalia you'll find in use around the Tools & Toys office include a few Levenger Circa notebooks, a Pilot Vanishing Point fountain pen, a Frictionless Planning Pad, and a large Moleskine Cahier notebook.
Each of these paper items are of the highest quality, durability, and usefulness. The combination you choose should depend on the size of your backpack, messenger bag, and or desk space.
Getting Started
Once you've settled upon your preferred research tools, it's always a good idea to learn everything you can about your tools and stick to your workflow. If you have chosen to go the plain-text route, it is definitely worth your time to learn the basics of Markdown syntax.
For some of the more complex apps like DEVONthink or Scrivener, there are many great tutorials (e.g. DEVONthink, Scrivener) out there to help you learn the more advanced features.
* * *
This article was written by Steven Owens. If he's not in the lab, you might find Steve writing for his blog, scientifics. You can also find him on App.net and Twitter.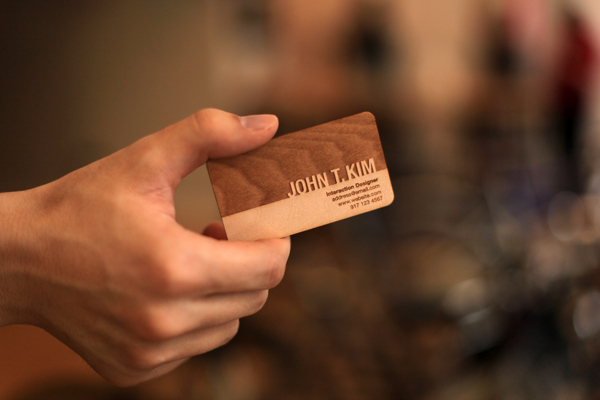 Standard business cards are pretty boring. Unless you're Patrick Bateman, you probably can't even tell one from the next in that pile of yours. If you want your card to stand out from the crowd, you might check out this Kickstarter project called Engraved.
These laser-etched wooden cards will definitely make more of an impression than the eggshell-with-Romalian-type card you're carrying around now. Most of the pledge-levels are out of stock already, but you can still get in on the action or keep an eye on this product for later, after more have been made.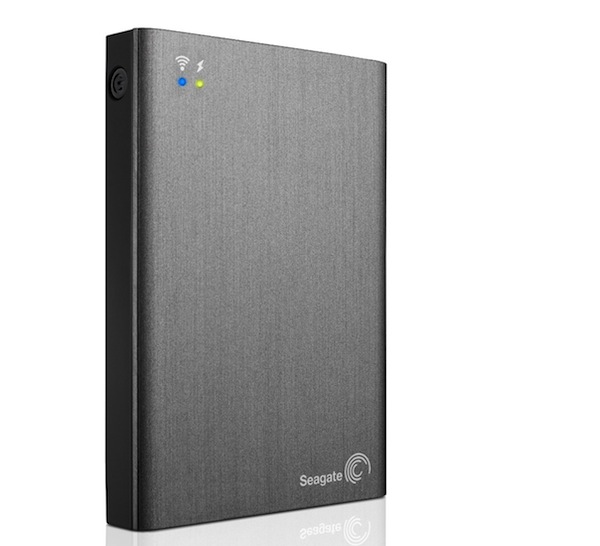 If you've got an SSD-equipped Mac, you know the pain juggling files can be. Most MacBook Air users I know have at least one external drive for stuff they can't fit on their machines.
The Seagate Wireless Plus drive takes that concept and applies it to iOS devices.
Put the 1TB drive on your network, fire up the free Seagate Media app and any video, photos or files on the drive appear. The drive has a 10-hour battery onboard, and can create its own network, so you can take the extra space on the go. Seems perfect when you need a lot of movies or shows with you on a trip.
Check it out on Amazon.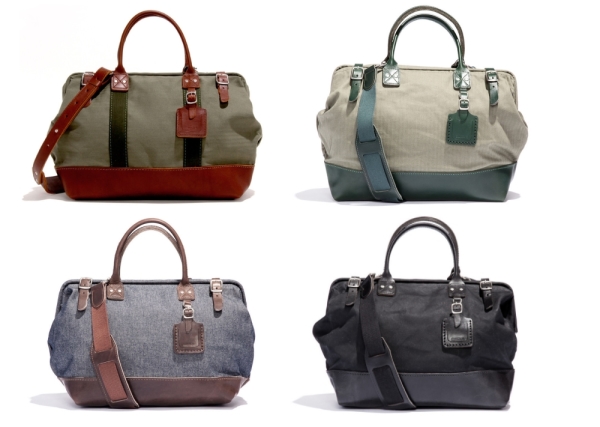 I've said this before, but it must be very obvious by now that we love great bags here at Tools and Toys. Today I wanted to talk a little about this carryall by Billykirk, which they've dubbed the 'No. 165 Medium'. If you don't already know, Billykirk is an American company run by a couple of brothers (Chris and Kirk Bray) who have a passion for making high-quality, long-lasting products.
The No. 165 Medium Carryall comes in various kinds of leather and fabric, but every one of them is designed to be sturdy enough that they can become a usable heirloom someday. One of the cooler features is the hinged top opening, which allows for super easy access.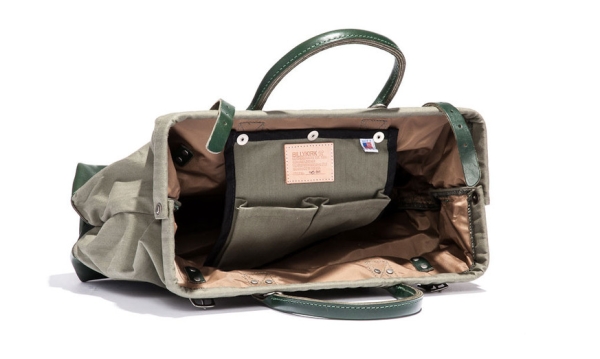 Notice the interior pockets for your phone and writing materials. The main compartment itself is plenty big enough to carry all your stuff, even if you have a 17″ MacBook Pro. Capacity is not an issue here.
This bag costs $350, which isn't cheap, but it should last you so long that you never have to worry about replacing it. You're also paying for something that has some good heft to it and is of a higher quality than a typical messenger bag. If you're not happy with it, you can return it within the first 30 days.

As Stephen wrote about earlier, the new hotness right now is Panic's iPad app, Status Board. It's the kind of thing that's perfect for outputting to an external display, but what if you just want to use it in your personal workspace? You could lay it on your desk or put it in some kind of stand, but I'd want something that feels a little more integrated.
That's where the HoverBar by Twelve South comes in. It solidly clamps onto the back of an iMac or Apple display, and the sturdy, flexible arm can be positioned so that the iPad rests above, or to the side of, the larger screen. This way, it feels more like an extension of your workspace rather than an obtrusion. Leave Status Board open on the iPad, and you can easily keep an eye on your stats at all times.
There's one caveat, though: Twelve South doesn't recommend using the HoverBar with one of the newer super-thin 21.5-inch iMacs. They're so light that attaching an iPad to them might cause some instability, so they advise users to clamp the HoverBar to the desk itself, or maybe a nearby shelf. It should be fine with the 27-inch model, though.
You can pick one up for $78.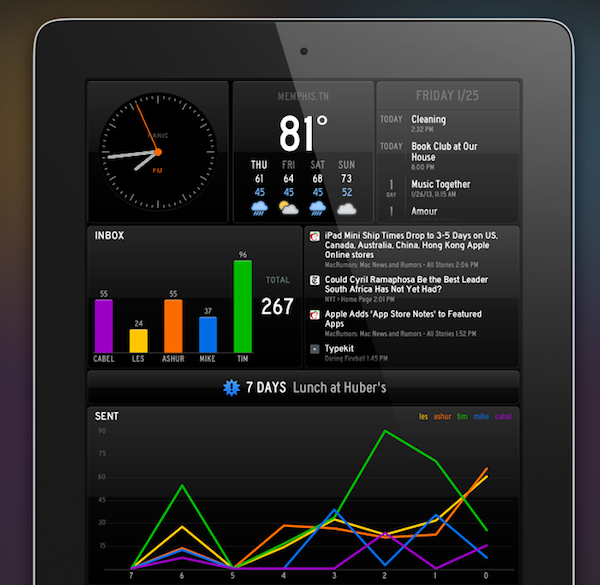 While I love my iPad, during the work day, it often sits on my desk, off. The guys over at Panic Software are trying to change that, with their new app for Apple's tablet.
Status Board for iPad is a new $10 iPad app that takes the concepts of widgets and the OS X dashboard and brings it to the iPad.
The app offers tons of built-in tools for graphing Twitter data, emails, calendar events and more, but Panic is showcasing 3rd-party apps that can tie in to the system. There is an in-app purchase for HDMI out and AirPlay support. While that's a little lame, being able to show this kind of data on a TV could be very useful.
Check it out on the iOS App Store, and if you need more convincing, check out Federico Viticci's review.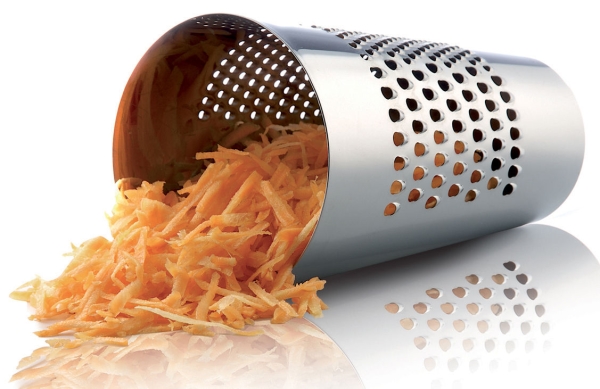 I enjoy having freshly grated cheese over a store-bought package, but what I don't enjoy is the inevitable cleanup afterward. The way most graters are designed, the cheese just falls all over the place if you're not careful, but not so with the Eva Solo Grating Bucket. It catches everything at the bottom of the grater, and you can simply pour out whatever you need or reach in and grab a handful of cheese, if that's your thing.
The whole thing is dishwasher safe and looks great to boot. Pick one up for $35 on Amazon.
There are far too many iPhone cases to choose from in the world, and most of them are pretty similar to one another anyway. I prefer something a little more unique and interesting, like the Twig Case.
Each one is made of a dense, durable paper composite called Richlite, amounting to about 100 sheets of paper per case. It doesn't sound like a very eco-friendly proposition, but these guys are FSC certified, meaning that the paper comes from responsibly-managed forests. As the makers will tell you themselves, Richlite isn't exactly strong enough to protect a phone from being dropped the way an OtterBox can, but it's plenty tough enough to handle everyday wear-and-tear.
They've got all kinds of awesome engraved designs, a few of which are pictured above, but you can also use your own art if you want. Each case also features a leaf-shaped cutout for the camera, which I think is a nice touch. The Twig Case is available for iPhone 5 and iPhone 4/4S, with iPad cases on the way soon.
Instatim is a more personal social network that helps you stay in touch with your closest friends, family and co-workers. Engineered for privacy, Instatim is unlike other social networks because we do not store information about our users' past activities and locations. Your status is shared securely and only to people you have chosen.
Here's what you can do with Instatim:
Status Updates: Keep in touch by posting status updates about what you're doing (walking the dog, meeting a client, etc.) and reading your friends' statuses.

Expiration Dates: Set an expiration for your status so your family knows how long you will be engaged in the activity.

Groups: Sort contacts into different groups. Share statuses with specific groups to keep the right people in the right loop.

Location: You can choose to include your location with your status so your friends and family know your whereabouts.
Download Instatim for free in the App Store.
* * *
Our thanks to Instatim for sponsoring the RSS feed this week. Sponsorship by The Syndicate.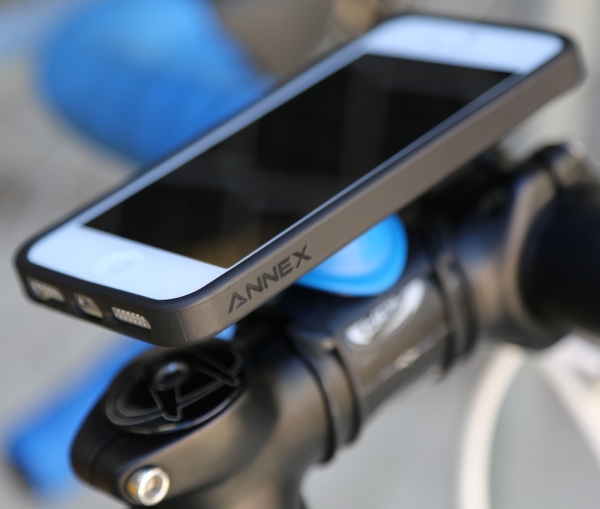 I've been passively on the lookout for a decent iPhone bike mount, and the Quad Lock looks to be an excellent choice. You can attach it to your bike's frame using the provided pair of rubber o-rings if you're going to be moving the mount between bikes a lot, or you can use zip-ties for a more permanent mount.
Once the mount is attached, and your iPhone is in the included case, affixing it to the mount is a simple matter of pushing down and turning, as they demonstrate in this video. It securely clicks into place and you're ready to go. This should be nice for when I need to use my iPhone's GPS while riding, and of course for easy access when listening to music/podcasts.
The Quad Lock goes for $70 and is available in both iPhone 5 and iPhone 4/4S flavors.
More tools and toys on the next page →