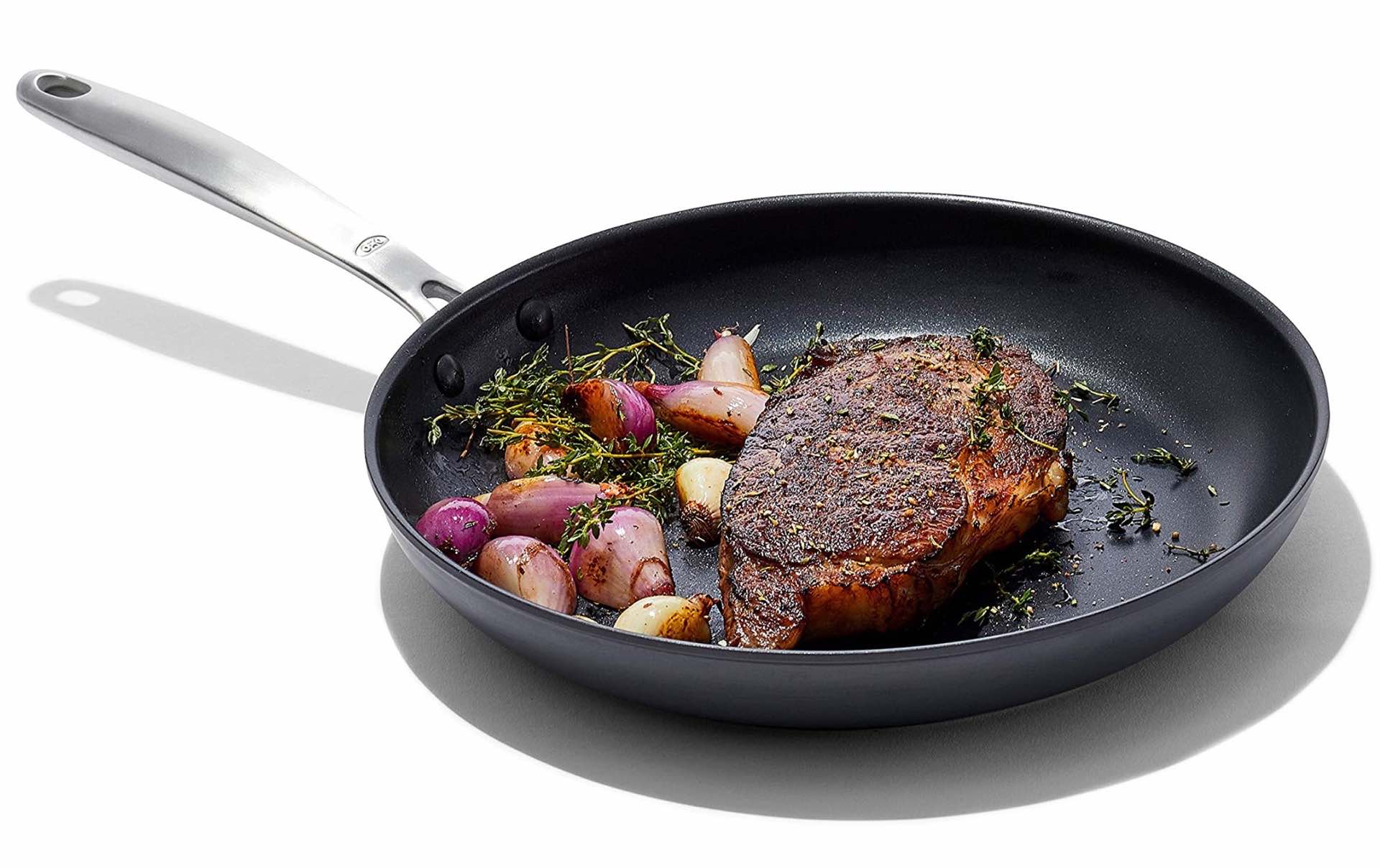 OXO Good Grips "Non-Stick Pro" 12-inch Open Frypan
As the years have gone on, OXO Good Grips has continually remained one of the best brands to look to whenever you're in the market for kitchen equipment. And if a nonstick skillet is what you're in need of, their 12″ Non-Stick Pro Frypan (model#: CW000960-003) is a very highly regarded option.
As in, it's been the top pick for America's Test Kitchen for several years running. Yeah.
The Non-Stick Pro boasts three layers of PFOA-free nonstick coating on a hard anodized aluminum body, which has a wide-bottomed cooking surface and gently sloped walls topped by rolled edges for easy pouring and food transferring. It's also a fairly lightweight and maneuverable pan, with a nice wide stainless steel handle that's quite comfortable to hold as you flip ingredients over.
In addition to its superior cooking/handling properties, two of the Non-Stick Pro's biggest selling points are…
It's oven safe up to 430°F.
It's dishwasher safe.
These two features are the biggest reasons for the "Pro" in this skillet's name, as noted by an enthusiastic Amazon buyer who compares it with the slightly less capable non-Pro model (model#: CW000957-003):
THIS pan is the Professional pan. Professional cooks need their equipment to work without fail, [be] easy to clean, shove in a dishwasher and go.
Like any nonstick pan, this one should hopefully last a couple years with proper care (if not longer) before needing replacement. Get it for $60 on Amazon.