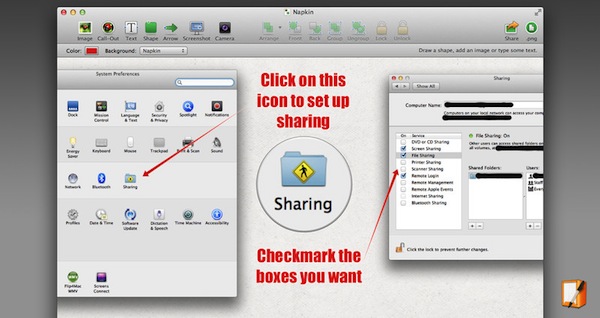 Napkin
There is no shortage of image annotation apps on the Mac. OS X's built-in Preview application offers some simple tools, and Evernote's Skitch is a favorite of many, but the new Mac app Napkin is different.
In addition to offering lots of editing tools, Napkin allows you to use multiple images to create one, new image. Instead of firing up Photoshop to do this, Napkin can do this quickly and painlessly.
Napkin really shines with screenshots, in my opinion. It makes magnifying portions of an image easy, which is great while writing documentation.
Rene Ritchie at iMore sums it up nicely:
>Napkin lets you direct attention just exactly where you want it, express an opinion quickly and clearly, share it easily, and do it all in style.
While $40 is a lot when compared to what is out there for free, if you use screenshots for documentation, edit images for blog posts or just are looking for something to add titles to images quickly and easily, check out Napkin on the Mac App Store.