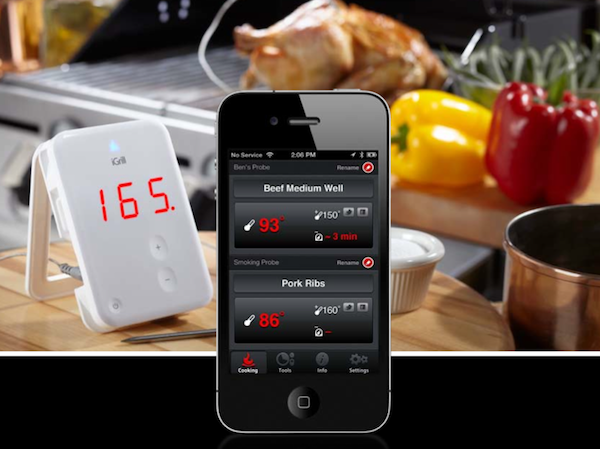 Mini-Review: The iGrill
When I first heard about the iGrill, I wasn't all that impressed with the idea. Why would I need my iPhone to know about what was going on in my Weber Grill.
Then I got sent one as a review unit, and man, it's pretty cool.
Sure there are some great regular thermometers on the market, but the iGrill is smart.
Powered by 4 AA batteries and equipped with Bluetooth, the iGrill gives grillers (or amateurs like me) the freedom to leave the heat for a little while to visit with family, have beers with guests or keep kids from running out in to the street.
The device itself isn't very large, and has a temperature readout on the face of it as well as ports for two temperature probes. While I do wish the probes had longer cables on them, it'd be more workable for someone with a gas — or larger — grill with a side table attached.
The iGrill apps runs on iOS devices, and will show alerts, temperatures and more. It comes pre-loaded with several options for what type of meat you're cooking, giving guidance on temperature range and cooking time. When your meat is done, the app will alert you.
In short, if you cookout and want a better tool to understand what's happening on your grill without being tied to it for hours, the iGrill is worth the purchase.