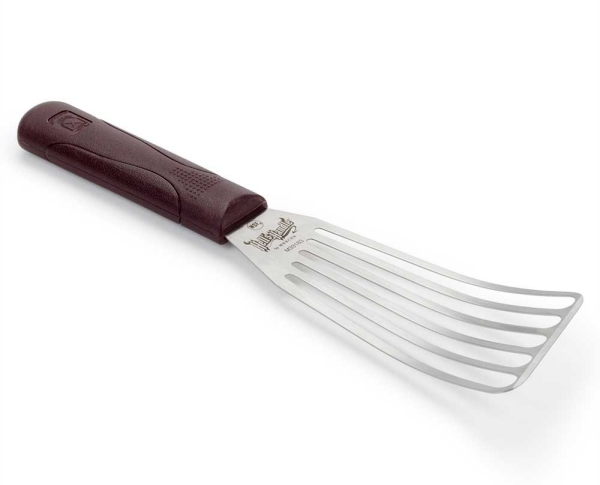 Mercer Hell's Handle Fish Spatula
As I've mentioned in the past, the best tool in my kitchen is my cast iron skillet. My cheap metal spatula kind of sucks though, so I've been on the lookout for something better. Thankfully, The Sweethome did the leg work for me by testing a bunch of spatulas and naming the Mercer Hell's Handle fish spatula ($23) as their top pick.
Despite its name, this spatula isn't just for flipping fish—it works just as well with burgers, steaks, stir-fry, cookies, casseroles, lasagna, and more. The combination of its shape, thinness, and flexibility allows it to wriggle underneath foods without disfiguring them, but it's also strong enough to lift relatively heavy foods with no problem.
As The Sweethome notes, you might want to pair the Mercer fish spatula with the LamsonSharp Easy-Entry turner ($16) if you enjoy smashing foods (such as burgers and grilled cheese), or if you ever use your spatula to cut up a pan of brownies. The latter is better designed for those types of things.