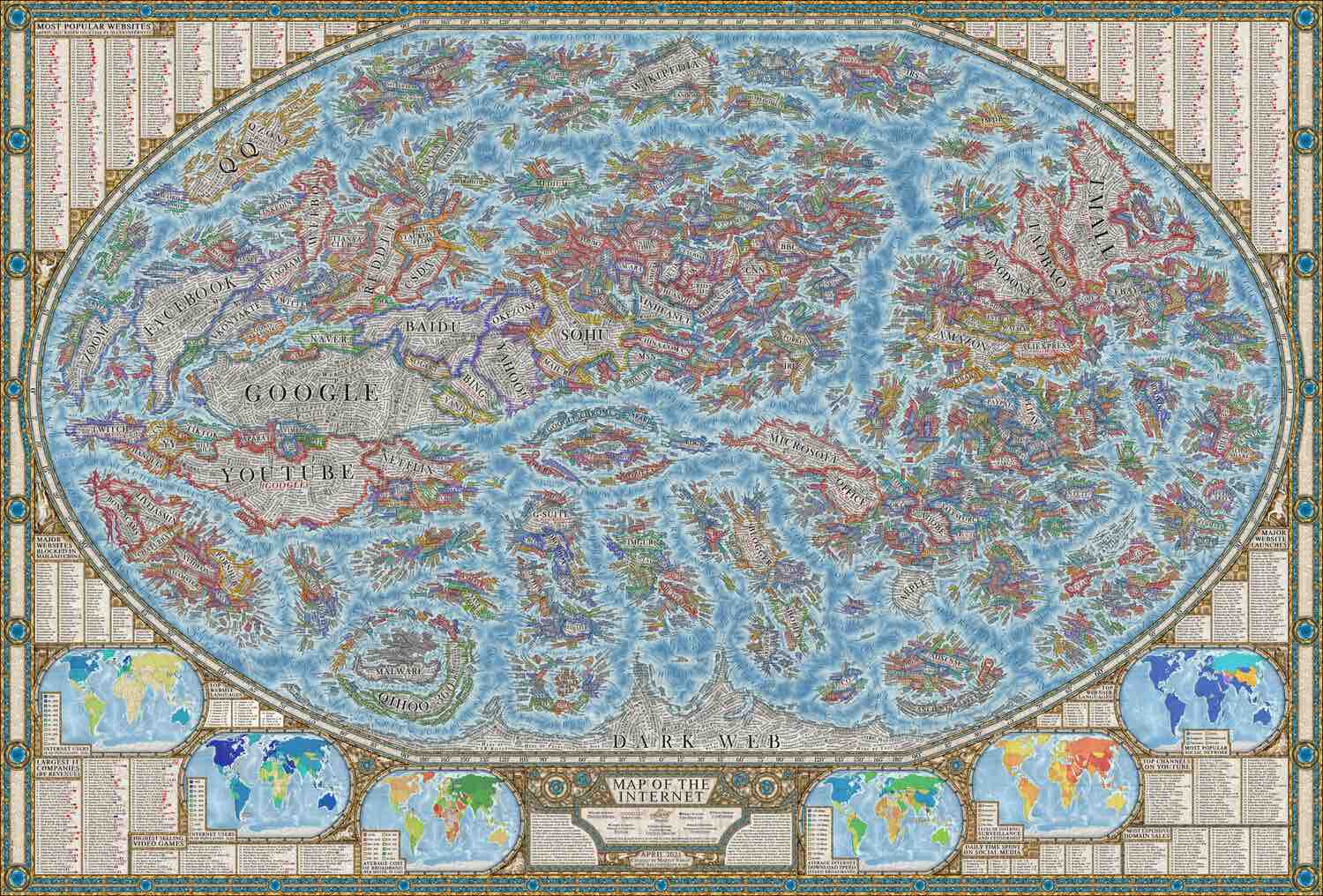 "Map of the Internet 2021" Poster by Martin Vargic (Halcyon Maps)
Back in 2014, Slovak artist and author Martin Vargic published his "map of the internet" concept artwork, which Wikipedia describes as depicting "the largest websites and software companies as sovereign nations on a stylized political map of the world, scaled according to their traffic and Alexa ratings."
Now he's created a new, way more detailed map for 2021, which you can buy a print of on Zazzle. Here's how Vargic describes it:
Inspired by design of historical maps, this project aims to concisely, but still comprehensively visualize the current state of the World Wide Web, and document the largest and most popular websites over the period of 2020-2021, along with their countless aspects and features.

[…] It includes several thousand of some of the most popular websites, represented as distinct "countries", which are grouped together with others of similar type or category, forming dozens of distinct clusters, regions and continents that stretch throughout the map, such as "news sites", "search engines", "social networks", "e-commerce", "adult entertainment", "file sharing", "software companies" and so much more. In the center of it all can be found ISPs and web browsers, which form the core and backbone of the internet as we know it, while the far south is the domain of the mysterious "dark web".
I like that the outline of the countries match the primary colors of their respective logos or UIs, while the 10,000+ "cities" shown throughout are named for aspects of those websites, like their sections/categories/features or the notable people you can find on them.
He continues:
Surrounding the main map, the graphic also includes a large amount of supplemental information, including a ranking of the most popular websites, largest internet-related companies, list of major sites blocked in China or best-selling video games of all time, as well as several smaller maps of the real world, on internet-related topics, such as the share of population using the internet, cost and speed of broadband, levels of internet censorship and the most popular social network by country.

Relative territorial sizes of websites on the main map are based on their average Alexa web traffic ranking between January 2020 and January 2021. In the coming years, the relative popularity of sites bound to gradually change, some of the old sites will be shut down as new sites take their place, so this map can provide an unprecedented visualization to the future generations of how internet used to be.
What a cool concept! And it's a great bit of decor you can put on your wall and spend hours poring over all the minutiae.
You can get the standard poster in a number of sizes, or you can go big with the extra large Deluxe version.