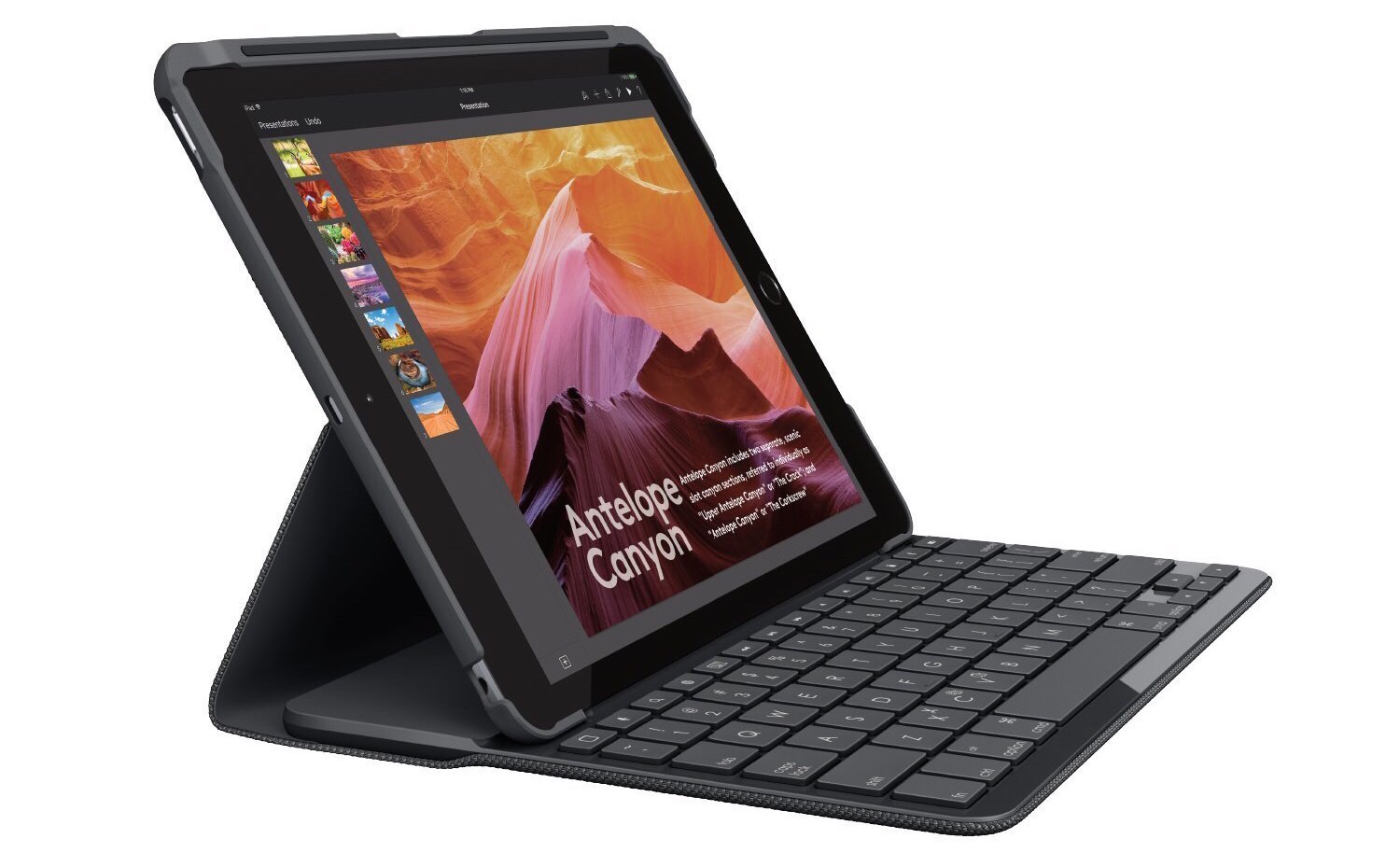 Logitech "Slim Folio" Keyboard Case for iPad
A few days ago my wife finally got fed up with her old iPad 4 from 2012, and decided to upgrade to the 5th-gen iPad from 2017. It was just $250 at Walmart, so why not?
The only problem was that she needed a keyboard case for it, and apparently Belkin stopped making the QODE Ultimate Pro for any iPads beyond the Air 2, keeping only the Ultimate Lite model around — which I still don't understand, frankly — so we did some research and found out that the Logitech Slim Folio is the next best thing.
Here are some pros and cons of the Slim Folio versus the QODE:
Pros:
The keyboard feels really good to type on, even better than the QODE's. Satisfyingly clicky.
No Siri button, which sounds like a loss but I love it because I accidentally hit the one on my QODE keyboard all the time.
Purportedly, it has a way higher battery life, on the order of four years (with two hours of typing per day) versus the QODE's one. (However, there's no way to plug the keyboard in to charge when it finally does die; it uses a pair of coin cell batteries in a removable tray on the back. Not too big a deal though if you only ever have to replace them once.)
Cons:
No backlit keys.
Only one viewing angle, as opposed to two.
The iPad case can't be separated from the keyboard and carried around on its own.
The magnet that keeps the case closed is a tad weaker than the QODE's, but not so much that it's a dealbreaker.
Only one Bluetooth channel, compared to the QODE's two (which lets me switch back and forth between my iPad and iPhone as needed, as silly as that sounds)
Despite all these cons, we're both relatively happy with this keyboard and can see why it gets top marks from most reviewers around. If Belkin decides to bring the QODE Ultimate Pro to this iPad model, we might switch in a heartbeat, but until then, this one is perfectly suitable. (And of course, it should fit the 6th-gen 2018 iPad as well.)
Get the Logitech Slim Folio for $80 on Amazon.