Kovacs Company NASA-Inspired Storage Pouches
It's fair to say that Anthony Kovacs is a total NASA-obsessive, as evidenced by pretty much every product he creates for his studio, Kovacs Company.
Today I'll be pointing your attention to the studio's handmade, NASA-inspired storage pouches, both of which take their inspiration straight from spaceflight history. I first heard about these pouches nearly a year ago when Mike Dudek posted this on Instagram:
I wanted to write about these things real bad, but they kept being out of stock every time I checked, which went on for weeks on end. Eventually I stopped checking…until today that is. Lo and behold, both pouches are available for purchase again!
Here's the description for the Mk. IV pouch ($59):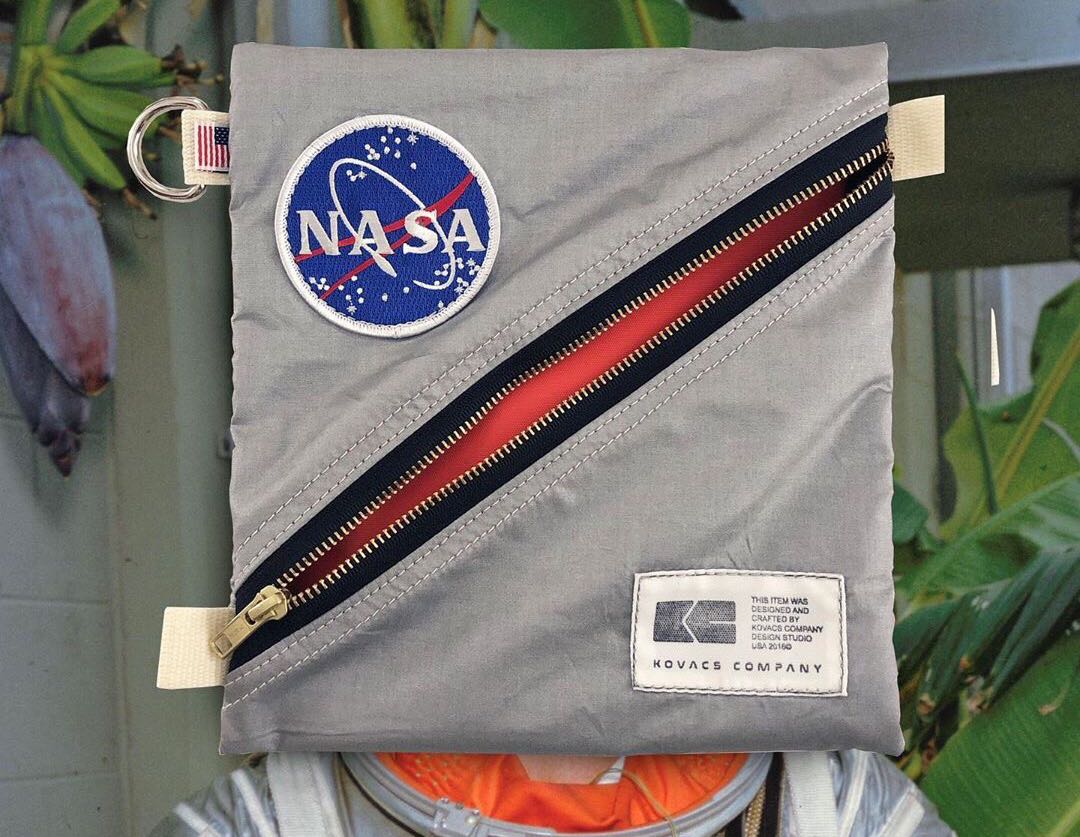 Taking its cues from the Navy Mk. IV pressure suit, used extensively from 1959 until the early 1970s, this low-profile pouch features aluminized-nylon coated fabric with a diagonal brass YKK® zipper and pull tabs for quick access. Carry this piece inside your bag to keep essentials within reach, or attach the steel D-ring to a carabiner or bolt-snap outside.

This design features dual-layer of safety orange 400D coated pack cloth to keep your belongings dry.
…and here's the same for the larger Lunar Sample Return Bag ($69):
Inspired by Neil Armstrong's original Lunar Sample Return bag, this pouch is constructed in the same manner as the real thing. It features a dual-layer of white 400D coated pack cloth that looks just like the Nomex used for other various Apollo-era soft goods.

Inside, the exposed edge of the bag is stamped with the same unique serial number as the real Lunar Sample Return bag and is also hand-numbered.
If you consider yourself a space nerd of any level, you ought to get yourself one or both of these handy and extremely cool storage bags. Each run of the bag is apparently quite small (usually 10 in the bunch, I think?) so act fast if you're going to.