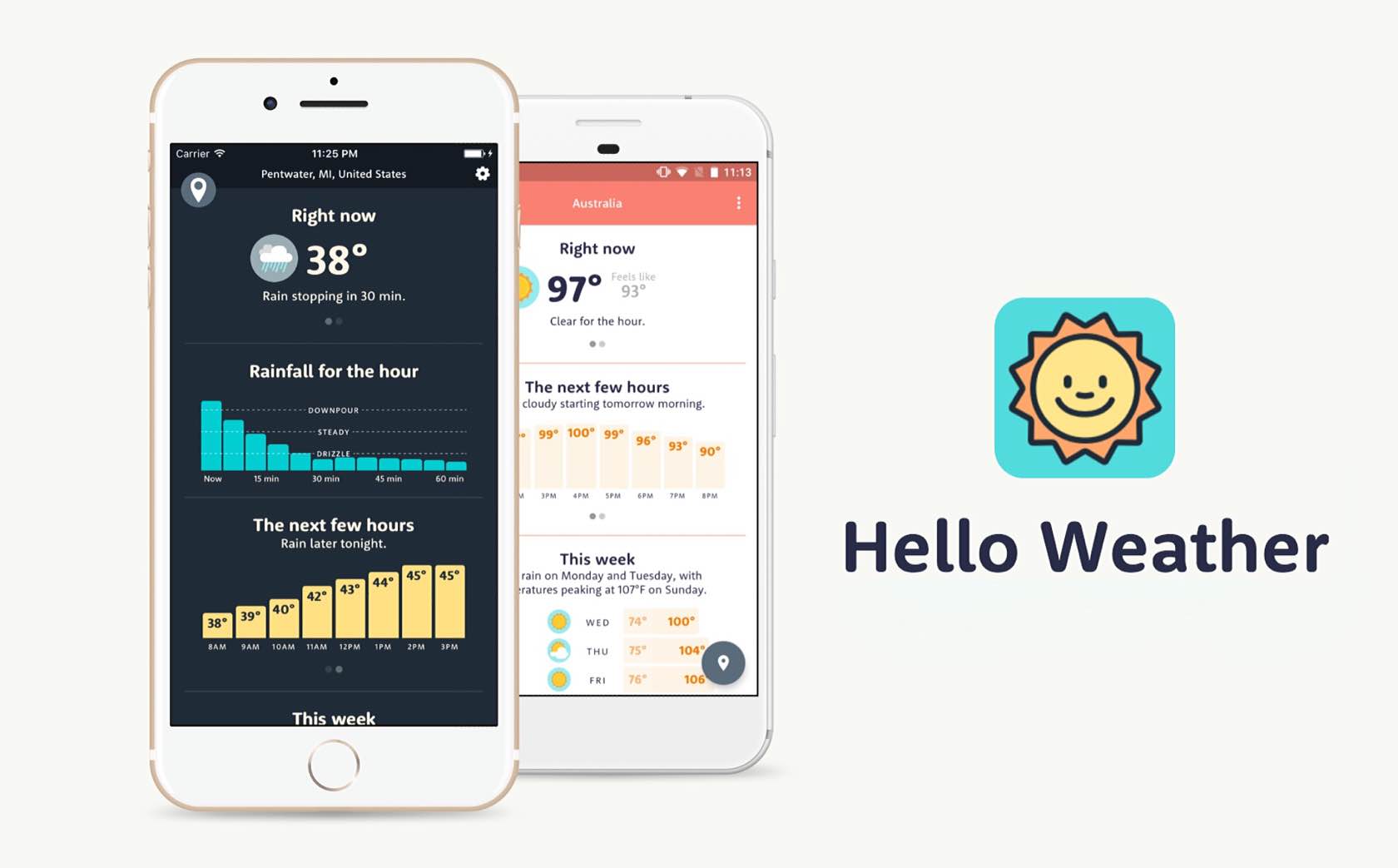 "Hello Weather" for iOS
I know, I know, none of us needs yet another weather app to try. I myself have been using Weather Line for a while now, and I don't have any need to switch away from it.
BUT! The free Hello Weather app for iPhone and iPad is really quite nice, and it's one I'd recommend trying out because it's well designed and clearly made with love, with everything being displayed in a clear and easy-to-understand way, and lots of delightful little details throughout. It shows only the weather information you need (unless you're a radar nerd, which I'm not), with some additional info available whenever you need it.
There are three main sections on the weather screen:
Right now — Shows the current temperature and a description of the weather for the hour. If it's windy, foggy, hot, cold, or story, you'll see those extra details here too.

Tap or swipe to expand this pane into one that shows wind speeds, humidity/dewpoint (mine currently says "Feels a bit sticky" here in Orlando), air pressure, sunrise/sunset times, and the current moon phase. (My one small quibble with the app is that the animation for this pane expansion isn't the smoothest. Feels more like using a webapp than a native one.)

The next few hours — Shows the temperatures and chances of precipitation for the next eight hours.

Tap or swipe to view an additional eight hours.

This week — Shows the forecast for the next 7 days, including highs, lows, and precipitation chances.

Tap or swipe to view a list of short descriptions for each day in the coming week ("Foggy in the morning", "Light rain starting in the afternoon", etc).
I even love the app's "VIP fan club" upgrade screen, reminding me somewhat of the one in AnyList. That is to say, they put a lot of thought into showcasing the benefits of upgrading to a paid membership, which in this case includes access to:
Real-time precipitation estimates (á la Dark Sky)
Night mode controls (normally, the app only switches itself to night mode after sunset)
App icon color picker
…and more, including some experimental features they're still working on.
Hello Weather is free to download from the iOS App Store, and if you choose to upgrade to their VIP membership, the cost is $3 for a year, $5 for two years, and $7 for a lifetime subscription.