If you read our Friday Quality Linkage columns with any regularity, you'll know we enjoy everything outer space. This week, we thought it'd be fun to put together a little buying guide with space-related items. Enjoy.
* * *
Luminos is a fantastic astronomy app for iPad, iPhone, and Apple Watch made by John Stephen and Brian Albers of Wobbleworks. Whether you want to learn about various objects in the universe or simply enjoy stargazing as a hobby, this is a must-have app.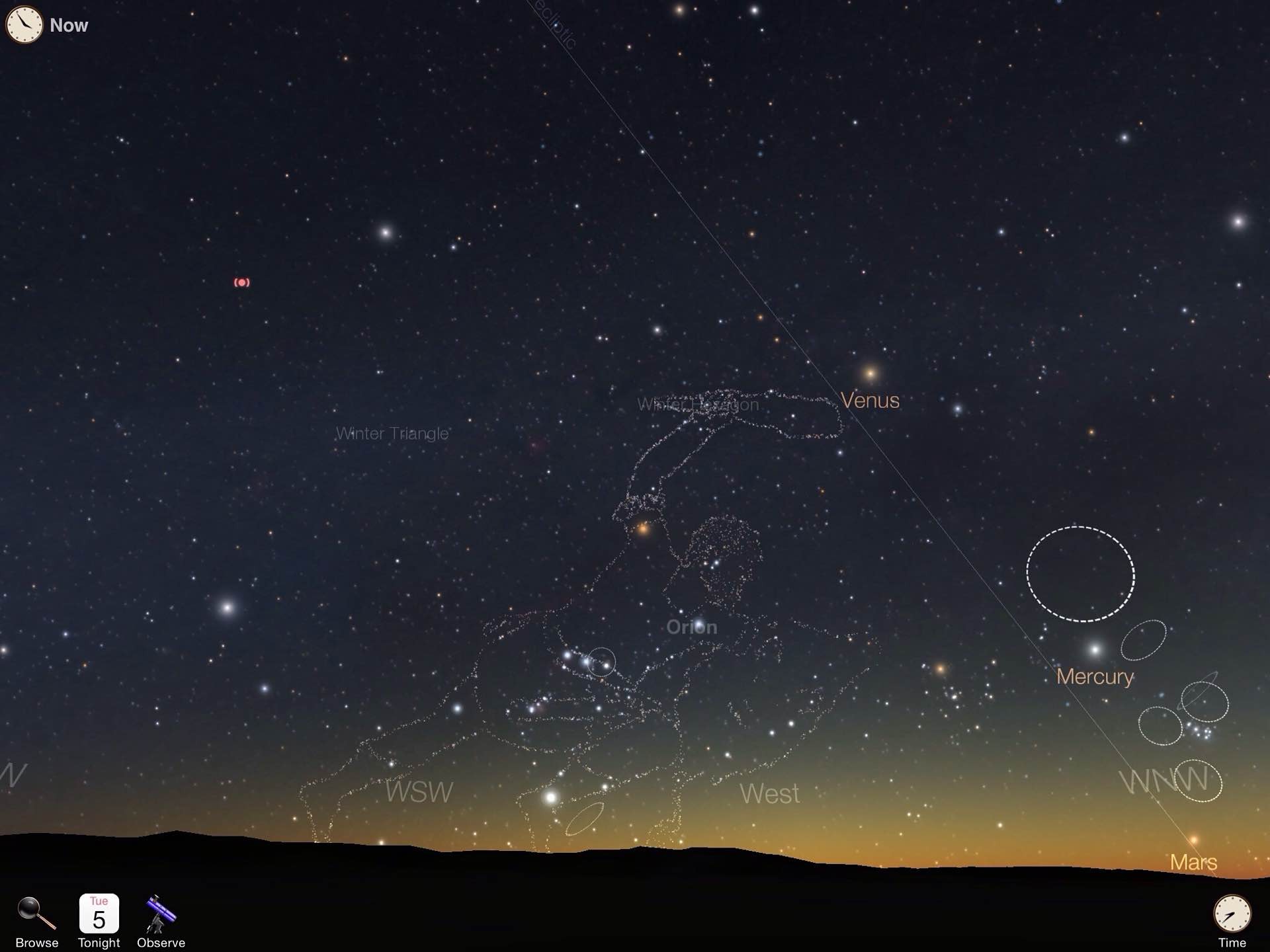 You can visit objects within our solar system, land on the surfaces of planets and moons (try it on Mars, Saturn, and the moon), fly along with the Hubble telescope as it orbits Earth, view which satellites and celestial objects (including constellations) are currently viewable overhead from your location, and a whole lot more. You can even use your Apple Watch to view live sky charts, which is impressive, given the relative limitations of the WatchKit SDK.
Here is Wobbleworks' basic overview of the Luminos celestial object browser:
And here are the Apple Watch's live sky charts in action:
---
Designer Eleanor Lutz — whose animal breathing animations you may have seen before — has hand-drawn an amazing, Victorian-style map of Mars, which combines the romance of ancient maps with modern data about Mars' geographical features and humanity's rover landings there.
In a blog post on her Tabletop Whale site, she provides some detail about the design:
To add a little something extra, I included the history of each place name on the map. Martian craters are named after famous scientists (for large craters) or small villages on Earth (small craters). Since the base map is hand-drawn I also added an overlay of actual NASA topographic imagery. This way even if some of my lines are a little off, you can still see what the actual ground looks like underneath.
It should be noted that this is not a full map of Mars, but rather a section of it. Here is a comparable area of Earth, to give you an idea of what the Mars map covers.
The map can be purchased at Redbubble in a variety of formats, including a photographic print ($7–$36 depending on size), a hardcover journal ($20), an iPhone case/skin ($15–$30 depending on style), and more.
---
Liftoff is a fortnightly podcast about all things outer space, hosted by Stephen Hackett — editor-in-chief of our sister site The Sweet Setup and co-founder of Relay.fm — and Jason Snell of Six Colors and the Incomparable podcast network. You don't have to be an uber geek about space to enjoy the show, so it's a great way to introduce people to the topic without overwhelming them.
The NASA-like badge artwork by @forgottentowel is such a brilliant touch.
---
These "space mission" maps are perfect for anyone who's ever dreamed of going to space.
From Apollo 11 and Apollo 13 mission routes to lunar landings and even to a Kennedy Space Center launchpad, these prints are sure to make your inner astronaut happy. They're printed on heavy pearlescent paper stock, giving them a beautiful and subtle metallic shimmer.
City Prints carries these maps in a few of their standard sizes — which range from $49 to $229 depending on the package you choose — but we've been told they can also print to any size on virtually any material (wood, metal, etc) on a custom basis.
---
An Astronaut's Guide to Life on Earth is sort of a guide to everything. In this top-selling book, Commander Chris Hadfield — who did that awesome cover of "Space Oddity" (in space!) a few years ago — writes about his experiences as an astronaut, giving readers a glimpse into what the job is really like and teaching a bunch of lessons along the way. He also explains how to prepare for the worst in life and calmly deal with any crises that crop up. And of course, there's a healthy dose of inspiration in there too.
(If you enjoy Hadfield's writing, you may also enjoy his Earth-as-seen-from-space photography in You Are Here: Around the World in 92 Minutes. We wrote about it here.)
---
What started as a successful Kickstarter campaign has now become a real product that can be pre-ordered, to be shipped in June 2016. In case you missed it the first time around, "Cosmos" is a set of wooden building blocks modeled in aerospace forms and which connect together magnetically in a wide variety of ways.
Here are some of the things you'll be able to make with them: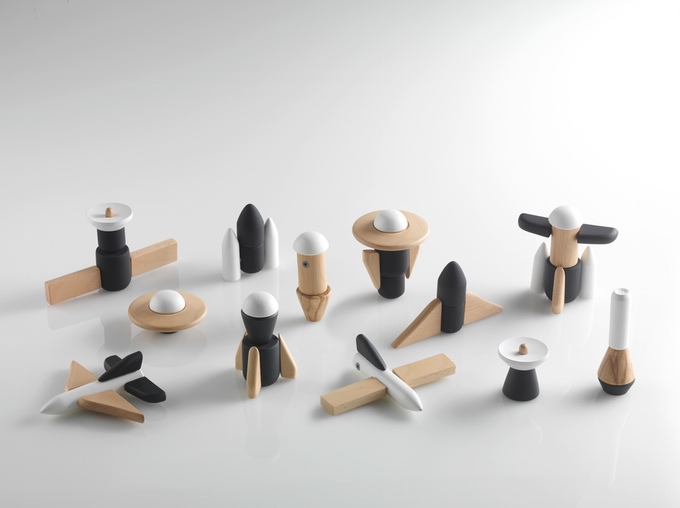 ---
Bring a little sci-fi to your morning cup of coffee with this sweet rocket-shaped pour-over brewer. It fits any mug with a diameter less than 4″, holds #2-size cone filters — much like the popular Hario V60 drip — and it's made from BPA-free, dishwasher-safe plastic.
---
You don't often hear about mobile video games being adapted as card games, but stranger things have happened I suppose.
Spaceteam — which started as a Kickstarter project based on the hugely popular mobile game — is a chaotic and cooperative card game that has you and up to 5 friends working together to repair your malfunctioning spaceship.
Here are the rules:
Your goal is to ensure that all ship systems are functioning properly before time runs out.
Each player must deal with the various malfunctions in their sector by flipping cards from the malfunction deck in front of them, and fixing the ship's systems.
You'll have an arsenal of disorganized space tools spread among all players' hands, but finding the right tools can be harder than you think, especially when your Spaceteam is franticly worrying about malfunctions in their own sector.
If that wasn't hard enough, you'll also have to deal with complications such as wormholes and asteroid fields, which require the coordination of the entire Spaceteam.
There are no turns; everyone plays and shouts at the same time.
Victory is achieved if enough malfunctions are corrected to reveal the 6 hidden System-Go Cards before time is up.
Every five-minute session is guaranteed to be loud, frantic, and hilarious. You might say you and your friends will have a BLAST playing. (Sorry, had to do it.)
---
If you somehow ever find yourself in a zero-g environment, the folks at Field Notes have the writing utensil for you. Their space pen is capable of writing in zero gravity, upside down, underwater, and at temperatures from −30°F to 250°F (−35°C to 120°C).
Technically, this is actually the original Fisher Space Pen with the Field Notes logo on it, but to us that makes it even more special.