As I've mentioned a few times in the past month, there's been a new little addition to our family, and we absolutely adore her.
We knew early on in the pregnancy that we didn't want to go overboard accumulating baby gear, a problem we had with our firstborn nearly 8 years ago. We went in this time knowing the few things we really needed, and came up with the list of items you'll find below.
And you know what? So far, we're very happy with everything we've bought (and conversely, what we avoided buying).
* * *
As a traveling family, we knew we needed a car seat that was easy to install and worked with whichever stroller we'd be getting. (More on that in a bit.) Chicco's KeyFit 30 is one of those things that's more than the sum of its parts.
For starters, installing the thing is a breeze. If you've got LATCH anchors in the center of your backseat, that's what I'd recommend using, because the attachment points on the KeyFit 30 are super easy to click into place and tighten up with a single strap. Underneath the base is an adjustable, spring-loaded leveling foot so you can get the proper installation angle (easily checked using the built-in bubble level).
Even if you have to install with a center seatbelt, as we've done in our truck — they only put anchors on the two side seats? I don't understand it — it's still relatively straightforward to do, and the side-mounted lock-offs make it so we're not having to continually re-tighten the belt.
One thing I love in particular is that all the buttons and things you ever have to deal with are "highlighted" in a bright orange color so they're always easy to spot.
---
As I said above, we wanted to make sure our car seat and stroller would be compatible. We also needed something that could fold up small without sacrificing functionality. After doing a lot of research, we decided on the Born Free "LIVA" stroller and haven't regretted it once.
Not only does our car seat strap into it comfortably, the stroller also folds compact enough to fit in our backseat floorboard without forcing my wife to scoot her seat so far up that she's pushed into the glovebox. When we need to transport the stroller between vehicles, there's a carrying strap for wearing over one shoulder so you don't have to deploy the whole thing just to wheel it a short distance.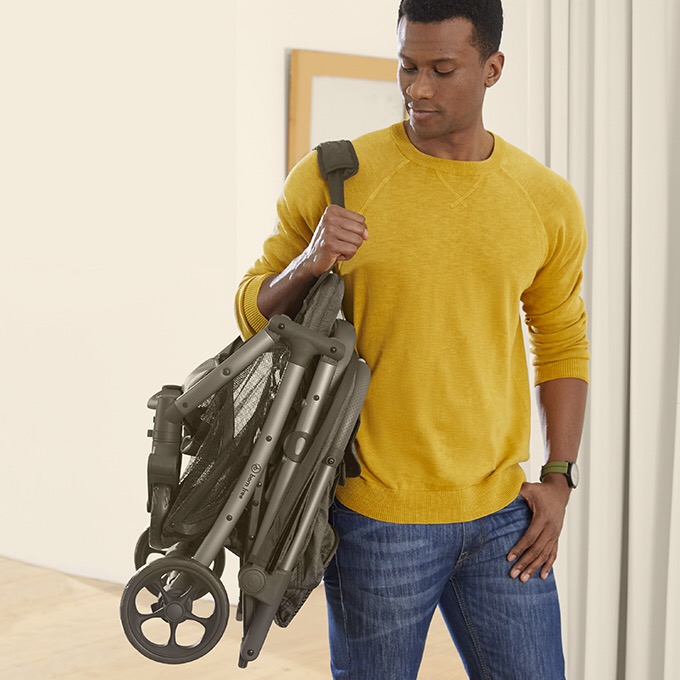 When you do need to deploy it, a simple pull of the little clip on the right side lets you pull the handle upward and pop the frame together in one easy movement. After that, the stroller is quite easy to maneuver in narrow spaces — a benefit of being more tall than long, I expect — and there's a decent amount of storage space underneath for our diaper bag.
We both like how comfortable the push handle feels, along with the hanging pouch on the back for our personal things and the peek-through window of the canopy.
---
As two people with writing jobs — not to mention being parents to an older kid who still needs our attention, along with the usual household chores and cooking we have to stay on top of — my wife and I often both need our hands free to get things done. There's only so much passing back and forth we can do before one of us simply needs to wear the baby, and for that we turn to our trusty ring sling.
With sustainability and comfort in mind, the slings made by Pura Vida are woven from a custom blend of soft, breathable, bamboo-and-linen fabric that happens to be eco-friendly and has a number of other benefits to the baby besides. Of course, the pocket it has on the hanging "tail" portion is a key feature for sure.
The main benefit of a ring sling, provided you use it properly, is that it's relatively easy to get in/out of and adjust without needing assistance. If one of us needs to wear the sling and the other spouse isn't around, it's no problem at all.
---
We've been recommending the Perfect Pull wipes dispenser for years, and we still think it's awesome. There are three main factors that set it apart from those cheaply made dispensers you find at grocery stores:
It's weighted.
It has non-slip feet.
It somehow (i.e. magically) keeps wipes from getting stuck together when pulling them out. It dispenses one wipe perfectly, every time. (Okay, it's not really magic, it's the weighted plate inside.)
Combined, these things offer true one-handed operation. Trust us, when your kid is thrashing around and giggling at your futile struggle, the last thing you want to be worrying about is fighting with the wipes dispenser too.
Other nice features include: the silicone gasket in the lid (which keeps the wipes fresher, longer); the indicator window on the front that lets you see how many wipes are left; its ability to work with cloth wipes, as acclaimed by many Amazon reviewers; and finally, the lid's faint opening click, so you can use it at night in the dark without disturbing anyone.
---
Although my wife primarily breastfeeds our daughter, there are times when she's busy or out doing something and it's up to me to feed the baby using one of the frozen milk bags we've prepped in advance. I've had great luck with Philips' AVENT Natural bottles, which have a soft, flexible nipple our baby has no trouble latching onto.
These bottles are comfortable to hold, easy to clean, and they apparently vent air in a way that helps reduce colic issues, although I'm not sure how to test that for myself. I just know I like them a lot.
---
Receiving blankets like these can serve a lot of purposes: baby swaddle, burp cloth, emergency changing mat, nursing cover, impromptu shade, mess cleaner, etc. Always have at least one or two with you.