A good dopp kit is a classic and essential item for the traveling gentleman. It certainly beats throwing your grooming materials into a big plastic bag, anyway.
If you or someone you know has been suffering with the default dopp Kit that came with their luggage, or you're tired of grabbing a gallon zip-lock every time you have to hit the road, then it's time to level up. Check out the array of excellent dopps we've gathered below.
* * *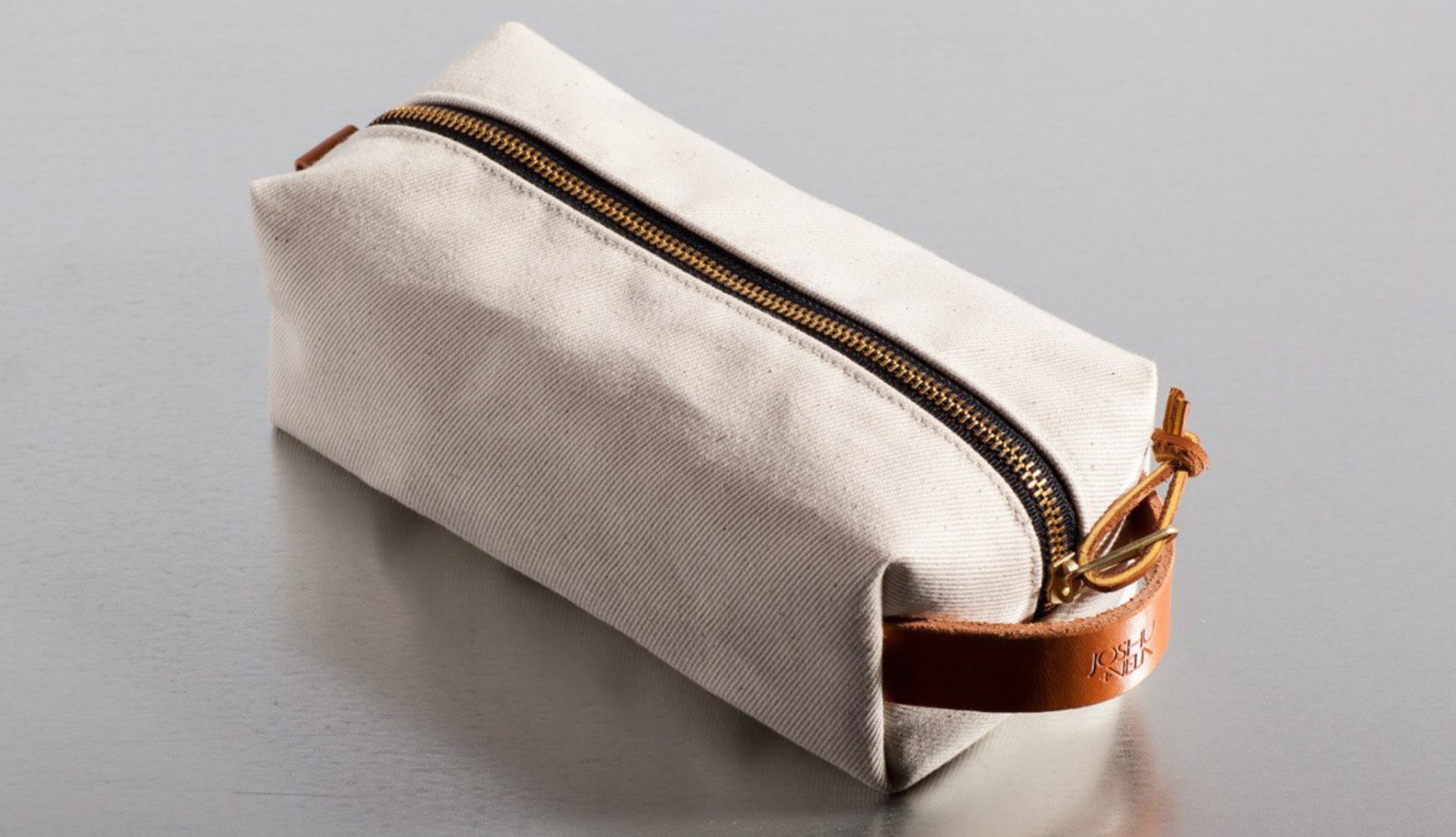 ($78–$98, depending on size)
Joshu+Vela's line of dopp kits are hard-wearing, minimal-yet-functional toiletry bags made in San Francisco. They're made from durable 18oz. cotton with heavy US bridle leather accents, and each one sports a couple of interior pockets to help keep things organized. The nylon lining makes each bag easy to clean when you need to.
They come in three sizes:
Small (7″ x 4″ x 3″) — Doubles well as a pencil case.
Standard (8.5″ x 3.5″) — Suits most travelers' needs, fitting a few travel-sized toiletries and a hairbrush. ("Natural" color pictured above is sold out as of writing. Still available in "Olive" and "Oak Wax Army Duck".)
Large (9.5″ x 5″) — Fits a few full-sized toiletries. (Sold out as of writing.)
---
($29)
Habitoux's canvas + leather dopp offers a bit more in the way of organization. In addition to a spacious main compartment, it has an exterior zippered pocket with two small mesh compartments and three elastic loops for your toothbrush, razor, etc.
Both the interior and exterior pockets are lined with a waterproof ripstop fabric, and the zippers are YKK so you know the quality's there.
We're partial to the Grey and Khaki versions.
---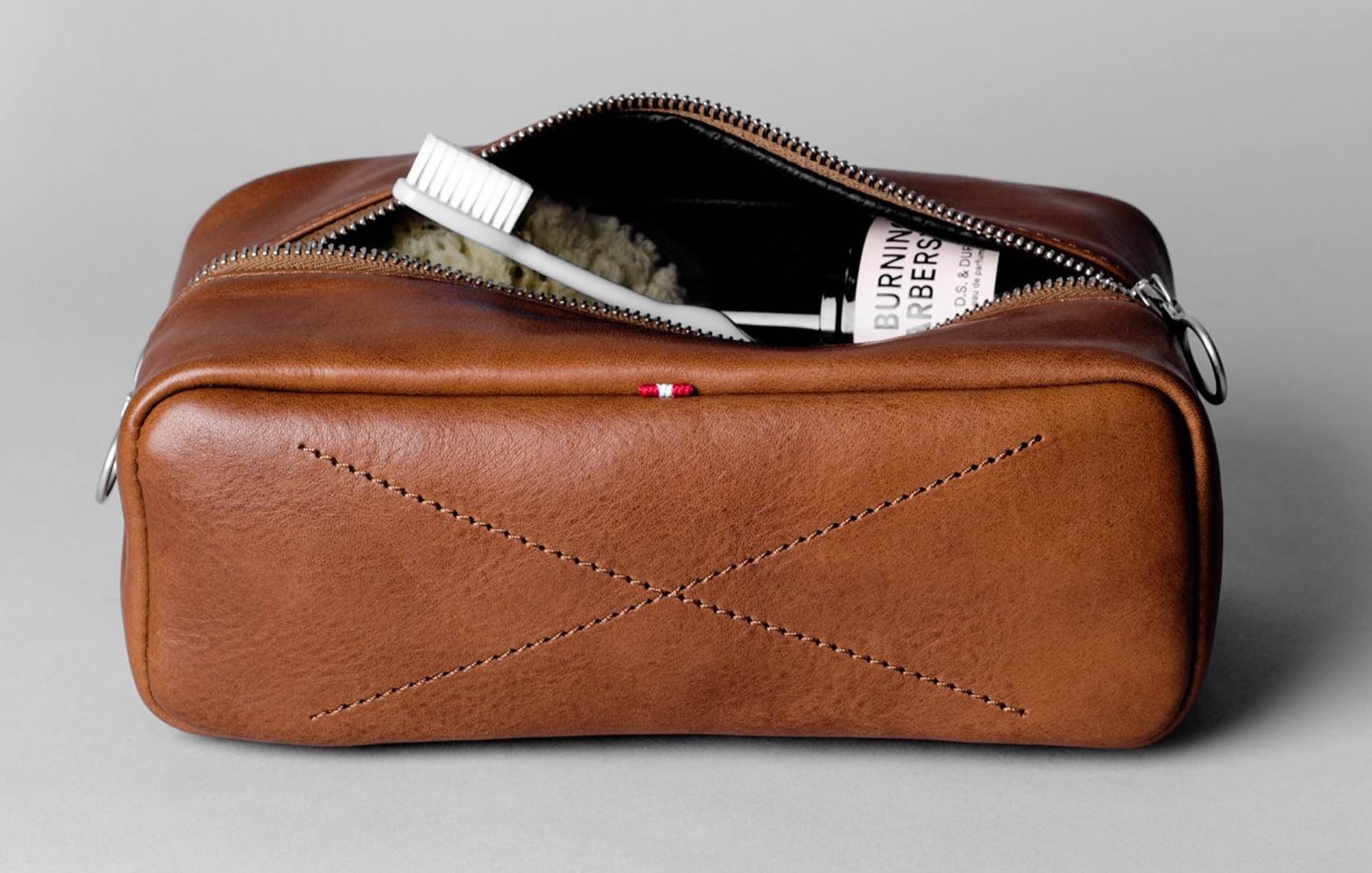 (About $203–$226 USD, depending on color/material)
Hard Graft's "Full Disclosure" dopp is a classic-looking design on its surface, but boasts some neat features you won't find in a lot of other kits:
The bag lays completely flat when open, offering full access to your travel toiletries between two compartments:

You might think the contents of the top compartment would spill while unzipping the bag, but it has a divider that affixes via magnets to prevent that very thing.

It's large enough to fit quite a few items, such as your toothbrush, toothpaste, aftershave, perfume, creams, shampoo, conditioner, and shaver.
When closed, its solid, boxy shape allows it to stand on its own no matter which way you set it down.
Like most of Hard Graft's products, this dopp kit sports a rich, vegetable-tanned Italian leather exterior — available in "Classic" brown or "Coal" black — with a 100% wool German felt lining that easily wipes clean. Or, you can save a bit of money by going with the just-as-handsome dark gray wool version.
---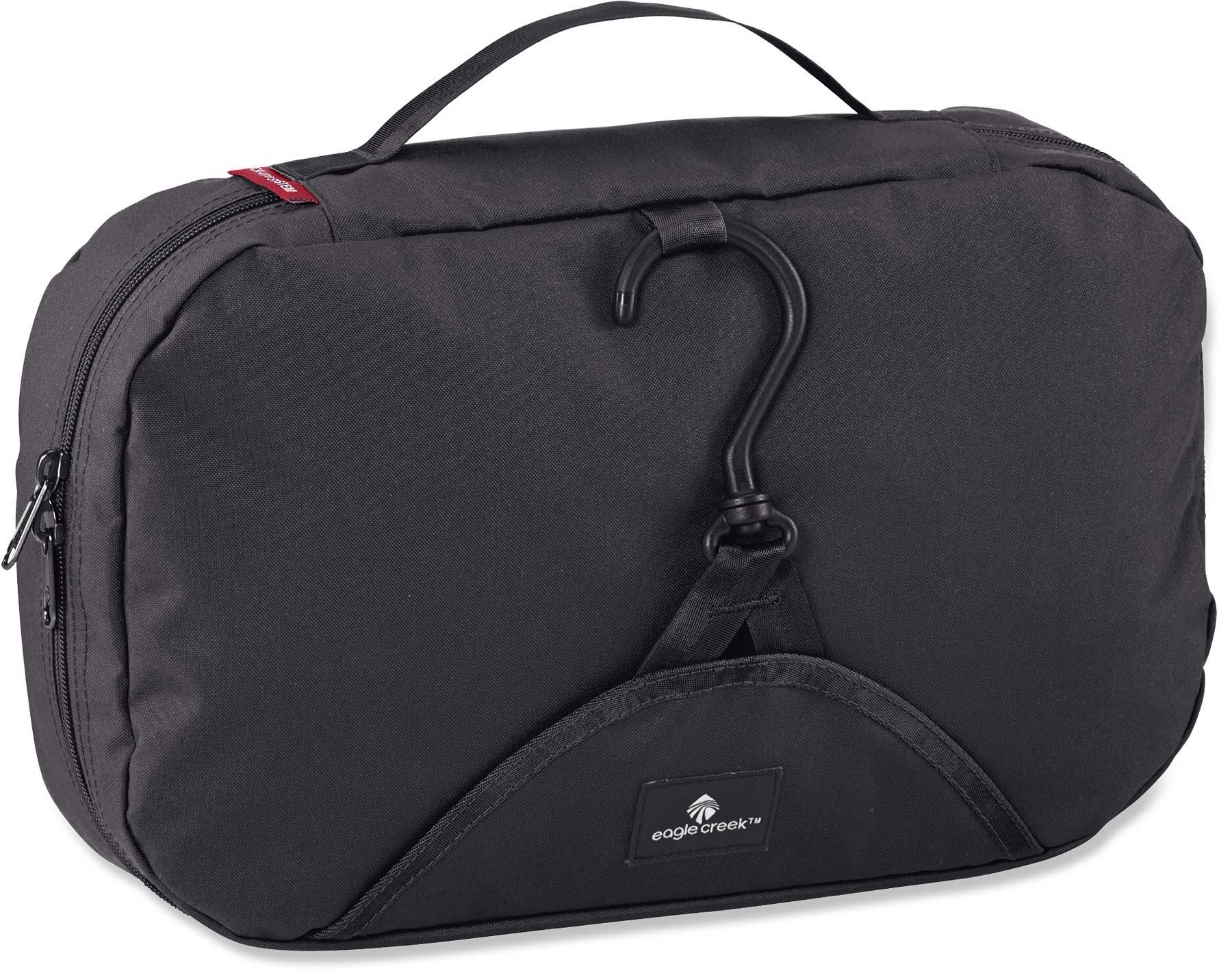 ($37, available in black, blue, and red)
Let's step away from fancy materials for a minute and venture into slightly different territory. Eagle Creek, makers of our favorite travel packing cubes, also make a nifty toiletry bag called the Pack-It Wallaby.
The Wallaby has three main advantages over other items on this list:
It's way roomier. Most dopps are the sorts of thing that work nicely for short trips or single people who carry relatively few travel toiletries. The Wallaby, on the other hand, is a lifesaver for extended trips and/or families with a variety of needs.

It's more organized. Dopp kits are generally unstructured, so you simply toss your stuff into the bag all willy-nilly. The Wallaby, on the other hand, fully unzips to offer three main sections of storage, each with its own uses.

The top section sports a large zippered mesh pocket and a shatter-proof compact mirror. The middle panel has three organizer pouches plus a zippered pouch in back. The bottom section is a detachable, spill-proof, see-through pouch that can easily be removed at the airport if needed.

You can hang it up. The large, built-in hook lets you hang the whole bag, open, on a towel rack or shower curtain rod:

The hook is tipped with a little rubber piece that helps keep the hook from ever falling off, and a little loop on the bag's exterior keeps the hook stowed while traveling and prevents it from getting caught on your other luggage.
What the Wallaby lacks in style, it more than makes up for in sheer convenience.
---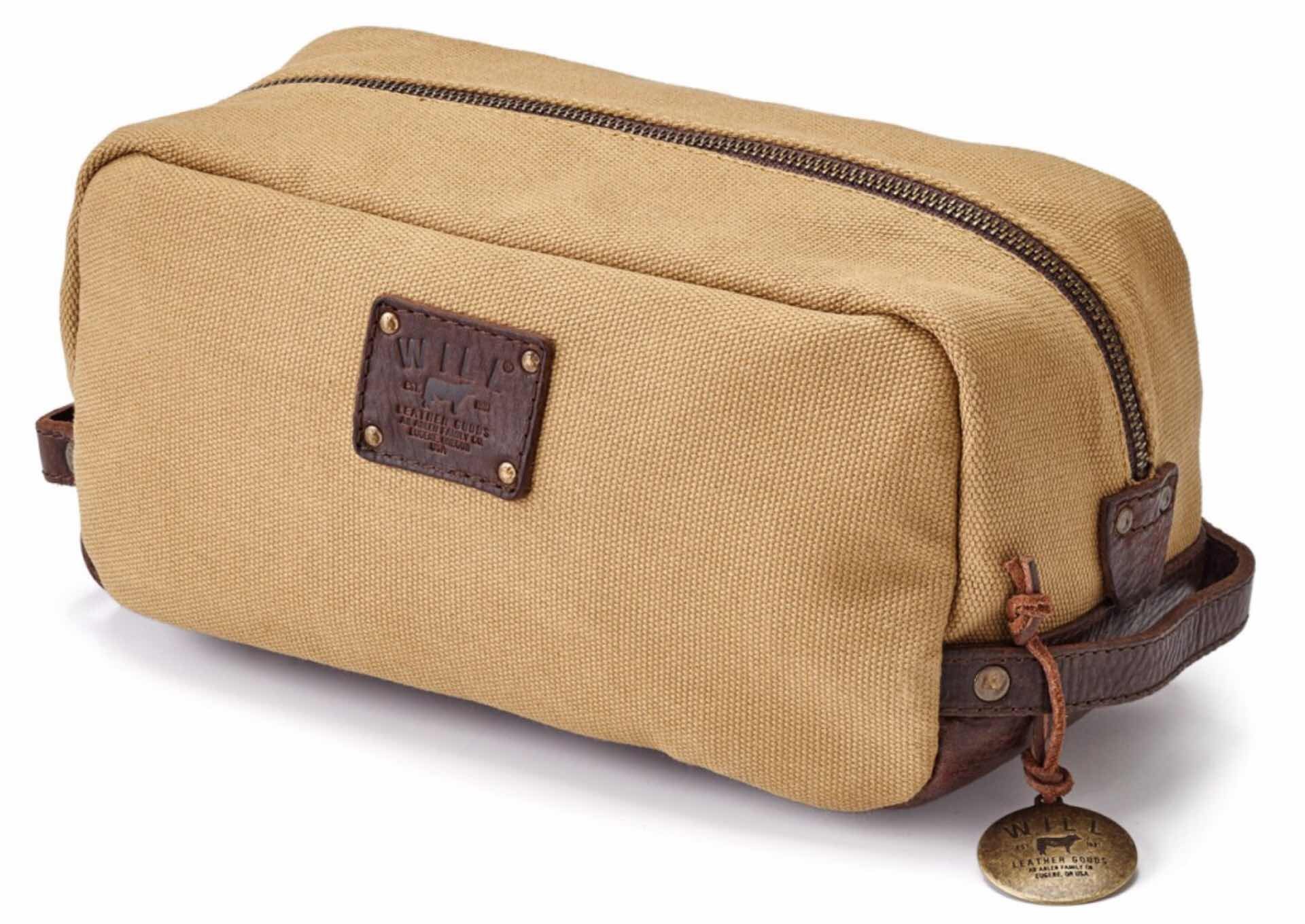 ($75–$125, depending on color)
Will Leather Goods' Grady Travel Kit sports that classic, adventure-ready look and durable construction that makes it a worthy addition to this list.
It combines supple vegetable-tanned bridle leather with a sturdy 18 oz. cotton canvas, along with 10 oz. twill backing and steel-molded hardware, to create a long-lasting dopp bag you can pass down to your children.
The fabric-lined interior is plenty roomy enough to carry most grooming tools, and in addition to the main compartment, you've got an exterior zipper pocket and small interior pocket to work with.
It comes in three colorways:
Tan/Brown ($75)
Navy/Tan ($90)
Grey/Black ($125)
---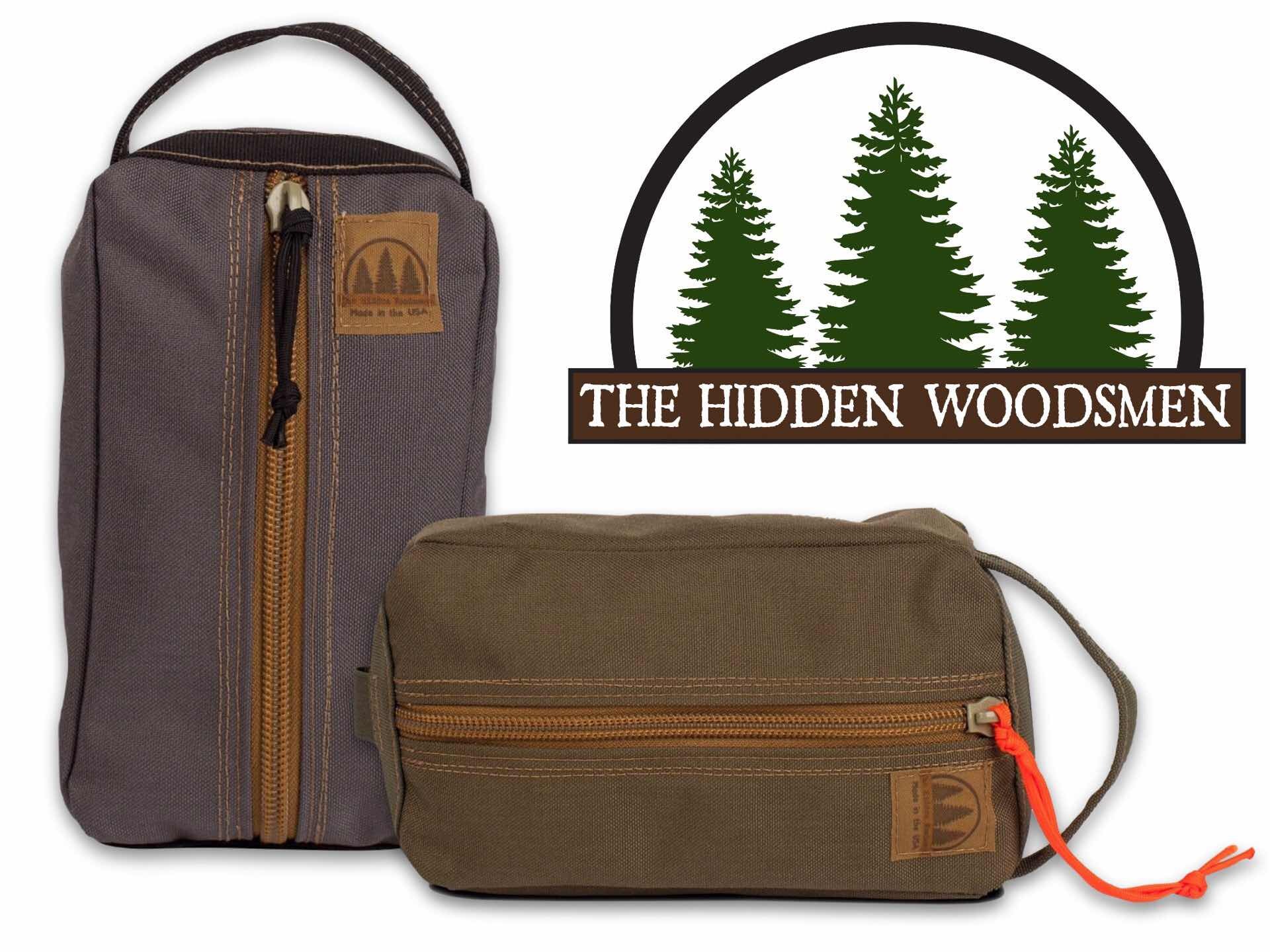 ($25–$30, depending on colorway)
The Hidden Woodsmen's 2019 Possible Pouch is essentially a well-made dopp that, given the company's branding and aesthetic, is ostensibly designed for bushcraft/trapping/hunting purposes, but of course works well for holding any kind of everyday or travel gear.
Measuring around 9″ x 5″ x 3″ — the size varies a bit with each bag — this durable pouch is made from a water-resistant, rot-proof 1000d nylon material and has a beefy zipper with a US-made paracord pull, plus a generous grab handle.
You can throw a surprising amount of stuff in there. On an outdoors excursion for example, you might toss in a compass, knife, fishing kit, notepad and pen, some medical/hygiene equipment, and any other small objects you wouldn't want to lose in the field.
---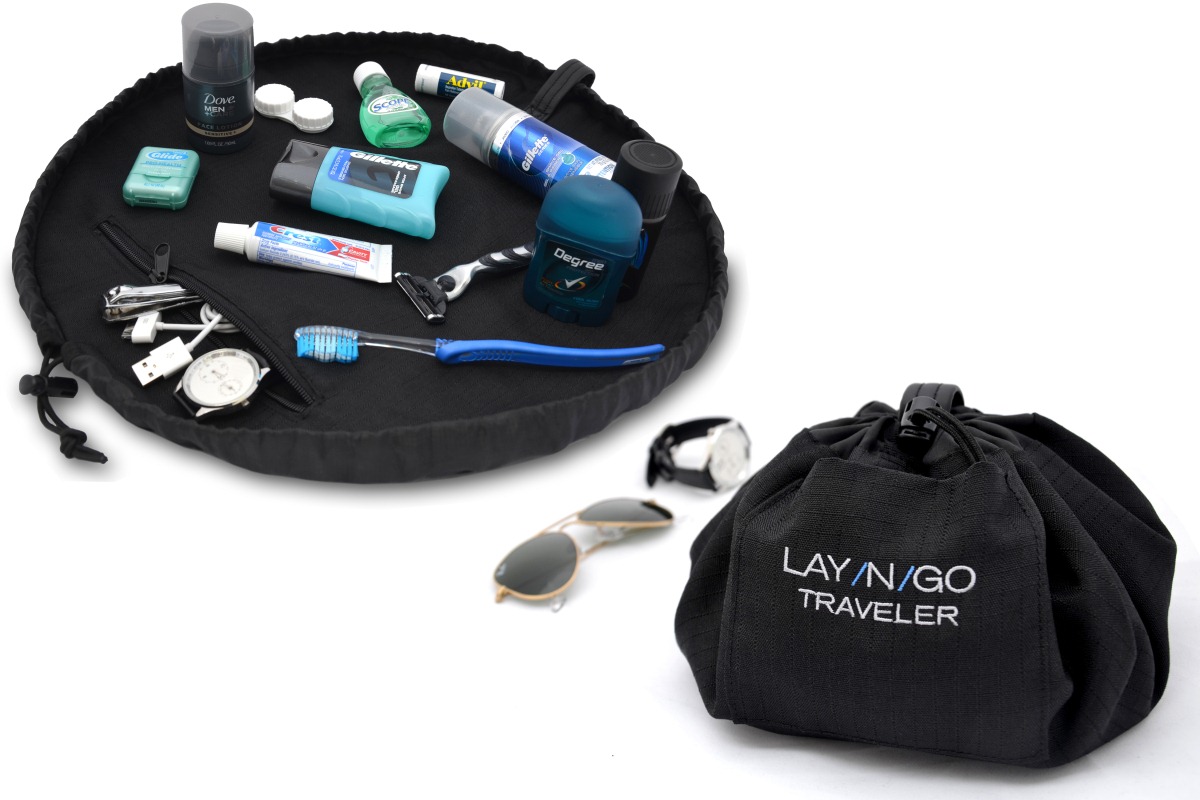 ($28)
Now we come to the least "dopp-y" item in today's guide: the Lay-N-Go Traveler. It's essentially a small bag that opens up flat when you loosen the nylon cord, revealing its contents and acting as a sort of circular placemat for your toiletries.
The bag is water-repellant — which is smart, since it will likely be hanging out near bathroom sinks most of the time — and has a lip around the edge to keep anything from just rolling out. It also has a small zippered pocket on the inside surface for storing smaller items.
When you're ready to pack everything up, just pull the cord tight and off you go.