Cooking is one of those things people tend to either love or hate. For those who aren't fans of it, it could be that the places they're learning those skills from are…well, dry.
It doesn't have to be that way. Here are four cookbooks that are a bit more colorful in nature.
* * *
Andrew Rea of the Binging With Babish YouTube channel took his love of recreating dishes from movies and television and turned it all into a cookbook called Eat What You Watch: A Cookbook for Movie Lovers, featuring some of the show's best recipes and tributes to great moments of food in film.
From the description:
Many of our favorite movies come with a side of iconic food moments: the elaborate timpano from Big Night, Charlie Chaplin's dancing dinner rolls in The Gold Rush, the orgasmic deli fare from When Harry Met Sally, the redemptive birthday cake in Sixteen Candles. In this cookbook, author Andrew Rea recreates these iconic food scenes and many more. With recipes from more than 40 classic and cult films, Eat What You Watch is the perfect gift for both movie buffs and home cooks who want to add some cinematic flair to their cooking repertoire.
Get the book in these formats:
---
When The Bob's Burgers Burger Book was released in 2016, it immediately became the #1 best seller in Burger & Sandwich Recipes on Amazon, and then it became the #1 best seller in Meat Cooking for a while. As hilarious as that's been to us, the 75 burger recipes in this book — which are taken from the cartoon series' various "burgers of the day" — really are edible, should you dare to make them.
We like the description for the brilliantly-named Poutine on the Ritz Burger (read it in Bob Belcher's voice):
Guaranteed to delight your taste buds, this all-beef patty is cooked in brown gravy, topped with sliced potato fries, fresh cheese curds, and Ritz cracker crumbs—and comes with a side of poutine fries. The Ritz crackers provide a welcome, buttery crunch. I'm pretty sure there are enough calories for at least a couple days in here. Fresh cheese curds may be a bit hard to find, but you can normally get them at higher end grocery stores or local dairies. Makes 4 burgers, plus plenty of poutine fries.
The entire Belcher family and other characters from the show appear throughout, as well as obligatory burger puns. This is just a delightful book for fans of Bob's Burgers.
Get the book in these formats:
---
The Pokémon Cookbook is filled with over 35 fun and easy recipes inspired by Pokémon characters — up to the 4th generation — such as Pikachu ramen, Pokéball sushi rolls, Meowth mashed potatoes, Psyduck omelettes, Piplup milk gelatin, Combee banana trifle, Slowpoke strawberry mochi balls, Drifloon gelatin, and more.
It was originally written by Maki Kudo back in 2009, and has been translated by Viz Media for North American release. Great for kids just learning to cook.
Get the book in these formats:
---
A year ago, the folks at Shake Shack released their first-ever cookbook, Shake Shack: Recipes & Stories, which aims to help home cooks recreate 70 of the beloved burger chain's signature recipes. It also features fun facts and stories about the company, along with a bunch of pro tips and 200 mouthwatering photos.
Just before its release, Daniela Galarza of Eater got a glimpse of the cookbook and interviewed the people who made it:
[Shake Shack culinary director Mark Rosati] shares almost all of the company's recipes, though unfortunately he isn't giving away any real secrets here. The processes have been adapted for the home cook, and [CEO Randy Garutti] told Eater that only "six people" in the world know the real recipe for Shake Shack's signature sauce.

The recipe in the book for Shack sauce is a mixture of Hellman's, Dijon, Heinz, pickle juice, salt, and pepper. "We make our own from scratch," Garutti says, but when he and Rosati first started testing recipes for the book they came to the conclusion that these weren't recipes "most people would want to make at home," because they were labor-intensive, "messy," and time-consuming.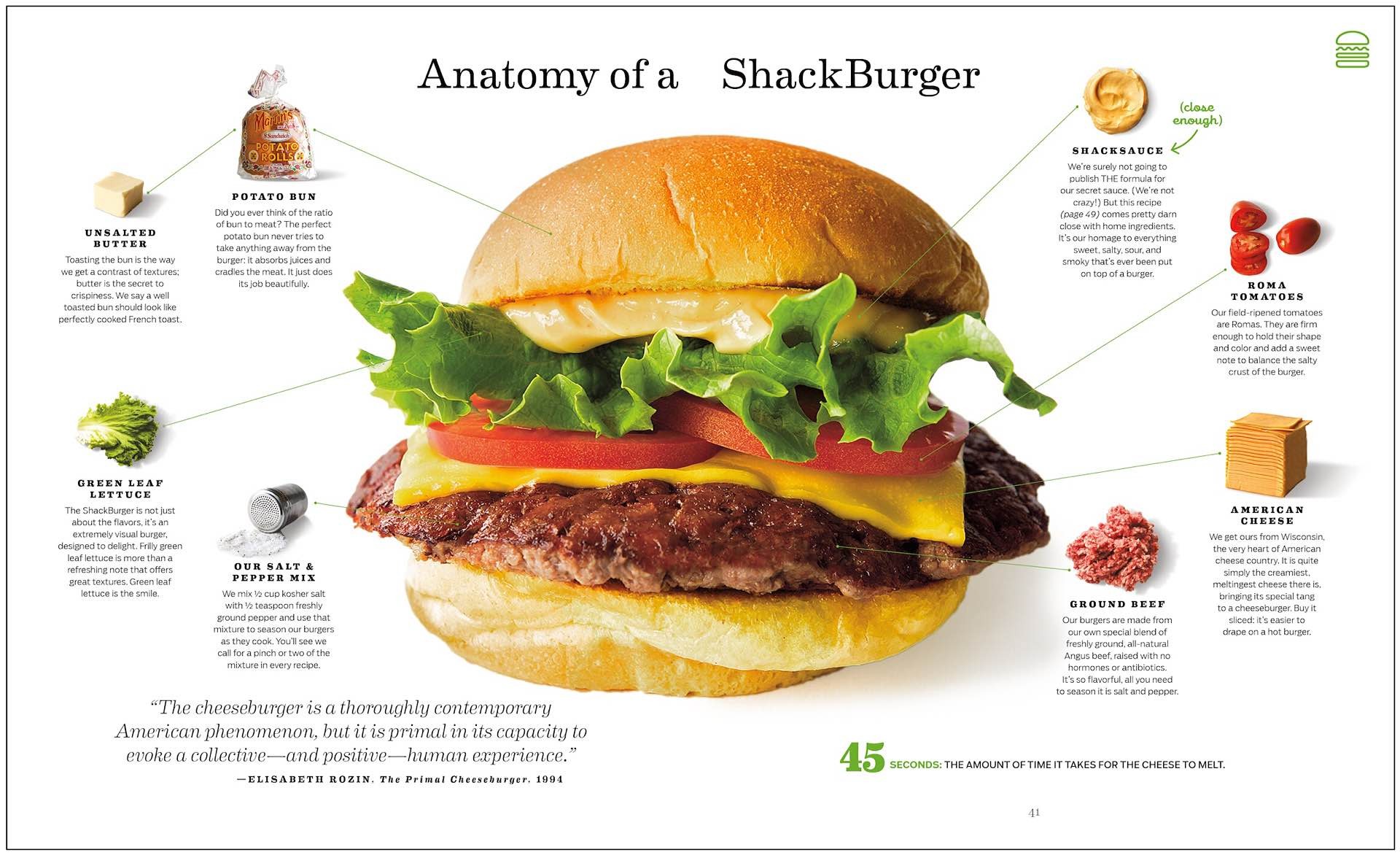 Get the book in these formats: