* * *
Last month, Apple announced that enhanced — dare we say, more magical? — versions of all seven Harry Potter books are now available exclusively on the iBooks Store. From the press release:
Customers can download individual books featuring full original text, interactive animations and elaborate artwork bringing these beloved stories to life in a unique way. Harry Potter fans will also find annotations throughout their literary journey, written by the author herself. […]

Until now, the Harry Potter digital books have only been available for readers to purchase through the Pottermore Shop. Starting today, iBooks users can experience the books with all new exclusive custom covers for each title, and typography including the custom Harry Potter typefaces and new section headers and drop caps.
The way illustrations animate while you read is very reminiscent of the fictional world's own moving photos and paintings. We can't think of a better series of books to give this enhanced treatment to.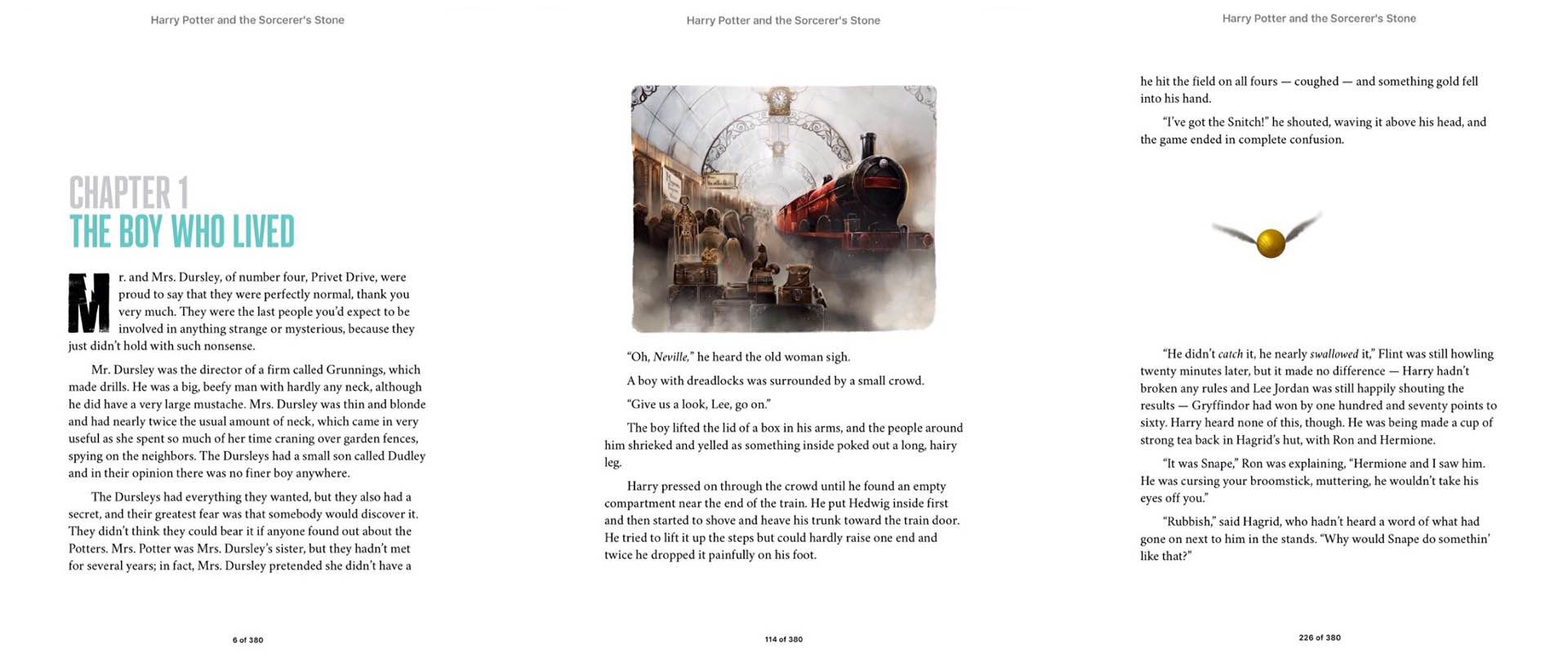 You can view all the books from J.K. Rowling's iBook Store author page, but here are the individual links if you need them:
In typical iBooks fashion, each book in the series is $10. For something a bit more tactile, check out the illustrated version of Harry Potter and the Sorcerer's Stone.
---
In our humble opinion, Bill Watterson's Calvin and Hobbes is the greatest comic strip of all time. To say it had an influence on our childhoods would be an understatement. Australian cartoonist Gavin Aung Than of Zen Pencils shares that opinion:
To me, Calvin and Hobbes is cartooning perfection – that rare strip that has both exquisite writing AND gorgeous artwork. A strip that managed to convey the joy of childhood, absurdity of humanity and power of imagination all through the relationship between a boy and his stuffed tiger. And most importantly, a strip that was consistently laugh-out-loud funny.
The Complete Calvin and Hobbes captures the entire body of the strip (1985–1995) into three hardcover volumes, nicely packaged in a single sturdy slipcase. It also includes a 14-page foreword written by Watterson himself! A fitting monument to such a delightful and whimsical series.
For more Bill Watterson goodness, check out Exploring Calvin and Hobbes: An Exhibition Catalogue, which features an extensive, original interview with the man, along with art from cartoons and cartoonists identified by Watterson as influential to his work.
---
If you're familiar with Rick Riordan's Percy Jackson and the Olympians books and/or the Heroes of Olympus follow-up series — the story of which follows a group of modern-day teens who happen to be the descendants of ancient gods — his new title, Magnus Chase and the Gods of Asgard, is like that but with Norse mythology rather than Greek. You know…Odin, Loki, Asgard, Valhalla, elves, wolves, that sort of thing.
As you'd expect, title character Magnus Chase is a kid who happens to be a descendant of a Norse god. And, his Bostonian sarcasm pervades from the very first paragraph:
Chapter 1: Good Morning! You're Going to Die

YEAH, I KNOW. You guys are going to read about how I died in agony, and you're going be like, "Wow! That sounds cool, Magnus! Can I die in agony too?"

No. Just no.

Don't go jumping off any rooftops. Don't run into the highway or set yourself on fire. It doesn't work that way. You will not end up where I ended up.

Besides, you wouldn't want to deal with my situation. Unless you've got some crazy desire to see undead warriors hacking one another to pieces, swords flying up giants' noses, and dark elves in snappy outfits, you shouldn't even think about finding the wolf-headed doors.

My name is Magnus Chase. I'm sixteen years old. This is the story of how my life went downhill after I got myself killed.
We don't want to spoil any more of the story than that. For Percy Jackson fans, buying this one is a no-brainer anyway.
---
Every couple weeks or so, my wife and I (Chris) take our 3-year-old son to the library to pick out a stack of bedtime books we can read together each night. On one of those trips a while back, we ended up getting a copy of This Jazz Man. We don't often check out the same book twice, but this one ended up being a household favorite. Even when we didn't have a copy on hand, he would ask us to read it. We've since added it to our permanent collection.
The book is essentially a song sang to the tune of "This Old Man" and refers to famous jazz musicians like Louie Armstrong, Art Blakey, Charles Mingus, Charlie Parker, and more. Each page features a different player and lyrics, and goes something like:
♫ This jazz man, he plays one
♫ He plays rhythm with his thumb
♫ With a Snap! Snap! Snazzy-snap! Give the man a hand
♫ This jazz man scats with the band.
At the end of the book are short biographies of each musician. I really enjoy this book and am even a little proud that my son is so interested in it too. On top of being a fun bedtime read, it's a great way to introduce kids to jazz. Love the artwork too.
---
Coloring books aren't just for kids anymore. Adult coloring books are a trend that's becoming more popular all the time, and a great one to start with is Fantastic Cities: A Coloring Book of Amazing Places Real and Imagined by Steve McDonald.
This 60-page book contains highly intricate, aerial-view illustrations of various cities around the world — both real and imagined. One Amazon reviewer summed it up nicely: "The list is simply too long but includes cities in Germany, Canada, Greenland, France, Yemen, New York, Italy, Japan, Singapore, the Netherlands, Rio de Janerio, Turkey, India, Mexico, England, Australia, and Greece."
What's harder to convey in words is just how complex the illustrations are, so here are some examples.
Lunenburg (left) & Lunenburg mandala (right):
Singapore (left) & Amsterdam (right):
Needless to say, you'll have plenty of time to sit and relax as you fill in all the minute architectural details.
If you're just getting started with adult coloring books, pick up Sargent's 50-count pack of colored pencils ($12), and if you really want to up your coloring game, check out Prismacolor's 132-count pack ($103). (Don't go with markers or gel pens on this one because the book's pages have illustrations on both sides and they will bleed.)
---
A City Through Time: From Ancient City to Vast Metropolis is a fascinating kids book that is exactly what the title describes.
It follows the evolution of a fictional city through various stages of its existence, starting from a Greek colony/temple in 500 BC, to a Roman town, to a medieval castle, to a 17th-century city, to an industrial port and train station in 1880, and lastly to a modern-day skyscraper metropolis. For every stage along the way there is a double-page panorama filled with lush illustrations, cut-out views of various buildings so you can see what they contain, and the citizens of that time period going about their business.
There's just so much going on in each scene. It reminds us of those Where's Waldo? books we loved as kids, but with tons of interesting information about how cities and their people change over time. You may find yourself going back through the book a few times even with no kids around.
If you enjoy this book, be sure to also check out the others in the series: A Street Through Time and A Port Through Time.
---
If most of us think back to our childhood, we remember the little things our parents did more than the big ones. One of the small but memorable things you can do every night is read your child(ren) a bedtime story.
One of our favorites is Goodnight, Goodnight Construction Site. It's reminiscent of Goodnight Moon, but with a construction twist. It takes you through fun story involving dump trucks, mixers, and more as they wind down for the night after a long day's work.