We've done a number of coffee gear guides over the years, but only one of them is focused on espresso and even that one is more about using one specific machine (although it does mention several great espresso accessories as well).
It's time we put together a gear list for espresso enthusiasts of all kinds, and what better way to start than by writing the spritual successor to our classic Awesome Coffee Gear guides?
* * *
…But First, The Beans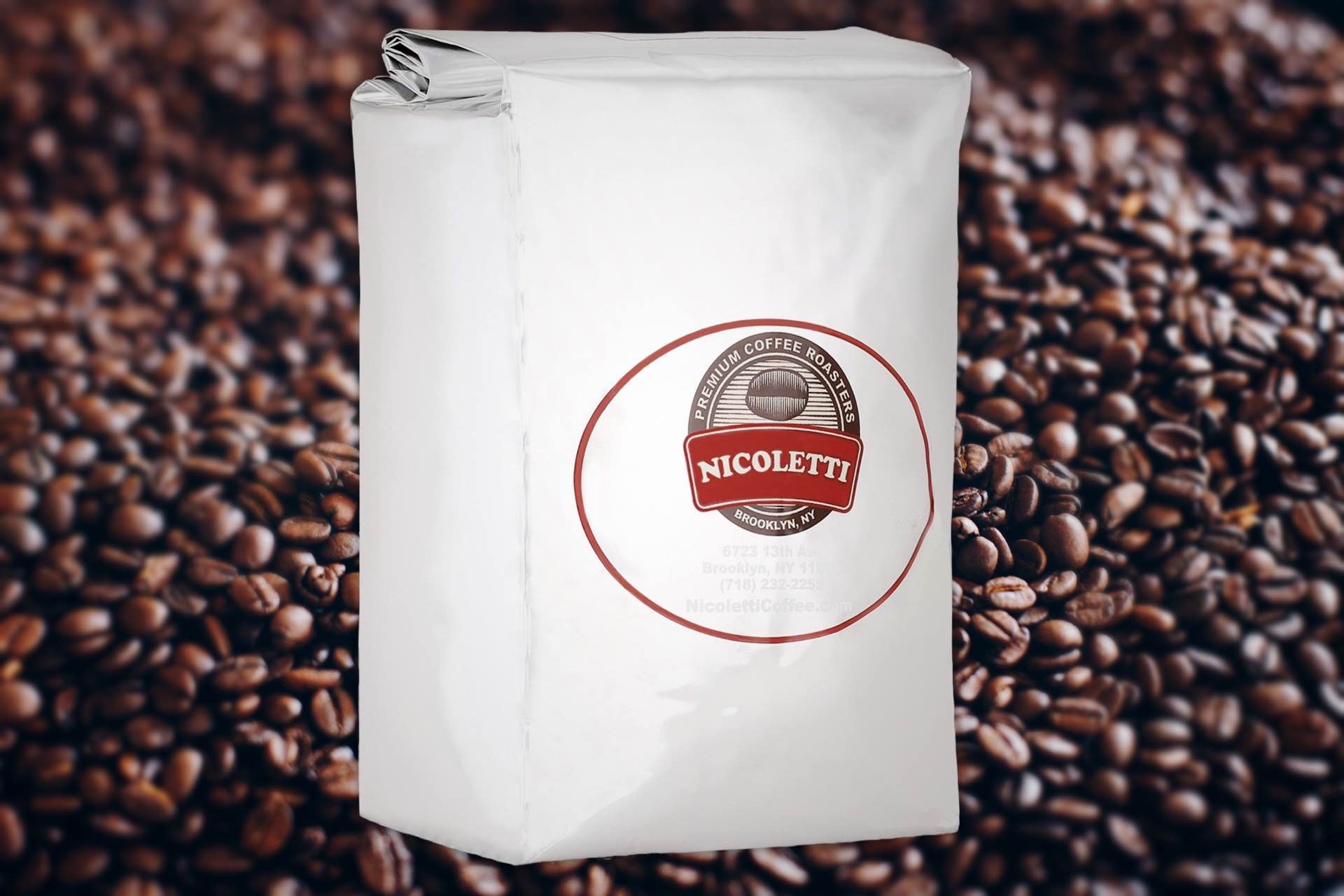 ($13 for 12-ounce bag, $26 for 2.2-pound bag, $46 for whopping 5-pound bag)
Alright, this first one's not gear per se, but to make great espresso, you do need some good, freshly roasted beans. And that's what Nicoletti Coffee Roasters of Brooklyn offers.
Their espresso roast isn't at all dark like you might expect; it's more of a medium-light, with a deliciously nutty, chocolatey, and slightly sweet flavor profile. Moreover, most people receive their order within three days of roasting, which is way better than you'd get with most grocery-bought beans.
It's hard to believe something this good comes through Amazon!
+ Read our original post here.
* * *
Now, Onto the Gear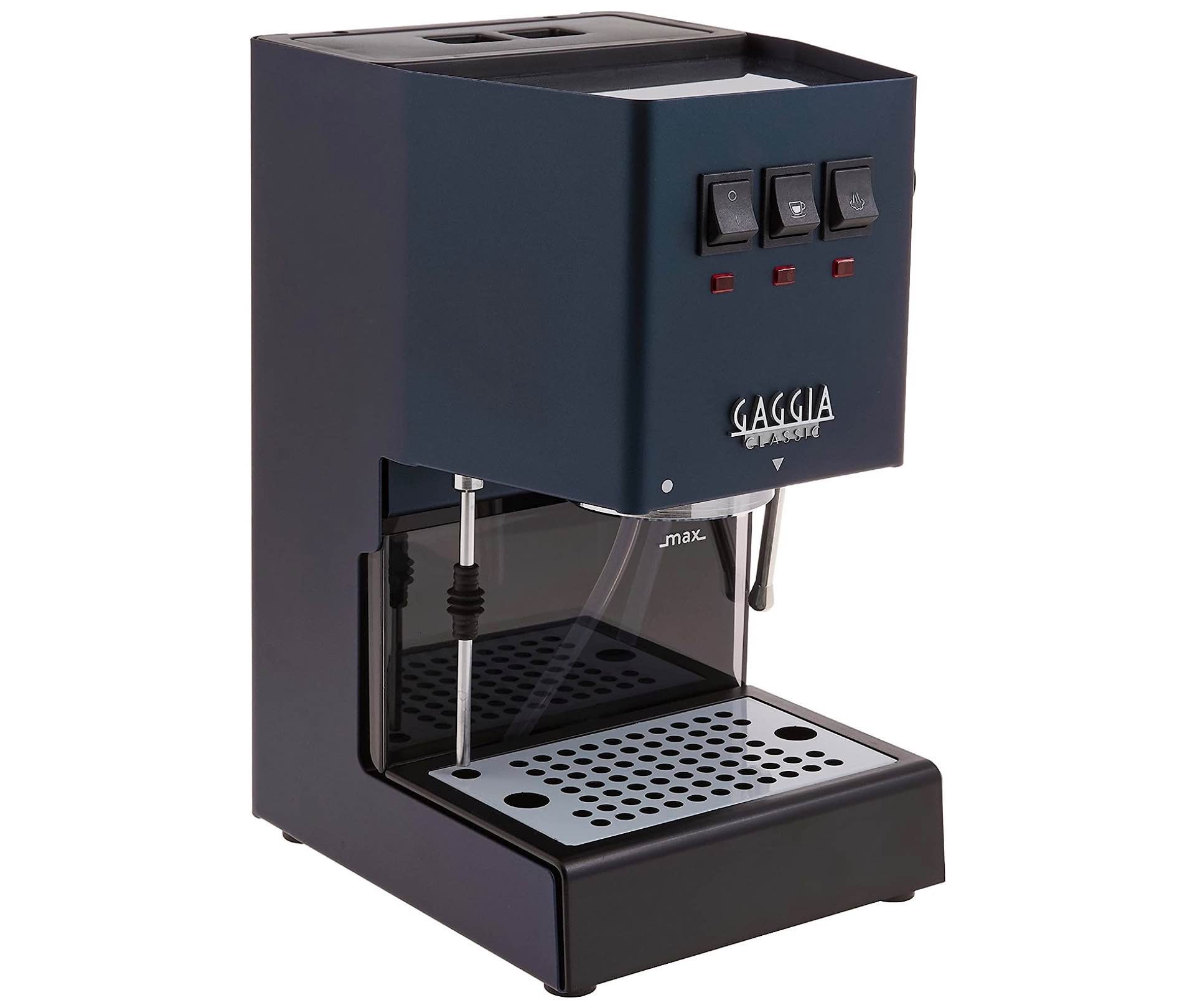 ($449 for plain stainless steel, $499 for any of the other colors)
The Gaggia Classic Pro is often touted as the starter machine for budding espresso enthusiasts, and it's hard to disagree. Gaggia first introduced the original Classic model in 1991, and 30 years later, its successor holds up that reputation as a reliable workhorse.
Not only is it capable of pulling so-called "god shots" of espresso once you've learned its quirks and the necessary techniques to use, there are also lots of ways to trick out the machine and further enhance what it can do, if you're willing to take on those kinds of projects. YouTube will be your friend on both fronts.
---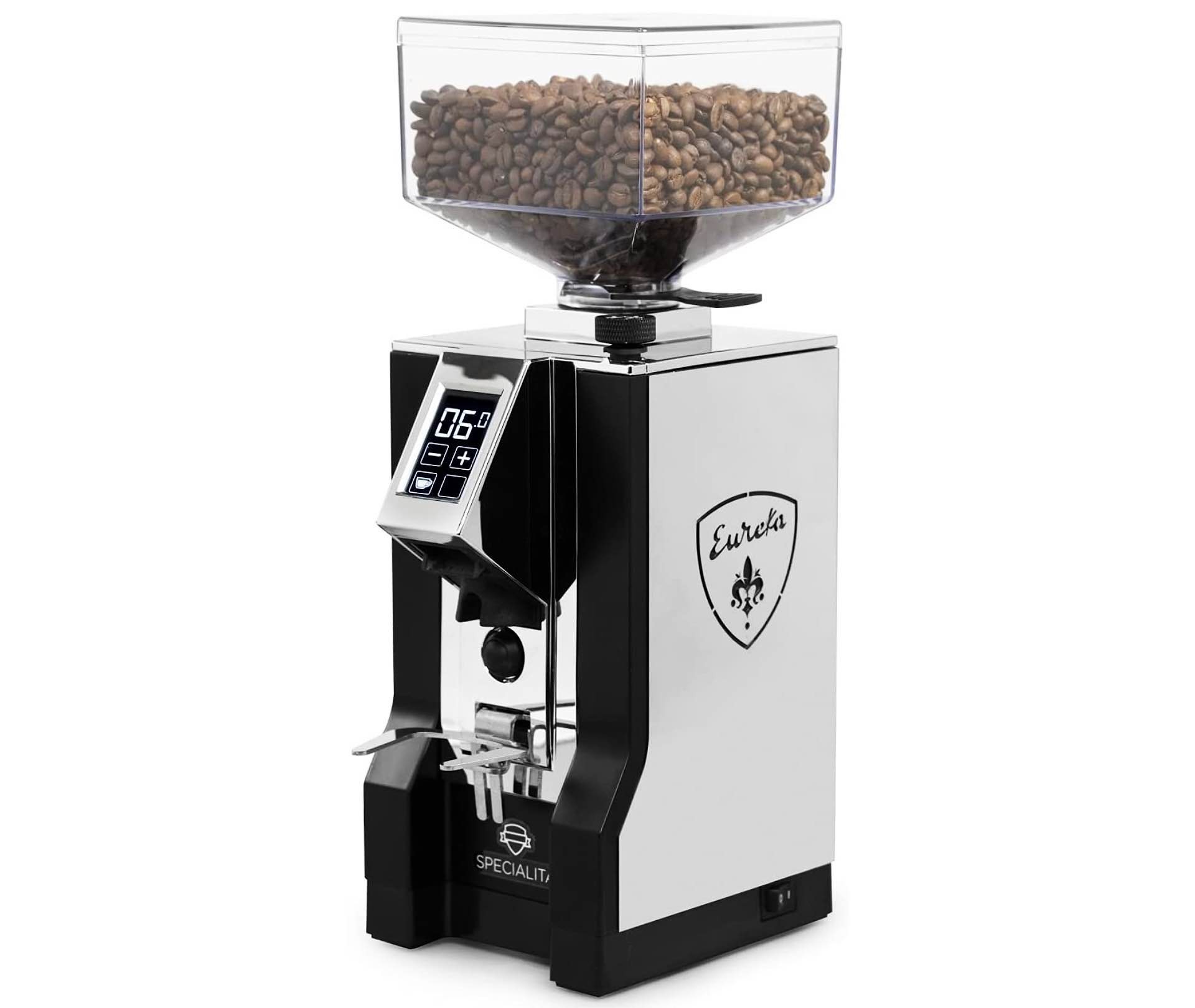 ($699)
Don't get us wrong, we still love the grind quality of the Baratza Setta 270, but there's no denying that it's a LOUD machine. Eureka's Mignon Specialita grinder is way quieter — like, shockingly so — and produces similar or even better results, so if you're an earlier riser than the rest of your family, you can still enjoy your morning espresso without disturbing their slumber.
If you single-dose shots like we do, you'll be pleased with the extremely low retention of the Specialita — that is, hardly anything will be left in the chute after grinding; you get back just about all the coffee weight you put in. However, you'll want a dosing funnel to ensure all the grounds make it into your portafilter.
---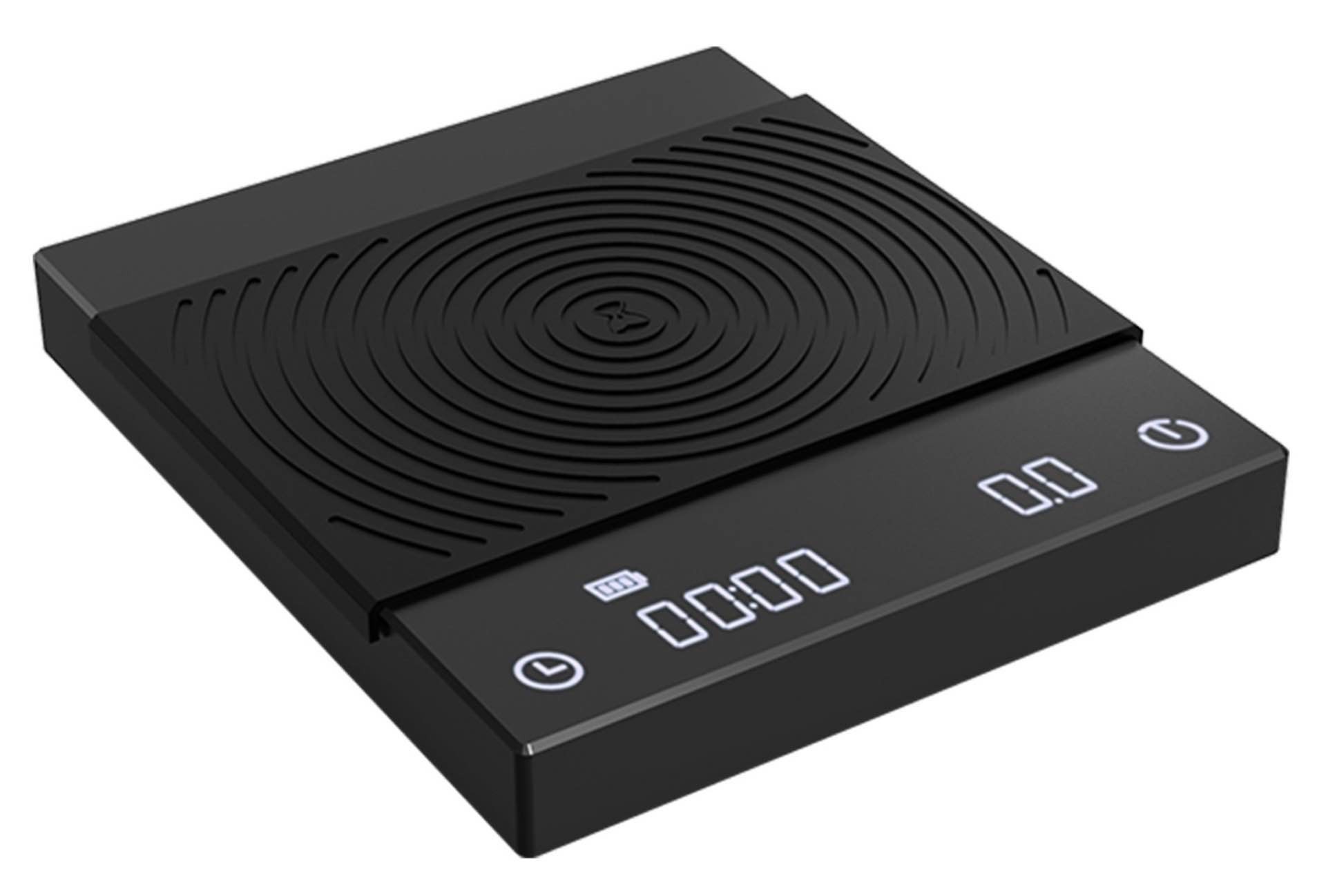 ($59)
Like any coffee brewing method — and actually even moreso — making espresso is all about accuracy. You can't very well repeat good results if you're not measuring the weight of both your beans before grinding and the output of each shot you pull. You're aiming for a 1:2 ratio where the pulled shot weighs twice as much as the beans did. So, 18g of beans should result in a 36g double shot.
The Timemore B22 is a great tool for weighing everything out and timing your brew. If you've properly dialed in your grind, that weight ratio above should be achieved in roughly 25–30 seconds.
While you can accurately gauge the coffee weight with a jewelry scale and then use your phone's timer app to see how it goes, and have no real problem doing so, having both functions in the same gizmo — especially one designed for exactly this task — is just nicer to work with.
---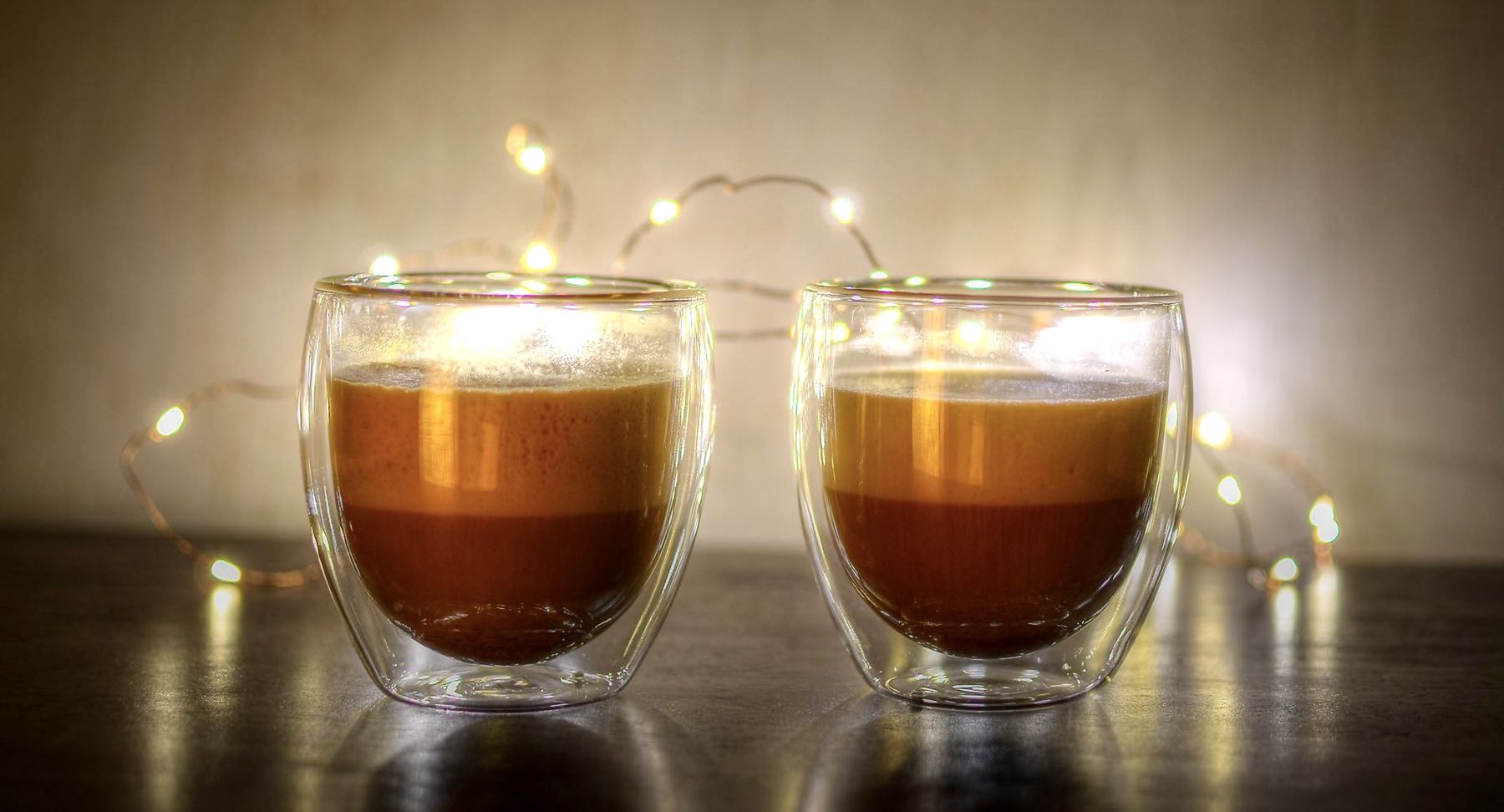 ($15 for a set of two, or $20 for a set of four)
These 2.7-ounce double-walled espresso shot glasses are large enough to hold a double espresso shot each, and wide enough at the rim to catch espresso from both portafilter spouts at once, so you only need to use one glass at a time, not two side-by-side.
Since they're double-walled, you can pick them up right after pulling espresso shots and you won't feel a thing through the glass. Every time, you think you're going to scorch yourself, and every time they surprise you. It's weirdly fun. Those double walls also help keep the espresso shots warm longer than you'd expect, so you have time to admire that perfect crema before consuming or pouring.
---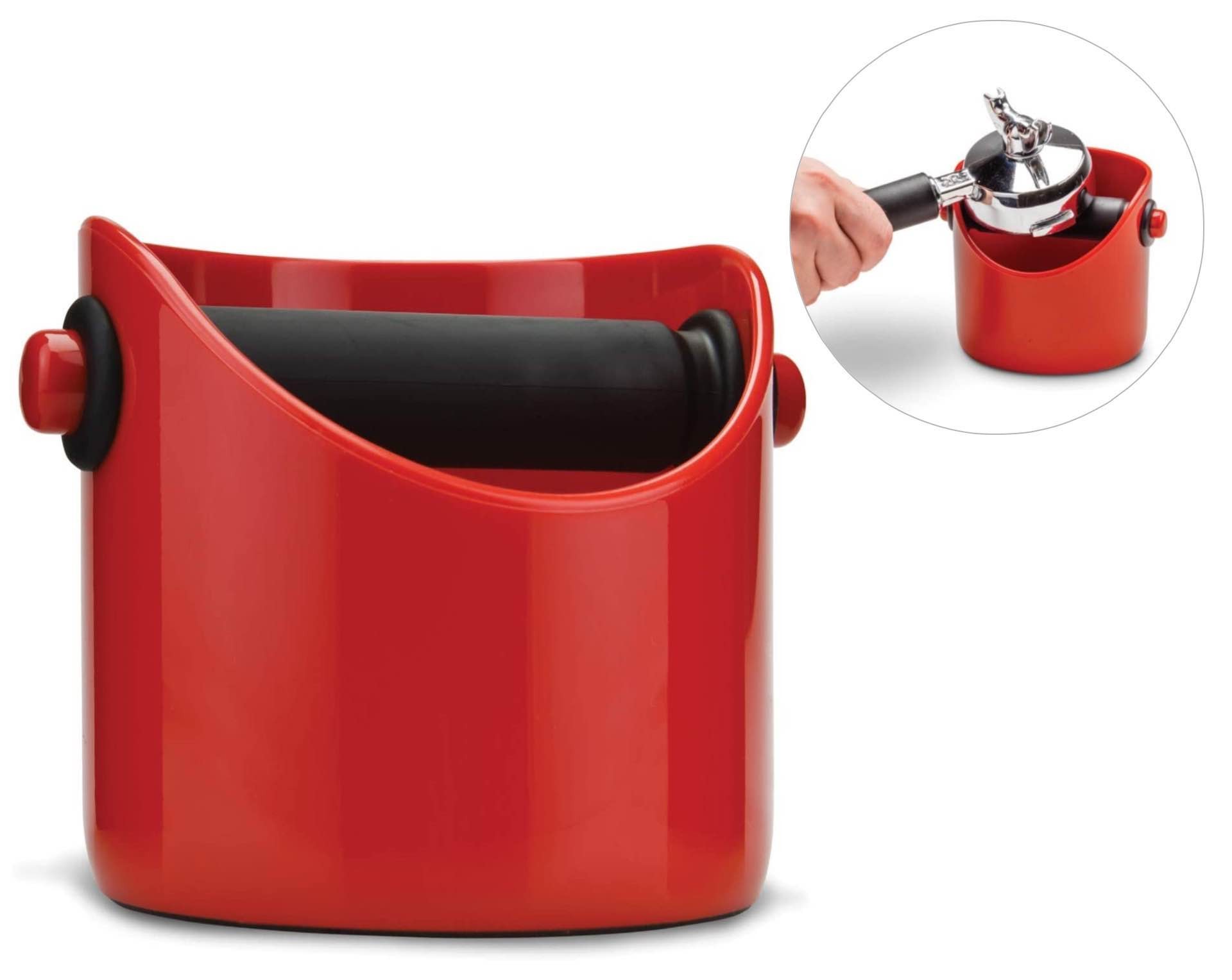 ($25)
Using a trash can suuuuucks for disposing of espresso pucks after brewing. Half the time, if you're not careful enough, the whole basket can fall out into the garbage. Gross.
What you want is a knock box near your espresso station. This is essentially a small bin with a built-in shock-absorbing bar across the opening, upon which you tap the middle of the basket (rather than the edge) and thus keep it from falling out when the puck does.
This is also a nice way of saving your spent grounds for composting and/or gardening purposes, so that's a double-win.
---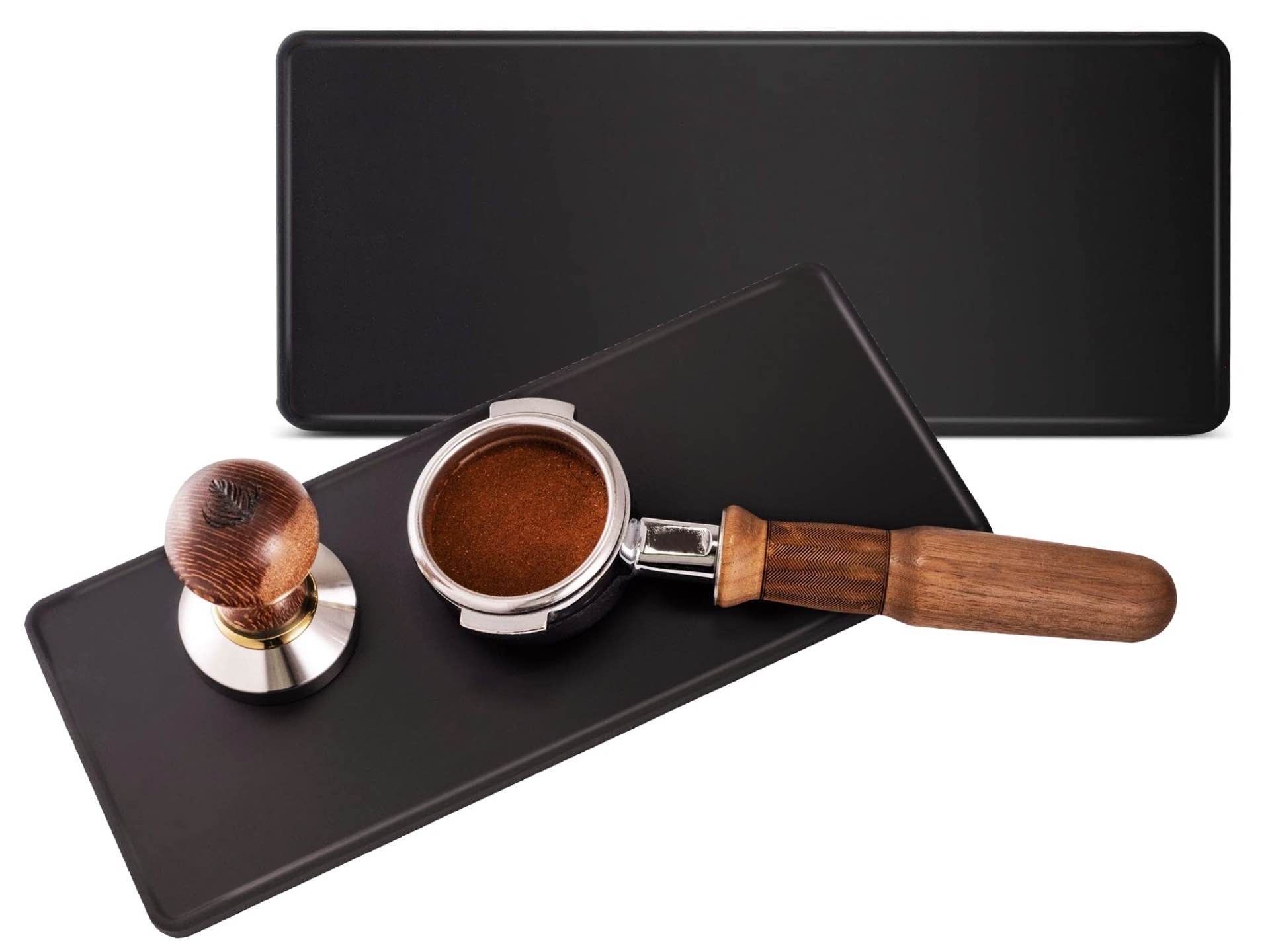 ($15 for 6″ x 6″, $16 for 5″ x 12″, $23 for 6″ x 8″ with 2″ front lip)
Tamping espresso into your portafilter day after day can wreak havoc on your countertop after a while. You can always throw down a folded towel to provide some cushion, of course. However, we find it more elegant to have a tamping mat like this that always lives at one's espresso station.
It's made from thick food-grade rubber that happens to be quite oil-resistant in case you accidentally spill a lot of coffee grounds on it (and as any espresso enthusiast will tell you, it will happen eventually). The slightly raised edges all the way around will keep those grounds contained as well. And finally, the mat is super easy to clean; all you have to do is rinse it under water.
This is the type of portafilter mat that's heavy-duty enough for coffee shop usage, so it's more than sturdy enough for your home espresso setup.
---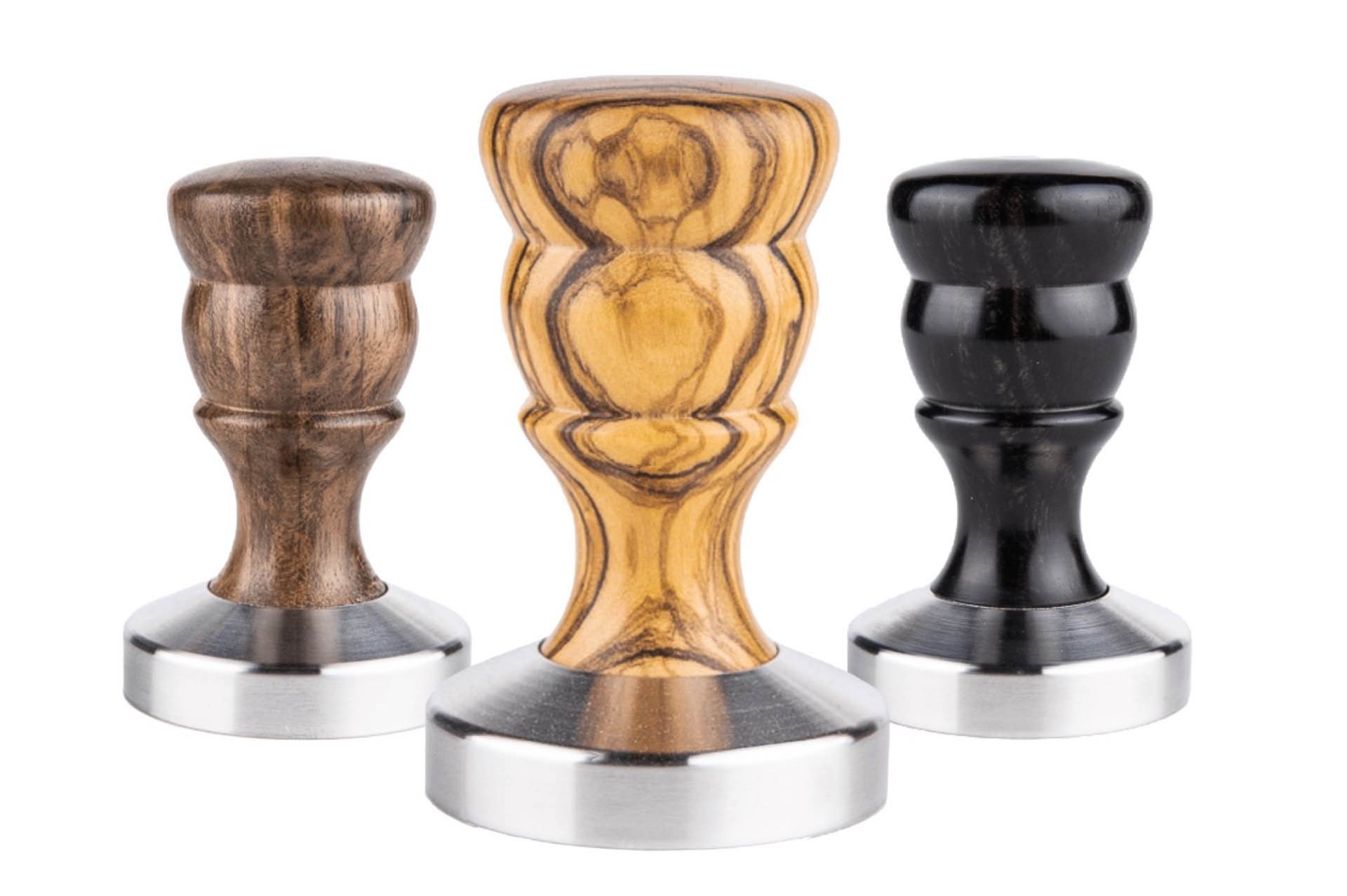 (79€/~$93 USD or €139/~$164 USD, depending on wood choice)
Mussa is a Greek company that specializes in custom handmade espresso tampers and other accessories. One of their products is the "Hera" tamper, featuring a steel base topped by a lovely curved handle crafted from your choice of olivewood (pictured above, center), walnut(left), or ebony (right) wood.
Not only does this handcrafted tamper add some class to your own espresso station, you can also personalize the top of the handle with your initials, a short message, or even a logo/image.
---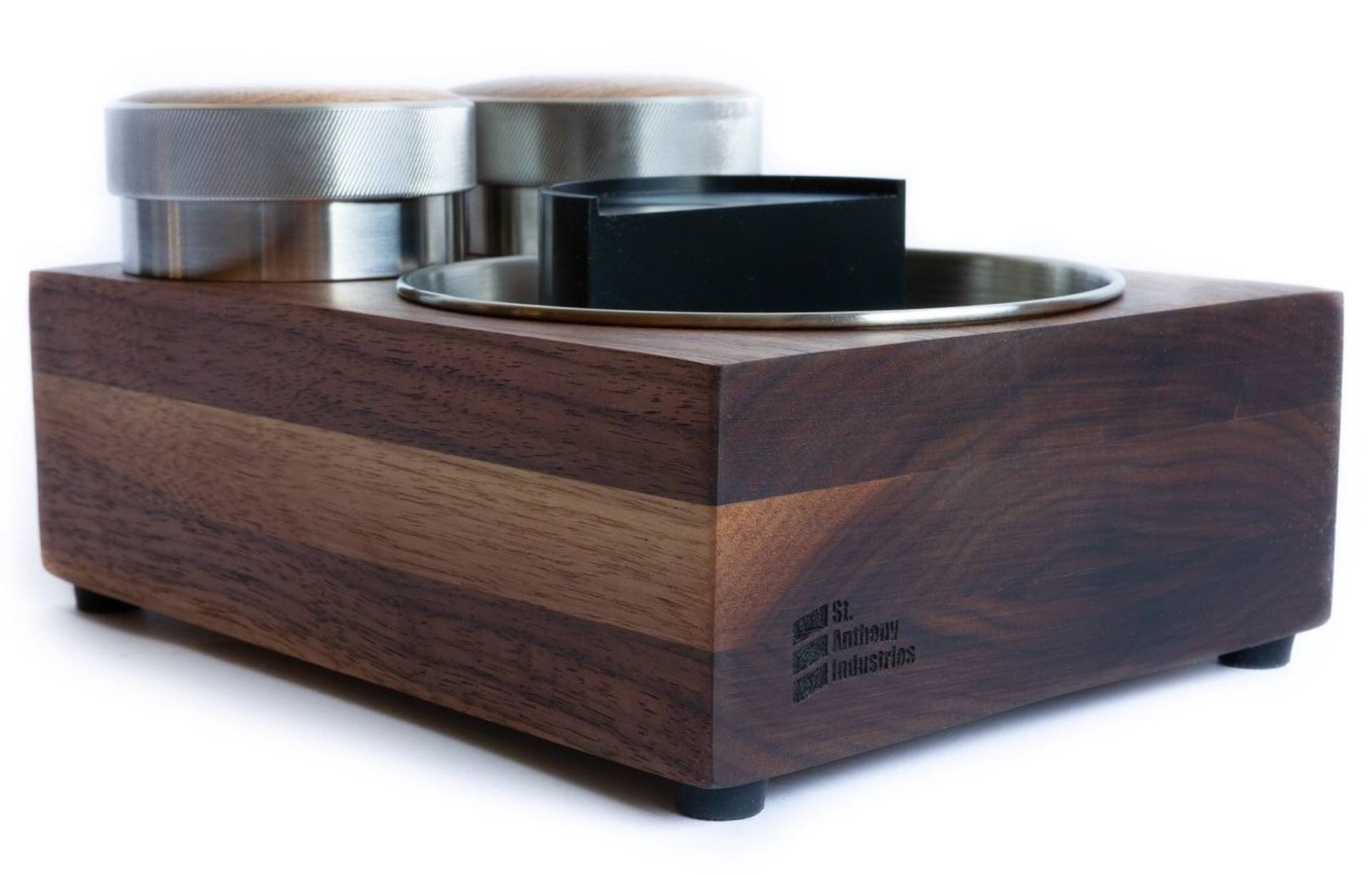 ($348)
Now if you really want to up your espresso station's utility and style in one go, take a look at St. Anthony Industries' "Bloc Party" tamp station, which includes a hardwood block base with built-in knock box, a handle-free tamp made from stainless steel, and a similarly constructed depth-adjustable distribution tool for evenly distributing espresso grounds in your portafilter before actually tamping.
Together, these peripherals make a fine addition to any "end-game" espresso setup.
+ More details in our original post.
---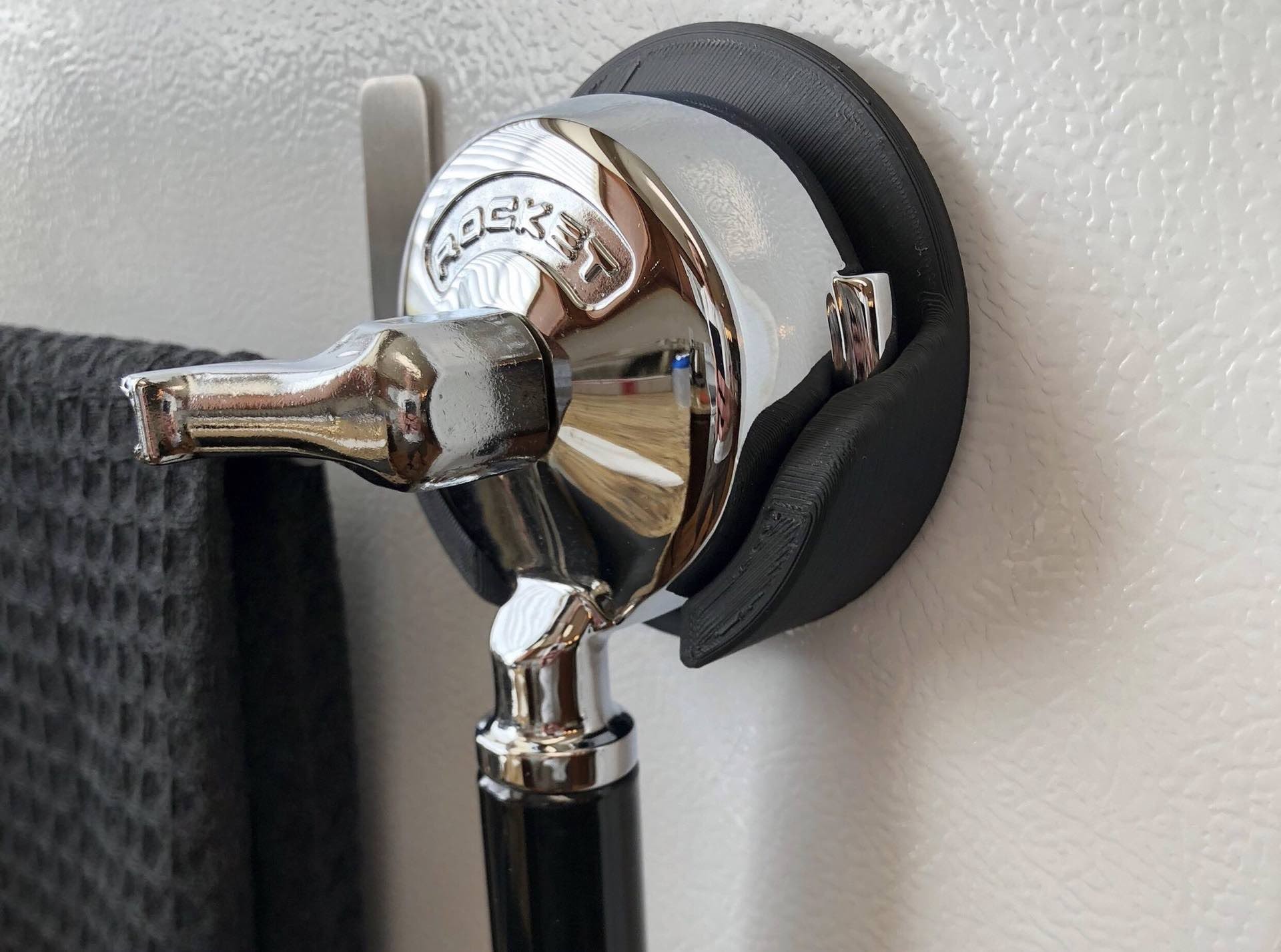 ($18 for one alone, with discounts available on purchases of multiples)
After diving into the world of espresso you'll quickly find that your station can quickly become cluttered with all the paraphernalia that come with this hobby, including your portafilter(s). Thankfully, there's a Wichita-based Etsy shop called GB Tactical that produces something called the PortaKeeper.
It's an ABS wall rack that affixes to your wall — or even the side of the espresso machine itself! — via Command Strips (two are included), giving you an easy, out-of-the-way place to hang your portafilter when you're not using it. This is especially handy if you have a spare one that you keep around for making multiple drinks in quick succession.
They make a variety of styles to suit 53–58mm portafilters from various brands/machines, including the 58mm diagonal-tabbed version of the Gaggia we discussed earlier.
---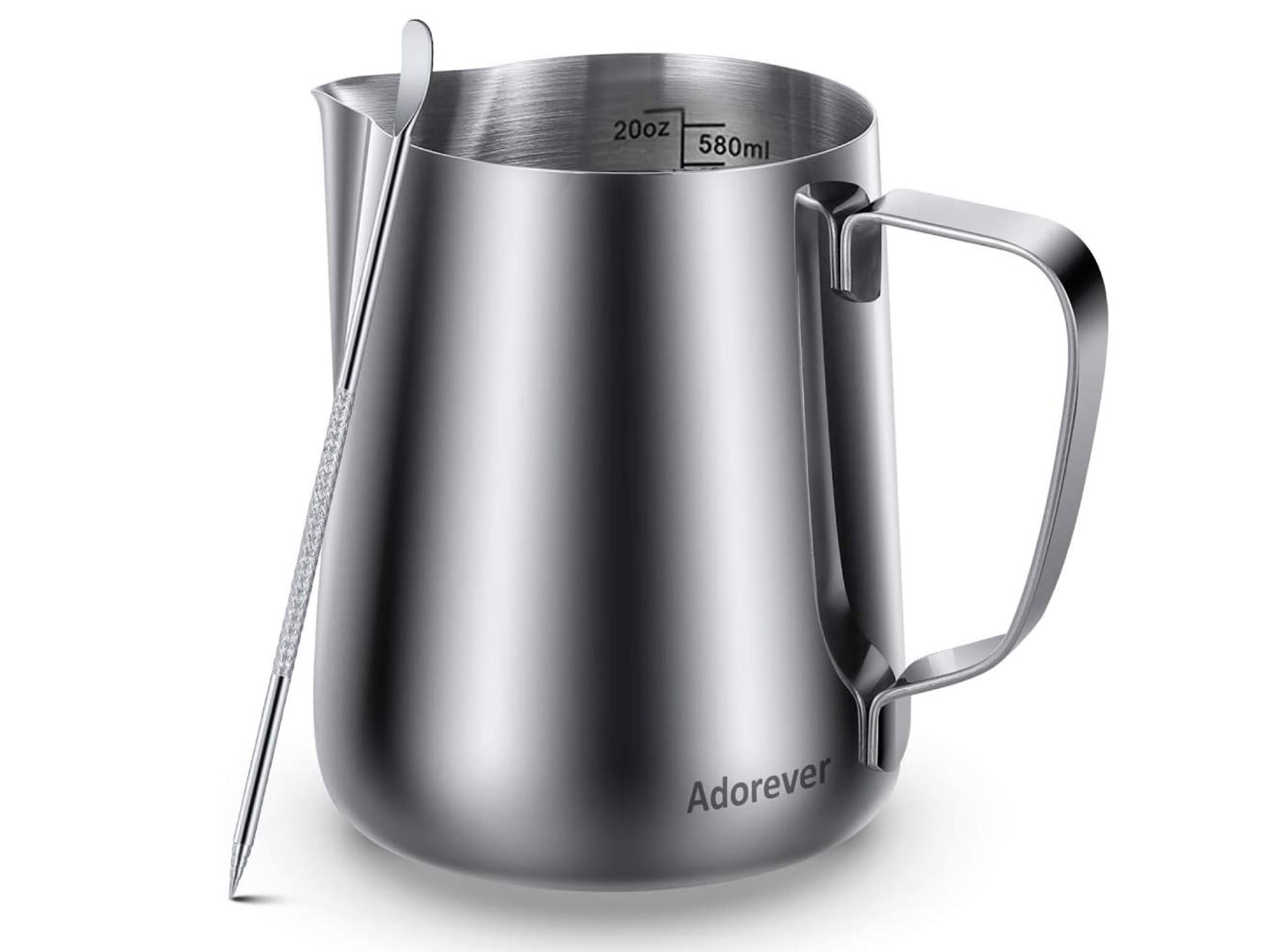 ($27)
One of the funnest parts of the espresso hobby is mastering the art of steaming milk for lattes/cappuccinos/flat whites. And by "art" we don't just mean doing fancy latte art, but getting the actual frothing technique right.
As far as milk pitchers go, you don't need anything over-engineered to get the job done, but you do want one of some quality. This one from Adorever works great.
The stainless steel feels pretty solid and just hefty enough without being too thick to tell temperature by handfeel. The pouring spout is also nice and pointy, which makes it a lot easier to attempt latte art. And, it even comes with a nifty latte art pen tool that can be used to "draw" shapes in the milk foam after pouring.
Pro tip: Put the jug in the fridge to chill before using it to steam milk. Very cold milk makes much better foam.
* * *
Happy brewing, everyone! ☕️