I mentioned in our most recent Quality Linkage column that my wife and I have been giving the interior of our travel trailer a bit of a facelift:
[We've] practically been living at the Orlando IKEA as we research and buy things in bursts — a dumb strategy I do not recommend to anyone and can only justify by the fact that we didn't have an IKEA back when we lived in Oklahoma City and are inexperienced but we dived into this project headfirst anyway thinking it would be fairly straightforward and we were WRONG […]
As we near the finish line of this project, I thought I'd put together a little guide of the IKEA items we decided on and why. Enjoy.
Note: Our travel trailer is a 2004 Jayco Jay Flight 27BH, and we bought the items below with that particular space in mind. It should go without saying that if you're going to remodel your own RV, small apartment, or whatever with IKEA stuff, measure every possible thing in your space and match the items that will fit best. "Your mileage may vary" and all that.
* * *
One of the top items to replace on our list was the RV's original couch. It was ugly, not very comfortable to sleep on when folded down into a bed futon-style, and hard to clean around. We knew that anything we replaced it with also needed to have some way to fold out into a bed for when my wife's younger siblings visit us, and after trying every conceivable sleeper couch at IKEA, we settled on the VALLENTUNA sleeper sectional.
The VALLENTUNA series is a modular couch system that allows you to assemble the perfect large or small sofa for your needs. They've got a sleeper seat, a storage seat, and other options you can play with here.
The particular configuration linked above is the one we went with, and includes:
Sleeper seat section — The bottom of the couch slides out like a drawer, revealing a long lower bed frame, which the seat cushion then unfolds onto to create the mattress, as pictured below.
Two backrests — These are taller than the armrest pieces you can select, creating more of a private nook you can hang out in.
Two back cushions — They're expensive for what they are, but the backrests alone — though slightly cushioned — aren't all that comfortable to lean back against, so you kinda need them. I will say that the back cushions are quite comfy, so we didn't mind the added expense.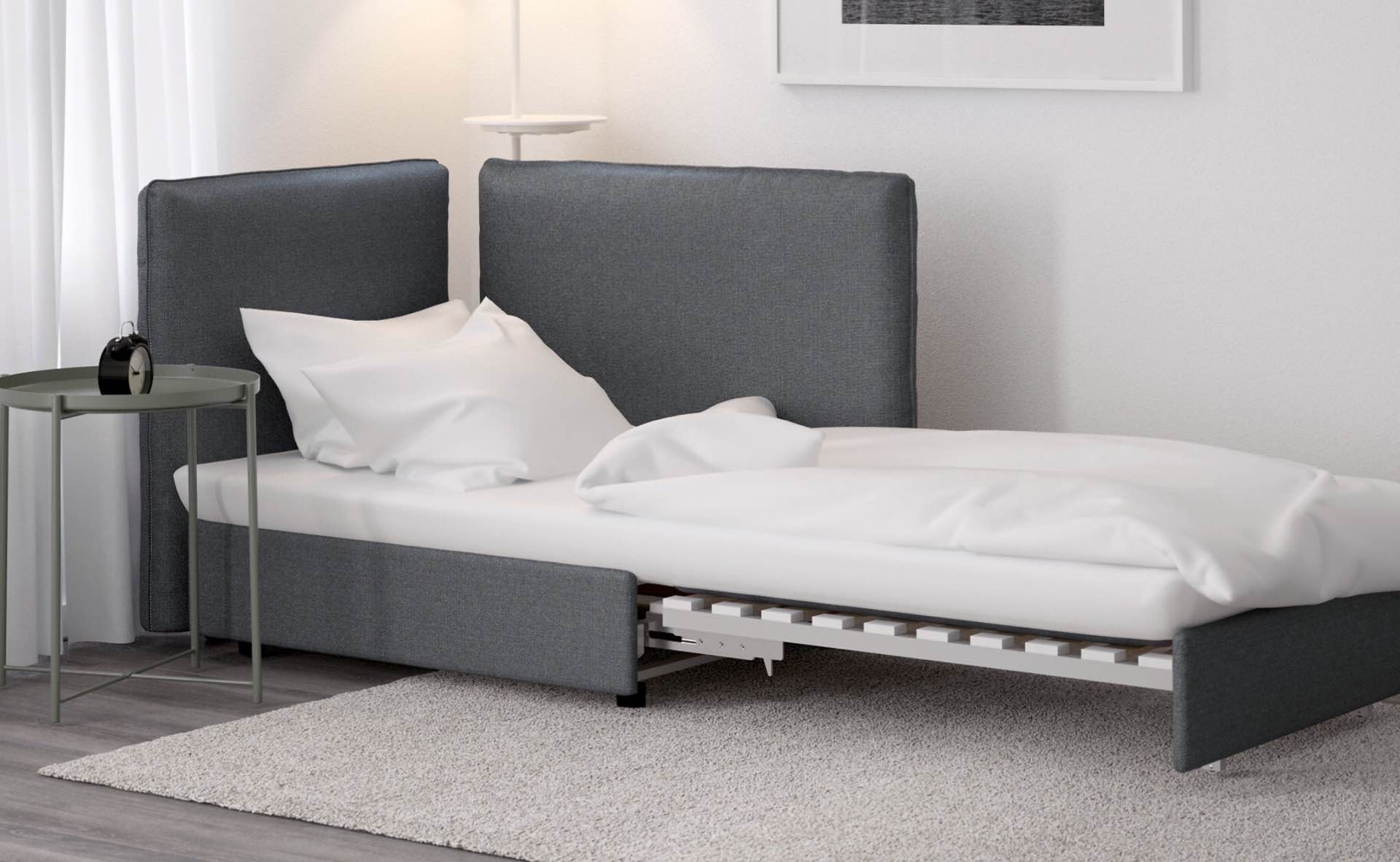 ---
Our old dinette had one thing going for it: When needed, the tabletop could be lowered down onto the two opposed seat frames to create a bed, with the back and bottom seat cushions acting as a "mattress". The problem was that the frame was falling apart in places and the bed mode was never very comfortable.
After carefully measuring the space we had to work with after taking the dinette out, we discovered that the smallest EKEDALEN extendable table would fit perfectly. In its compact form, the square table rests in the corner of the dining area. When we need a little extra room, the end of the table slides out like a drawer, revealing a table leaf we can take out and secure onto the end.
We love, love, love this table. One of our upcoming projects will be finding a way to secure it to the wall so we don't have to flip it upside down onto a blanket while towing the trailer.
---
The table above doesn't come with any seating of its own, and we needed something that wouldn't be too uncomfortable to sit on but could easily stow away when we need more space. We got four of the FROSTA stools, which stack together very neatly and slide under the table when we need them out of the way. They're surprisingly not bad at all to sit on, given they have no cushions.
---
The built-in closets next to our beds are narrow, but tall. Until now, the only way to take advantage of that vertical space was to stack a bunch of folded clothes. With a few of these SLÄKTING hanging organizers, we were able to add "shelving" to our closets and keep things better organized, with some additional structure thanks to these compartment boxes.
It's not quite as cool as what the guy at 6:59 of this video has — where he keeps two of these organizers stowed in box-like cabinets on the floor of his van and extends them upward to hang them from ceiling hooks as needed, with clothes and shoes already inside — but they're helpful nonetheless.
---
There's no dishwasher in our RV, so we have to wash dishes by hand. Our system until now usually involved setting wet dishes face-down on a towel spread across the stovetop's fold-down cover to air-dry a while. The GRUNDTAL dish drainer lets us get drying dishes out of the way so we can still use the stove without having to put everything away first.
Before you ask, yes, we know we're a little lazy about putting the clean dishes away. Sue us.
---
Our RV is a "bunkhouse" (hence the 27BH model number), which means it has a bunk bed area for our son. We took the bottom mattress out forever ago to turn that area into a kind of playing/reading area, but keeping his toys and books organized in there is something of a pain, especially when we move the trailer.
We picked up IKEA's TRONES shoe/storage cabinets, which come in packs of three. They're wall-mountable and stackable, and they stay out of the way thanks to their narrow vertical dimensions. Rather than sliding out like drawers — which we've tried in the past but those always fall over/out when we move — they tilt out at an angle.
They're ostensibly for storing shoes, but they've worked quite well for his toys and such.
---
This is nowhere near everything we've bought from IKEA — my wallet will be crying about this project for a good while — but the items above are definitely the most important of the bunch.