We love a good board game here at Tools & Toys. Admittedly, many of the more modern ones aren't the prettiest things in the world to look at. Here are some deluxe takes on a few classic board games, along with newer ones worthy of their company.
Obviously any redesigned classics we list here are more expensive than what you'd spend on their cheapy plastic counterparts. The point here isn't to save money; you're inviting beautiful, functional works of art into your home. These are collector pieces — games to be loved and then passed down as heirlooms.
* * *
If you've ever played Hasbro's classic Connect Four game, Restoration Hardware's reimagined version (dubbed "Four Up") is essentially the same but fancier. Rather than using colorful plastic components, the board here is crafted from wood with a vintage natural finish while the pieces are made from aluminum in silver and matte black. They've really done a beautiful job with this.
---
This portable chess set by designer Nick Rawcliffe of Raw Studio is one luxurious way to play the classic game on the go.
The board is hand cut and sewn from Italian leather, with the square tiles alternating between the suede and skin sides of the same hide for a difference in both color and tactile feel. The gorgeous game pieces themselves are made from stainless steel and have been heat-treated and hand-polished in order to create their different colors.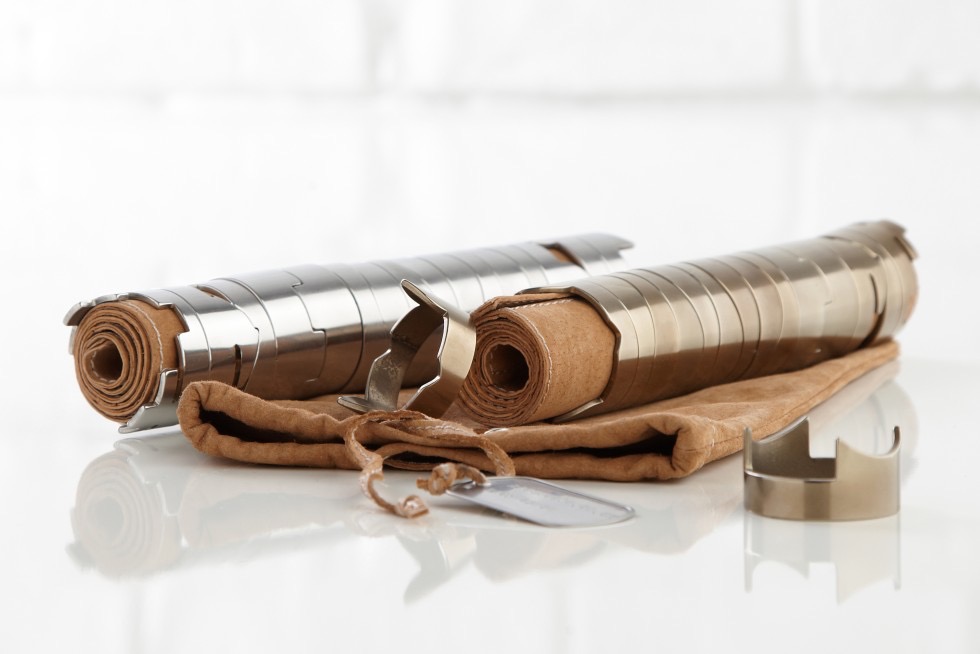 When you're done playing, roll up each half of the board and slip the interlocking game pieces along the tubes for easy storage. The whole set can be displayed in a preservation-grade box made by third-generation box makers in London, using Victorian-age machinery. Or, you can simply stow the rolls in your luggage for easy travel.
Other great chess sets:
ToolChess — Currently sold out. I emailed Will Gallmeyer to see if they intend to restock soon, and he says to check back in mid-2016, because they're "working with a manufacturer to try and have them made in reasonable quantities (like, more than one at a time) :)"
3-Man Chess — Fair warning: This one may have you forming alliances and testing friendships.
---
Rock Me Archimedes is a marble/board game that appeals to us on several levels:
Brainy level: It's a simple game to pick up, but has enough strategic complexity to keep things interesting. The goal: Get four marbles from the center to your end zone before your opponent does, and without the board touching the table during your turn.
Geeky level: The game was inspired by the Greek mathematician of the same name, who first explained the principle of the lever.

Parent level: It's great for all ages. As Laura Grace Weldon of GeekMom put it:

It's said to be for ages eight and up, but we've found that much younger children (with supervision) enjoy using the game for open-ended play. Three-year-old Millie recently spent nearly an hour lining up black and white marbles on the game board in different configurations without tipping it.
See the game in action here:
---
Typography nerds will love this second edition of Scrabble Typography by graphic designer Andrew Capener.
Hidden under the gorgeous walnut game board is a cork-lined maple box for storing the game's various components — including four walnut tile racks and 100 maple tiles with non-slip backs — as well as a built-in lazy susan for easily turning the board around during gameplay. The tiles themselves sport fifteen new fonts that have never been used in any other editions of Scrabble, which makes the game a lot more interesting to look at.
---
Snakes and Ladders is one of the oldest board games around today. This 23″ luxury redesign features the original early-1800s artwork and circular game route in a lacquered, solid Mahogany wood frame.