Children are a naturally curious bunch, and as parents — or as adults in the community in general — it's up to us to guide them such that they discover and explore subjects that help them reach their full potential.
Among those subjects are the typical STEM categories: science, technology, engineering, and math. Deep dives into these areas of study can teach kids valuable skills and lessons they will carry far into the future. Moreover, the world is ever more in need of experts these fields, so it's never too early to introduce kids to this kind of subject matter and see which of it (if anything) sticks with them at a core level.
Here are a handful of STEM-friendly books, toys, and projects that can encourage the child in your life to take an interest in such fields.
After perusing this guide, head over to check out a related one we wrote last year: Eureka! 7 Gifts for Science Nerds
* * *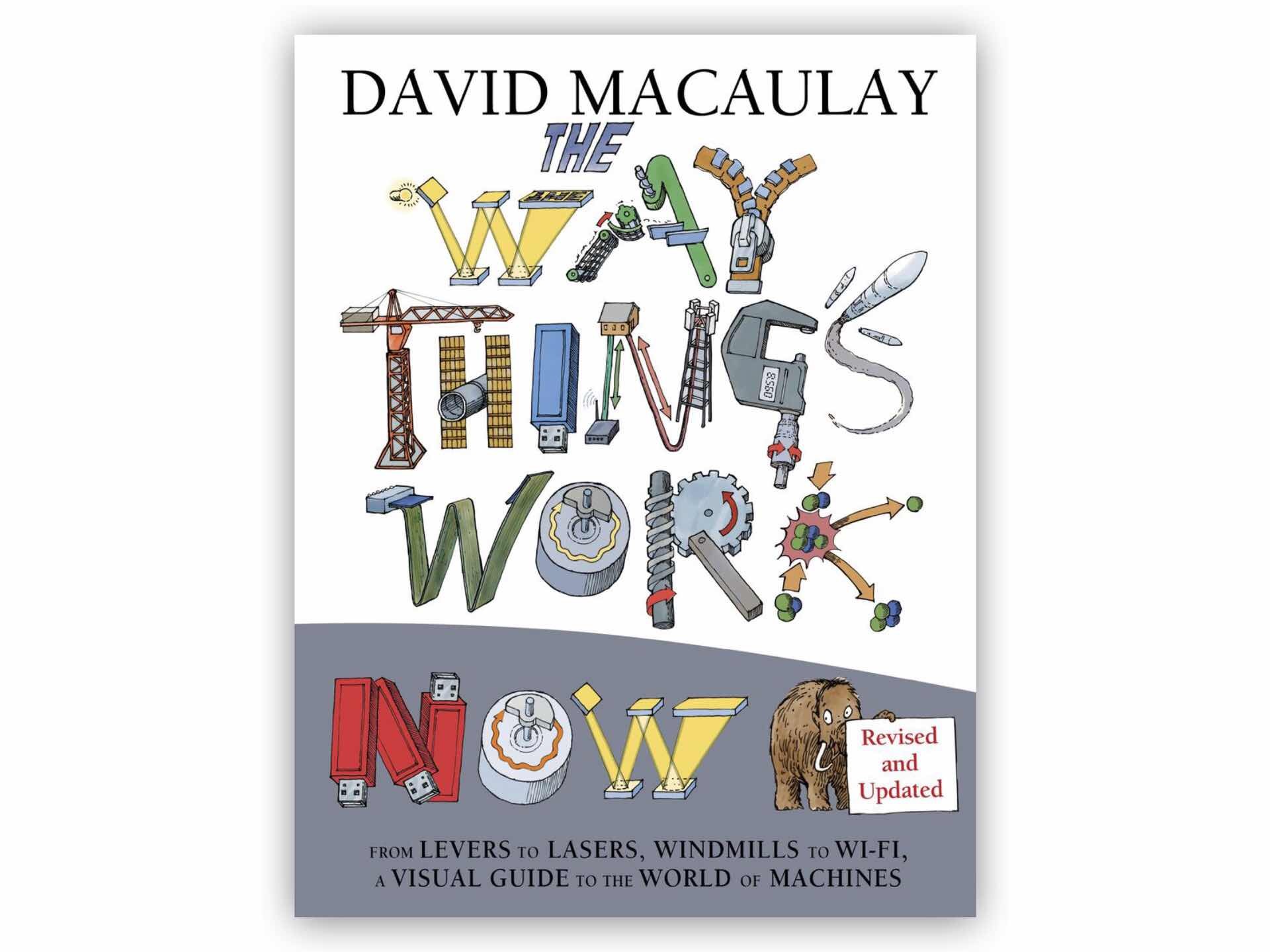 ($27 for the hardcover / $20 for both the Kindle and Apple Books editions)
David Macaulay's The Way Things Work Now is the 3rd edition of a book that introduces kids to the inner workings of everyday machines in an entertaining and informative way:
Famously packed with information on the inner workings of everything from windmills to Wi-Fi, this extraordinary and humorous book both guides readers through the fundamental principles of machines, and shows how the developments of the past are building the world of tomorrow. This sweepingly revised edition embraces all of the latest developments, from touchscreens to 3D printer. Each scientific principle is brilliantly explained–with the help of a charming, if rather slow-witted, woolly mammoth.

An illustrated survey of significant inventions closes the book, along with a glossary of technical terms, and an index. What possible link could there be between zippers and plows, dentist drills and windmills? Parking meters and meat grinders, jumbo jets and jackhammers, remote control and rockets, electric guitars and egg beaters? Macaulay explains them all.
Notice that wooly mammoth on the cover above? Miniature versions of those guys make appearances (often as "operators" of sorts) throughout the comprehensive and playful diagrams of machines, which range from basic levers and gears to modern gadgets and music instruments.
+ Read our original post here.
---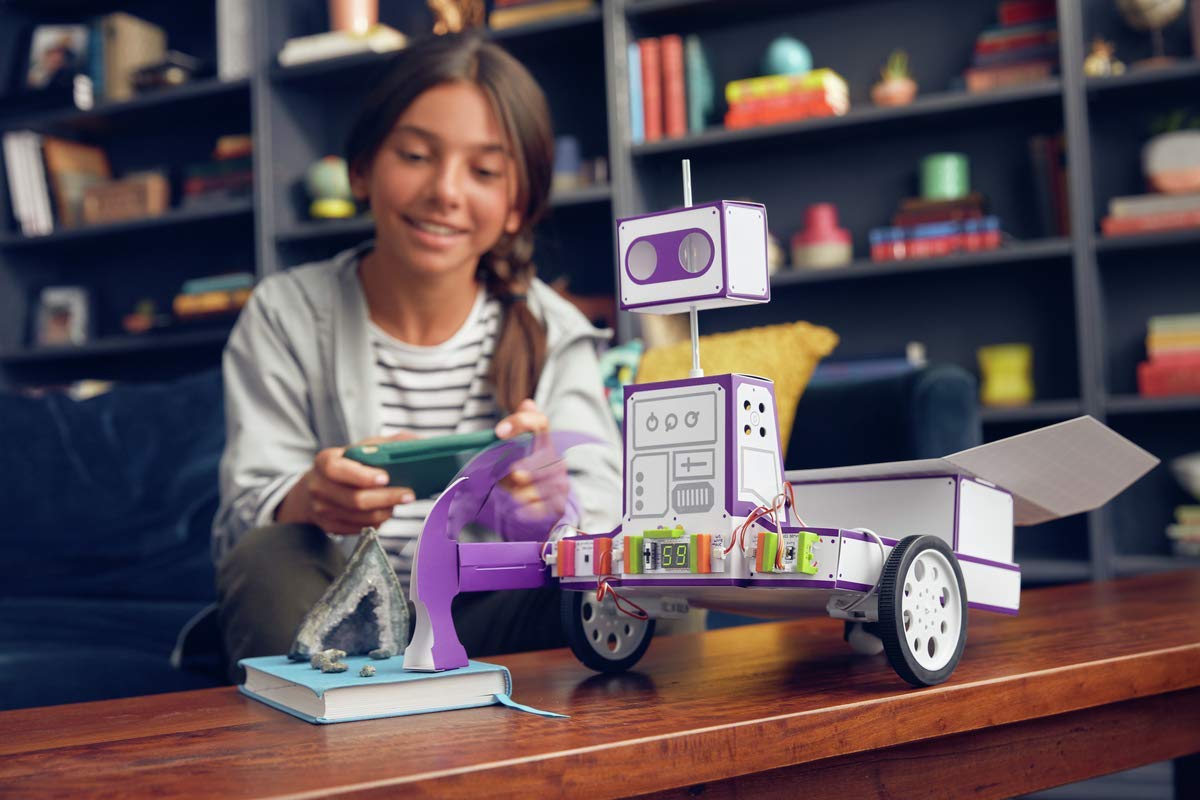 ($91)
littleBits' Space Rover Inventor Kit lets creative kids build and customize a planetary rover, then undertake hours of missions inspired by NASA astronauts. This short video covers it pretty well:
Once assembled, you can pair the rover with the free littleBits app — also compatible with the company's Electronic Music Inventor Kit and Base Inventor Kit — to give the little guy new abilities, like collecting specimens, detecting alien life, powering up via solar panels, breaking through obstacles, and more.
+ Read our original post here.
---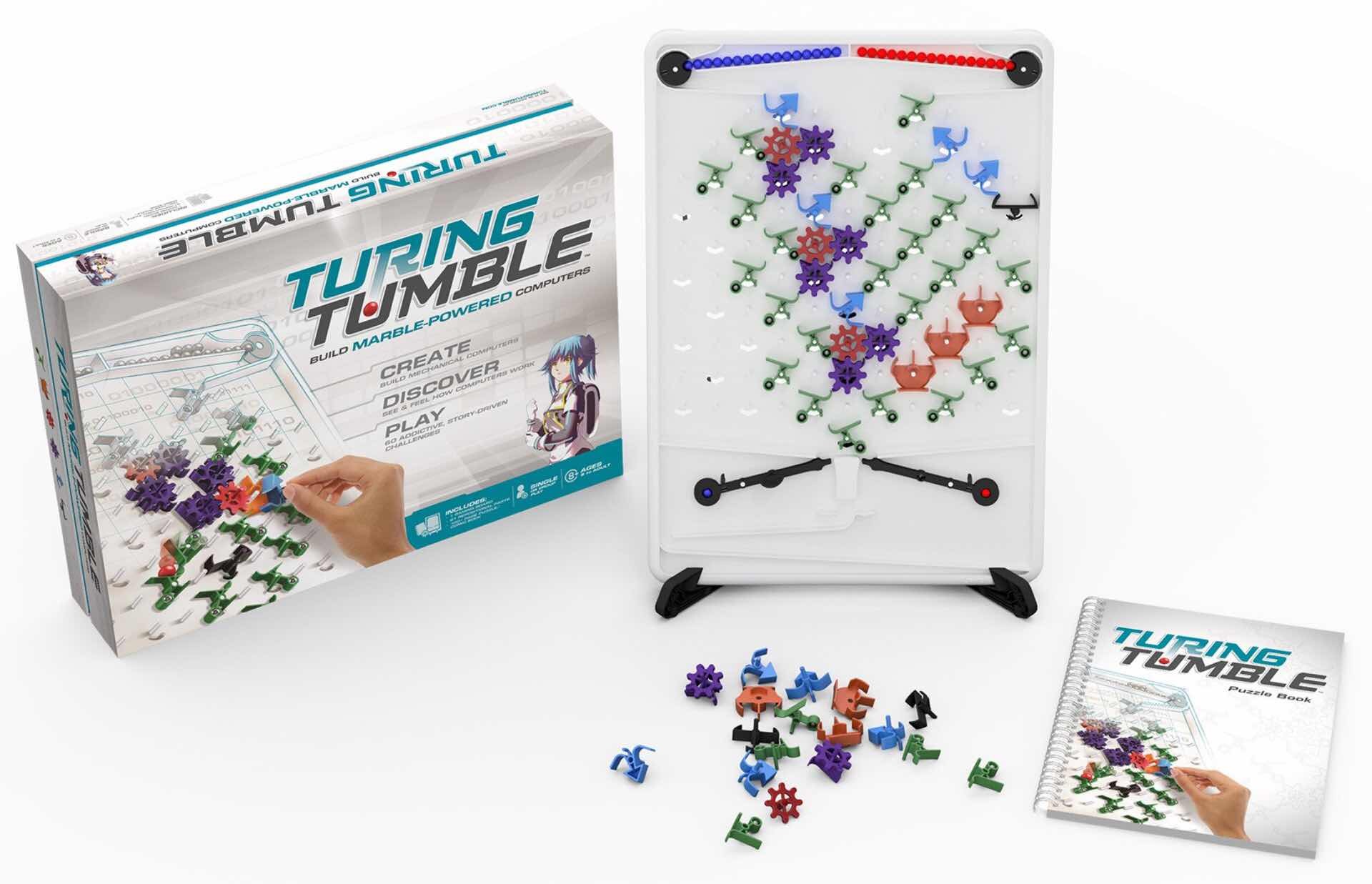 ($70 for the standard kit; as of this writing, the game is still unavailable on Amazon)
Programming and generally knowing how computers "think" are other types of skills kids will be expected to have in the coming years, and Turing Tumble is a really cool game that should get them started on the right track.
With just the included marbles and other components, along with the game board itself, players get to build simple marble-powered computers (akin to that "Plinko" game on The Price is Right) in order to solve a series of logic puzzles — no electronics required.
It's crazy what you can do with simple switches connected together in clever ways.
+ Read our original post here.
---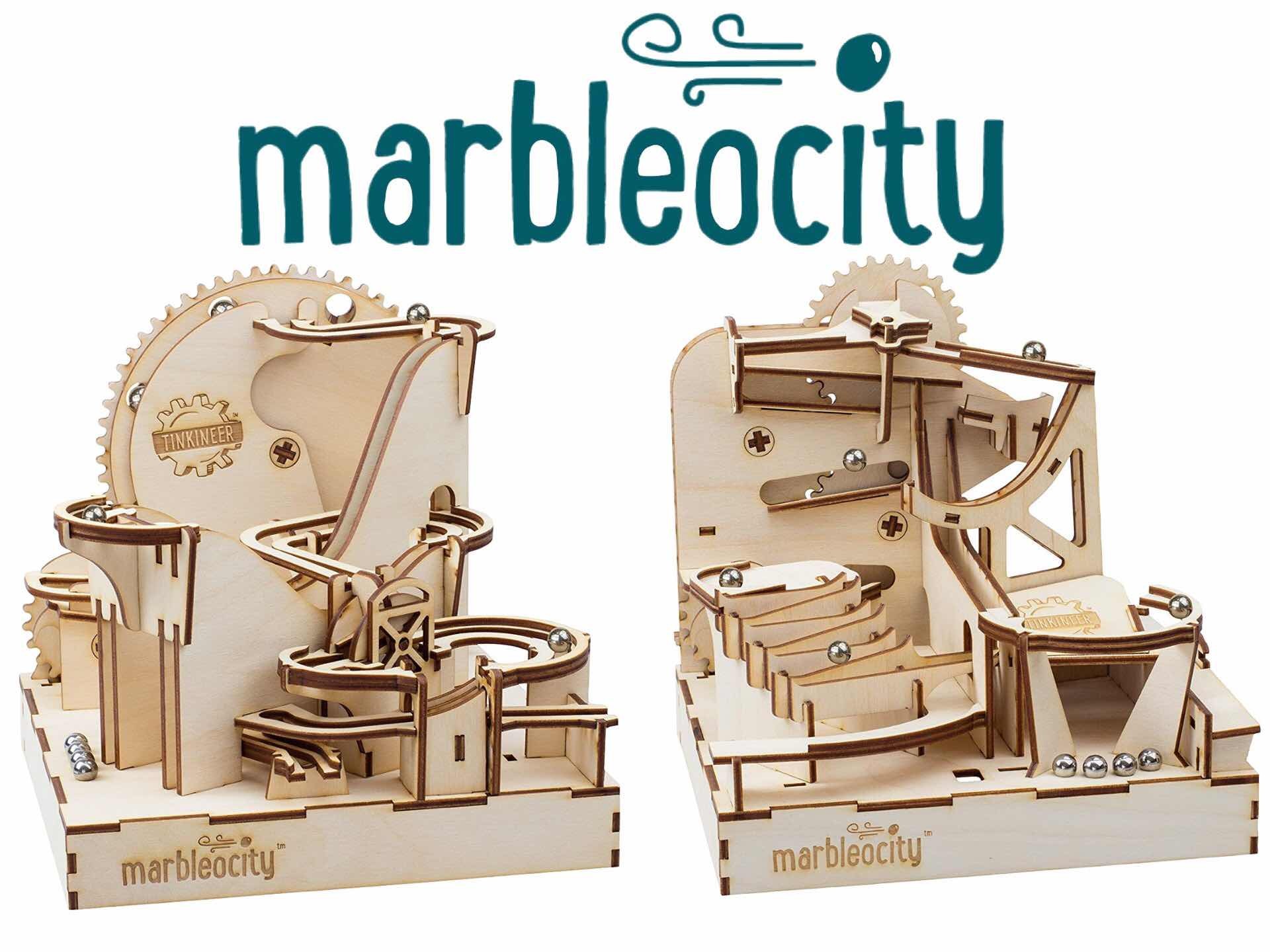 ($19–$44, depending on kit)
Marbleocityis a series of build-it-yourself wooden marble machines that intoduce children to engineering principles and physics concepts in a fun, tactile way. The assembly directions in each kit include a graphic novel featuring the "Tinkineers", a group of cartoon high schoolers who present lessons and principles through their eyes, so to speak.
What's awesome about these kits is that you don't need special tools to assemble them — just regular old white glue. And, they're designed to be operated via hand crank so there's no electronics or power sources to futz with, though you can opt for a Marbleocity motor kit ($16) to automate the kit and simply watch the marbles go where they will. (You'll have to provide your own AA batteries in that case.)
+ Read our original post here.
---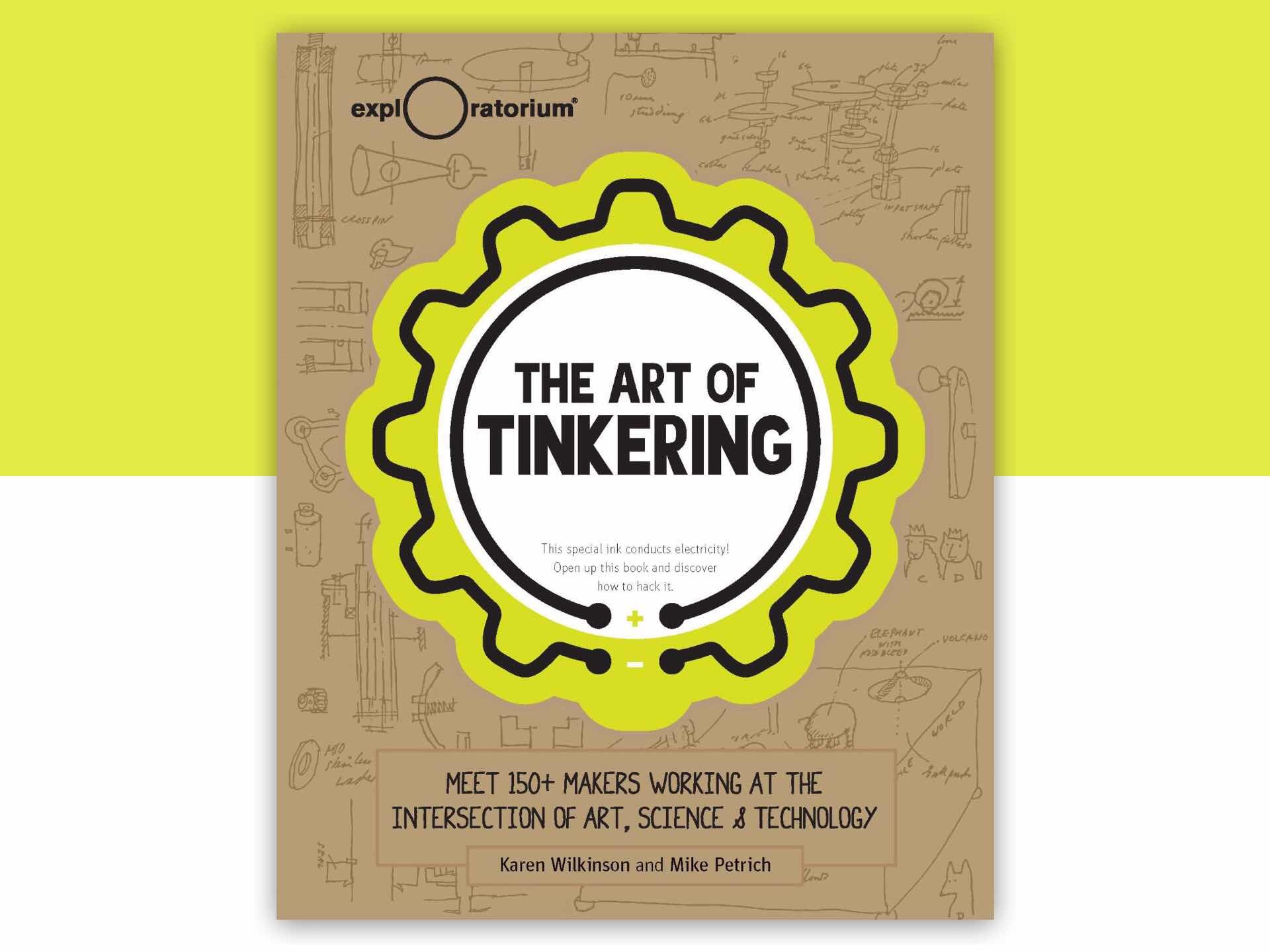 ($20 hardcover)
The Art of Tinkering is a 2014 book by The Exploratorium, a San Francisco-based science museum that's considered one of the best attractions in the city. But I digress. This book is a fantastic way to introduce kids to tinkering and maker culture:
The Art of Tinkering is a collection of exhibits, artwork, and projects that celebrate a whole new way to learn, in which people create their own knowledge through making and doing, working with readily available materials, getting their hands dirty, collaborating with others, problem-solving in the most fun sense of the word, and, yes, oftentimes failing and bouncing back from getting stuck.
The artists and tinkerers featured throughout the book share the stories and behind-the-scenes of how they tinker, offering a bevy of smart and inspiring lessons and tips along the way.
+ Read our original post here.
---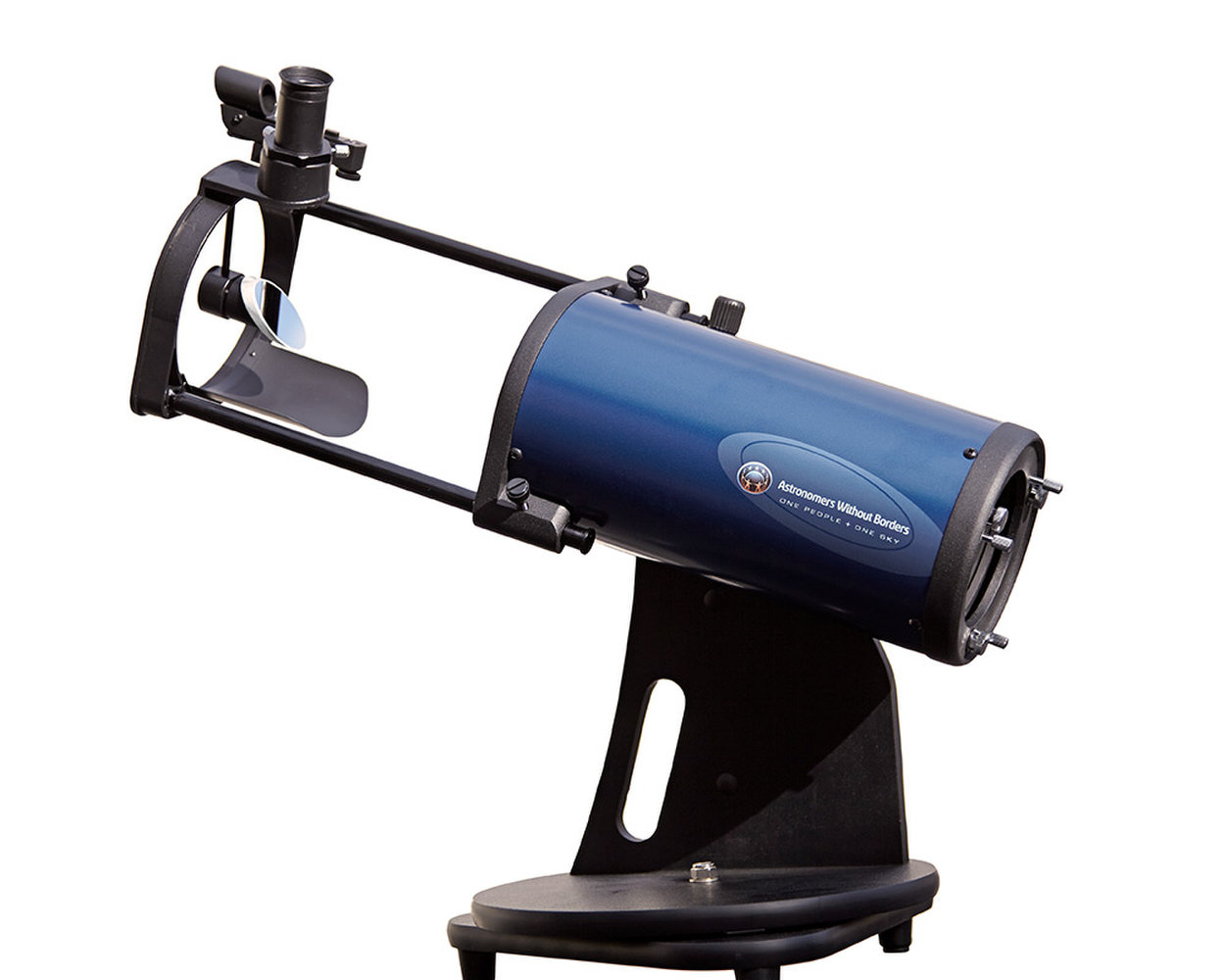 ($200)
This is by far the most expensive item on today's list, but a worthy one indeed for what you spend.
The AWB Onesky Reflector telescope is a surprisingly high quality stargazing tool for its price point, with proceeds going to an excellent cause. It's designed for beginner astronomers who prefer to learn the ins and outs of stargazing in a more hands-on way, rather than passively opening the box and getting straight to it and thereby skipping a rather educational aspect of the experience.
The OneSky Reflector is lightweight, portable, and easy to put together. As long as you're okay with the thought of manually aligning (AKA "collimating") the OneSky's mirrors, you're sure to have an awesome time viewing celestial objects afterward.
+ Read our original post here.
---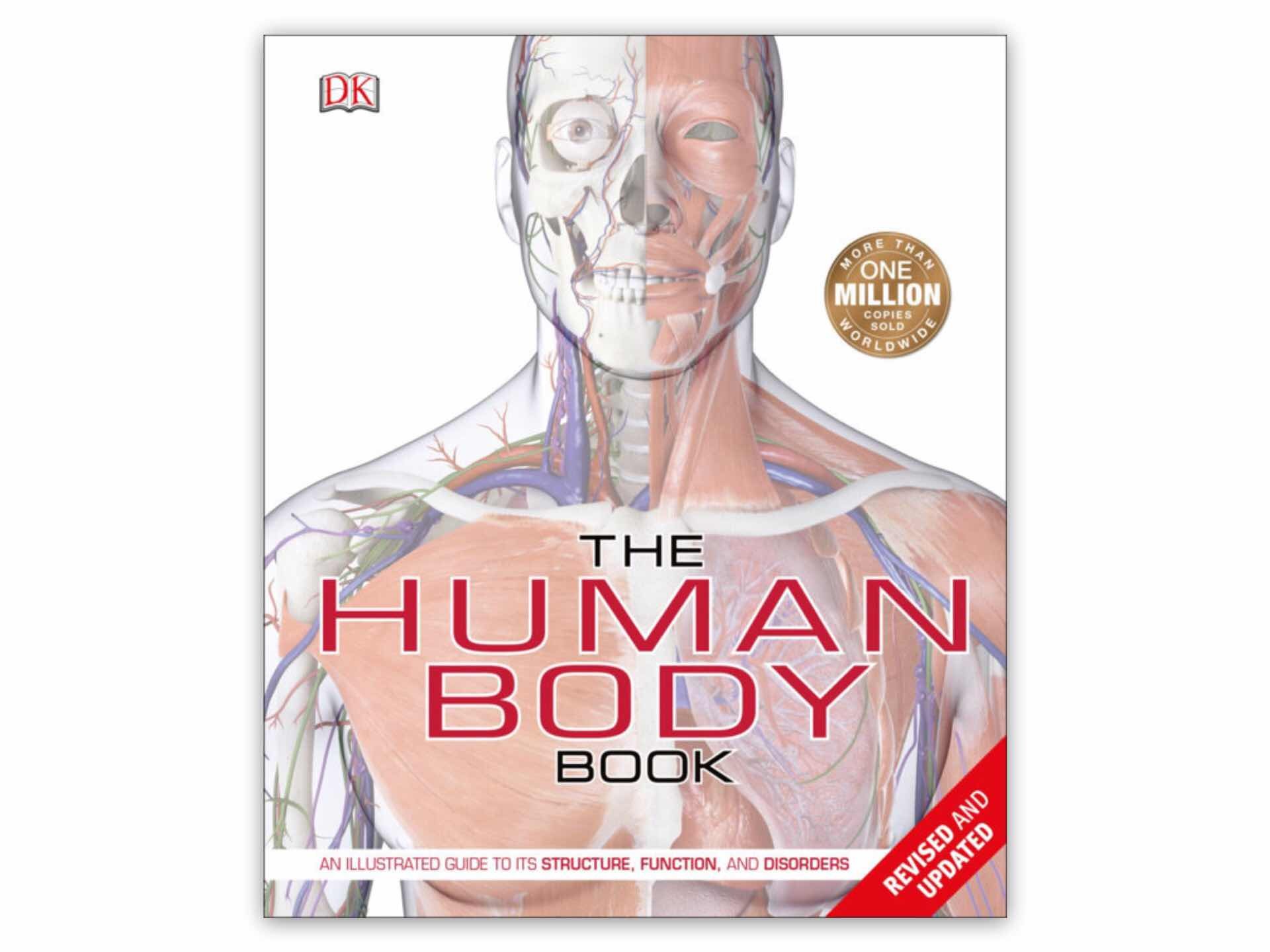 ($22 — releases March 12th, 2019)
Richard Walker's The Human Body Book is one of those tomes that young pupils fascinated by biological science the world over have been obsessing over ever since it released in 2007 and was updated (the first time around) in 2013. It's actually more of a medical reference book than something designed with children in mind, but it's still recommended highly for young readers just because it's so thorough and well-illustrated.
The upcoming 3rd edition is slated for release on March 12th, 2019 and is updated to reflect the latest medical information:
The opening chapter, Integrated Body, explains how the parts of the body work together at various levels of size and hierarchy to produce the living whole. It also contains an overview of the major body systems, enlivened by real-life 3D medical scans of the entire body. The chapters that follow provide coverage of the body function by function, system by system. Eleven main body systems are covered in turn, with each section ending on common injuries, diseases, and disorders afflicting that system. The book concludes with a chapter on Growth and Development which looks in detail at how the body changes over the course of a human lifespan.
+ Read our original post here.