It may be hard to believe, but as extensive as our 2016 Christmas Catalog is, there were quite a few items from the past year that we ended up leaving out of the guide.
Some of them just didn't make the cut, while others were either sold out or wouldn't be available in time for the holidays. The items in today's guide are the ones on the…weirder side. We love this stuff just as much as anything that made the Christmas Catalog, but felt it'd be more appropriate to collect them into a novelty gift guide of their own.
Enjoy!
* * *
There's never a bad time for novelty Star Wars stuff, but it's especially fun at Christmas. We love this R2-D2 pizza cutter that actually bleeps and bloops like its droid inspiration whenever pressed down. You can hear what it sounds like at 2:48 of this video:
Along the same lines, you can also pre-order this R2-D2 coffee press from ThinkGeek for $40, though if you haven't already done so by now, it won't arrive until at least mid- to late-January 2017.
---
When The Bob's Burgers Burger Book: Real Recipes for Joke Burgers was released earlier this year, it immediately became the #1 best seller in Burger & Sandwich Recipes on Amazon, and now it's the #1 best seller in Meat Cooking. As hilarious as that is to us, the 75 burger recipes in this book — which are taken from the cartoon series' various "burgers of the day" — really are edible, should you dare to make them.
We like the description for the brilliantly-named Poutine on the Ritz Burger (read it in Bob Belcher's voice):
Guaranteed to delight your taste buds, this all-beef patty is cooked in brown gravy, topped with sliced potato fries, fresh cheese curds, and Ritz cracker crumbs—and comes with a side of poutine fries. The Ritz crackers provide a welcome, buttery crunch. I'm pretty sure there are enough calories for at least a couple days in here. Fresh cheese curds may be a bit hard to find, but you can normally get them at higher end grocery stores or local dairies. Makes 4 burgers, plus plenty of poutine fries.
The entire Belcher family and other characters from the show appear throughout, as well as obligatory burger puns. This is just a delightful book for fans of Bob's Burgers.
---
The "Hobo" Knife by W.R. Case & Sons Cutlery Co. — arguably best known for their classic Trapper knife — is a cutlery set disguised as a pocket knife. It's got a stainless steel knife, fork, and spoon that can be tucked away while carrying or unfolded for eating. Useful on the trail or while traveling.
Once open, the fork and spoon can both slide and separate apart so you can use multiple utensils at once, as this video demonstrates at the 1:31 mark:
As you can also see there, the fork and spoon each have a can opener built into their respective handles.
---
Hidden within Kikkerland's animal multi-tool are 7 tools that unfold to reveal fun animal shapes like a giraffe/llama (file), a dog/hippo (wire stripper), and a rhino (bottle opener). The four legs are comprised of a flat-head screwdriver, a Phillips head screwdriver, a hole punch, and a blade.
Here are its animal "modes":
There's also a regular large knife tucked away in there: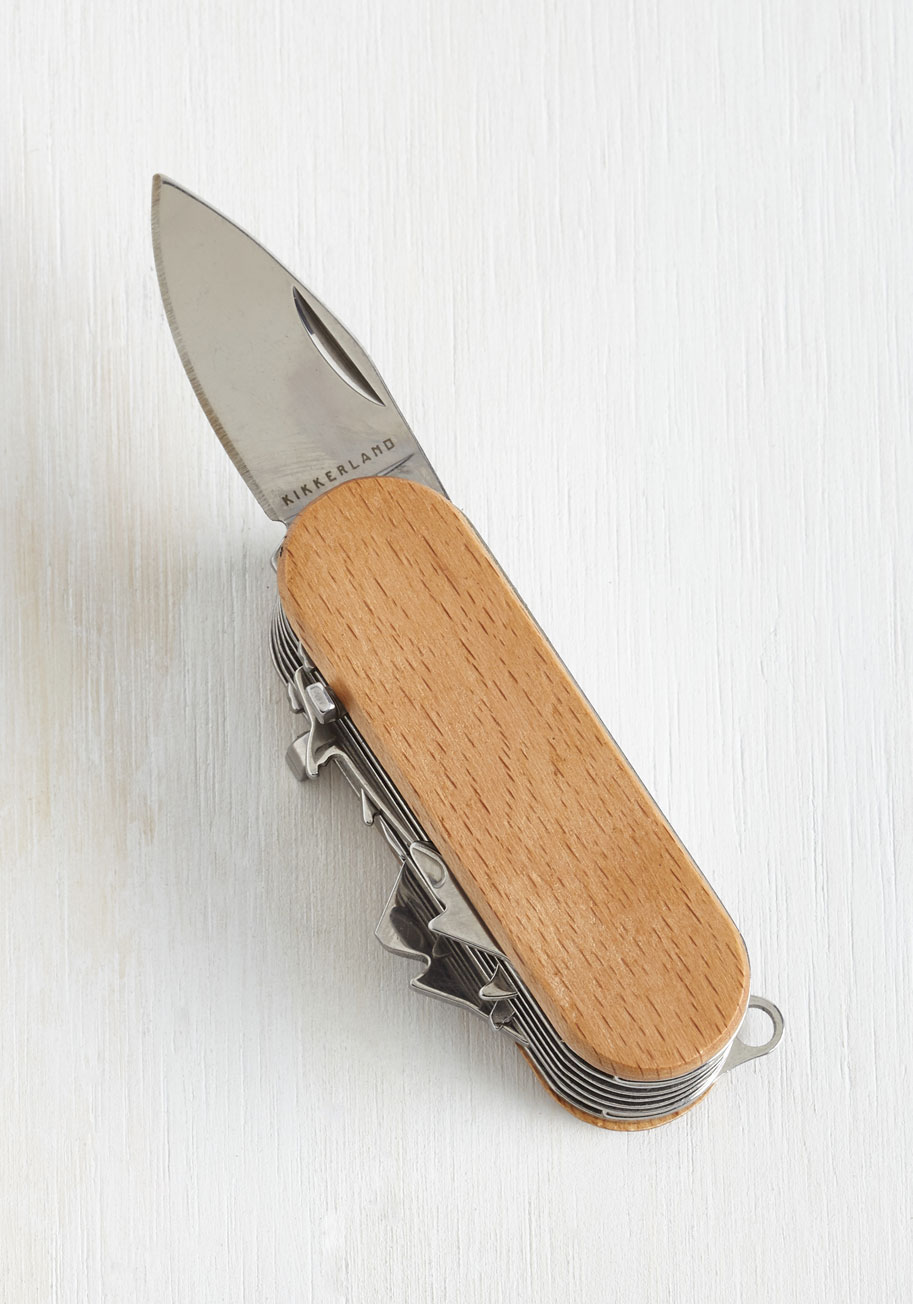 This would make a great first multi-tool for a kid (provided they know how to handle a knife) or a fun gift for a friend.
---
This Harry Potter-inspired "Lumos/Nox" light switch cover — designed by Derrick Kendall of Sci-Collectables — is an easy way to add a little magic to any home or office. Fans of the series will know that the wizard spell Lumos creates a bright light at the tip of one's wand (much like a flashlight), while the counter-spell Nox extinguishes it. This light switch cover takes that idea and runs with it.
The base material of the cover is actually a kind of plastic painted to look like aged copper with a patina (which the two included screws are painted to match) and with a custom raised/embossed design for the words Lumos and Nox. It fits all standard US light switches and is easy to install.
The cover comes in single switch ($17), double switch ($23), triple switch ($30), and decorator switch ($17) versions.
---
Daneson's "Cinnamint No. 7" toothpicks are flavored like cinnamon with a subtle hint of raw mint. They're made from veneer-quality Northern White Birch wood milled right here in the US, in a sustainable way and using all-natural flavoring ingredients such as essential oils and single malt scotch. Every bottle has a minimum of a dozen toothpicks.
---
Crane's Suzu lever-strike bicycle bell isn't like that terrible, cheapy bell we all had on our bikes as kids. Instead of an annoying brrring-brrring noise, this Japanese-made brass bell produces a bright, clear tone that lingers for a surprising amount of time, in a pleasant way. It's definitely an attention-getter (though a relatively polite one) when you're trying to notify pedestrians that you're coming up on them.
In addition to the brass version ($12), the bell also comes in copper ($17) and aluminum alloy ($16), which have their own distinct sounds.
Note: The bell is not clear-coated, so it will tarnish pretty quickly unless a little brass polish is applied from time to time. Whoever you gift this to will have to decide whether or not they prefer the "antique" look over doing occasional maintenance.
---
Live long, prosper, and send greeting cards.


September 2016 marked the 50th anniversary of the first airing of Star Trek here in the United States. To celebrate, the US Postal Service released a twenty-count set of commemorative "Forever" postage stamps designed by The Heads of State. The four respective stamps (of which there are five of each) in the set are:
The Starship Enterprise inside the outline of a Starfleet insignia against a gold background
The silhouette of a crewman in a transporter against a red background
The silhouette of the Enterprise from above against a green background
The Enterprise inside the outline of the Vulcan salute (Spock's iconic hand gesture) against a blue background
---
The Diabolix bottle opener is one with a lot of personality. It's made from polyamide (PA) resin with stainless steel teeth, so it'll last your recipient for years and years, plus it's comfortable to grip and easy to find in a drawer when they need it. It always puts a smile on guests' faces when it's broken out at parties.
---
When Instagram changed their logo this summer, it didn't take long for Kickasso Kustoms (aka K_O Brand) to develop these hand-painted Nike Roshe shoes inspired by it. Instagram's gradient palette is all there, and the Swoosh is even outlined in white. If you or someone you know is into collecting one-of-a-kind, eye-catching footwear, you can't go wrong with these.
---
Yippee-ki-yay! This official Die Hard coloring book has all your favorite moments and quotes from the film, recreated in black-and-white drawings for you to color however you like. There are also some amusing activities, like a "broken glass" maze that you help John McClane navigate.
Please note that this book contains violent material not suited for children. Do not buy this for a kid unless they're old enough to have seen Die Hard and can appreciate something like this with some level of maturity.