Just like last year, we ended up culling so many great items from our 2015 Christmas Catalog that we felt we should assemble some of the more affordable ones into a new collection of stocking stuffers.
As of this writing, not a single item on the list below exceeds twenty bucks. If you need cheap gift ideas, look no further.
* * *
A lot of folks are going to be getting the new Apple TV this Christmas, which means there are about to be a bunch of lost remotes in households everywhere. But it doesn't have to be that way. Our friends at Studio Neat have designed an Apple remote stand to act as a home for such remotes.
The idea is simple: It's a tiny piece of CNC-milled walnut (finished by hand with tung oil) with an Apple Remote slot and a "micro-suction" pad on the bottom that uses tiny suction cups to adhere to nearly any flat surface without leaving a gooey residue.
Your friends and family will love you for this one.
---
Look, don't ask us how to pronounce "Tmvel". All we know is that, for less than $11, this little waterproof Bluetooth speaker sounds surprisingly good. No, it won't beat out a $100 Bluetooth speaker, but it's also a fraction of the price. It can automatically pair with an iPhone or iPad when turned on, even if that device is in another room (10 meters max).
One thing to keep in mind: It charges via a DC→USB connector rather than mini-USB→USB (which we always have on hand), so don't go losing that cable. But hey, once it's charged you get 6 hours of playback time and 120 hours of standby. Not bad.
---
Speaking of waterproof gifts, AquaNotes are perfect for capturing ideas where they often strike most — in the shower.
This 40-page notepad and accompanying water-resistant cedar pencil attach to a shower wall via suction cups for easy access. Each non-toxic and recyclable page is perforated, so someone's ideas, to-do lists, doodles, and love notes can easily leave the shower once they've been jotted down.
---
Whether or not we'd like to admit it, many of us — especially men, but also some women — will need a nose- and ear-hair trimmer at some point. Panasonic's ER-GN30-K Vortex gets the job done quickly and silently. Plus, it's small enough to bring on trips, is easy to clean, and won't pull hairs while trimming. It's not skin-close though, so don't think of it as a shaver.
---
I (Chris) have known several people in real life who have looked at scalp massagers like these and said something along the lines of, "Why would anyone use one of those?" or, "That alien-looking thing is going nowhere near my head."
Then they try one.
Then they get it.
I mean, you don't get reviews like this for no reason:
★★★★★ Fingertips of Angels

The law of diminishing returns does not apply to this product. It is every bit as euphoria-inducing as it is the first time you use it. Never before or since have I felt such serenity as I do when stroking my cranium with this majestic apparatus. A worldwide fundraising project to provide every man, woman and child one of these is the clear way to world peace.
Whether or not you or your loved ones already know the joys of scalp massagers, you'd be crazy not to pick up this pack of two. Keep one for yourself, gift the other one. Bam.
As of this writing the 2-pack is going for just $2.02 on Amazon (I've seen it as low as $1.89 in the past), and with free shipping. Just know that the ones that arrive at your doorstep probably won't look exactly like the ones pictured.
---
The Go-Comb is a high-grade stainless steel comb about the size (and roughly the shape) of a credit card. I'm sure you know what that means — it's a comb that lives in one's wallet. It works well for both head and beard hair, and it has a smooth coating that not only lets it glide through hair and makes the comb easy to clean, but also helps prevent other cards in the wallet from getting scratched up.
---
Convoy Co.'s leather key fob.
When it comes to style, sometimes it's the little accents that make a big difference. For example, this leather key fob from Convoy Co. doesn't have much practical use, but it sure makes any key ring look good — adding a small touch of class without screaming, Look at me!
The tan version is made from genuine Italian cowhide (which will age beautifully), while the black and grey versions are made from leather sourced from New Zealand. In all cases, the split key ring is made from heavy-duty gunmetal.
---
The Stem Gem strawberry huller by Chef'n may not prove quite as useful until summer rolls around, but that doesn't make it any less of a great holiday gift. When strawberries finally come back into season, your loved ones will think of your foresight fondly.
You see, the Stem Gem makes the process of cutting out strawberry stems way easier. All you do is press the green button to open the claw at the other end, insert the claw into a strawberry, twist, then pull. The stem comes out cleanly, leaving an intact strawberry ready to be sliced, boiled, blended, used as a garnish, served at a party, made into soda, or simply eaten right there on the spot.
Once they've got the process down, a person can breeze through an entire batch of berries in no time flat.
---
In some households, a bottle of wine can be dispatched in a single sitting. For those of us who drink the stuff a little more slowly, Vacu Vin's vacuum wine pump is great because it extends the wine's shelf life to a week or two, rather than a day or two.
After you've poured what you want, you just wet the little rubber stopper, place it in the bottle opening, then place the pump over the top and pump 5-6 times or until you hear it click. The next time you want to open that bottle, push the rubber stopper's air valve to one side and then pull the whole thing out. Pretty easy.
It comes with two stoppers, so you can store two bottles at once — whether the wine is red or white.
---
Earlier this year the folks at Jet Pens began offering redesigned Sakura Pigma Micron pens in the 005 size (0.20mm). On the inside they're the same great pens as ever, but now they come in beautiful dark navy cases with golden clips, rather than plain beige with silvery clips. These pens are perfect for lettering, sketching, writing, and even doing craft work.
If you're unfamiliar with micron pens, hand-letterer Sean McCabe can explain:
Microns are hands-down my favorite pens. They don't bleed, they're affordable, long-lasting (as long as you're diligent about capping them), and above all: consistent. Virtually no matter how you hold the pen, you're going to get a consistent line in whatever size tip you're using. The ink is dark, and in no way translucent. You can't do any better when it comes to making letters.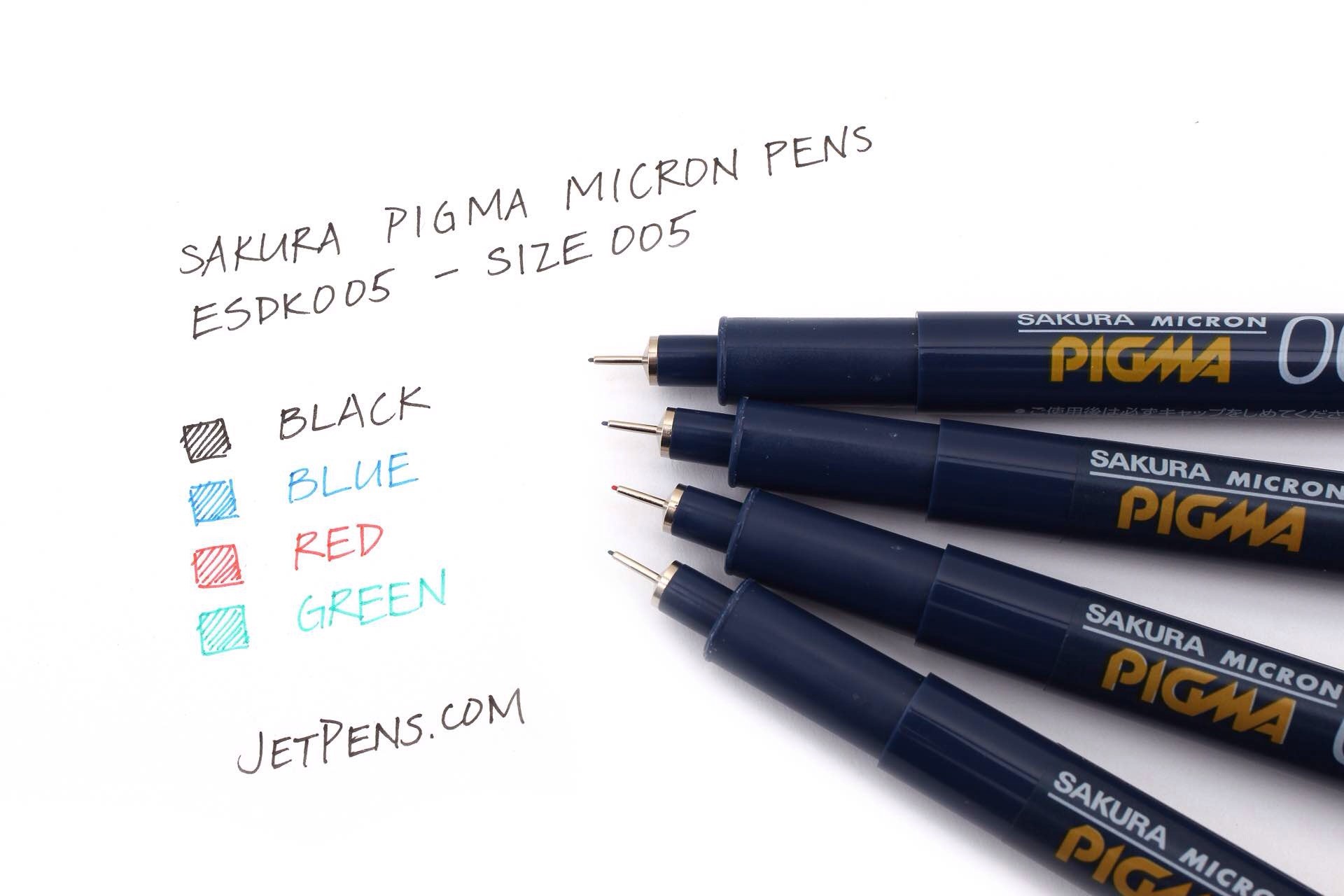 Pictured above are the pens' respective color outputs: black, blue, red, and green. Each pen is $3.60 a pop.
---
For any of your loved ones still into sending handwritten letters the old-fashioned way, this laser-cut wooden border stencil from stationery company Paper Pastries makes it easy to snazz up the recipient address area on each envelope. As far as styling goes, we agree with Doug Lane of Modern Stationer (emphasis ours):
You can stencil an outer border, an inner border, and three address lines. Stenciling all three elements on one envelope gets a bit busy. My preferred style is a single outer border with address lines.
Here's what he means: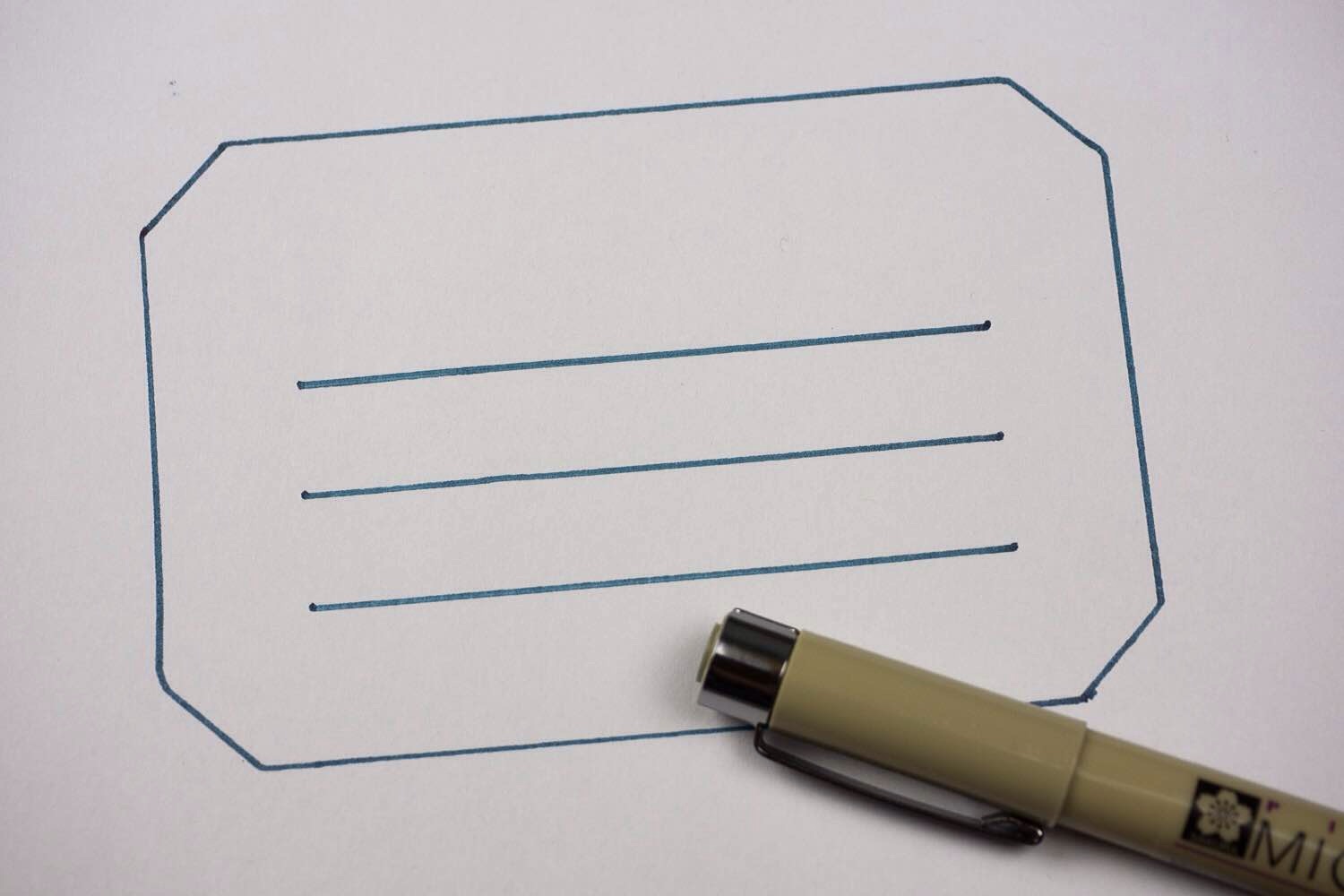 Cool, right?
---
The dot-grid Confidant by Baron Fig, in our humble opinion, is just about the best journal notebook on the planet. It's exactly the right size, has exactly the right type of paper, and is very well made. We never leave home without one in our bag, and neither should your loved ones.
Recently, Baron Fig have begun offering a beautiful charcoal version of the Confidant in addition to their flagship grey.
---
In addition to helping cut drying time, Smart Sheep's wool dryer balls are also a natural way to fluff and soften your clothes. They last for thousands of cycles and replace dryer sheets and fabric softeners. While they can sound like tennis balls bouncing around in a dryer, the end result is totally worth it.
The company recommends three balls for smaller loads of laundry and five to six for larger ones.
---
Do you know people in need of new kitchen towels? Look no further than this set of 12 professional-grade towels (six of which are pictured above) from Keeble Outlets.
Where a lot of so-called "kitchen towels" out there actually repel water rather than absorb it — we've been gifted several of that sort ourselves, so we know how frustrating that is — these towels are made from high-density cotton woven in a herringbone pattern for maximum absorption. This same construction also helps keep the towels from disintegrating in the wash or leaving lint all over dishes.
Obviously, we don't expect you to stuff 12 towels into any one person's stocking. The idea here is to distribute the set between several recipients.
---
From the makers of the Cuppow — a neat lid that converts a canning jar into a travel mug — comes the BNTO.
Inspired by Japan's bento boxes, the BNTO is a small BPA- and Phthalate-free plastic cup (made from 100% recycled materials) that you insert into the top of a wide-mouth canning jar, splitting it into two compartments. It's great for keeping certain foods separated until you're ready to eat — salads and dressing, veggies and dip, chips and salsa, granola and yogurt…the list goes on. we would add "cereal and milk" to the mix, but as one reviewer notes, your milage may vary when it comes to liquids.
The clear version of the BNTO is $10 on Amazon. If you prefer a little color in your "lunchbox" (lunchjar?), the blue, orange, and pink versions are $9 each.
---
Give the gift of childhood memories to your loved ones — you know, the ones without sugar-related dietary issues — this holiday season with these dehydrated "Charms cereal" marshmallows. They can be added to any cereal, eaten as the "cereal" alone (don't pretend you wouldn't do it), put in hot cocoa or over ice cream, or baked into Rice Krispies treats.
Since this is a 1lb bag, you could safely divvy up the contents into a bunch of small gift bags for several people and still have some left over for yourself, you sly dog.
---