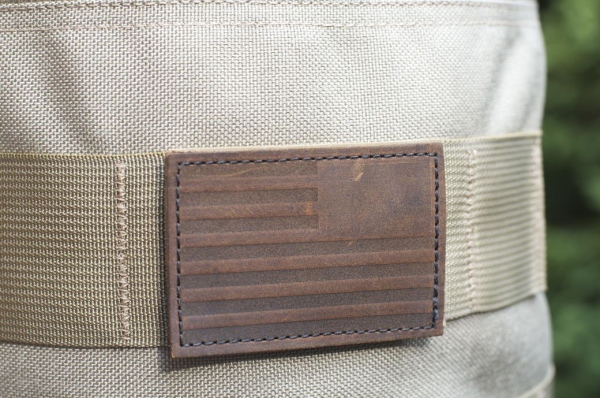 GORUCK Leather Reverse Flag Patch
GORUCK is an American company that makes super-durable rucksacks (amongst other things), and they take their patriotism very seriously. All of their gear is made right here in the U.S., it's designed to meet the standards of Special Forces soldiers, and they test its durability with an insane physical challenge held in various cities across America (and which our friend Patrick Rhone admirably made it through earlier this year).
Sewn onto most of their gear is a 2″ x 3″ pad of Velcro, with a removable patch on top. Since there are a number of patches to choose from, this allows for a little bit of customization. Probably the most interesting of the bunch though is the Leather Reverse Flag Patch, because of what it represents:
The reverse flag dates back to the Army's early history when both cavalry and infantry units would charge ahead as the Stars and Stripes streamed back. When moving forward, therefore, the star field is always to the front as the red and white stripes flow to the back in the breeze. Today, the reverse flag is worn on the right sleeve of military uniforms and symbolizes the courage and respect of those who serve.
The Leather Reverse Flag Patch is $15 + shipping and comes in brown or black.