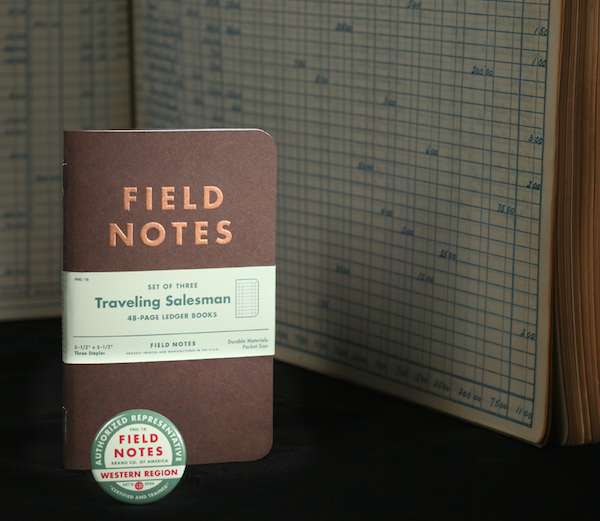 Field Notes: The Traveling Salesman Edition
It's that time again: the Field Notes Colors Fall Edition is here.
Dubbed the "Traveling Salesman Edition," these notebooks harken back to door-to-door salesmen who traveled with ledger books, door to door, for much of the last century.
Here's how the guys at Field Notes describe the notebook:
The covers of this edition are a lovely chocolate brown from The French Paper Company printed with a metallic gold ink and the Field Notes logomark is embossed making for a distinguished and timeless presentation. The interior pages are "Eye-Ease" green and are ruled, ledger style, in green and red providing the perfect format for tracking miles, sales, costs, inventories and lists of all kinds. Each 3-Pack is belly-banded in green and shrink-wrapped and each comes with an official button (from Busy Beaver in Chicago) that shows the world you are "Certified and Trained" as an "Authorized Representative" of Field Notes Brand Co. of America.
I'm a little bummed this edition strays from the normal grid style I love, but considering how good these things look, I can't wait to get mine in the mail.