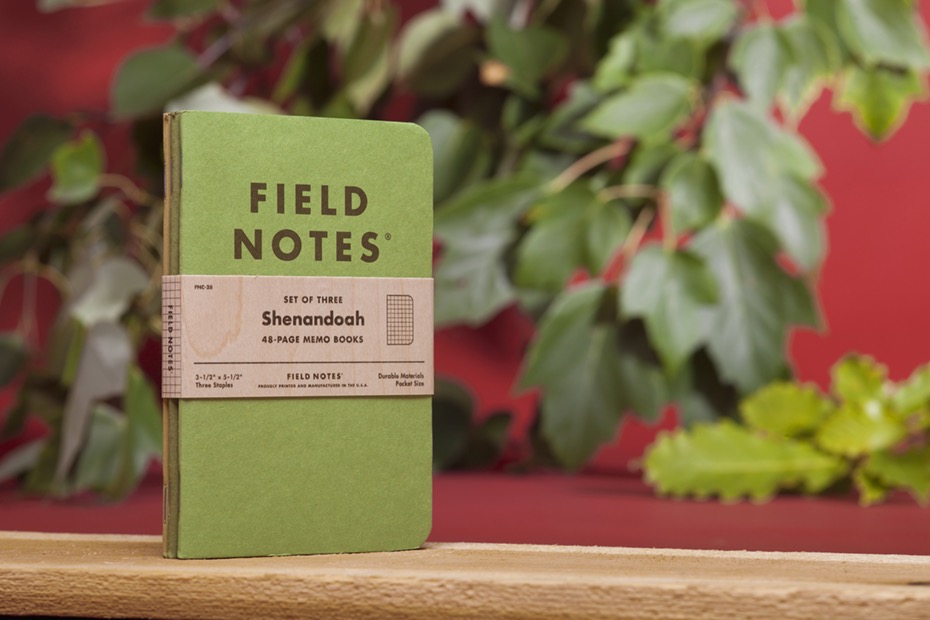 Field Notes "Shenandoah" Edition
If you want paper that's one color on one side and another color on the reverse, the simplest thing to do is to start with white paper and print a different ink on each side. We've done that, it's simple, it works well. But we're Field Notes; if there's a more difficult, expensive, and awesome way to achieve the same result, we will find it.
The quote above really sums up why we love Field Notes. They don't just sell memo books, they go above and beyond to — as the promo video below will attest — create an experience, time and time again. Mucho respect for that.
Their recently-released "Shenandoah" edition celebrates both the coming of autumn 2015 and the Shenandoah National Park. This limited-edition pack features three green French cover stocks that match the leaf color of three trees found at the park: the Sweet Birch, the Chestnut Oak, and the Red Maple. The inside of each cover has been duplexed with paper that matches the color of each tree's respective fall foliage, while the back features a leaf illustration and facts about that particular tree.
Inside each book, you'll find body paper that's been upgraded to a beefier-than-before 60#T Finch Opaque "Bright White", which sports a 3/16″ graph throughout. And, each 3-pack is bundled together by a belly band with a real birch veneer.
Grab this beautiful 3-pack of memo books for $10 at Field Notes.