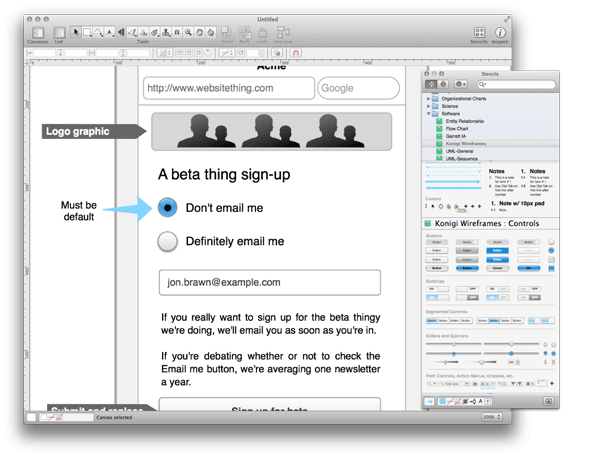 Featured Sponsor: OmniGraffle
Creating in OmniGraffle: a five-step introduction attempt in less than 140 words.
Desired outcome: a new mockup of WebsiteThing.
Start it up. Download OmniGraffle here. Choose "Blank" from the template window.
Frame it. Stencils → Software → Konigi Wireframes. Designing for an iPhone? Drag out the iPhone browser. Lock object in place with ⌘+L.
Build it. Check out what else the Konigi stencil offers: position placeholders, buttons, and forms on your canvas. Turn on Snap to Grid (Arrange → Grid → Snap to Grid) for quick alignment.
Fine-tune it. Replace Konigi elements with real copy or graphics if ready. Add labels for the benefit of others.
Share it. Email, show off to colleagues via AirPlay, and more.
It's all possible on the iPad, too. If you'd like, explore a bit more.