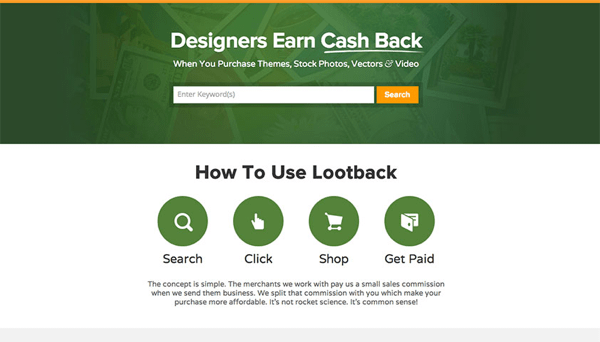 Featured Sponsor: Lootback
If you're a web designer, you know how paying full price for resources like stock photos and fonts can have a negative effect on your bottom line. Now there's a new service that can increase your profits by giving you cash back on these important design components.
Lootback.com has found a way to work with merchants such as Thinkstock, iStock, and Envato to help you save money. Lootback's featured merchants pay the company a small commission for sending customers their way. Instead of keeping it all, Lootback splits its commission with you. The merchant gets a sale, Lootback gets a commission, and you get a great discount on your purchase; everyone wins.
Not only does it offer effortless savings, Lootback makes searching for your creative assets easier. All your favorite merchants' products are aggregated into one convenient search feature, so you spend less time looking for that perfect file.
* * *
Our thanks to Lootback for sponsoring the RSS feed this week. Sponsorship by The Syndicate.