Welcome to this week's edition of our Friday Quality Linkage column. Please enjoy this week's collection of interesting and entertaining links. Brew a fresh cup of coffee, find a comfortable place, and relax.
* * *
For this month's issue of Businessweek, Paul Ford wrote a sprawling, 38,000-word story devoted to ­demystifying code and the culture of the people who make it. Set aside a few hours to read and properly digest the whole thing. Seriously.
The piece is amazingly written and presented in a wonderfully weird, interactive way. You'll want to read in a browser — preferably desktop — rather than Instapaper. They even built a 'whatiscode' Github repo for it, where you can submit pull requests to fix things within the article.
I'm so impressed by the gargantuan effort that went into this thing. Paul said it best when he tweeted, "It took 50 people helping for me to do it all myself."
It's nearly impossible to quote just a single passage from such a piece, so here are a handful of my favorites (even together amounting to less than 1.2% of the total article):
1.
I love computers, but they never made any sense to me. And yet, after two decades of jamming information into my code-resistant brain, I've amassed enough knowledge that the computer has revealed itself. Its magic has been stripped away. I can talk to someone who used to work at Amazon.com or Microsoft about his or her work without feeling a burning shame. I'd happily talk to people from Google and Apple, too, but they so rarely reenter the general population.
2.
You, using a pen and paper, can do anything a computer can; you just can't do those things billions of times per second. And those billions of tiny operations add up. They can cause a phone to boop, elevate an elevator, or redirect a missile. That raw speed makes it possible to pull off not one but multiple sleights of hand, card tricks on top of card tricks. Take a bunch of pulses of light reflected from an optical disc, apply some math to unsqueeze them, and copy the resulting pile of expanded impulses into some memory cells—then read from those cells to paint light on the screen. Millions of pulses, 60 times a second. That's how you make the rubes believe they're watching a movie.
3.
Thinking this way will teach you two things about computers: One, there's no magic, no matter how much it looks like there is. There's just work to make things look like magic. And two, it's crazy in there.
4.
Code can be a black box, with tentacles and wires sticking out, and you don't need to—don't want to—look inside the box. You can just put a couple of boxes next to each other, touch their tentacles together, and watch their eldritch mating.
5.
Congratulations! You just built Amazon! Of course, while we were trying to build a bookstore, we actually built the death of bookstores—that seems to happen a lot in the business. You set out to do something cool and end up destroying lots of things that came before.
6.
Programming is debugging. It's the expectation that things won't work. This is not something people bring up, just like they don't bring up their medical history on the first date. Most languages have constructs built in for catching failures, trapping them like wild animals, examining them, and, well, exterminating them. In time, as the relationship between you and a programming language blossoms, you come to realize that what truly characterizes a language is not what it does, but how it tells you what broke. Most of your programming life will be spent trying to figure out what broke, and if the computer helps you, maybe you can watch your kids play soccer.
---
Kai Brach, founder of Offscreen Magazine, has come to terms with the idea of keeping his business small:
So here I am, working long days (and sometimes sleepless nights) to make a thing with a growth trajectory slightly more optimistic than the mom-and-pop shop down the road. And I'm finally ok with it. Don't get me wrong, I don't mind growing, but I do mind growing for growth's sake, which is what seems to happen a lot with tech companies these days.
I wish more companies would adopt such values. Thankfully, it seems to be a growing trend.
---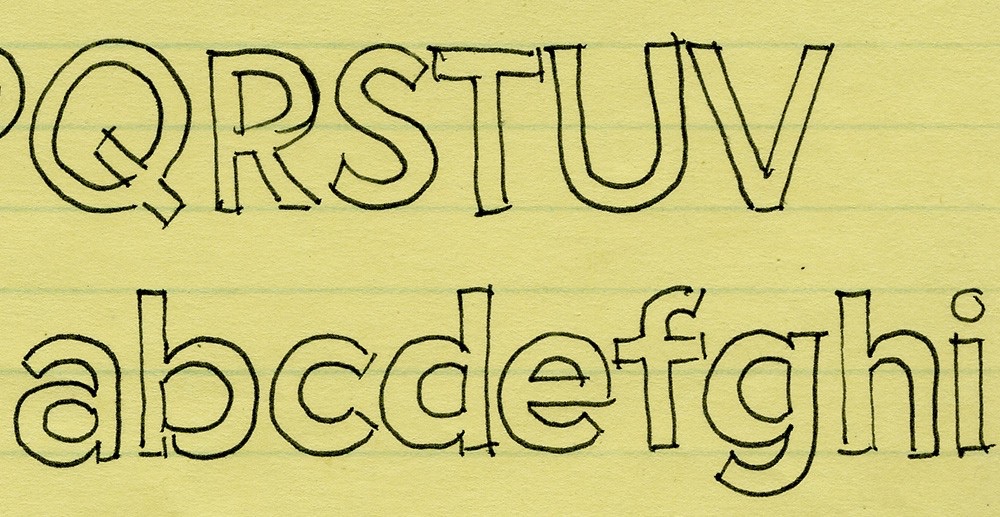 Cameron Moll gives a brief history of the Proxima Nova typeface, with a few observations sprinkled in:
As a user of many screens and services, for me personally Proxima Nova has become so ubiquitous that it's shifted from trendy to nearly intuitive. It feels familiar. Further, it doesn't call attention to itself, "which was part of the original intent," [creator Mark Simonson] responds when I tell him this.

[…]

In our conversation, as Mark describes Proxima Nova's entire history, it becomes apparent that the 'a' is as integral to Proxima Nova as this typo is to a certain letterpress poster (scroll to the end). Like it or not, both are integral features for lack of a better word. Without these, the work is rendered even more banal than the aforementioned cries. That oft-quoted observation by Charles Eames serves as a reminder that without the 'a', Proxima Nova really isn't Proxima Nova.
Andy Cowles wrote a response about why he thinks Proxima Nova is the greatest font in the world:
[…] I've used it endlessly on development projects where it's essential to have a font that looks cool and modern, but that does not have a prescriptive point of view.

By this, I mean a font that doesn't look too male, too female, too posh, too serious, too anything, but still holds deep emotional promise.

This is the genius of Proxima.
---
Mark Manson:
Your limitations are important because you must eventually come to the realization that your time on this planet is limited and you should therefore spend it on things that matter most. That means realizing that just because you can do something, doesn't mean you should do it. That means realizing that just because you like certain people doesn't mean you should be with them. That means realizing that there are opportunity costs to everything and that you can't have it all.
Somehow I'd never heard of this guy before my friend Álvaro Serrano linked his article last weekend. After reading a few of his pieces (including this one and the one linked in the quote above) I'll definitely be subscribing.
---
Jerry Seinfeld did an interview with Dave Itzkoff of The New York Times about his Comedians in Cars Getting Coffee web series. There's not much in the article he hasn't said about the show elsewhere, but having it all in one place should be nice for the more unfamiliar readers out there.
I liked this bit at the end that is so typical of his persona:
Finding himself with new momentum and the flexibility to make new episodes of "Comedians in Cars" when he wants, Mr. Seinfeld said he knew exactly how he planned to use this freedom.

"It might be fun to see what it's like to run something into the ground," he said. "I missed out on that. I'm curious about it. I want to know what it's like for everyone else."
The sixth and latest of CICGC, so far starring Steve Harvey and Julia Louis-Dreyfus respectively, is already off to a great start. Go watch if you haven't already.
---
Investor Chris Sacca shares some interesting observations about Twitter and ideas for features they should pursue:
Twitter can be indispensable, engaging, and fun for everyone on the planet, and make even more money in the process. So why isn't that happening?

For most people, Twitter is too hard to use.
For most people, Tweeting is scary.
For most people, Twitter feels lonely.

[…] The good news is this is all fixable.
At 8,500 words long, it doesn't even approach Paul Ford's epic piece above but it's a solid weekend read nonetheless.
---
Lee Siegel, in an opinion piece for The New York Times:
I found myself confronted with a choice that too many people have had to and will have to face. I could give up what had become my vocation (in my case, being a writer) and take a job that I didn't want in order to repay the huge debt I had accumulated in college and graduate school. Or I could take what I had been led to believe was both the morally and legally reprehensible step of defaulting on my student loans, which was the only way I could survive without wasting my life in a job that had nothing to do with my particular usefulness to society.
I feel I should disclaim that in linking this story, I am not offering financial advice of any sort. I just thought it was an interesting (if hazardous) way of dealing with a rampant issue in the U.S. education system. I also find the closing paragraphs amusing.
---
Call me sentimental, but I find these illustrations by Korean artist "Puuung" — depicting various moments in a young couple's relationship — endearing and poignant. On her Facebook page she describes her style thusly:
"Love" is something that everybody can relate to. And "Love" comes in ways that we can easily overlook in our daily lives. So, I try to find the meaning of love in our daily lives and make it into artworks.
I'll sign off this week's Quality Linkage with a few of my favorite illustrations from her collection. Have a great weekend, everyone.
* * *
Got any suggestions for articles, videos, stories, photographs, and any other links you think we should be posting in our weekly Quality Linkage? Please do let us know on Twitter.